Hopefully our Blue Apron review will allow you to make a decision on whether or not you should try the service. I was approached by Blue Apron to get a free box and do a review for you all and jumped at the chance. I have been wondering about these types of food delivery services for a while now and thought this would satisfy my curiosity. Plus it allowed me to get all of my questions answered and provide those answers for you!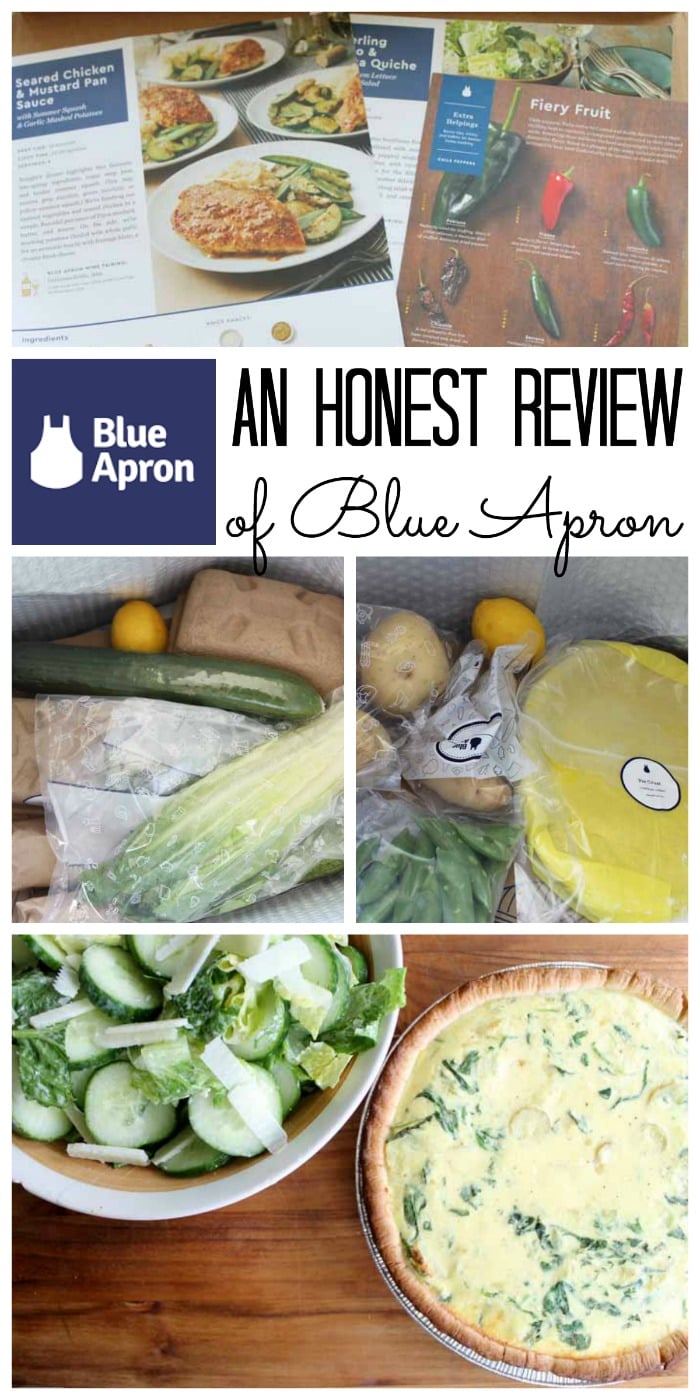 Please note that this review is sponsored and the post contains affiliate links. All opinions are my own however.
My first question was…how does this work? So, in a nutshell, you pick how many meals you need and how many people they need to serve. You then pick the meals from a menu of a few different options. I chose two that I thought would work for our family. I do like that you can pick meals that your family might actually eat! The meals are complete with side dishes and all. Again, a winner for me as I need the entire thing. You just need to add something to drink to have supper on the table. You can then choose a delivery date. This is important as your box will have perishable ingredients inside. After a few days, the box of goodness from Blue Apron arrives at your home.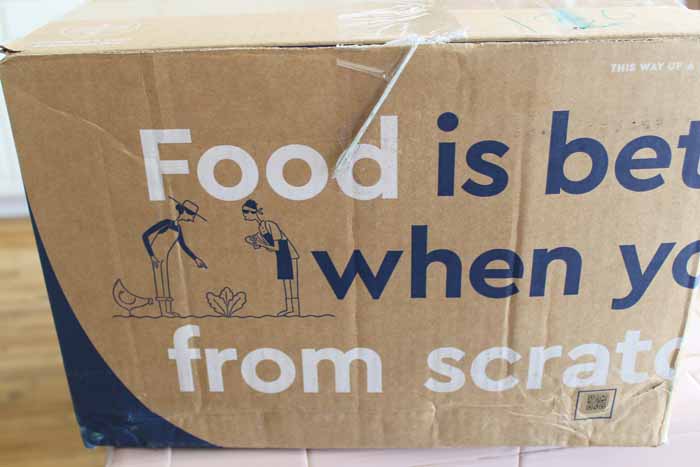 First of all, I live in the middle of nowhere. And yes, Blue Apron delivered to me! They deliver anywhere in the contiguous United States so chances are you can try a box for yourself. The boxes are packaged to stay fresh until you are able to unpack the ingredients. If you are not home for the delivery, the package will be left on your doorstep. I actually was home when I received my box, but I left it out for a few hours for a test. I opened it a few hours later and this is what I found.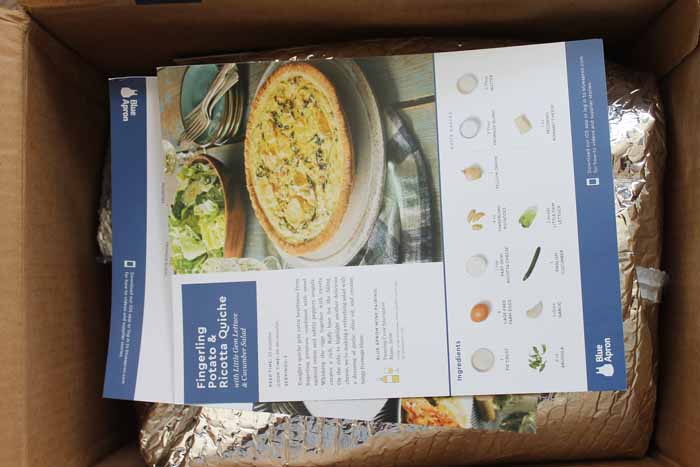 The top of the box had my two recipes with easy to follow instructions and pictures. So even if I have no idea what some of the ingredients are, I should be able to determine by the images on these pages.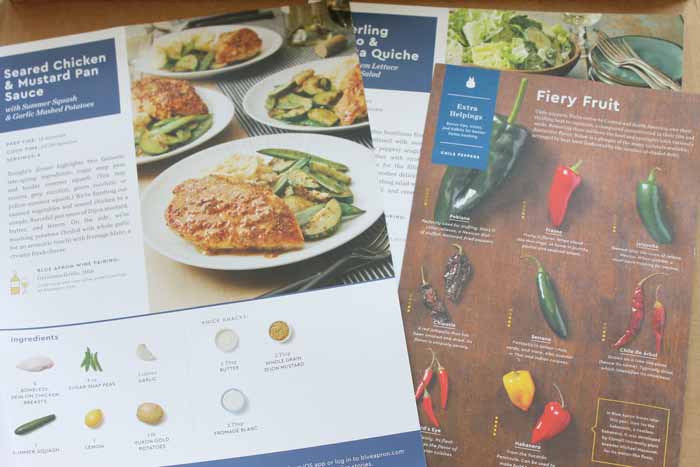 Under the recipes was a futuristic looking foil package. This insulation did an amazing job of keeping everything cool and fresh.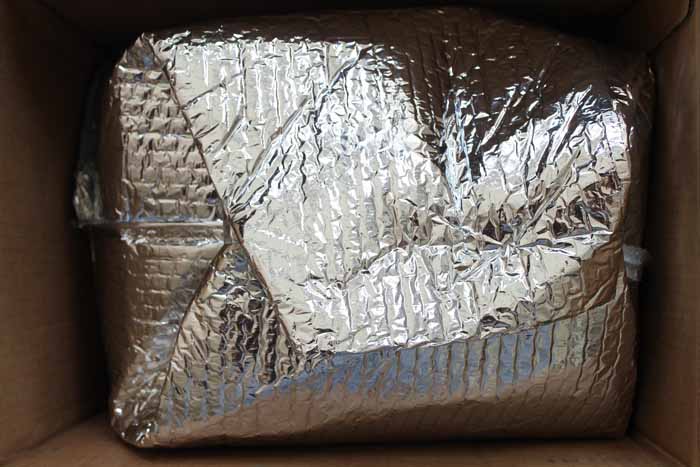 Once open, you can see all of the ingredients for your meals. I ordered two meals and one thing to note is that all of the ingredients for both meals were packaged together.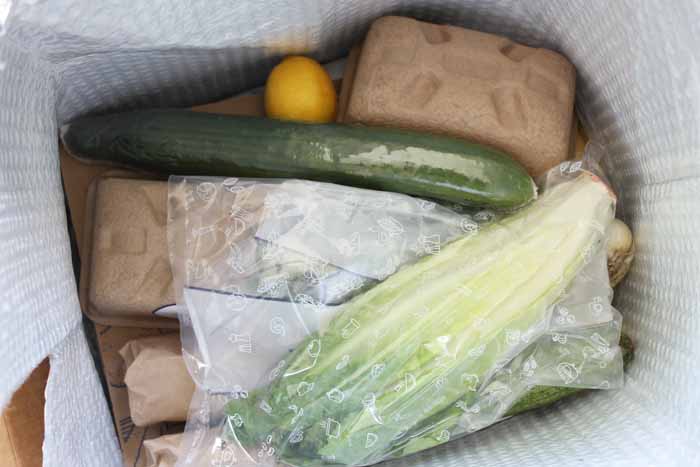 I ordered one meal that used eggs and loved finding that they were in perfect condition.
There were a few things that got a little smushed (like my pie crust) but overall everything was kept cool and arrived in great condition. I love the little labels on the foods letting you know exactly what is in each package. A few notes about the ingredients themselves. Part of the philosophy of Blue Apron is to deliver farm fresh ingredients right to your door step. Non-GMO, hormone and antibiotic free, sustainable – everything you are looking for in the highest quality foods delivered straight to your door. That is another benefit for those of you that are like me and live in the country. We can't always shop for these types of ingredients close to home so Blue Apron offers up that service right to your door.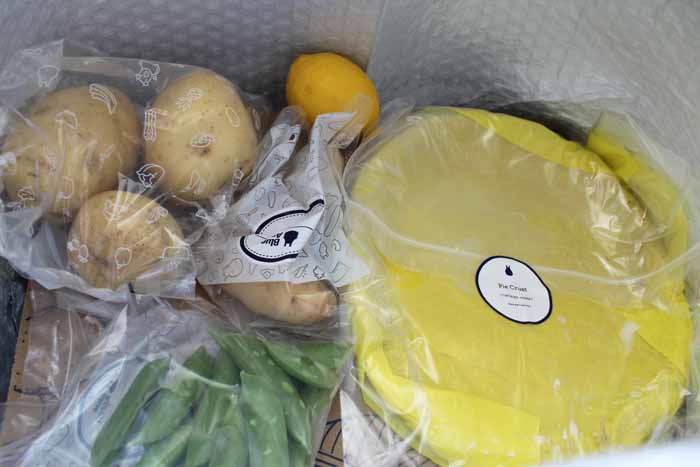 When I say EVERYTHING is included to make your meal….I really mean it. Even the butter and other little "knick knacks" are wrapped up neatly for your use. I did have to add olive oil to one recipe from my cabinet, but I think that was the only thing.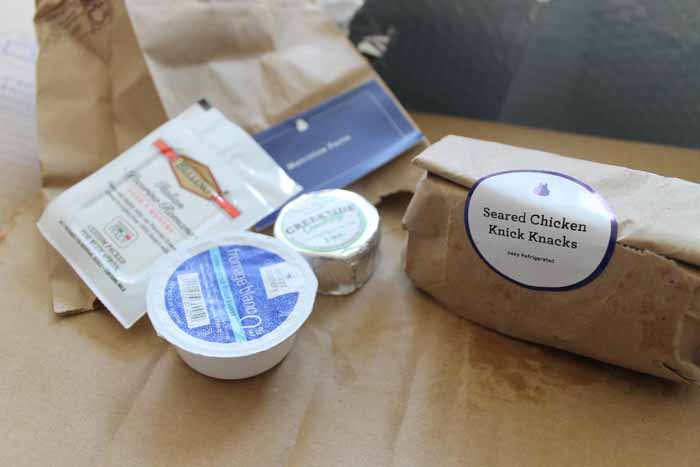 Once I got to the bottom of the box, I found these HUGE ice packs keeping everything cool. The chicken was packaged right in between them so I was confident that it stayed at the proper temperature even during shipment.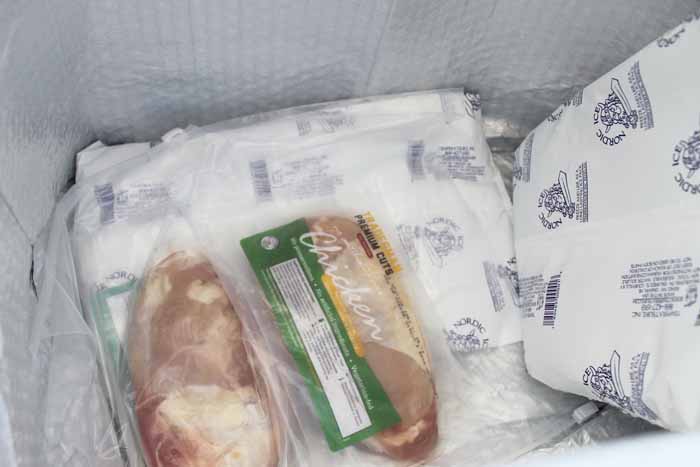 Now for the true test, the actual cooking! I found out something about myself through this experiment. I actually do like to cook. The planning, shopping, etc is what I don't like about the process. You know what happens every night….you decide on a meal only to realize that you don't have all of the ingredients. Run to the store or try another meal? Do you have everything you need for ANY meal or is this a night of experimentation? Those are the parts of my nightly routine that I dread. The actual cooking I enjoy! The box from Blue Apron bought back that love!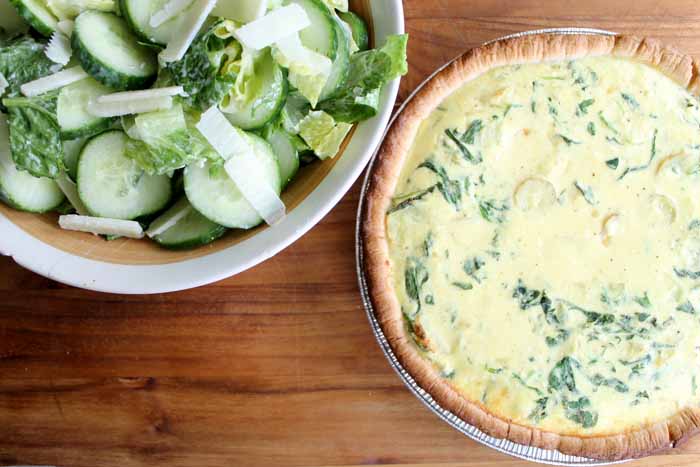 The other part about this that I loved was the opportunity for my family to get out of our comfort zone. We tried foods that we have never had. I love that! Getting those harder to find ingredients delivered right our door allowed me to serve them up to my family without hunting them down at our limited grocery store options.
In summary, I found the benefits of Blue Apron were as follows for our family:
Convenient access to high quality ingredients
Bringing back the love of cooking
Trying meals and ingredients outside of our comfort zone
Knowing that I have EVERYTHING I need on hand for a meal
Having exactly what we needed for a recipe with no small mystery amount left in the end
What would a true review be without a few negative aspects?
I think the pricing is fair for what you receive but may be out of the budget of some families. However you can order now and get $30 off your first delivery!
There are only so many recipes per week to choose from. You may find nothing that week that appeals to you. It is okay y'all….just skip that week! Wait to try the service until there is something you think that will work with your picky eaters.
Overall I enjoyed the Blue Apron service and getting meals delivered right to my door. If you are struggling with meal planning and having ingredients on hand to make supper, Blue Apron might just be for you. Be sure to click here to give the service a try and get $30 off your first delivery! You can literally just get one box of meals, there is no commitment required. What are you waiting for?