This post and photos may contain Amazon or other affiliate links. If you purchase something through any link, I may receive a small commission at no extra charge to you. Any supplies used may be given to me free of charge, however, all projects and opinions are my own.
So I found my STEAL on a California Closet. Then the work began! Everything had to come out in order to install the system. Then before everything went back in — I cleaned and organized everything. My house was a wreck for many, many days. But I am FINALLY done!
But that adds up to one happy camper with a clean, gorgeous closet!!
Ready for some dramatic before and after?? I know you are!!
I am showing you these before pictures so you can get a good feel for exactly what a mess I had before. Please no comments on how bad it is…k? I already know…I lived it. My daughter often said it was the only room in our house that the show Clean House would come for! 🙂 Not any more my friends!! If I can do it, you can too!

I have a huge closet — about 8 foot by 16 foot I would guess. The closet system only covered 1/2 of it. Maybe I will luck up on another deal but for now I worked with what I had on the second half.

My closet serves as a clothes closet, a linen closet, a craft room, an etsy business, a farm storage area, a sports storage area, frankly you name it. Working it all in was tough…but I made it through!
Welcome to my mess….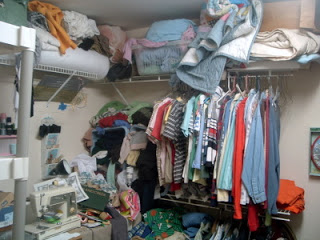 Aaack — those are GLASS doors…true love…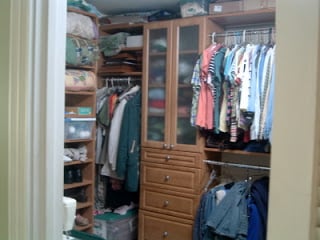 This was AFTER I had cleaned up some…I know…ridiculous.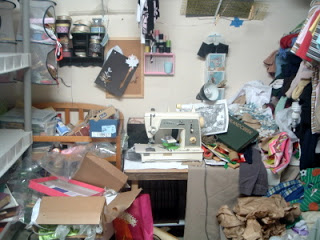 The only purchase I made was the closet system — the rest of the stuff I had…just had to find it. 🙂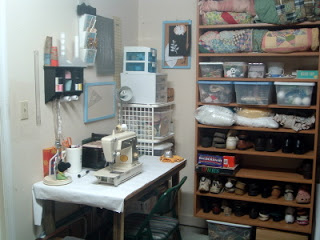 Can two people wear this many clothes?? I think NOT!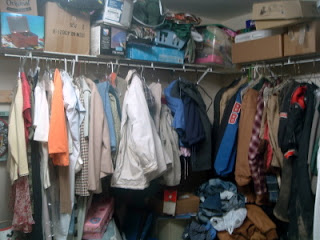 This is the side where I had to keep the wire shelves. Still better though.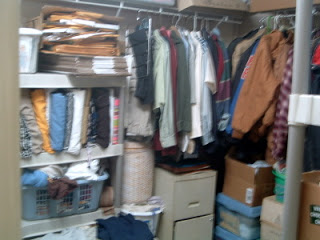 Do y'all not have random clothing hanging from your shelves??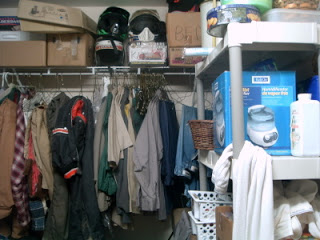 AFTER
This area ended up housing lots of etsy stuff. TONS better than it was!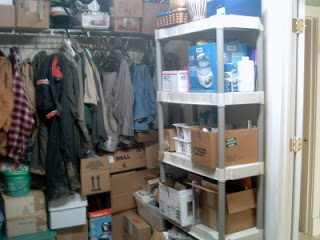 Trust me…you could not see the floor. There was a VERY small path to walk.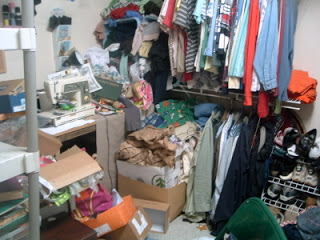 There is carpet in there!! And now I can vacuum it!!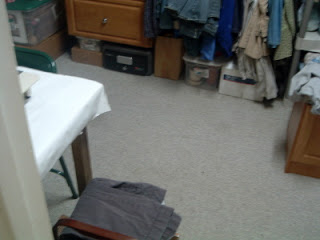 More floor…and I had to show off the matching bench!! Heart flutters!!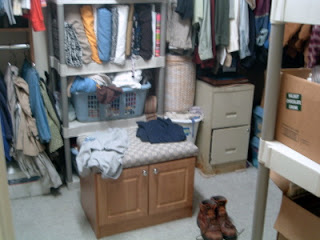 Now I have to tell ya a story….a story of fabric. I thought this shelf would work great for fabric. I could wind it on cardboard and stack it like books. It should all fit right?? Hello…my name is Angie and I am addicted to fabric. One shelf, two laundry baskets, one kitchen trash can, and that wicker hamper…all FILLED with fabric!! After I took some to goodwill…seriously… I am not allowed anymore until I use some of this. I hope there is someone out there that is just as addicted. Can we start a support group??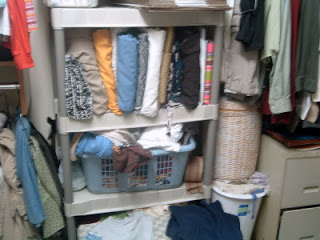 My crafting wall!! I heart organized craft supplies!! Just look at them…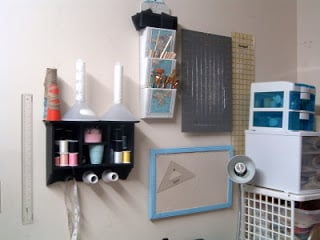 I hope you enjoyed the before and after as much as I do!! An organized closet is the gift that keeps on giving! And guess what?? I have another huge closet upstairs to start on. No cheap craigslist find for that one…the adventure should be amazing and I will keep you updated!
Posted at Get Your Craft On on Today's Creative Blog.
Posted at Take a Look Tuesday on Sugar Bee Craft Edition.
Linking to Tackle it Tuesday on 5 Minutes for Mom.
~Thanks for stopping by!~
~Angie~
Want more help organizing your home?
Do images on Pinterest stress you out because they seem more like a fairy tale?
Don't fall into that pretty and perfect trap. You can get clutter-free and organized without living a fairy tale life. No one knows this better than my friend Hilary! She has an entire course for sale that is dedicated to real-life organization ideas. I love that her approach works for any family with any budget. You can click here to check out her course and judge for yourself!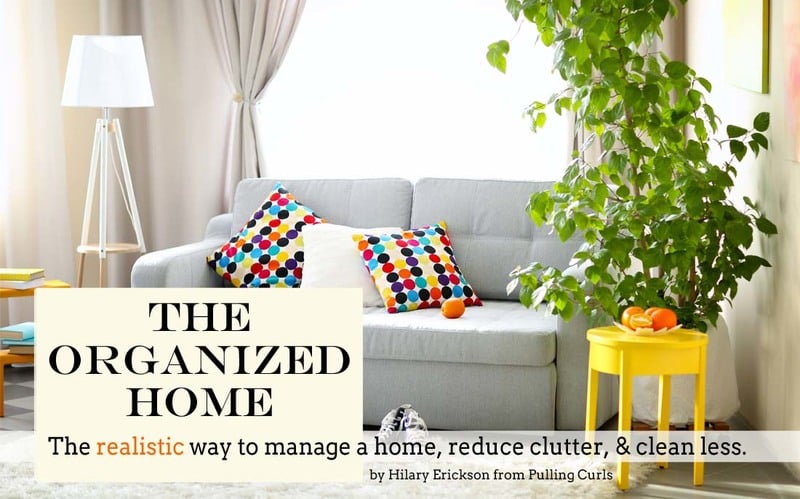 My favorite part of this course is that Hilary strives to make your home easier to clean-up, so it takes minutes, instead of hours. Who couldn't use more time and less cleaning? Plus the system can make your house look fairly put together most times of the day. Just click here for this course!