Cow canvas prints are hot right now! If you're looking to add a cow to your home decor, check out these affordable cow painting canvas options.
Everywhere I look, there seems to be a cow painting on canvas these days. From images on Pinterest to my favorite farmhouse Instagram accounts, these beauties are popping up everywhere.
And, of course, when something is that popular, the price goes up right along with its popularity. I have noticed the same trend happening with painted cow canvas art.
I thought I would look around for some affordable options and share those with you today. At the time of this writing, all of these are under $90, which isn't affordable across the board, but it IS pretty good for the large size of some of these.
Still can't afford a cow painting on canvas? Try printing your own cow art at home and adding it to a canvas with these instructions. That is the most budget-friendly option I have to get a painted cow canvas on your wall!
Note: If you just can't get enough of cows, check out our Farmhouse Pillow: A Cow for Your Home and DIY Storage Box with Burlap projects.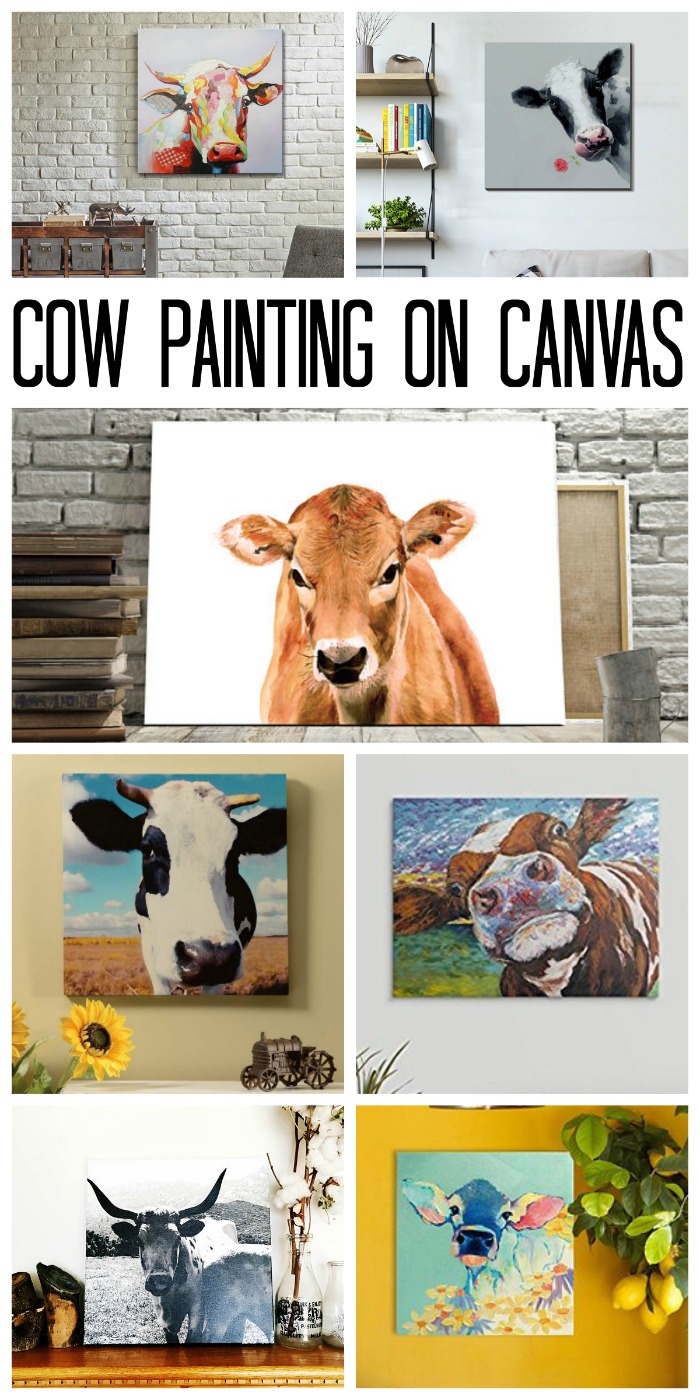 Cow Painting On Canvas: Affordable Options For Your Home
To make things easier for you to find, I've rounded up a few painted cow canvas options and included handy links so you can get to them quickly. Happy shopping!
This version of the curious cow is just too cute! I love the bold colors, the expression on this cow's face, and that this painted cow canvas is affordable! You can choose from four different sizes so that you find the cow painting canvas that fits your home the best.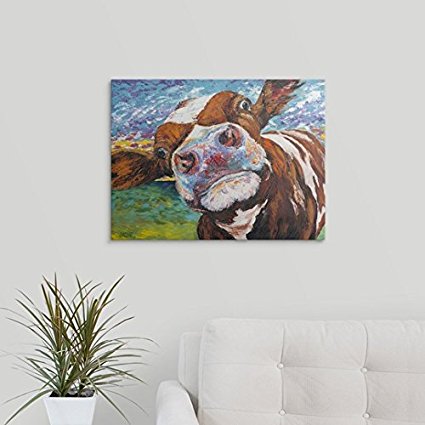 Ha! I am a fan of the more muted tones and style of this painting. It's relaxed and, at the same time, brings a smile to my face. It's also (currently) the least expensive option on this list.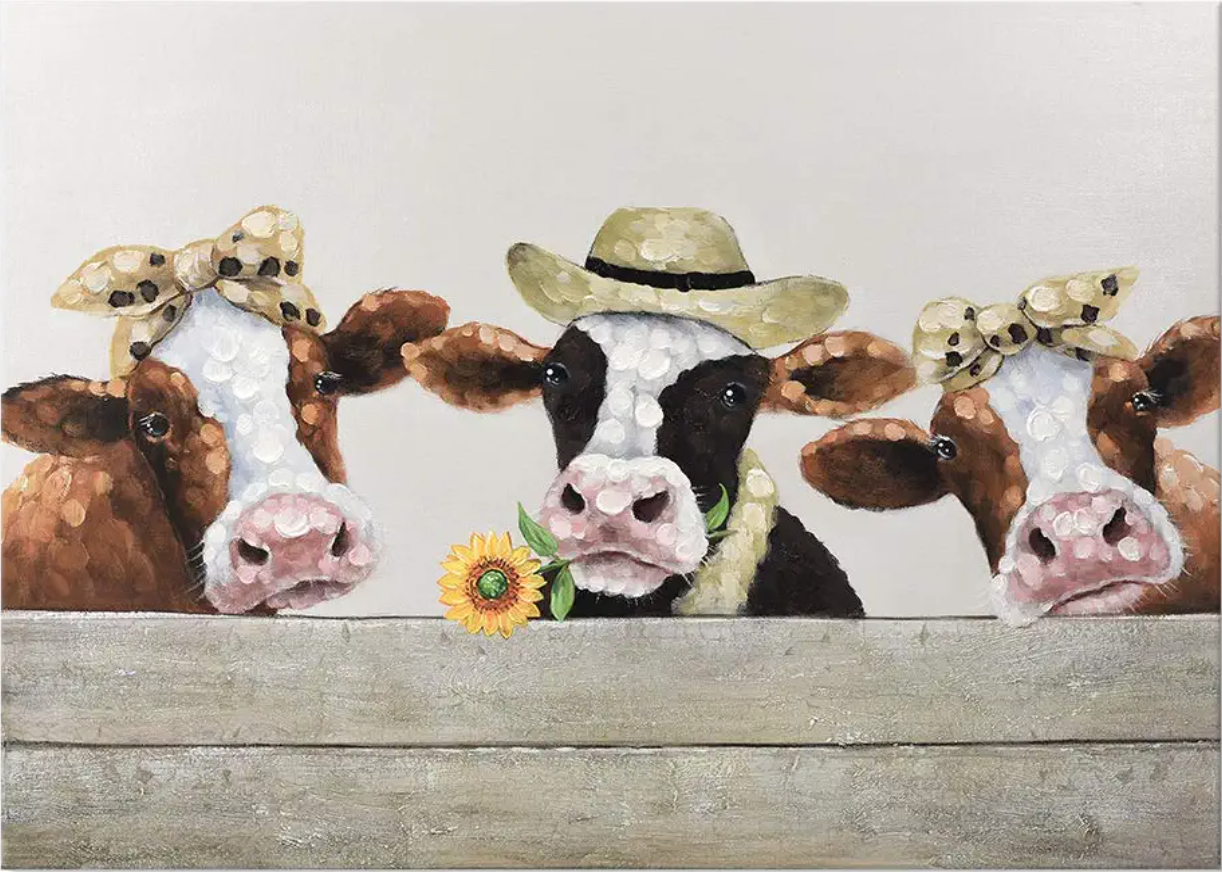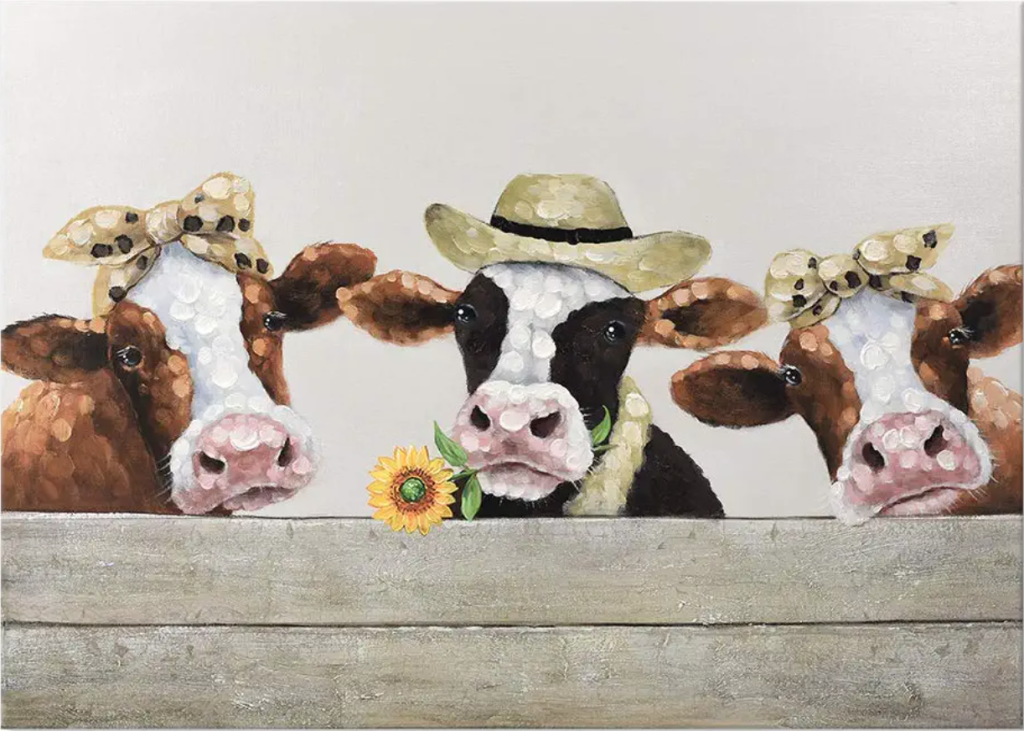 Looking for neutral colors in your art? This farmhouse-style brown cow is perfect! In fact, I love this cow painting canvas so much, that I might have to add it to my own collection.
A little whimsy never hurt anyone! This vintage black and white cow painting canvas is affordable, comes in a variety of sizes, and will fit any home or decor style. If you love cows, you can't go wrong with this painted cow canvas.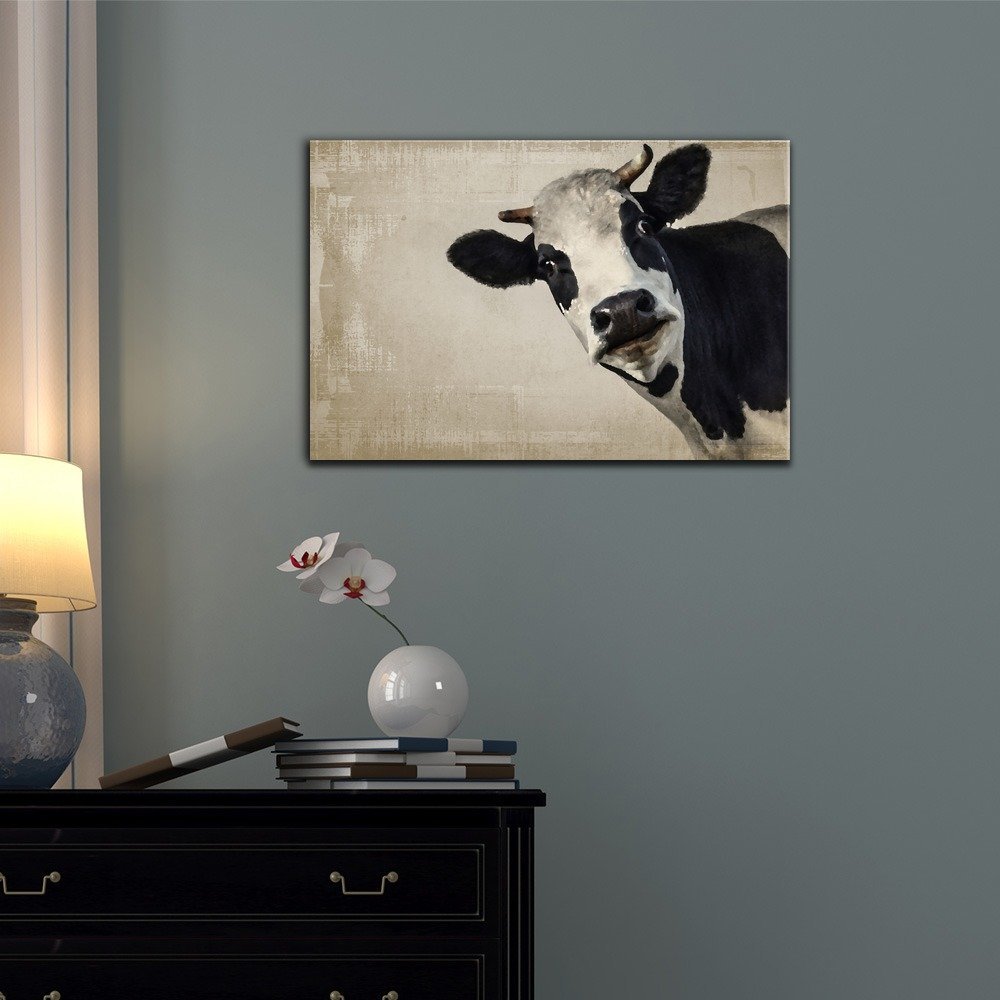 If you want a flower and a cow in your art, you can get them both in one place! I love images like this that are mostly black and white and have a pop of color. So fun!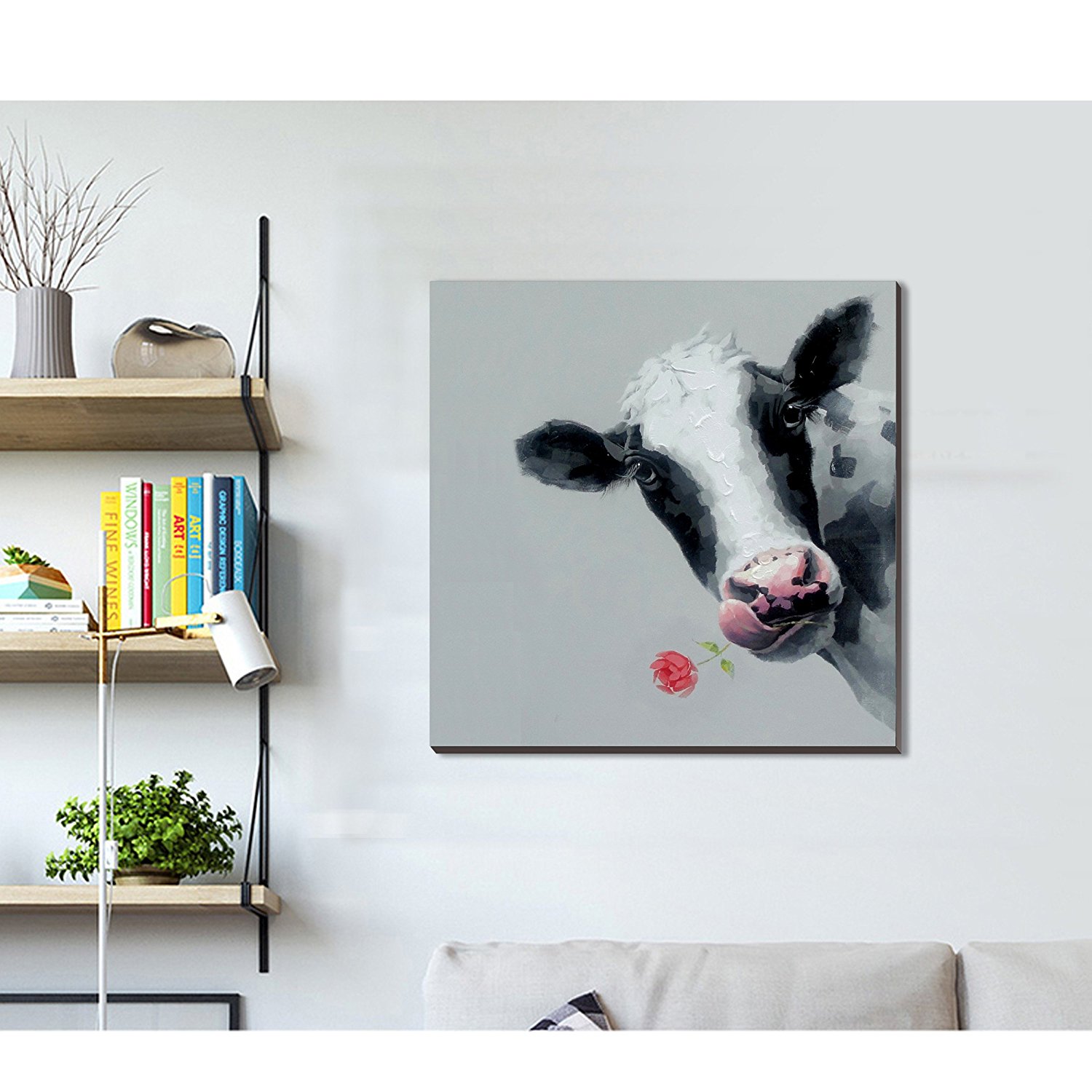 This collection is colorful in the best way possible! So cute! These prints are super affordable and come in a set of 4, so you can make an instant collage or spread them out throughout your home. If you need a little color, this set has you covered!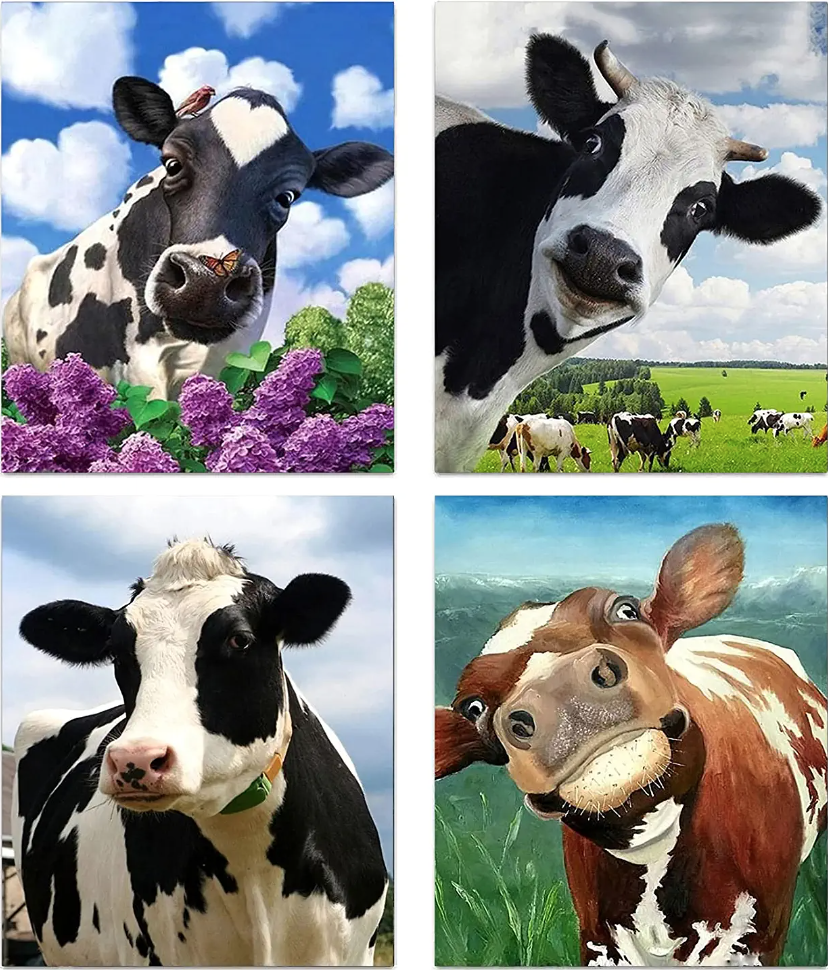 An affordable way to add cow art to your home is with a poster print. You may have to get it framed or wrap it around a canvas yourself, however.
Note: This image is on the large side and is quite a bit bigger than most of the other cow canvas paintings on this list.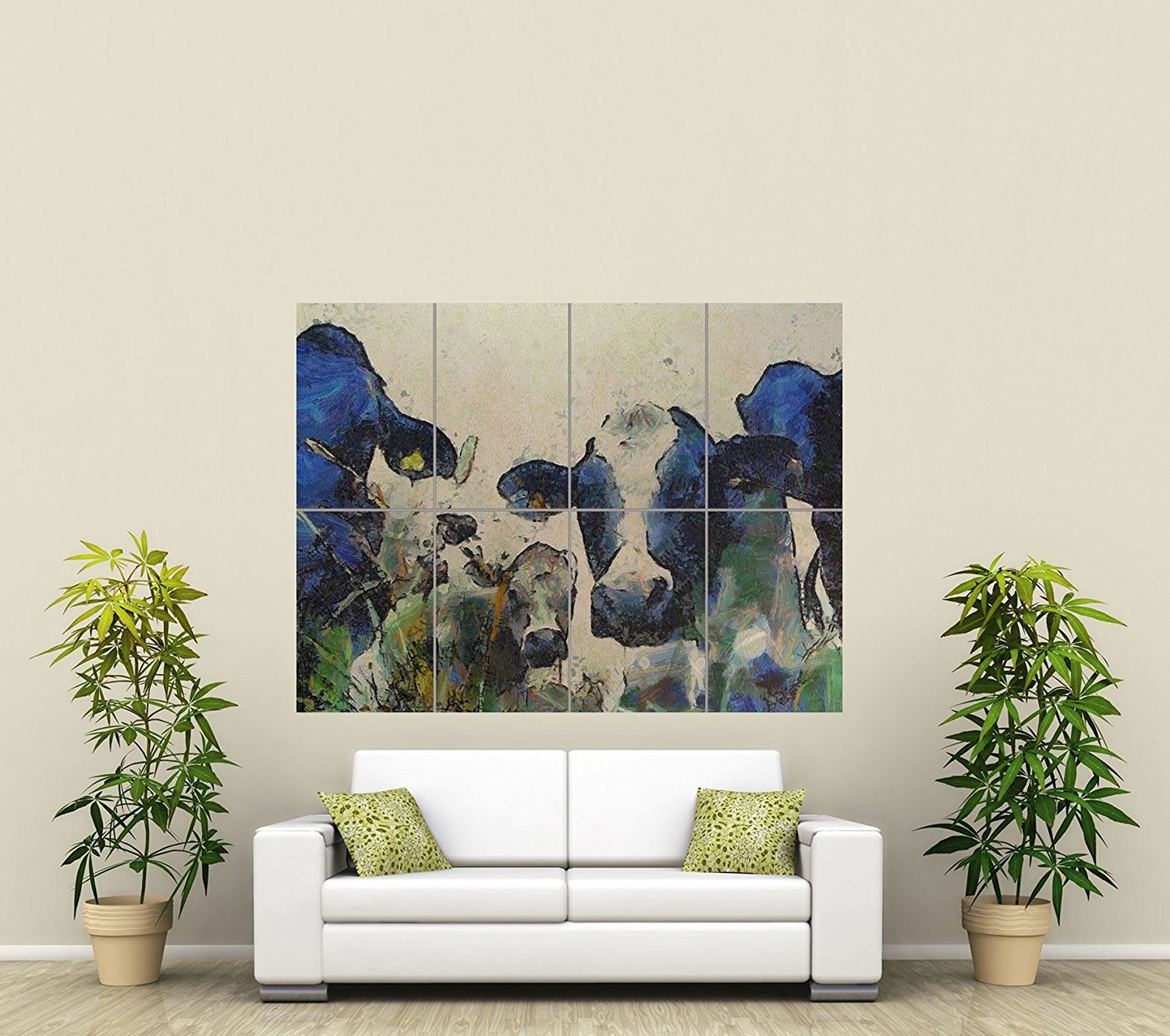 Who can resist this face? If you can, you are stronger than I am! I love the farmhouse-style image, and the teal background adds just the right amount of color while keeping it neutral for any space.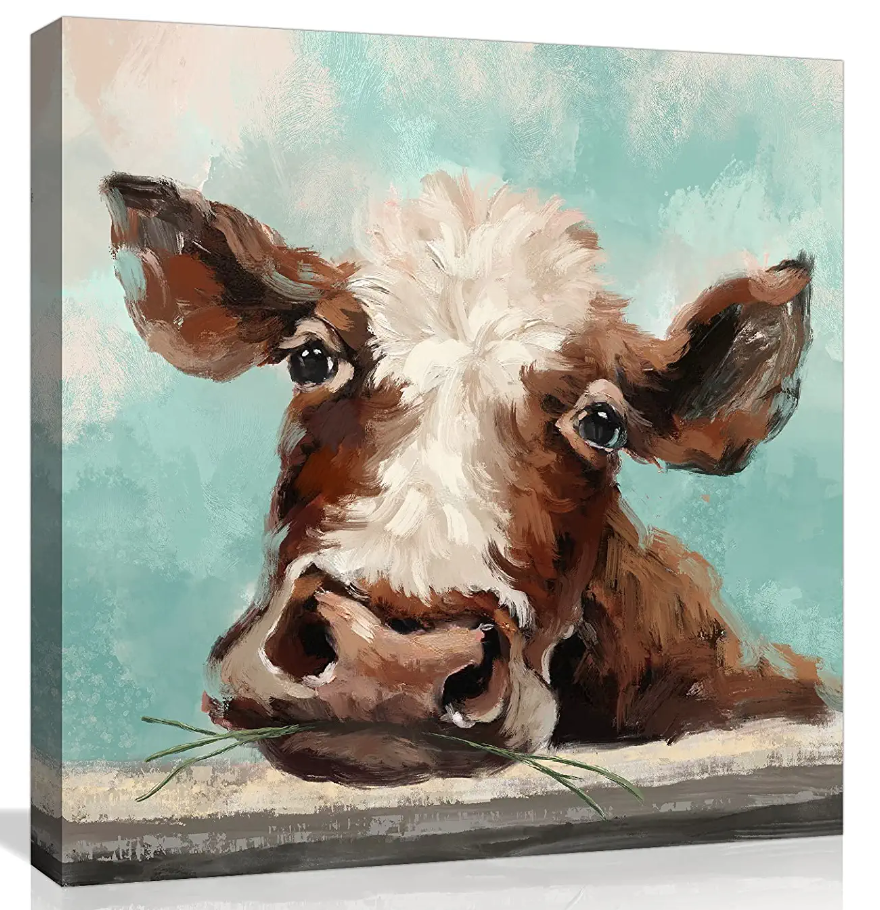 Another way to trim costs is to go with a photograph instead of a painting. This one is on canvas and simply gorgeous!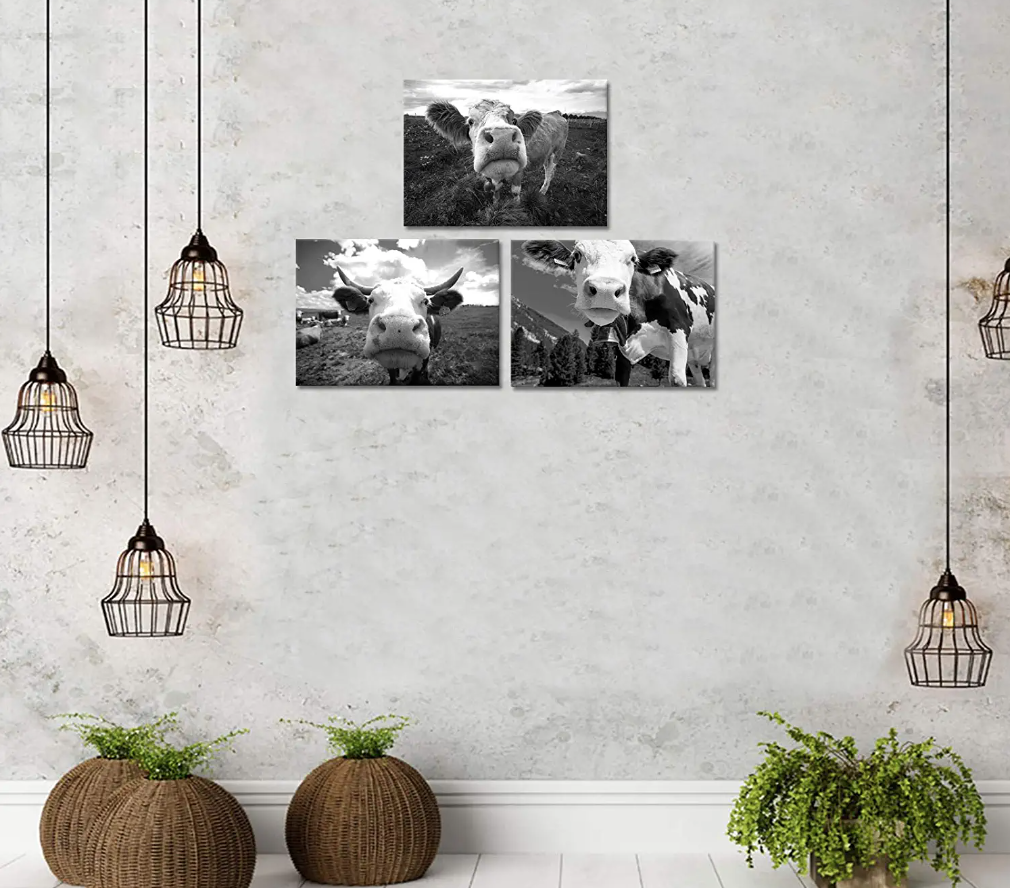 I just had to include a highlands cow as well! There's a certain appeal to them that I think sometimes gets overlooked, but this black and white photo canvas is an affordable way to add a cow to your decor.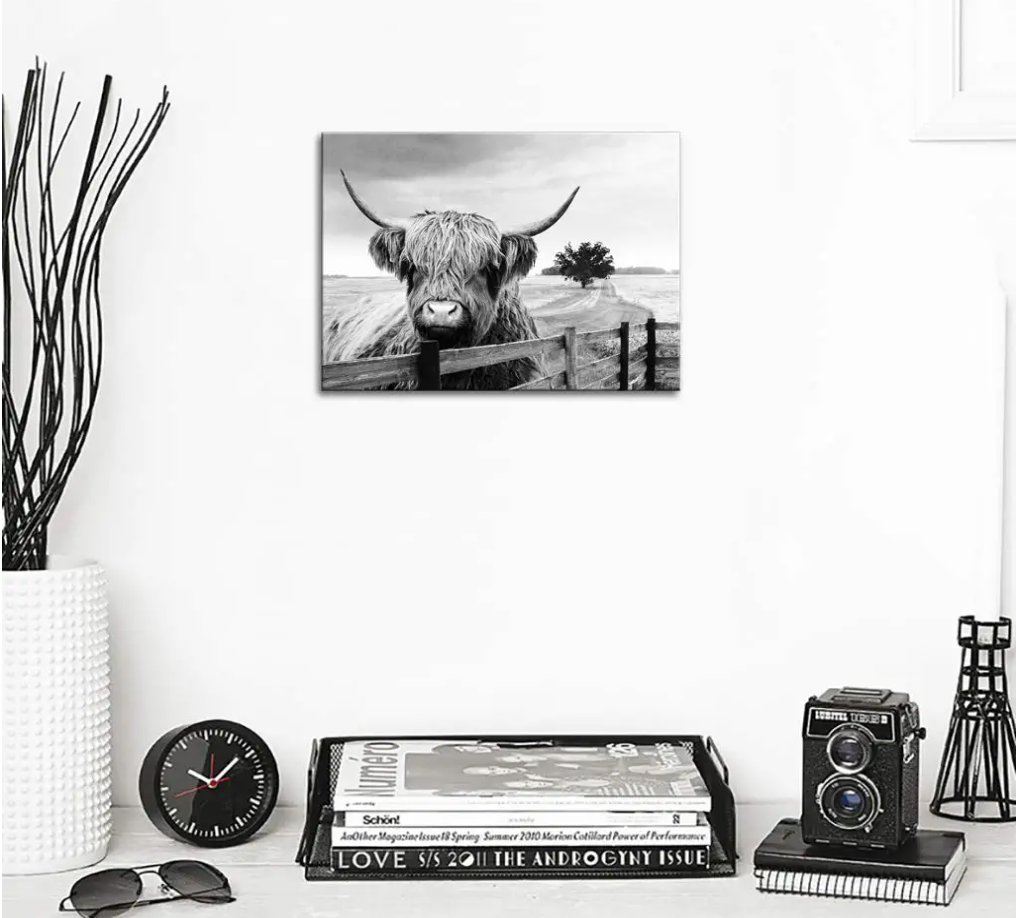 As you can see, there are a ton of options for cow painting canvas decor. Whether you want colorful, rustic, or black and white, you can find it.
Remember, if you can't find an option you can afford, you can always print our cow art for free and make it yourself!
More Decor Inspiration
If you want to get inspired with more decor ideas, we have you covered!