Today we're going to talk about craft room lighting or lighting of whatever space you use to get creative. I have several lights and I'm going to go through each one to help you make a decision on which light is right for your craft room. Cricut released the Cricut Bright 360 and I am including that in my comparison. They did send me one, however, this post is not sponsored at all by them. I'm going to do a fair comparison of four different craft room lights at various price points so that you can make the right decision for your space.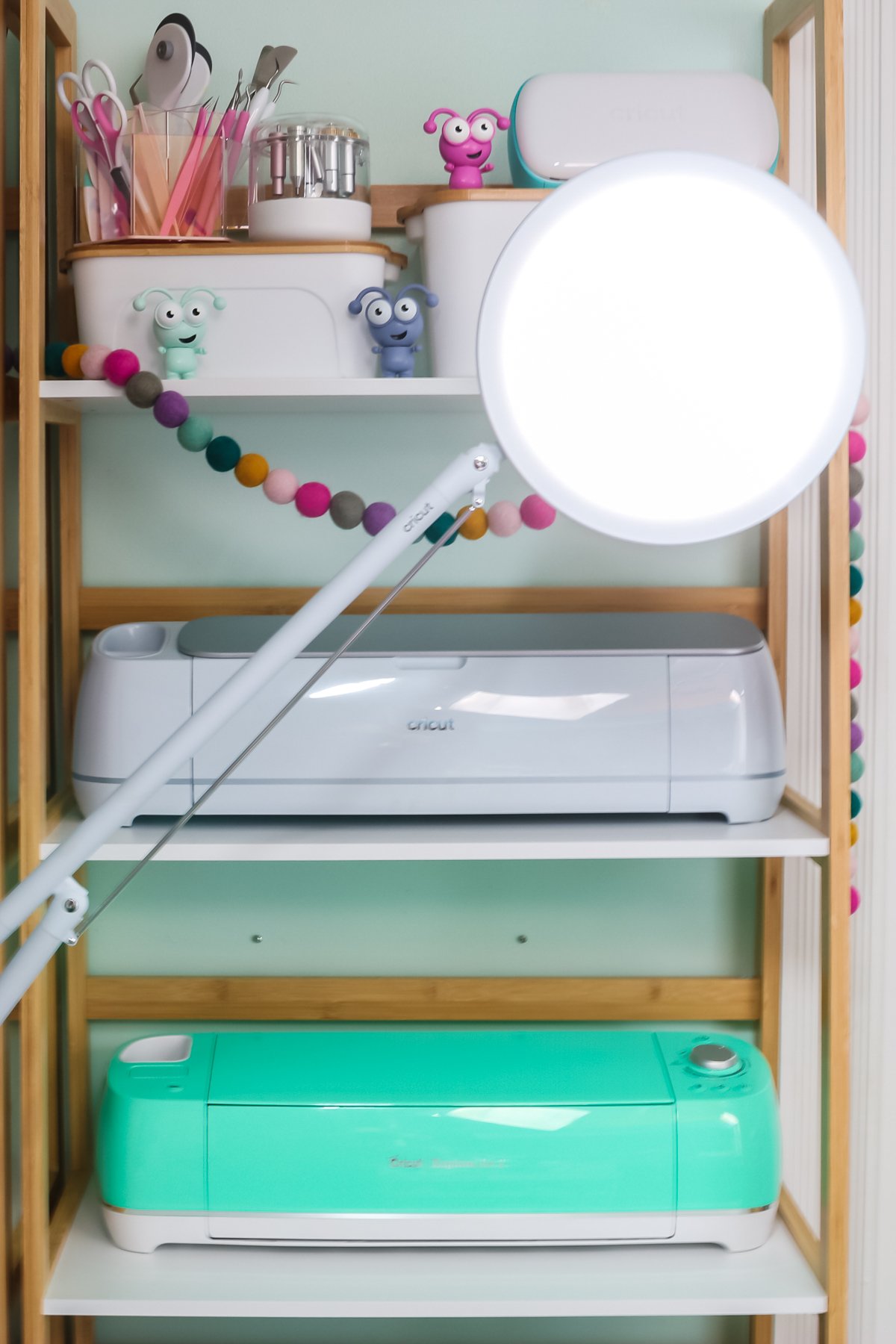 Craft Room Lighting
You can actually see four different craft room lights in the video below along with my review for each one. Just click play to watch!
Can't watch the video or miss some of the information? You can follow along below as well!
Lights Used
What Makes a Good Light?
Let's talk a little bit first about the basics of what makes good craft room lighting. After all, we need to know what to look for with each of these craft lamps.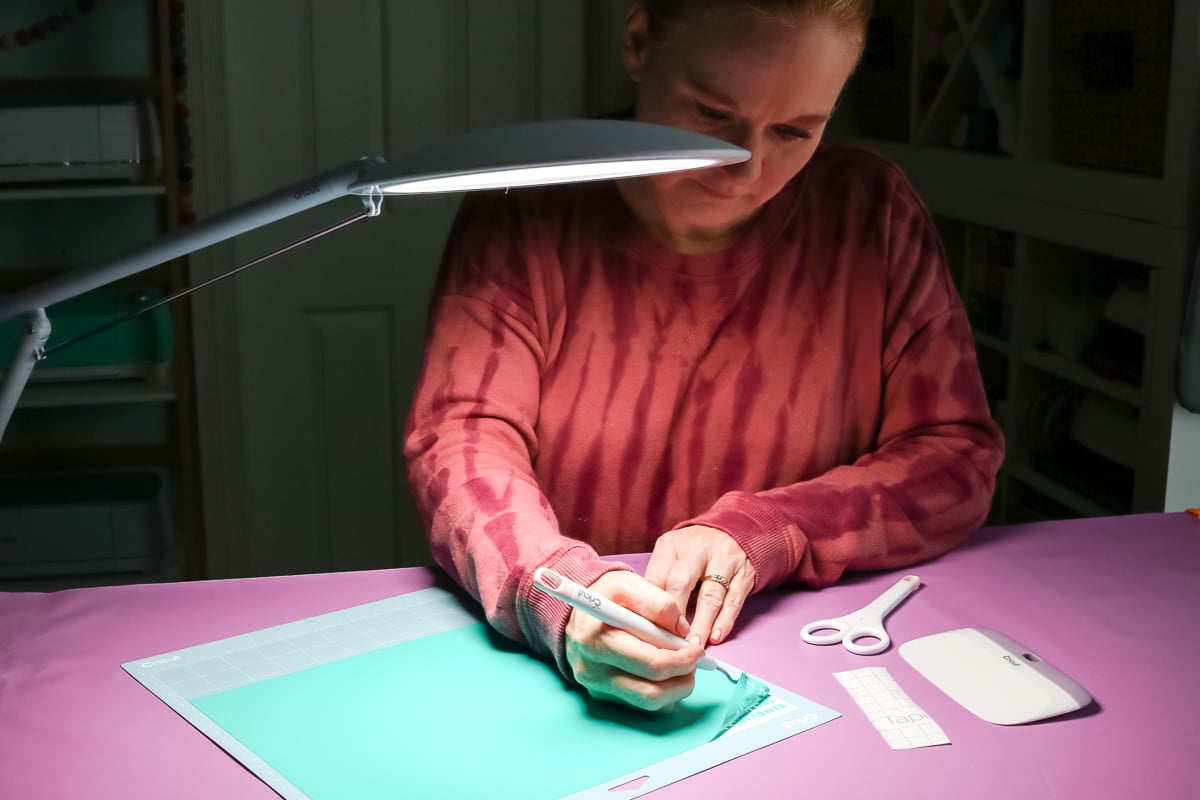 Brightness
The first thing is brightness and all of the lamps shown have adjustable brightness where you can adjust it up and down. The brightness of each lamp varies, and not all of these have a measurement available for me on the website. I have no way to measure it here so I will be using my eye to judge how bright they are.
Temperature
The other thing that I find important for craft room lighting is temperature. Temperature is measured in Kelvin. It goes all the way from very warm (2200 Kelvin), which would be a very yellow light, to about 5600 Kelvin, which is white light. A daylight-type temperature, about 4400 Kelvin, is really optimal for getting your colors correct when crafting. For me, it is important to get a light that has an adjustable temperature. For you, it might not be, or maybe you just want light where it's daylight all the time. Each of these craft lamps has some sort of temperature adjustment, as well as brightness adjustment.
LED Lights
These are all LED lights, which means they don't get hot when they're on and the bulbs are not replaceable. The two most expensive lights were rated at a 40,000-hour life before the bulbs might go out. The cheaper lights did not have a rating that I found, so I'm not sure how many hours they would actually last. I've had the lamp with the black base for about a year and a half. I don't use it every day, but I've had zero trouble with the bulbs themselves.
Magnifying Lens
The only other thing that might be important to you as far as craft room lighting is a magnifier. I only have one light that actually has the magnifying lens. A lot of the OttLite brand of lamps have a magnifier. I didn't purchase one that did for this comparison, but you will find several of those that do. If a magnifier is important to you, be sure to look for that feature in your craft room lighting.
Budget Friendly Craft Room Lighting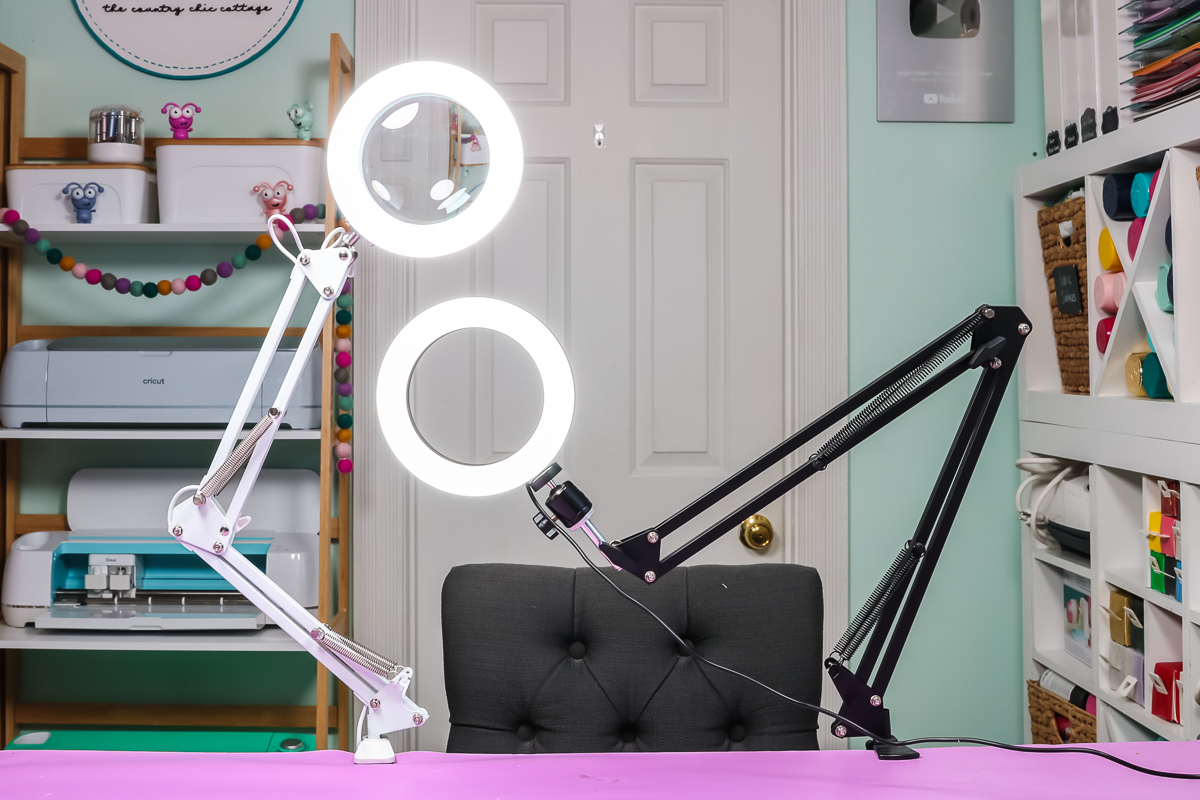 Now let's go through each of these lights and look at some of the benefits and the drawbacks, so you can make the correct decision for your space. We're going to start with the two least expensive options. The least expensive option is the white ring light. It is the shortest and smallest light that I am reviewing. It is the one that has the magnifier. There are a few factors I'm going to rank these on.
Ease of Assembly
First is the ease of assembly. I almost gave up on this light and didn't even include it in this video because the assembly was horrible. It was super frustrating and hard to do. They make it look easy on Amazon, but it is not easy.
Height Adjustment and Rotation
The white light is adjustable but it doesn't always stay in place. I also need to loosen some clamps for full movement. This one also clamps to the table which may or may not be something that you are looking for in a craft lamp. You do have to plug this lamp in and it did come with everything needed to do so. Plus, the cord runs down the base so it stays out of the way which is nice.
This black ring light has some similar adjustments, but the adjustments on the head are different from the white light. It is actually really annoying and I've had trouble with it ever since I've had it. The adjustment itself is a little flimsy and it's just a little hard to adjust and get it to stay where you want it. It is taller than the white version shown, so it could be used in a wider variety of situations. Also, the cord on this one is just hanging and it gets in the way all of the time.
Again, it clamps to the table. (The only floor model that I'm reviewing today is the Cricut Bright 360.) There are not a ton of floor models or table models on the market that I've found, and that kind of frustrates me. I'm not a huge fan of the ones that clamp on the table. It seems like the majority of the lights that are on the market have a table clamp, which is one of the reasons I like the Cricut Bright 360. That one has a floor model and a table model, but the table model has a really large base and I don't have that space on my table to dedicate to a base. The clamp lights are nice because I don't have to dedicate space on my table to a base, but it's difficult to move.
Temperature and Brightness
Both of these lights are adjustable temperature, as well as brightness with a switch on the cord. There is a plus or minus for brightness, and then it has another button for the temperature. There are three temperature settings – 3000, 4500, and 6000 Kelvin. The 6000 is actually a little cool for me, and the 4500 is a little warm. They don't have a middle ground where I personally like my light to be, so that's a bit frustrating. There weren't any brightness measurements on either of these on the listings on Amazon. They're okay brightness, but not extremely bright. It would light up a small surface.
More Expensive Options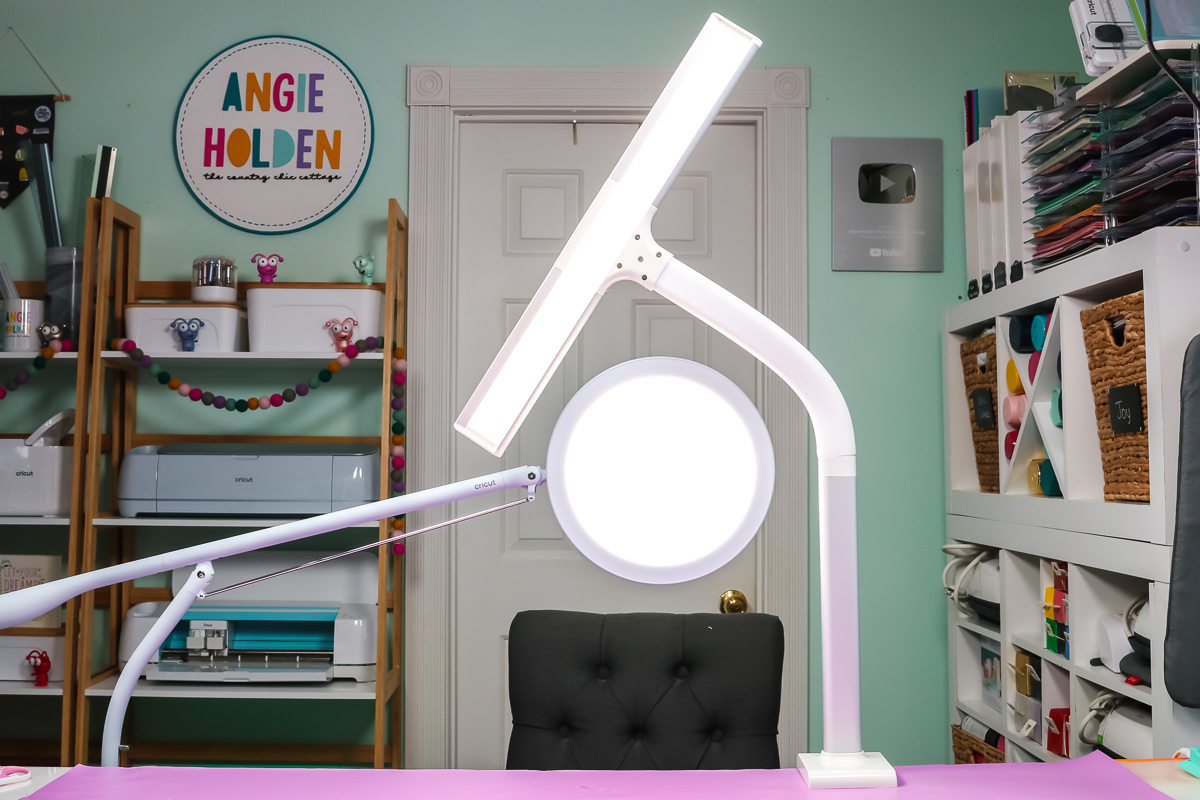 Next up are the OttLite and the Cricut Bright 360. The OttLite I have is less expensive than the Cricut Bright 360. However, there are several different OttLites. They make ones with magnifiers, clamp lights, floor lamps, and they are at a wide variety of price points. I just wanted to do an overview and comparison of how much I like the OttLite versus the Cricut Bright 360.

The OttLite is a long bar, instead of a round head like the Cricut Bright 360. You can find the OttLite adjustments right on the front. There's a power button, dim buttons to dim or brighten the light, as well as the M button, which changes the color temperature.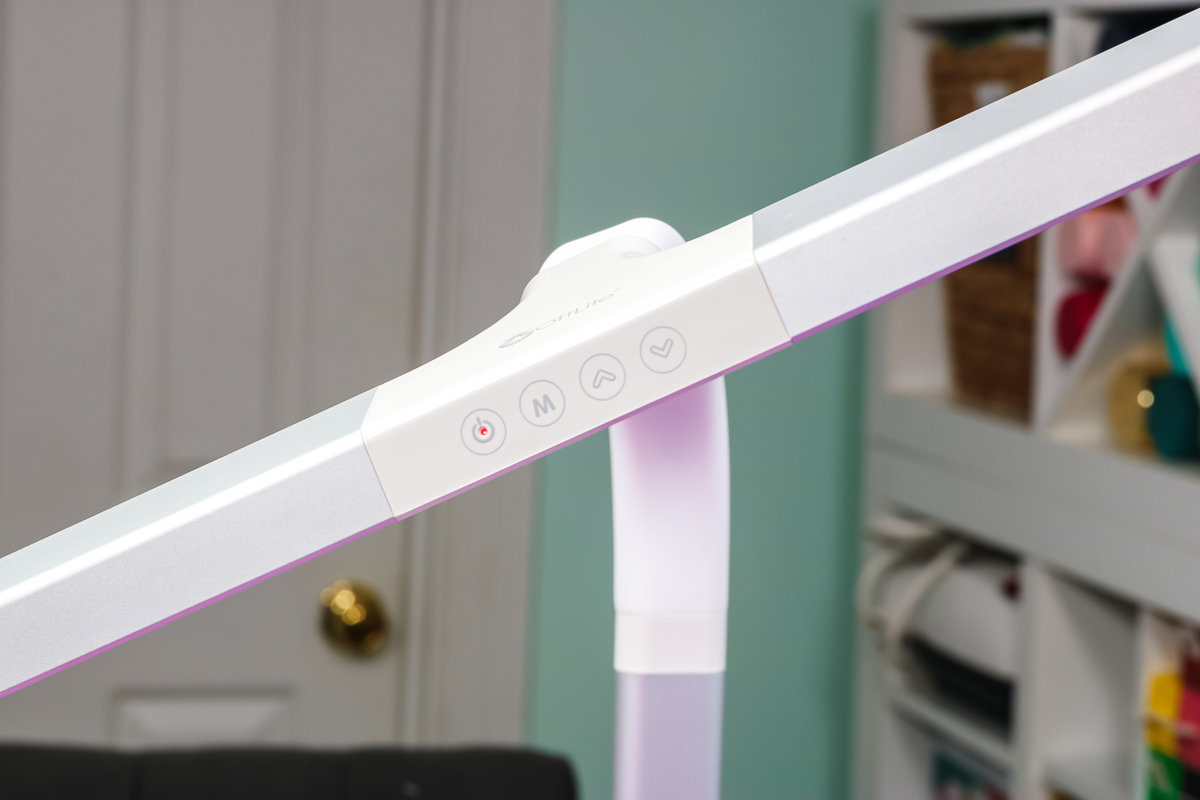 Ease of Assembly
These are both super easy to assemble. For the OttLite, I just had to put the head on with one screw. It came with everything I needed. The Cricut Bright 360 just snapped together. No tools are required. Both of these get that A+ on ease of assembly.
Height Adjustment and Rotation
I went with the clamp version on the OttLite. The clamp is much larger than the cheaper lights that I tested, which means it's more sturdy, but it also needs a bigger table area to sit on. The tabletop version of the Cricut Bright 360 has a large base. I think you will sacrifice more table space with a more robust light.
The OttLite adjustment is amazing. I don't have to turn any clamps. I don't have to worry about it falling over because I can just move it around with my hand similar to the Cricut Bright 360. You can just move it with your hand and it stays in place. For me, the biggest benefit of these lights is the ease of adjustment. I do definitely think that you get what you're paying for with lights like these.
The OttLite brand makes so many different lamps that I could probably find the size that I wanted. The Cricut Bright 360 currently comes in two sizes – this floor version that I have or the tabletop version. If you craft at a regular-sized desk, this floor lamp will probably be perfect. If you craft at something taller, you might want to go with the tabletop version instead. I do think that height is an issue with some of these lamps if you have a tall desk or counter.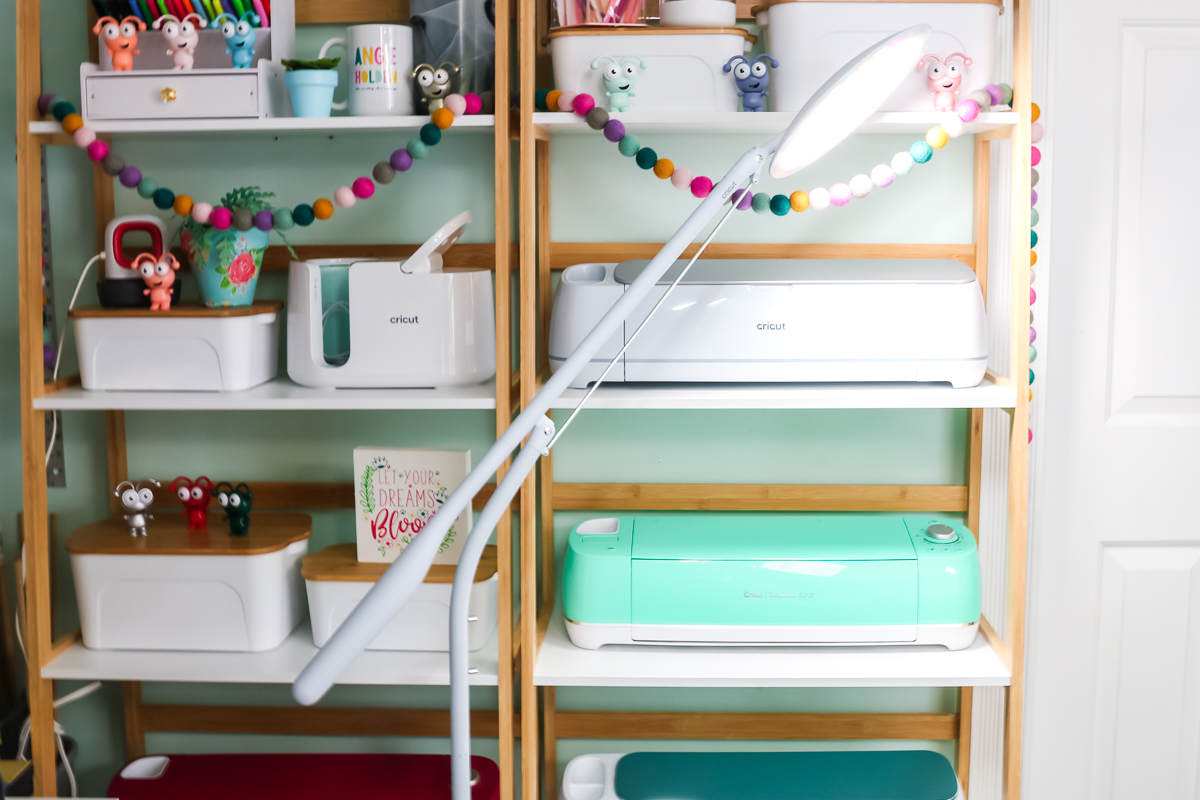 Temperature and Brightness
The OttLite has three temperature settings. Those are 2700, 4000, and 5000 Kelvin. The 5000 Kelvin is still a little warm for my personal taste. What are the Cricut Bright 360's ratings? It can go anywhere from 2900 Kelvin to 5200 Kelvin, and it has a sliding bar. It can literally go anywhere between that. You can get that daylight-type light at around 4400. It probably doesn't go as white as I like it for video, but that's just my personal preference.
For brightness, both of these had maximum brightness listed on their listings, but it's in two different formats. You can measure brightness in lux, as well as lumens. I tried to convert the OttLite rating into the same format as the Cricut Bright 360 rating. I got that the OttLite is about half as bright. Now I don't really feel that in person, but I do think the OttLite is a little dimmer on the brightest setting.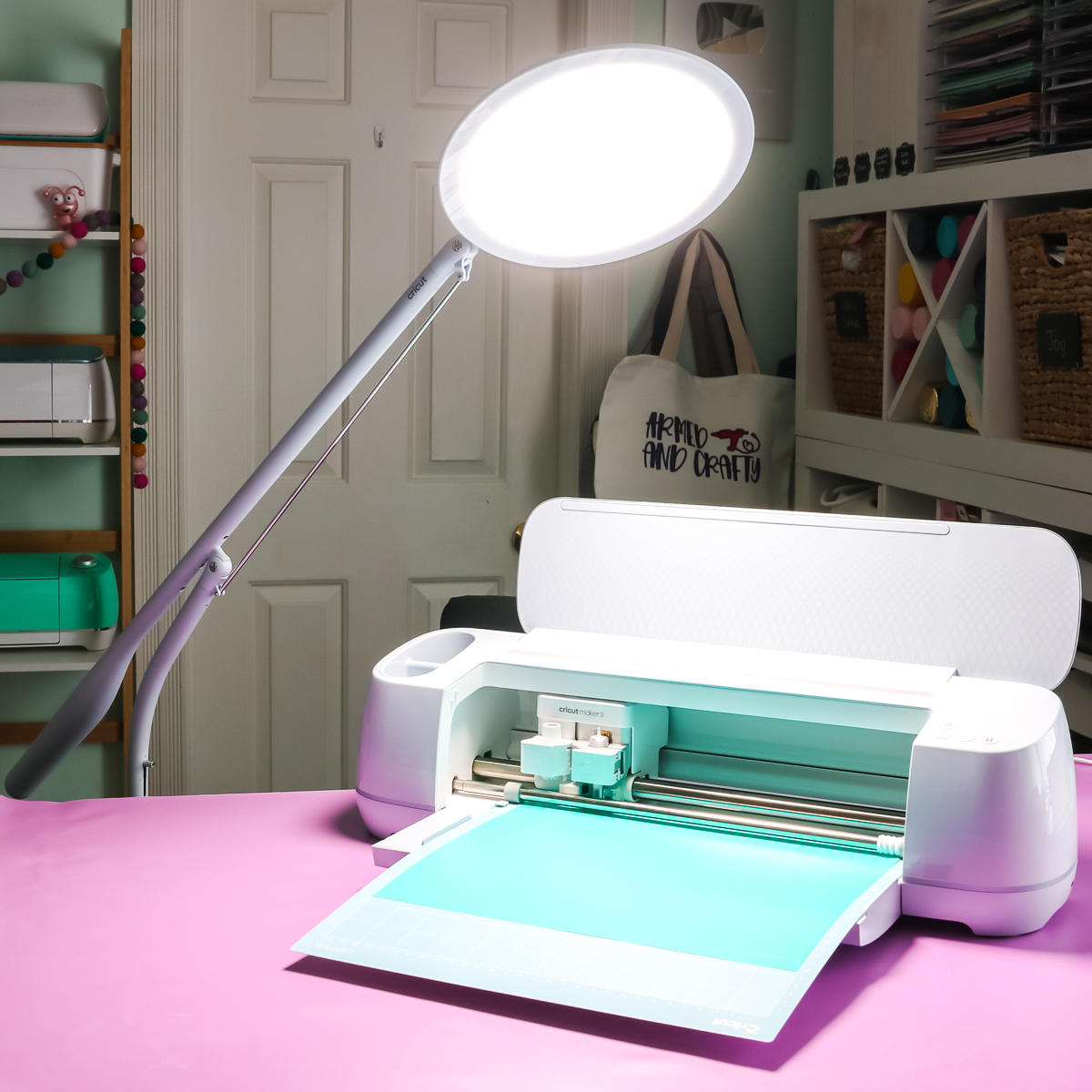 Which Light Would I Pick?
For me, if I was looking for nice craft room lighting, I might shop around for an OttLite version that I really liked, or I would look at the Cricut Bright 360. Why do I like these more expensive versions over the more budget-friendly versions? A few different things attract me to lamps like these. First of all, both of these are way brighter than those budget-friendly alternatives.
Also, I need these to be super specific lighting for my needs. Normally, I'm using these to take pictures or to craft by, so I need the lighting to be super specific and I don't need to spend 10 minutes trying to get the adjustment correct only for it to fall over. I need it to be adjustable, and for the adjustment to be easy, which it appears you're going to pay for. If you want a magnifying light and you want to see close up, then I would definitely shop around for an OttLite that has a magnifier. For me, I don't really use a magnifier.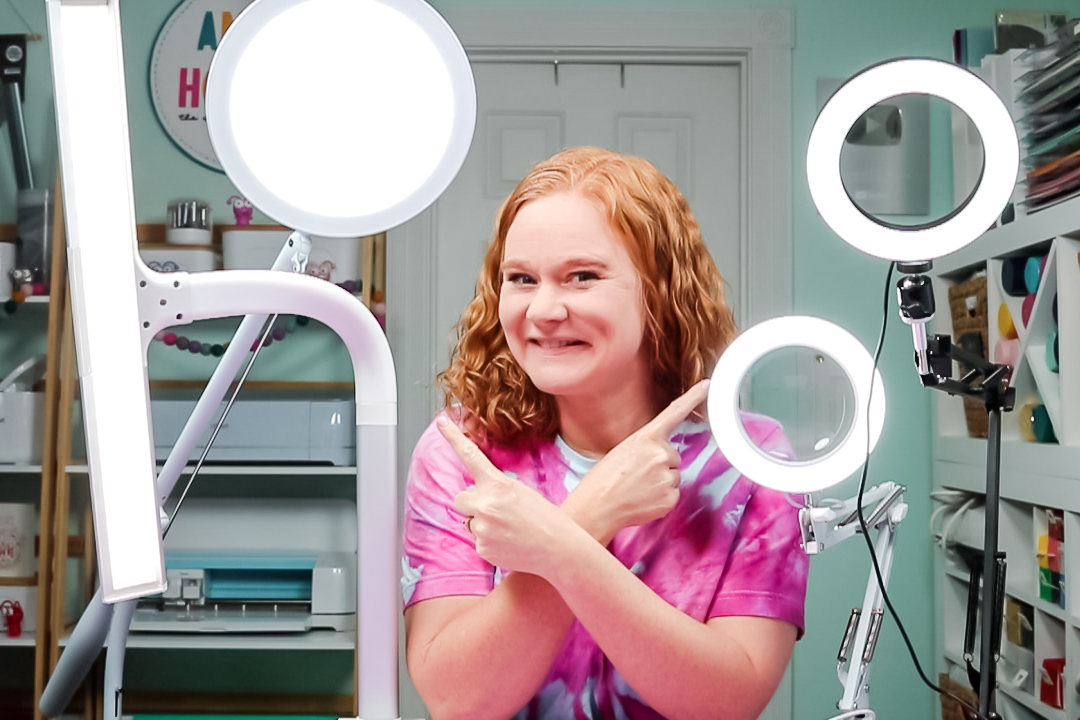 Now that we've gone through some of the features for craft room lighting, hopefully, that helps you make a decision. I do like the more expensive craft room lighting for my everyday lighting needs. What you can't see behind the scenes is that I have several video lights hanging up and they are similar to the Cricut Bright 360 – similar in price and similar in features. That's what I need to make videos for you and to shoot images for my blog posts. Perhaps you don't need something that advanced for your craft room lighting. Some of these other lights might be more in your price range, and you can do a comparison with the benefits and the features and compare that with the pricing and your budget.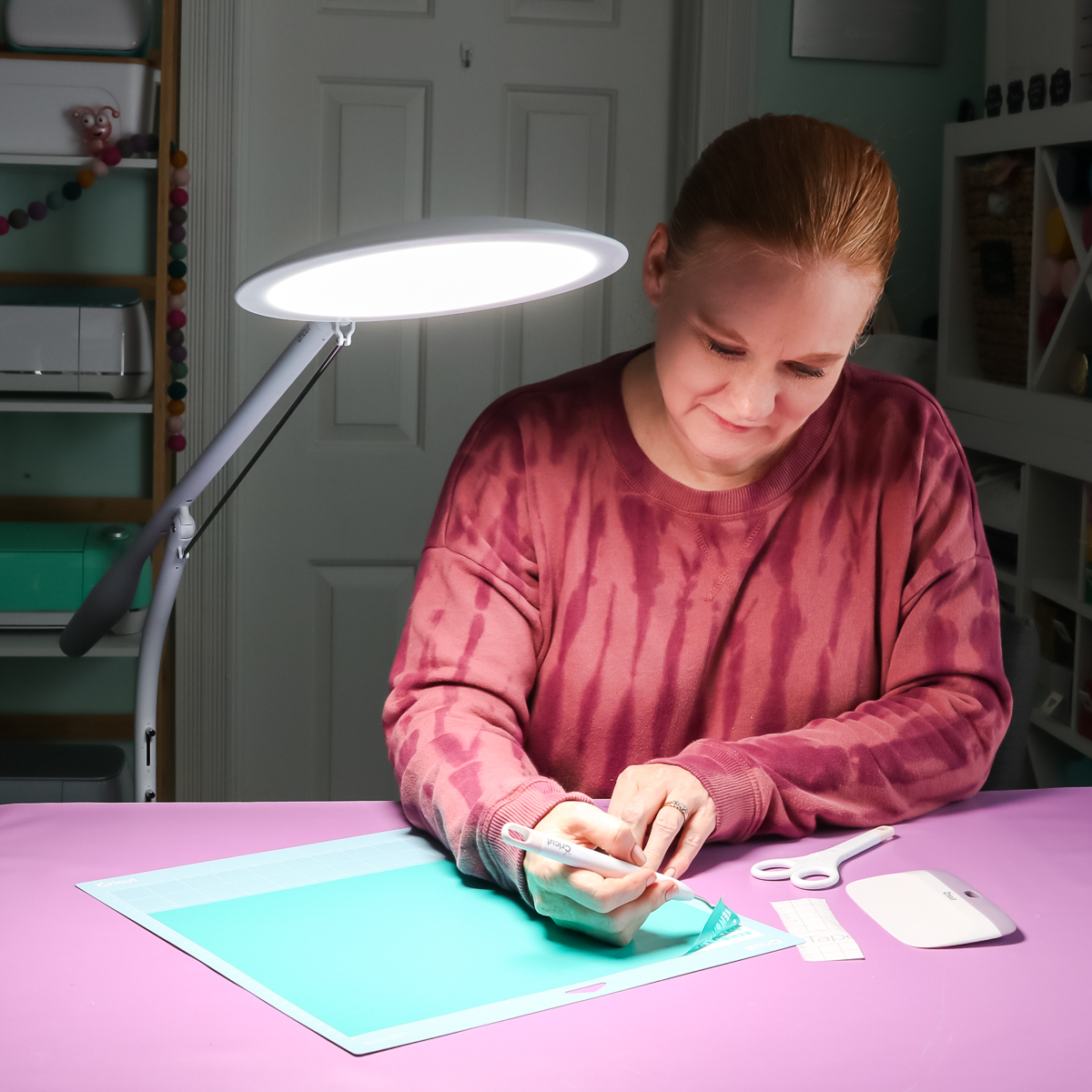 I would also say if you're running a business and taking photographs of your products, a light with temperature adjustment will be life-changing. However, if you can't afford any of the lights that I'm talking about today, change out the bulbs in the room you're in for daylight bulbs, and it'll already make a huge difference. Otherwise, if you can afford a good light with temperature adjustment, I guarantee it will make a huge difference in your product photography.