Today we're going to talk about Cricut vinyl storage and HTV storage. I have a huge wide variety of options for you and I'm going to show you what works for me and what doesn't work for me, so you can pick the best option for your space. Then use these to create the Cricut craft room of your dreams.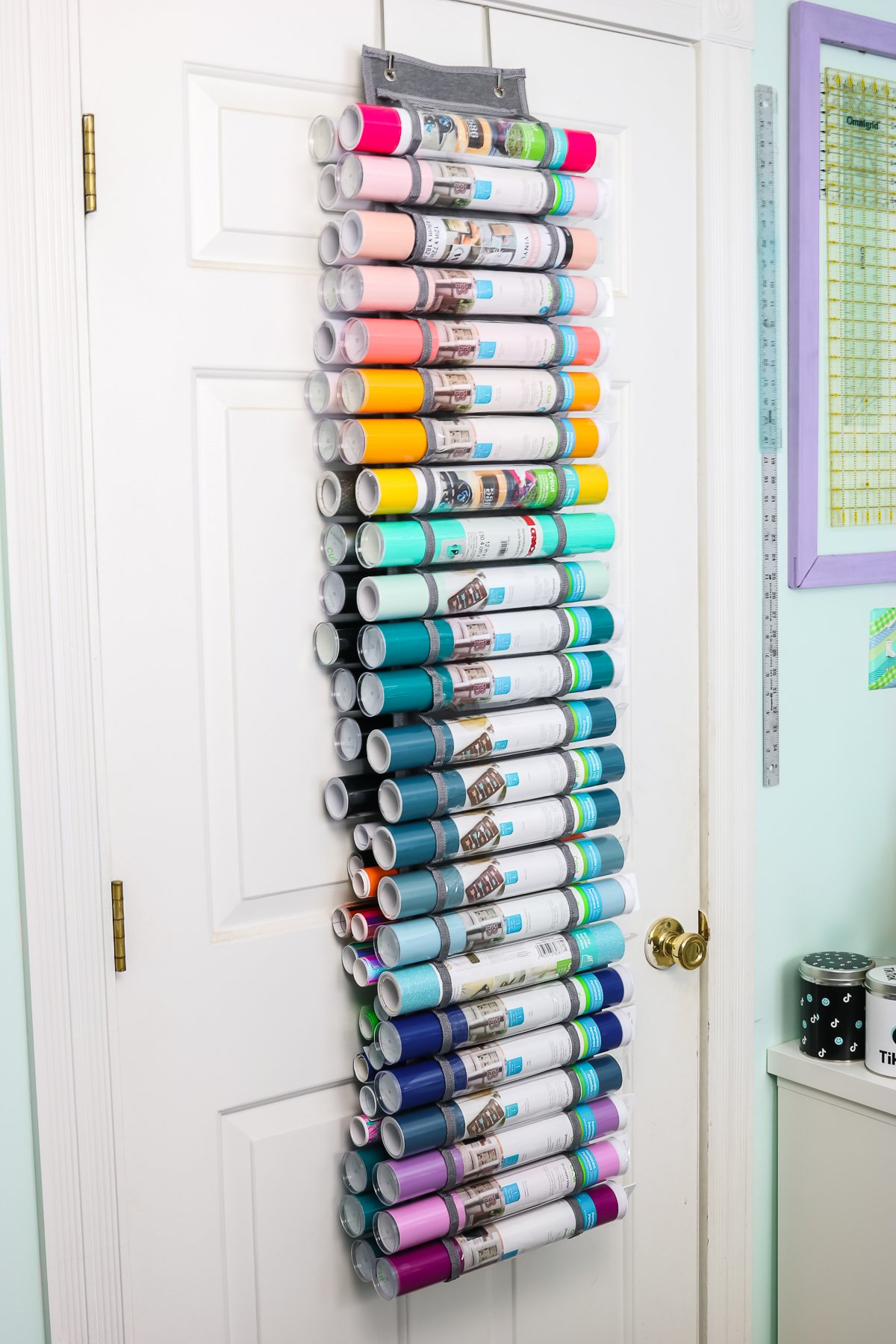 Cricut Vinyl Storage
Want to see all of these vinyl storage options in action? Just click play on the video below to see me try out various options for storing and organizing vinyl.
Can't watch the video or miss some of the information? You can follow along below as well!
Supplies Used:
See below for which of these options worked for me and which did not!
Types of Vinyl and HTV
Let's start off with all the types of vinyl you might need to store. I mentioned HTV and vinyl, which is true, but you might need to store them in their original packaging. That would include vinyl that is on the roll and wrapped. You also might need to store pieces or scraps. These products can also come in different sizes. This would include different widths as well as lengths depending on where you purchase. I tried to find options for every one of these varieties.
How to Hold Vinyl Rolls Tight
When I'm storing something that's not in its original packaging, I like to roll it up for most of my storage needs. To roll it up, I use something that you might not expect – slap bracelets. Roll up your vinyl and then just add the bracelet around the center to hold it in place. They are reusable and easy to store when they are flat.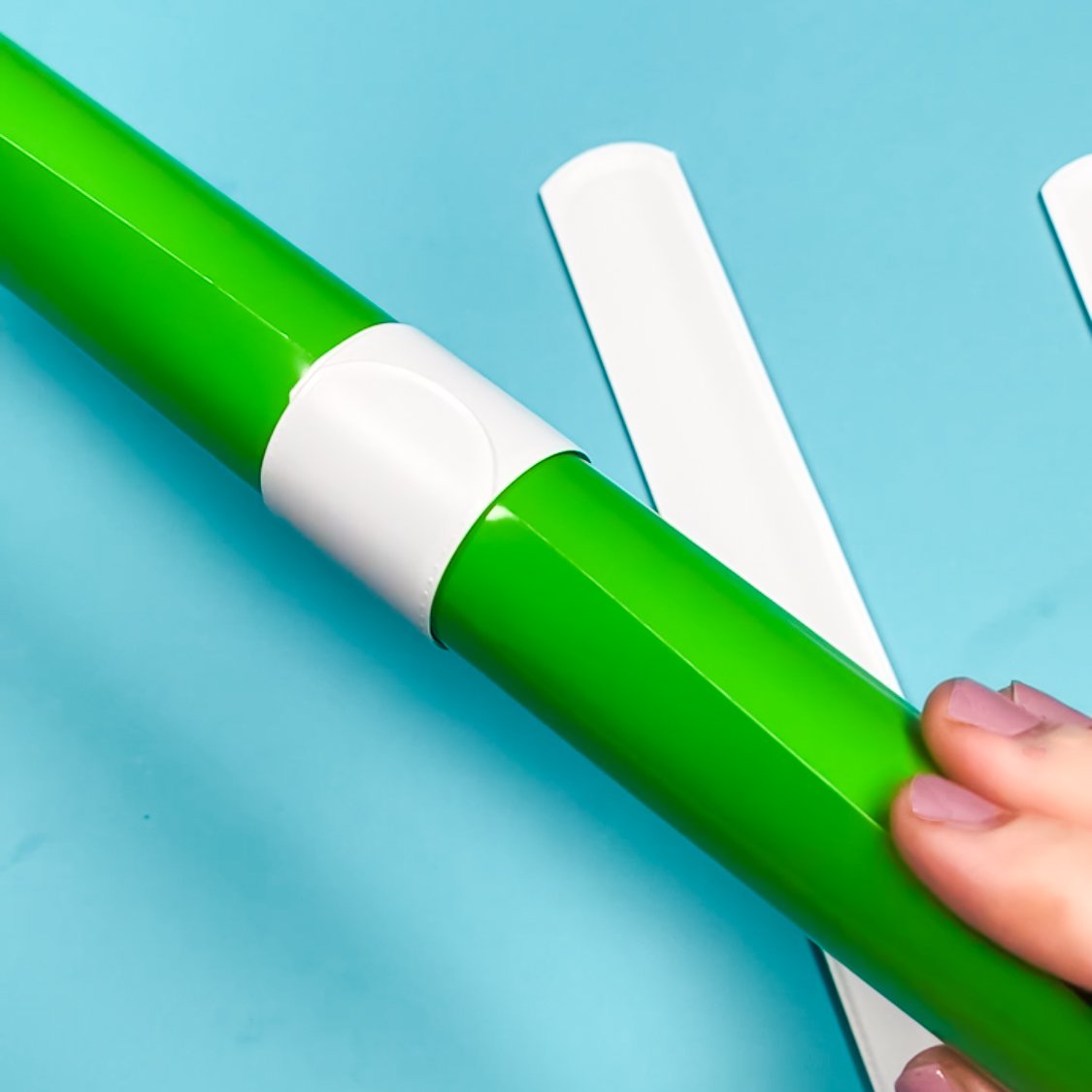 Options for Cricut Vinyl Organization
Now let's take a look at all of the options that I have tested and which I liked and didn't. Use this as a guide to find the perfect Cricut vinyl storage for your space.
IKEA Bag Holders
I often see people using IKEA bag holders for Cricut vinyl storage. They are inexpensive if you have an IKEA nearby plus they also sell versions of them online. There are a few issues I have with the IKEA ones. If I have the original wrapped roll, it fits fine in the back holes, but I struggle getting it in and out of the front holes. The next issue is small rolls don't fit well and get disorganized because they're so loose. The wider rolls also don't work well in these. What tends to happen is these look great when I first organize my craft room, and then as my vinyl collection grows and I get all different sizes, it tends to look like a mess on my wall. So for me, these aren't working. I think they would work better if I didn't have so much vinyl.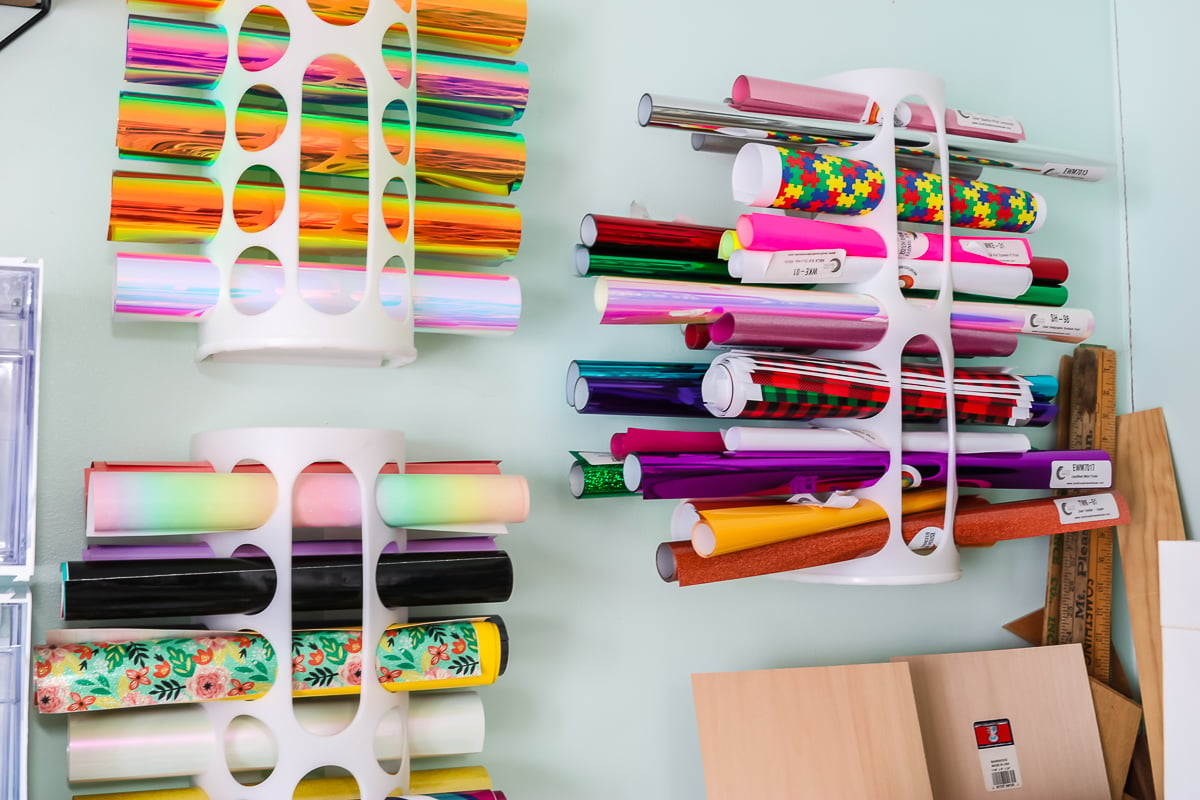 Storing in Drawers
Another option for Cricut vinyl storage that I've used in the past for things like 12 x 12 sheets, and even the rolls, is drawers from IKEA. I have an IKEA cart that has drawers and I started storing all my sheets in there plus some rolls plus some scraps. I found that I never knew what I had as vinyl got buried in the drawer.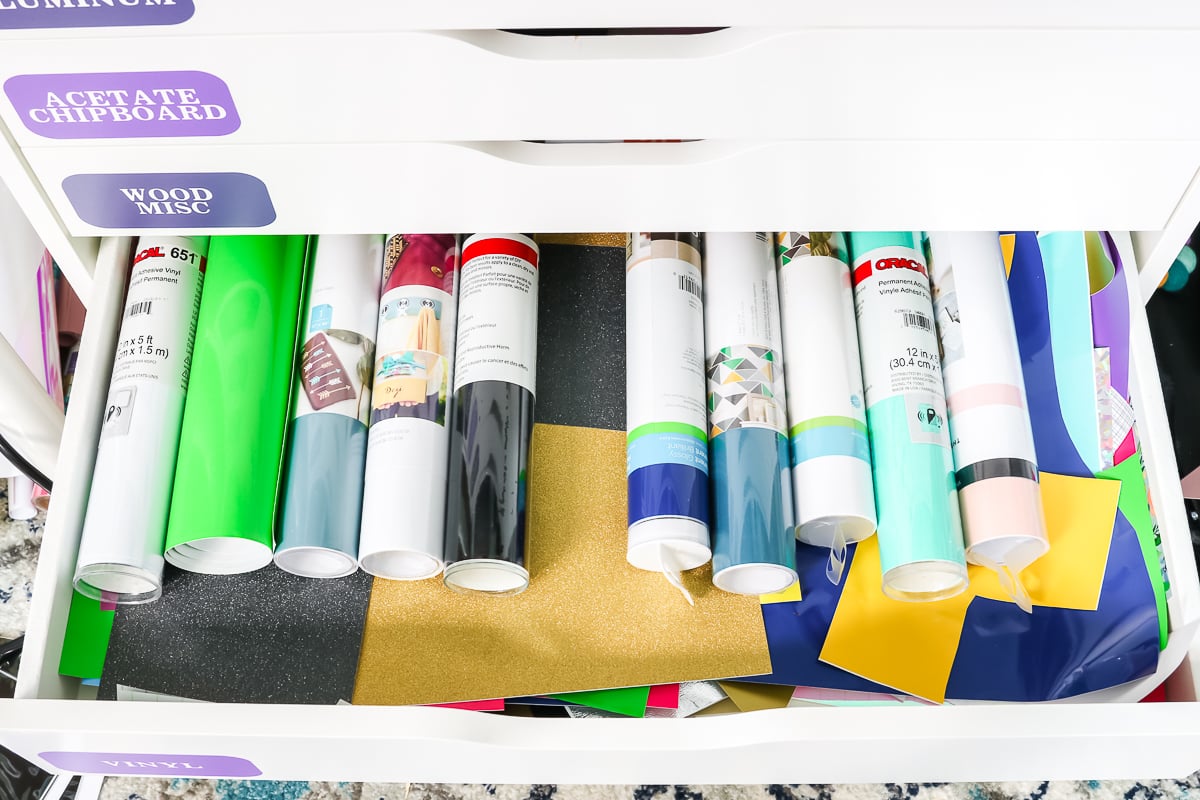 Stackable Trays for Sheets
I have found that for vinyl sheets, using these stackable trays from We R Memory Keepers is a great way to stay organized and keep everything visible. They come in a box with four trays in a set. Just stack them up with one on top of the other. They fit 12 x 12 scrapbook paper, but they also fit 12 x 12 sheets of vinyl and HTV. I do find that I buy a lot of the colors in 12 x 12 sheets instead of on the rolls. Storing them like this allows me to see everything I have, put it away easily, and keep it separated by type. I can buy more trays and stack them on top if I have more types that I want to use. I will be labeling each of these trays as to the type that I have in each one.
NOTE: These stackable trays are designed to fit in some of the IKEA Kallax units. Be sure to measure the unit and look at the dimensions on the trays before you order. It might be a good option for Cricut vinyl storage for those of you that have cube organizers in your craft room.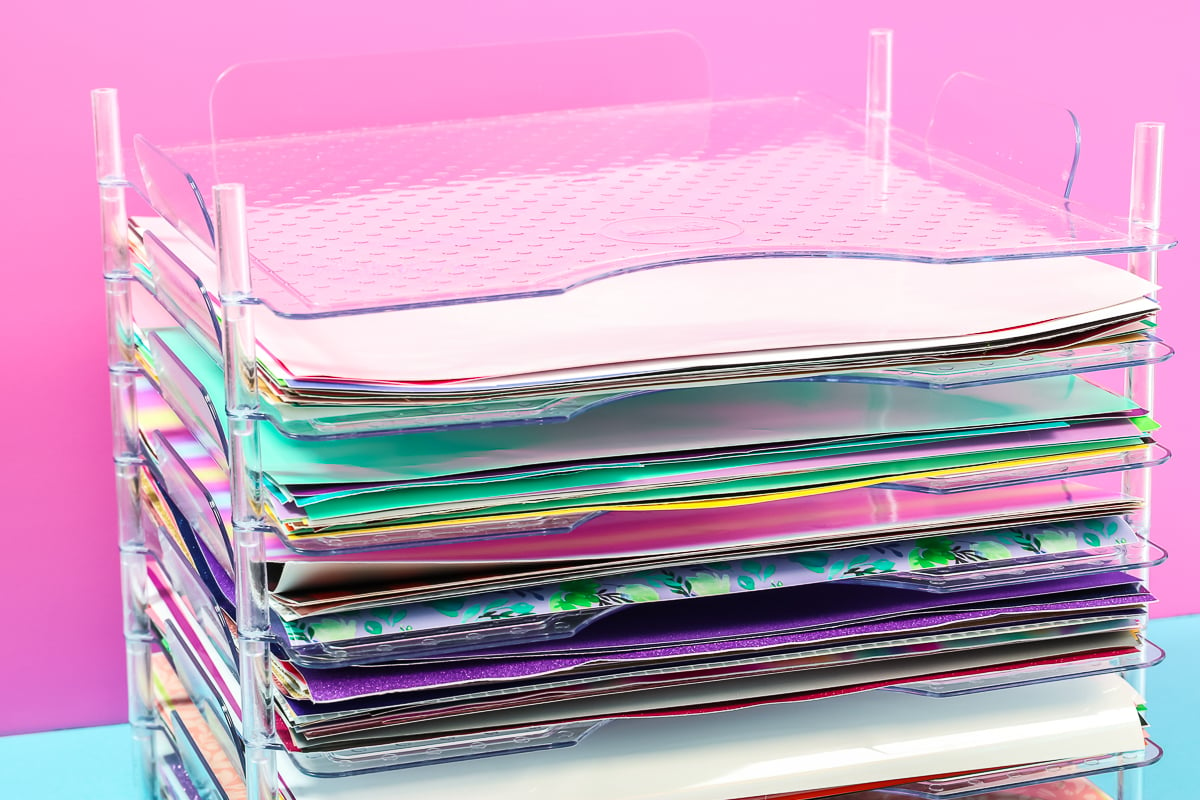 Vinyl Scrap Storage
Now you're saying to yourself, "Well, what did you do with all those scraps, Angie?" I'm going to try and use just two large plastic bins in my craft room for all my scraps. I do think that'll work best for me because I tend to not want to organize my scraps into color or type.
Double Hanging Organizer
This double hanging organizer can be put over your door or you can add it to a wall. There are some things I don't like about this one and why I'm not picking it for my craft room. The first is that it works pretty well for rolls that are unopened. You can see those at the top. The only thing I don't like about it is that there is really nothing in the center to keep them from falling out. For wide rolls, it's not going to work because it's hitting my doorframe. For my craft room, this one is out. In some spaces, it might work. It is an organizer and it does hold vinyl, but there are a few things that I'm just not crazy about.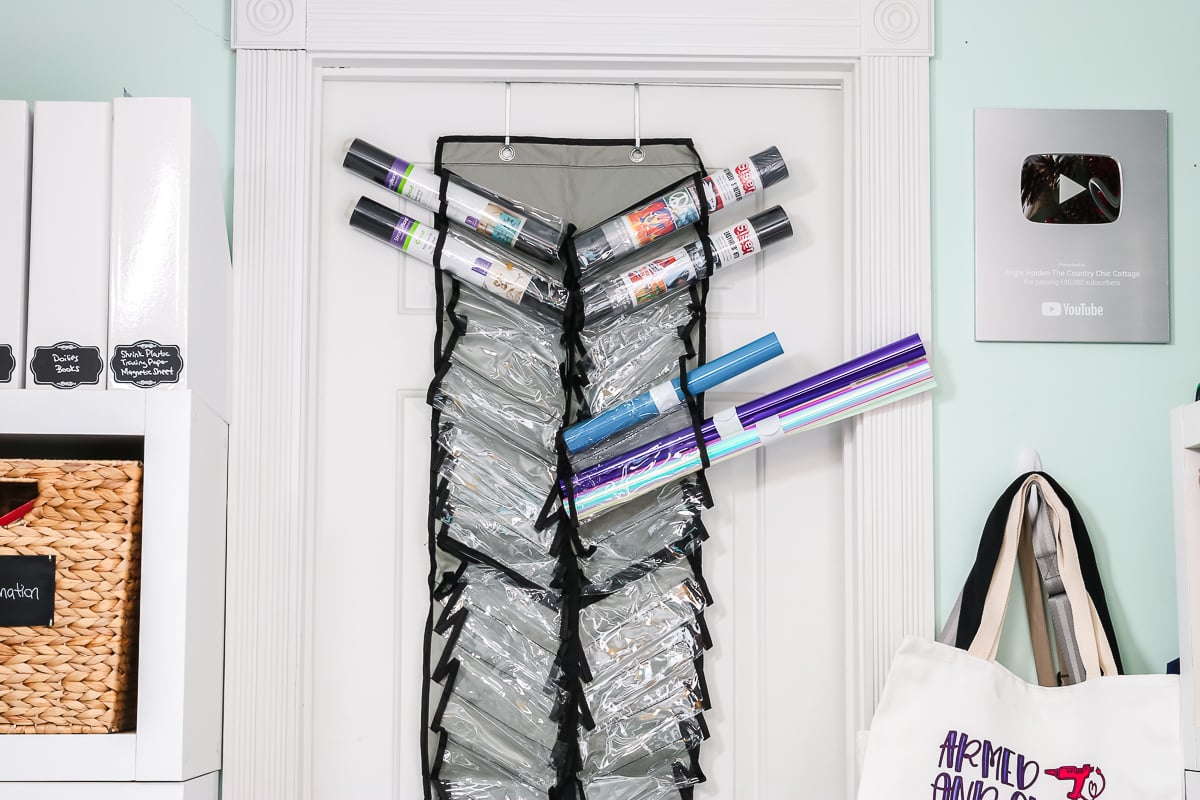 Durable Vinyl Organizer
This next hanging organizer can hang over the door or on your wall. It is extremely durable and I love the color. However, this is too small, in my opinion, for unopened rolls. You literally have to force them in. However, if you use all open rolls or order from someone who ships without the cardboard tube on the inside, this one could be a great option. It does hold them firm and because it's just down the middle, it would work great for wide rolls as well. It would only fit one roll per opening, even rolled up tightly with slap bracelets.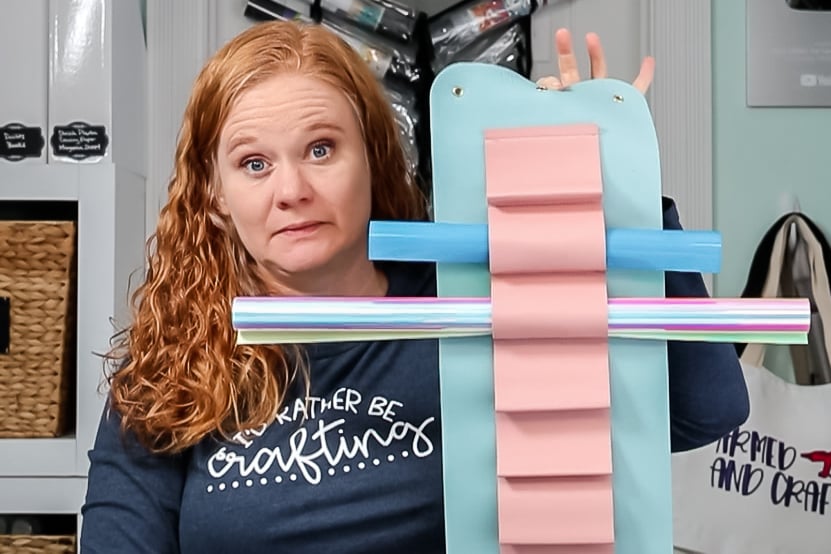 Shoe Organizer
I have been searching for something that will work with Smart Materials so I decided to give this shoe organizer a try that hangs over the door. Why don't I have it over my door? Because my door will not close with the brackets that they've included. Order this one with caution because your door may not close. I think you could modify the brackets to work on the wall, but it definitely needs a long bracket that goes all the way through because the shoe organizer opens up into squares. It works great for smart vinyl. You could put four of the small per square, and it's double-sided. It would not work for those wide rolls, however. The unopened rolls of regular vinyl still work fine and you can put several in each hole, but it may not be as organized as you'd like it to be. If you're looking for a solution for Smart Vinyl, this could be for you.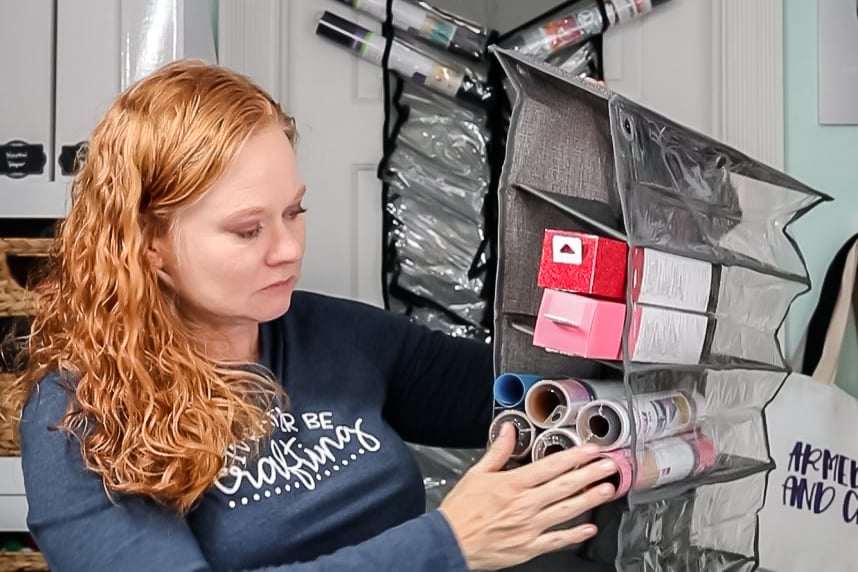 Smart Material Storage
I have had these inserts for my cubes for many years. The larger Smart Vinyl rolls fit four per cube, the smaller rolls fit nine per cube. I have seen people use a similar unit for the IKEA Kallax that is intended for wine that would also be a solution for Smart Materials.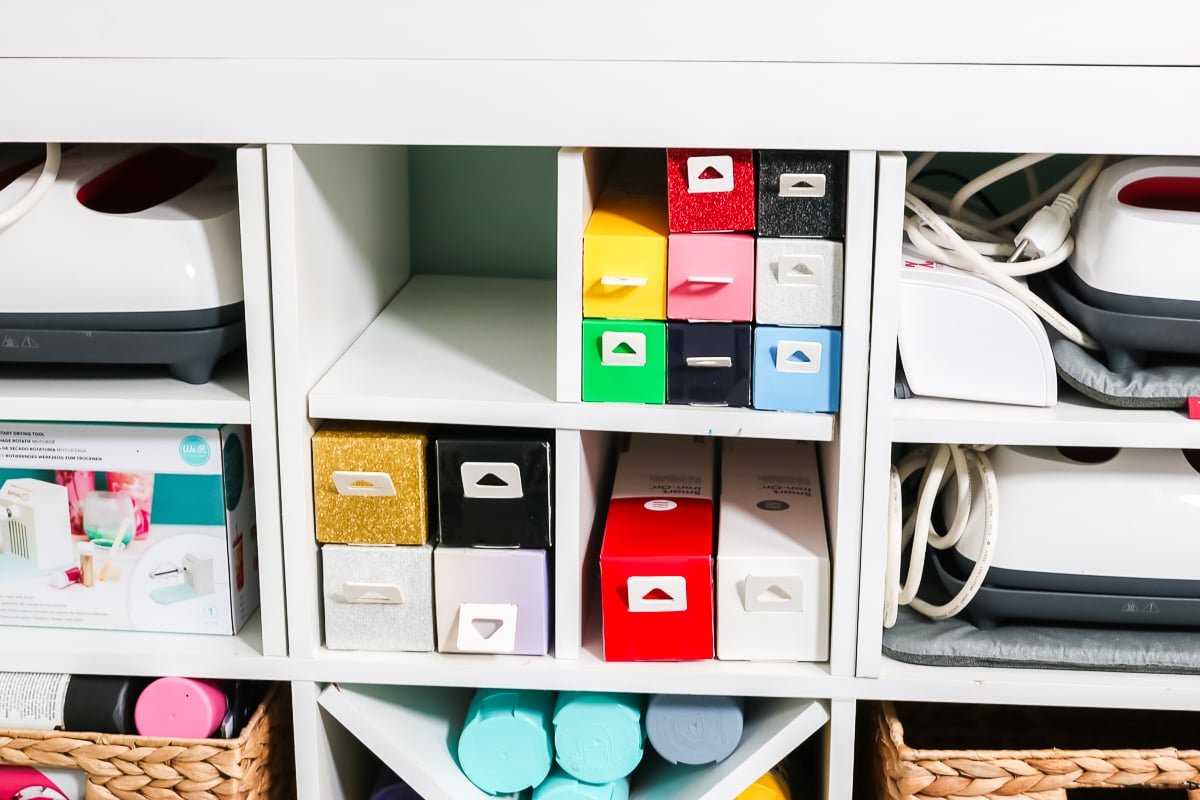 My Favorite Solution for Rolls
So, what did I end up going with for my Cricut vinyl storage? I love this over-the-door organizer for all my vinyl and HTV storage. It is double-sided and you can fit the rolls that are unopened on both sides. I also have rolls that are opened with my slap bracelets around them in some of the holders. Two to three of these will fit into each of the slots, just depending on how big the rolls are. You could do the wider rolls as well in each of these slots because it sits in the middle of the door. I have two doors in my craft room. I'm going to use two of these – one on each door for vinyl and HTV.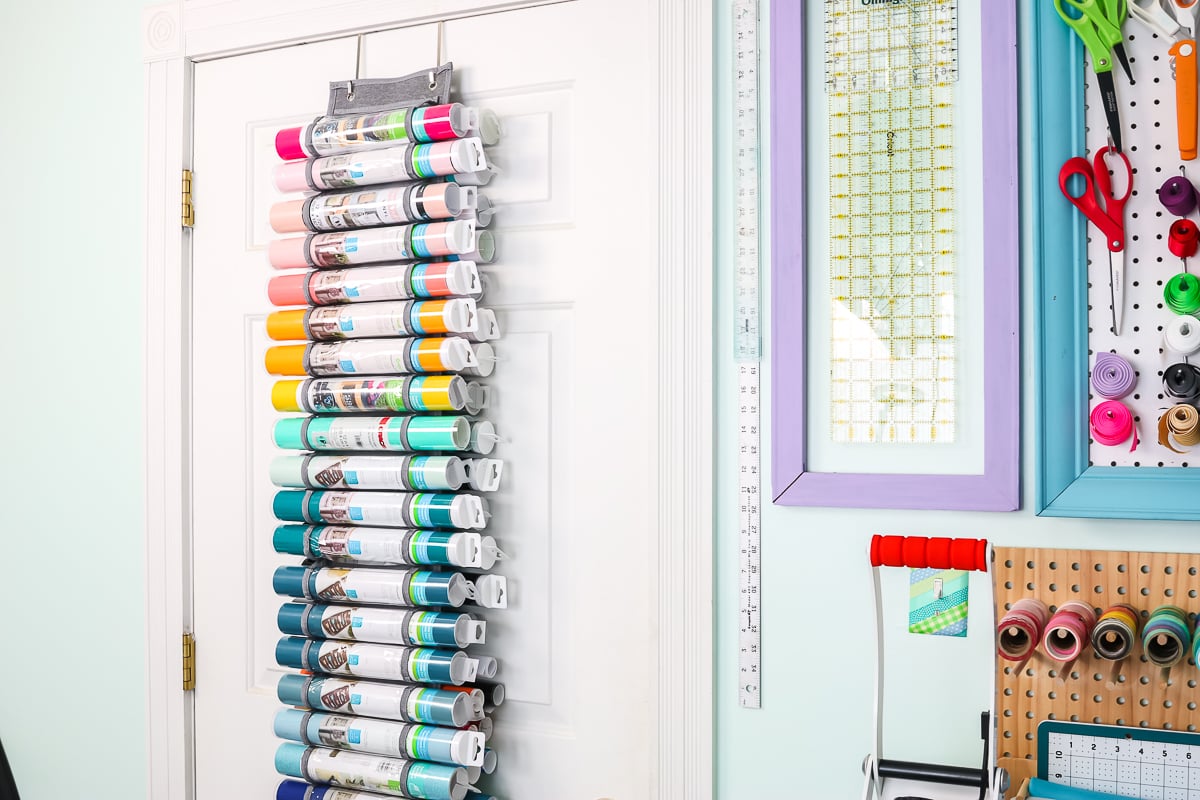 I think this double-sided unit is really great for just about anyone because you could do vinyl on one side and HTV on the other, and keep your products separate. It has 24 slots on both sides, so plenty of room for most people. If you've been around here any time at all, you know I do a lot of crafting, so I do keep a ton of vinyl on hand. These will work for me, as long as I use two of them. Plus, it fits on the door perfectly and the doors shut. This is definitely the vinyl organizer for my space along with that 12 x 12 sheet organizer I showed you above.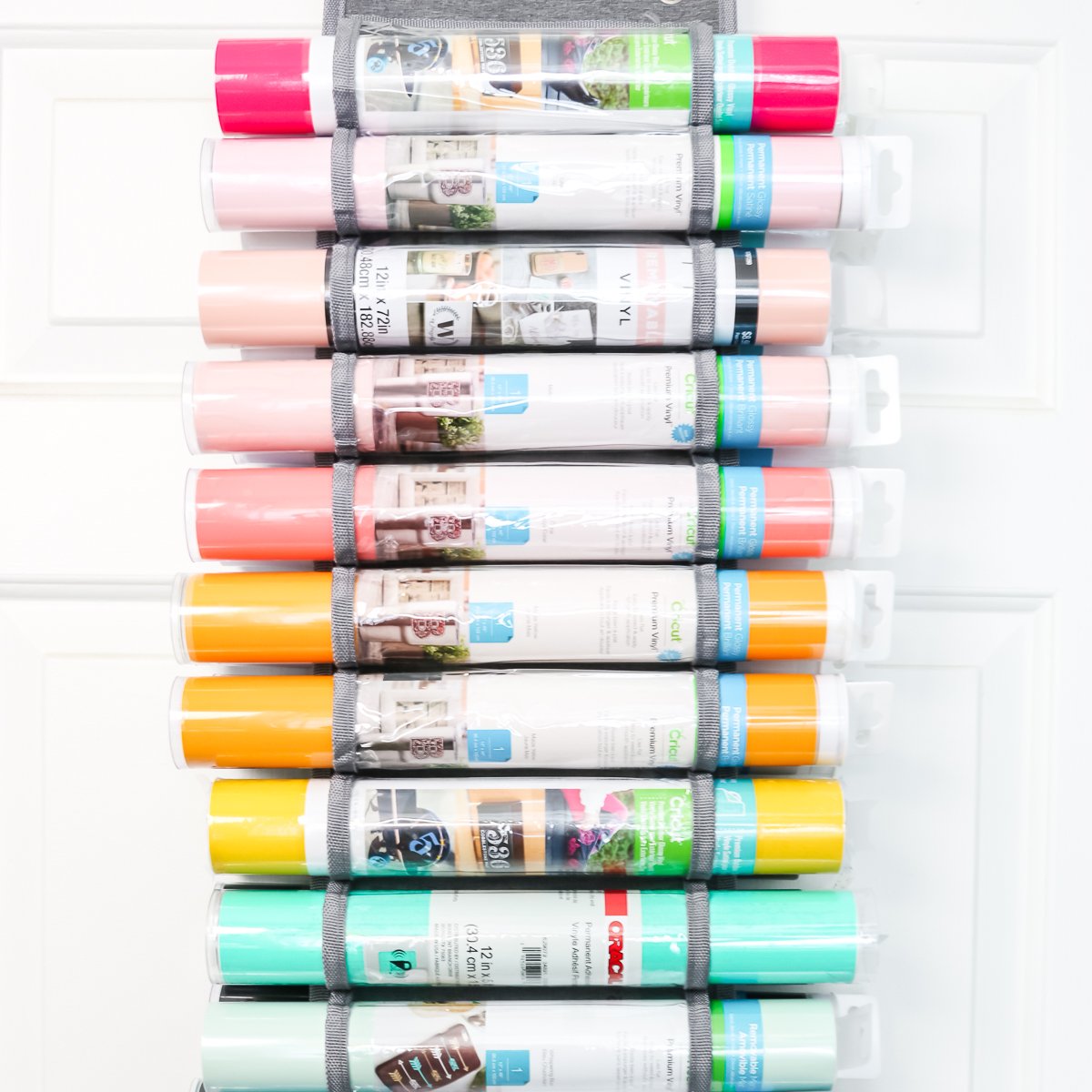 I hope this gives you some ideas for vinyl organization in your space. Whether you have a little bit of vinyl or a lot, hopefully, you found a solution that will work for you! Cricut vinyl storage can almost be like art for your craft room!