This post and photos may contain Amazon or other affiliate links. If you purchase something through any link, I may receive a small commission at no extra charge to you. Any supplies used may be given to me free of charge, however, all projects and opinions are my own.
My Crunchy Lemon Squares recipe is the perfect thing to make for your hubby. At least around here it is. You see my kids don't like anything lemon flavored. Both hubby and I love lemon flavored desserts. So when I make my lemon bars the two of us get them all to ourselves. Do you think that is mean? I think it is inventive. A way to show my hubby I care with a special dessert just for him. Learn how to make my unique and delicious crunchy lemon squares below.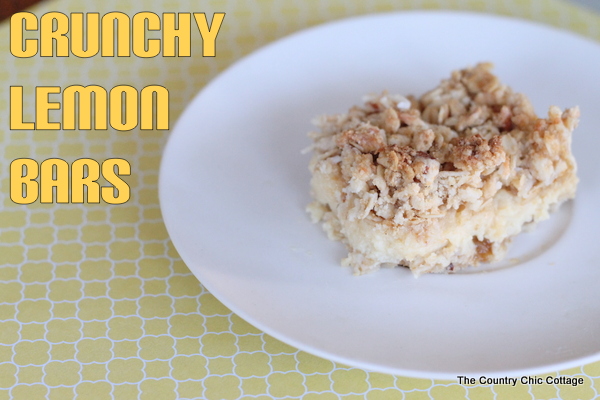 Crunchy Lemon Squares Recipe
Ingredients:
1 cup oats (uncooked)
1/2 cup coconut
1/2 cup firmly packed brown sugar
1 can sweetened condensed milk
1 cup flour
1/2 cup chopped pecans
1 tsp baking powder
1/2 cup butter (melted)
1/2 cup fresh lemon juice
Preheat oven to 350 degrees. Combine oats, flour, coconut, nuts, sugar, baking powder, and melted butter. Stir to form crumbly mixture. Pat 1/2 of mixture in bottom of greased 9×9 baking pan. In a separate bowl, combine sweetened condensed milk and lemon juice. Stir until combined. Pour mixture on top of crust in baking pan. Sprinkle the remaining crumb mixture on top. Bake 25 – 30 minutes or until lightly brown. Cool completely before cutting into 9 squares.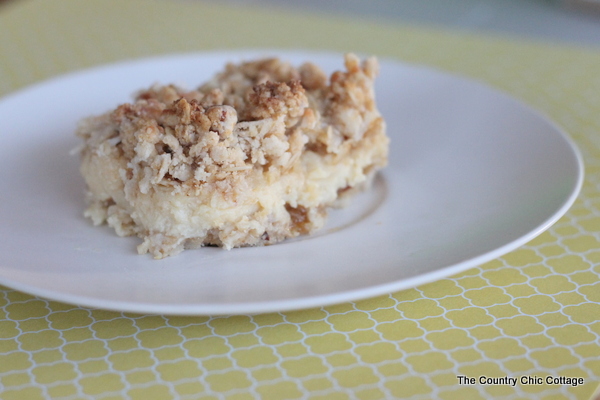 Hubby and I dove right into our pan of lemon squares and loved it. I only do the lemon trick once or twice a year but it works like a charm. I can do something just for my hubby without half of it being eaten by the kids before he even gets home. Has that ever happened to you? That chocolate cake will be wiped clean in no time flat huh? Find something your hubby loves and your kids shy away from and you have the perfect anniversary or birthday surprise.
I love to do those little things in life to show each of my family members I care. Things like their favorite recipe, a special gift on their birthday, a night out, a weekend away, the purchase of life insurance, plus any number of other things. What? You didn't expect to see the purchase of life insurance in that sentence. I feel that being prepared is the number one gift that I can give to my family. Surprised to see a woman that is thinking about being prepared? Don't you think for a minute that women don't need to be prepared. Women need life insurance just as much as the man in your life. Don't believe me? Be sure to read this article on Why Women Need Life Insurance. See YOU do need to give the gift to your family. So in addition to that special dessert that only they love or that gift that you spend hours agonizing over, be sure to also give the gift of being prepared. Prepare for the future and make sure your family is taken care of with Genworth. I have given my family the gift of being prepared right along side a plate of crunchy lemon squares. Nothing says love like dessert and insurance…..to me anyway!
This post is brought to you by Genworth and Brandfluential.
Love recipes? Check out all of my recipes for even more delicious inspiration.
Get Our Weekly Newsletter