I have a fabulous cupcake gift idea for you today along with a strawberry lemonade cupcake recipe that you don't want to miss. This is a part of a sponsored campaign from Expressionery, Laura Kelly Designs, and The Bakers Party Shop. I am being compensated for my participation however all projects and opinions are my own. I heart Laura Kelly Designs and love to help promote her designs and product in any way I can y'all. There is even a $250 gift card giveaway at the bottom of this post that you definitely don't want to miss.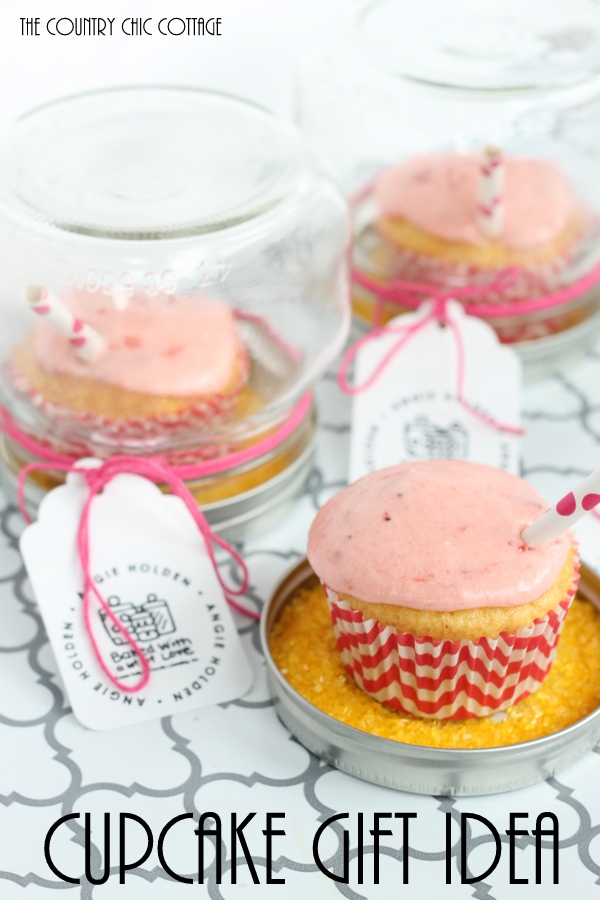 First lets get to baking those delicious cupcakes as you will need those for your gift! These strawberry lemonade cupcakes are something I came up with just for this post. I wanted something summery and delicious and I really think I hit the nail on the head with this one.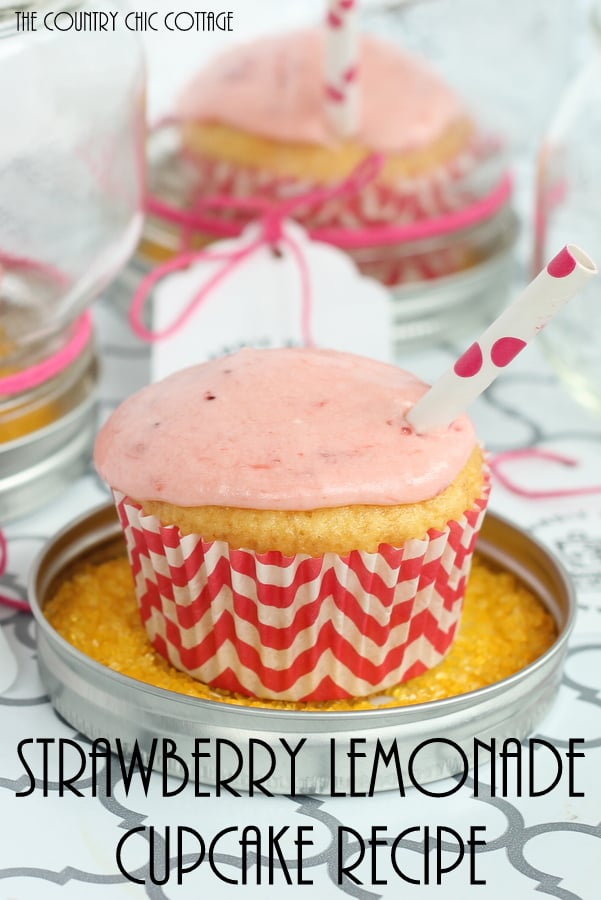 Lemon Cake Recipe
1 pkg yellow cake mix (16-18 ounce size)
1 small pkg lemon jello (3 ounce size)
2/3 cup water
2/3 cup oil
4 eggs
Mix above ingredients for about 3 minutes on medium speed. Pour into cupcake liners. Bake according to package directions for cupcakes. See image below for filling your cupcake liners the proper amount.
Strawberry Butter Cream Icing Recipe
Beat butter until smooth. Add in freezer jam and vanilla and mix well. Start adding in powdered sugar stirring until smooth after each addition. Add in powdered sugar until your icing is the consistency that you like (it will depend on how thin your jam is).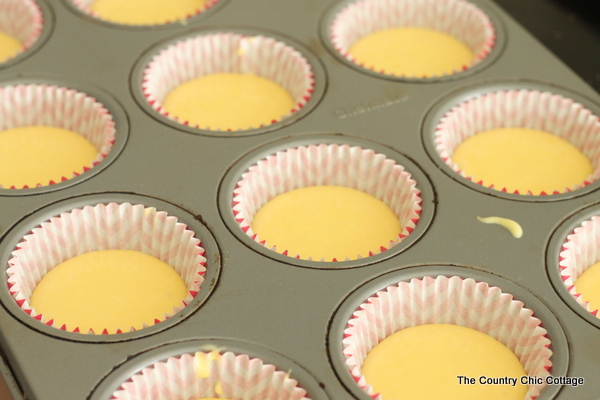 Once your cupcakes have been baked and cooled, add on that delicious strawberry frosting. Now we are ready to assemble the cupcake gift idea in a jar. The cupcake liners I used for my cupcakes are from the package I received from The Bakers Party Shop. I loved everything in the box and just picked a few things to use for this gift.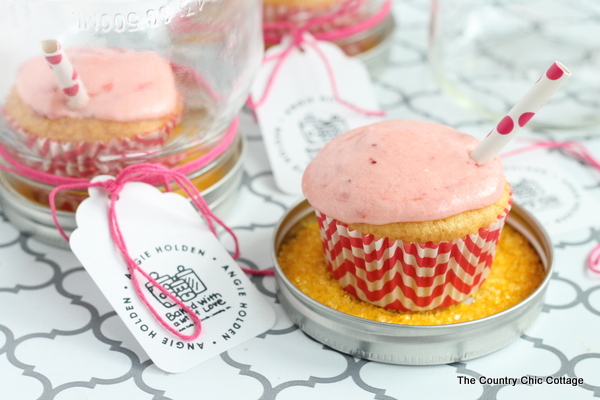 Start with these mason jars that will fit a cupcake perfectly. I took the paper straws also from The Bakers Party Shop and cut them in half then about 1/2 an inch off of that. Just cut to where they are going to fit inside your mason jar. Stick the cut straws into your cupcakes to look a little like a glass of strawberry lemonade.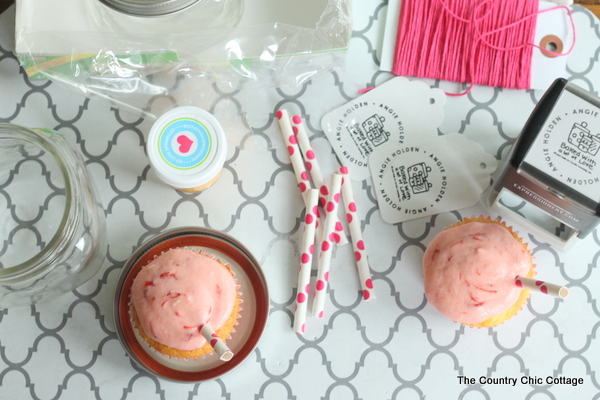 I added a layer of sprinkles from The Bakers Party Shop to the mason jar lids then nestled my cupcakes inside.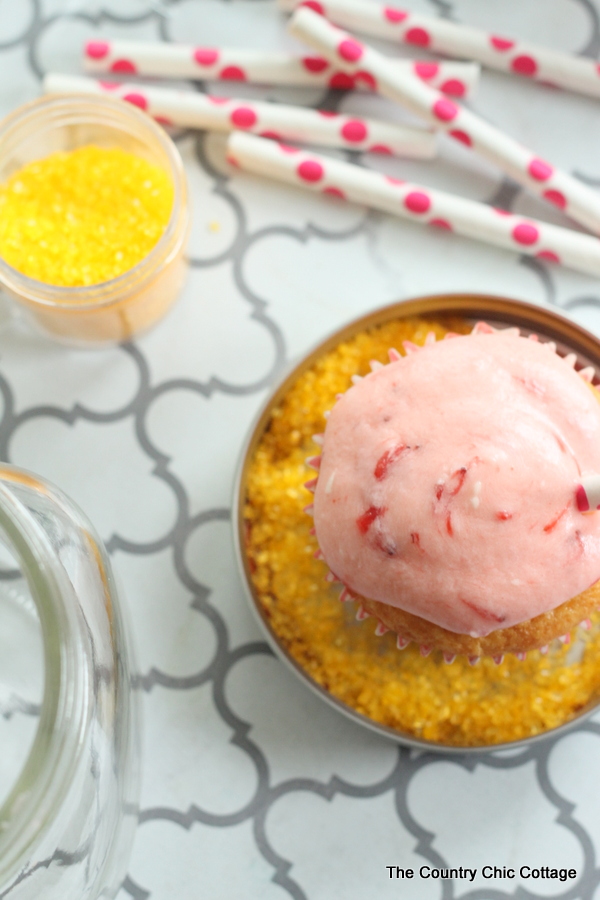 Twist on the mason jar to get your cupcake ready to give. Then you can use twine to tie on an amazing personalized tag. Just purchase an amazing Laura Kelly Designs personalized stamp from Expressionery. You can even get 25 % off site wide right now with promo code SUNSHINE25! I love all of my Expressionery stamps and y'all will too….I promise!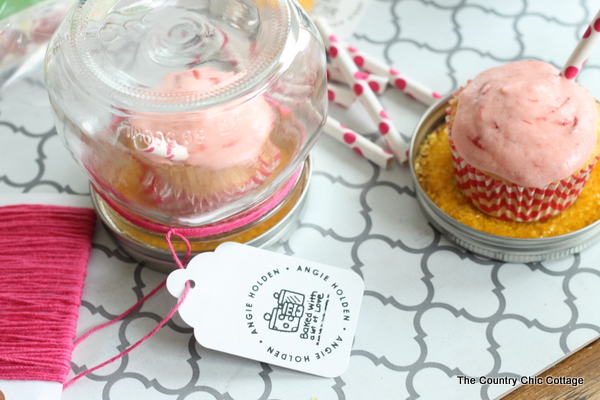 Once you tie on your personalized tag, this cupcake gift idea in a mason jar is ready to be given to anyone! These would be fun gifts for teachers, neighbors, friends, party favors, and more. Don't forget to grab your supplies from Expressionery, The Bakers Party Shop, and keep up with Laura Kelly Designs on her blog Me and My Inklings.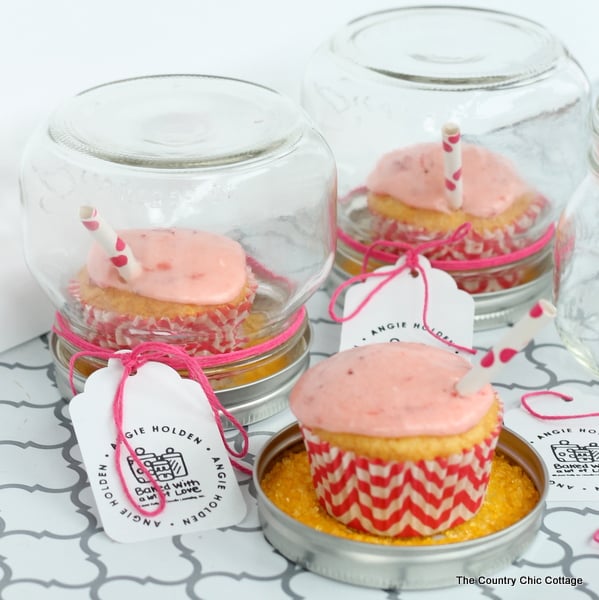 If you want to see more ideas from this campaign, be sure to click around in the linky party below.
And I promised y'all a fabulous giveaway as well! Just enter in the rafflecopter form below and GOOD LUCK! a Rafflecopter giveaway
A Year of Jar Crafts
Sign up for our email list to get a FREE book with an entire year of jar crafts! 12 months, 12 crafts, tons of fun!