It is me again! So are y'all enjoying the series so far? I have a great one for y'all today! A candle gift set! You are going to LOVE this one!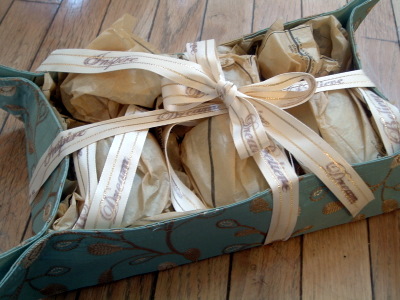 Gorgeousness! Let's start with the candles. Just plain old candles you get from any store will work fine. I picked frosty glazed white candles. But you can pick the kind you like. You will need some stamps and staz-on ink.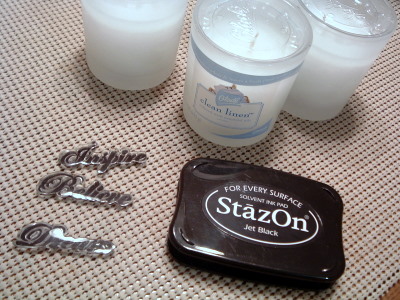 I picked "Dream", "Believe", and "Inspire" for my stamps. You can do anything. Monograms? Numbers? Noel? You pick out of what stamps you have. I put my stamp on the table and roll the candle across it.
Too cute already don't ya think?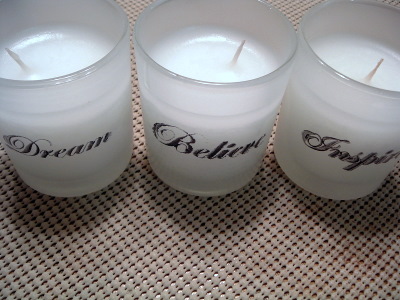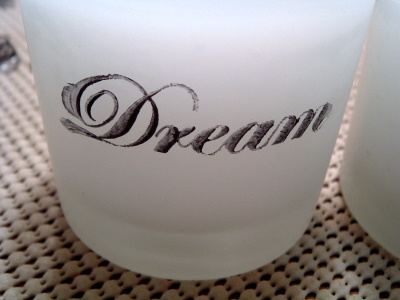 Now let's turn a placemat into a gift box. Placemat?? Did she say placemat?? Yep I did..
.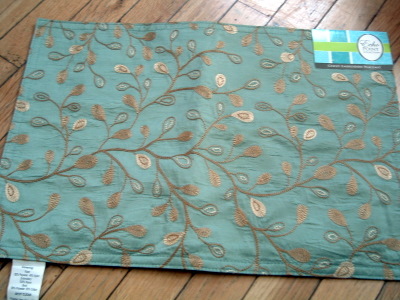 One of those placemats that are fabric but kind of stiff. This one was on clearance or I see them for $1 all the time! Remove the tags and break out your iron. Iron over the sides about 3 inches.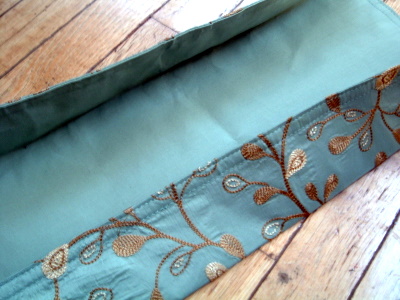 Then iron over the ends that same 3 inches. You will have something like this…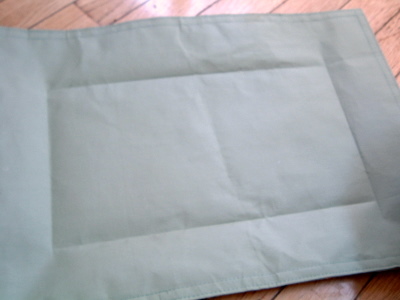 Gather up the corners and do one small stitch in each corner to hold it up.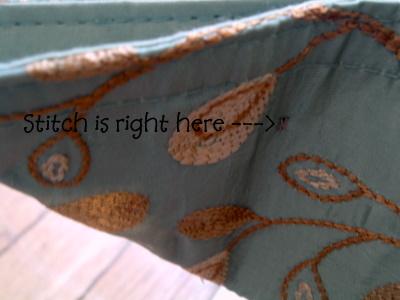 Do one in each corner to make your basket.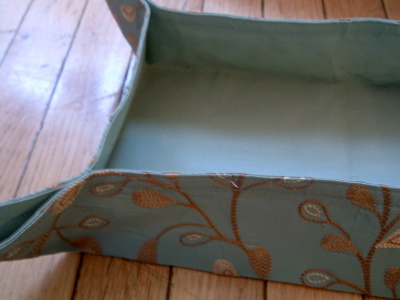 Add a piece of cardboard in the bottom to stiffen it up a bit.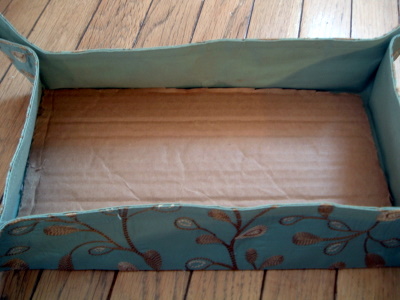 Now let's talk tissue paper just a minute. Plain old tissue would be okay. But I wanted this one to stand out. Guess what I used??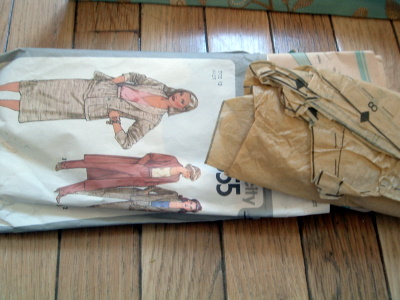 Pick up some vintage patterns from the thrift store or my etsy shop and add that special touch to your gift giving! I really love them in this gift basket!! I used two pieces to line the basket first.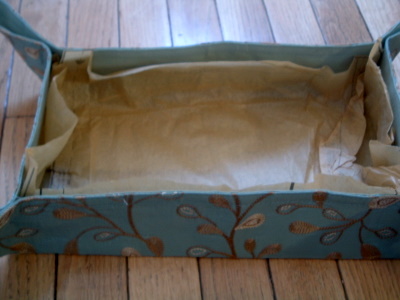 Now you wanna talk ribbon? Yea we can't use just any old ribbon either…I stamped the same words that are on the candles onto the ribbon….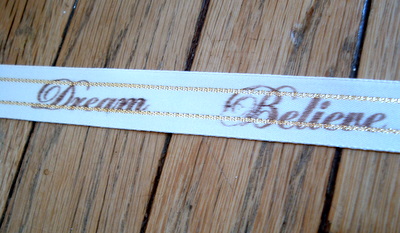 I just stamped them on with regular brown ink….gorgeous!! And simple!! What a special touc

h
!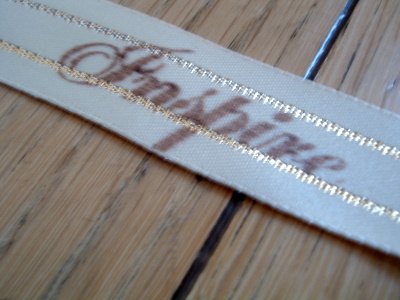 Put each candle in a piece of the pattern.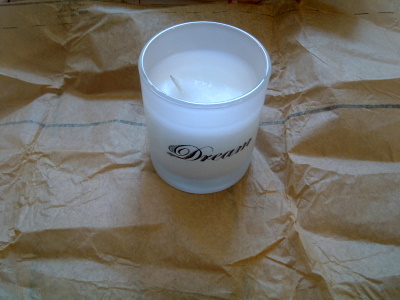 Gather it up and add a piece of ribbon.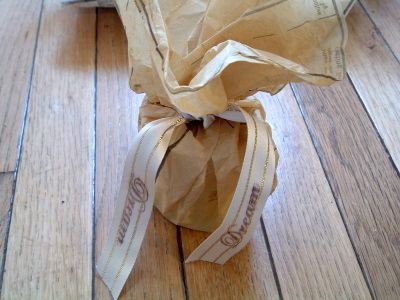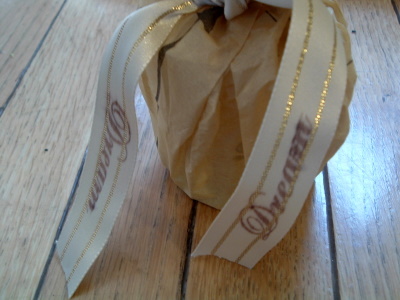 Add all three to your placemat basket with some extra pattern pieces in between them.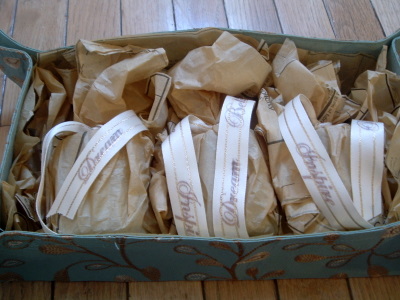 Take a long piece of ribbon and wrap around both ways. Tie it off in a pretty bow.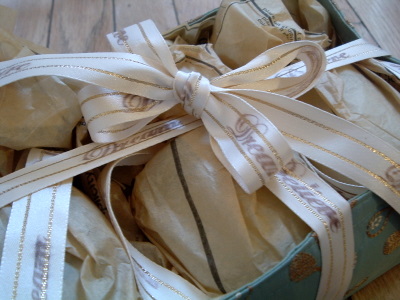 Three candles and a placemat become a elegant g

ift
!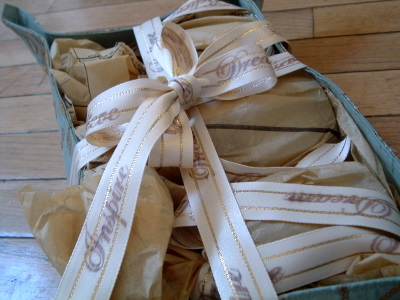 This one could be used for so many people on your Christmas list! Teachers, moms, sisters, aunts, neighbors, hostess gifts, the possibilities are endless!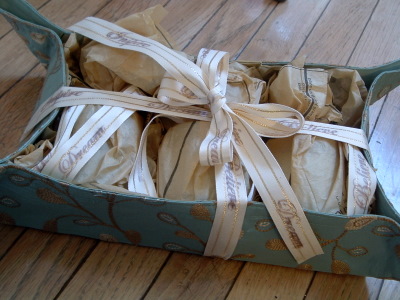 Get to crafting and give handmade this year!
We are in full swing with our 12 days of handmade gifts! Check out all the posts and be sure to follow the CCC so you don't miss the rest! Each day there will be a great Christmas tutorial and a feature on a great handmade shop!
Love this post? Be sure to subscribe to THE COUNTRY CHIC COTTAGE so you don't miss a thing!
Want more handmade gift ideas? Check out our handmade gift gallery page.