I am sharing five gift baskets under $20 that are for just about everyone on your gift-giving list. Explore my gift ideas under $20 below then be sure to use these ideas to make gifts they will all love. Giving gifts around the holidays can get expensive so use these simple ideas to make the holiday special for a bit less. They will still love the gift and you will love that you are able to spend less to put a smile on their face.
Need more gift ideas? Try our full list of handmade gifts here!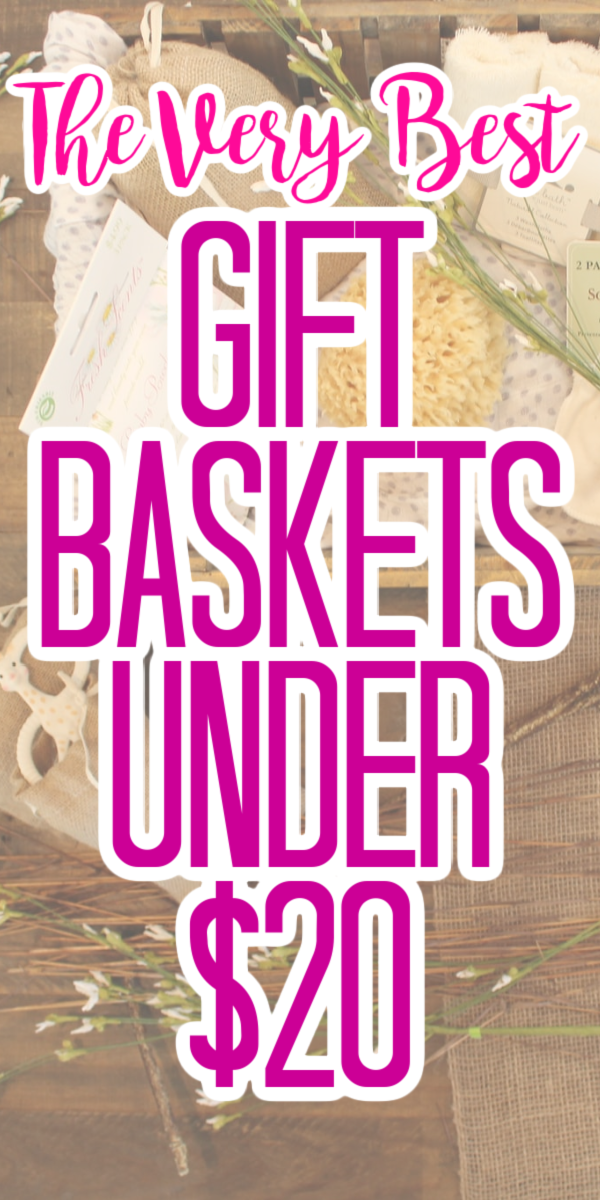 Gift Baskets Under $20
I thought I would lay each gift out for you so you can see exactly what went into each basket and how much it was. There is a small amount of craftiness to some of my gifts but you can do it!
Gift Idea #1: Candle, Picture Frame & Storage Bin
GIFT TOTAL $17.89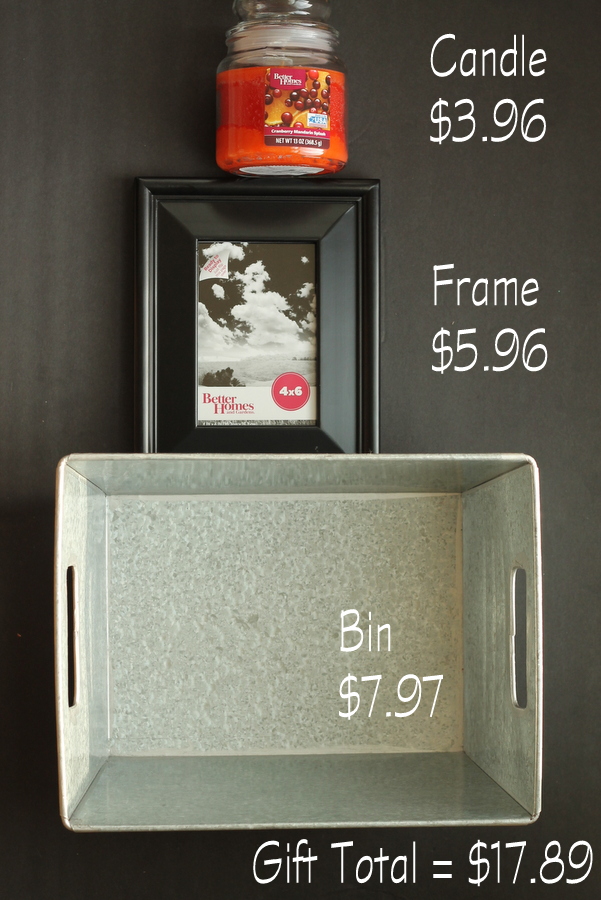 To make the frame a bit more special, I added in some scrapbook papers that were just too cute. You can find some free printable art online or a picture you love.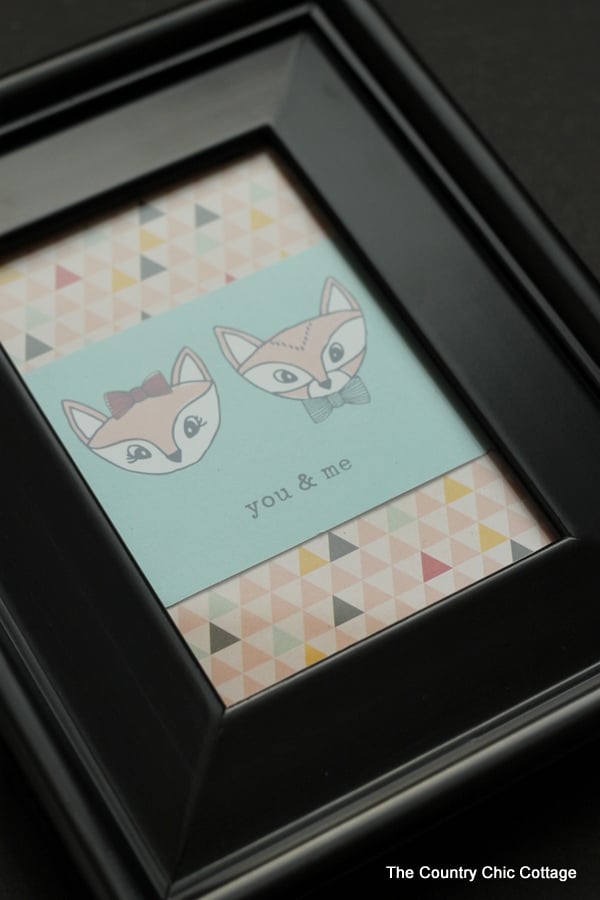 Add the candle and framed art to the bin along with some kraft paper to complete your gift basket.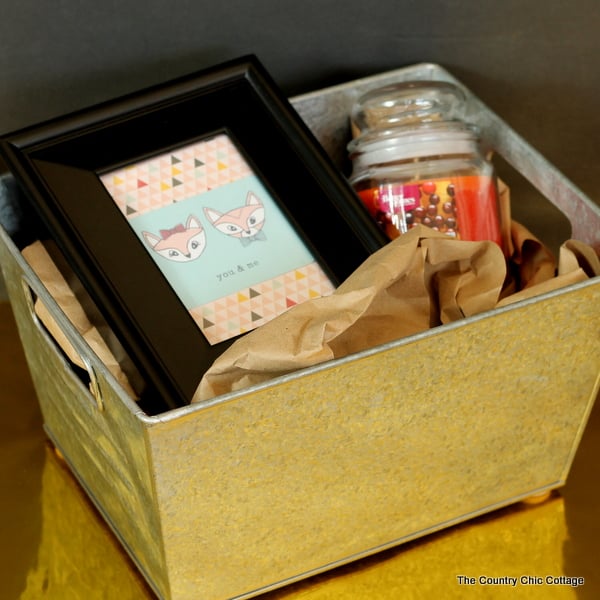 Gift Idea #2: Tea Candle Tray
You will need:
BHG candle holders (quantity 4) (in stores only) $1.97 each
BHG votives (quantity 4) (in stores only) $0.97 each
BHG square frame (in stores only) $5.96 each
GIFT TOTAL $17.72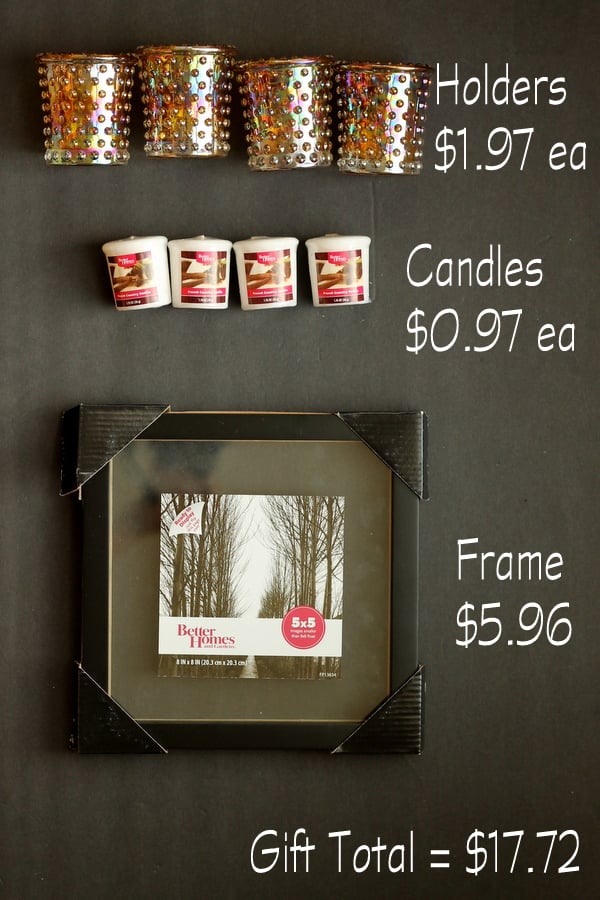 Add some pretty paper to the inside of the frame which will become the tray for your candle gift.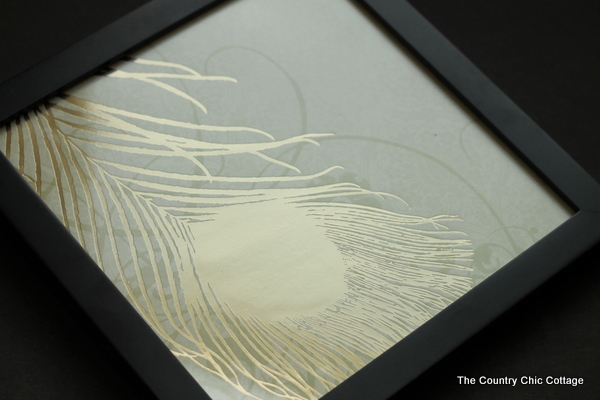 Put the votives in the candle holders and add them to your frame tray. To wrap this one, add clear wrapping between the candles for added protection.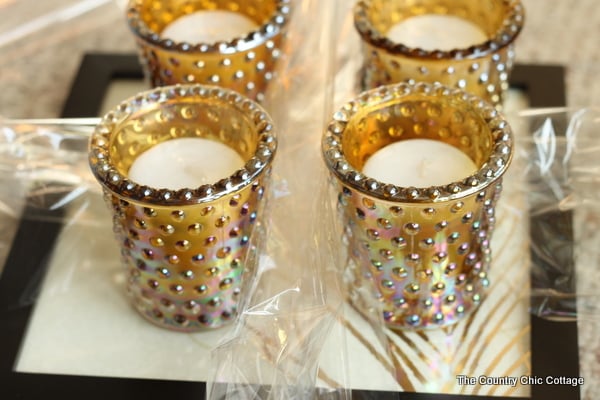 Wrap with clear gift basket wrap and tie with a bow. This one is ready for gift giving! This makes great gift for the home decor lover who can use it as a centerpiece.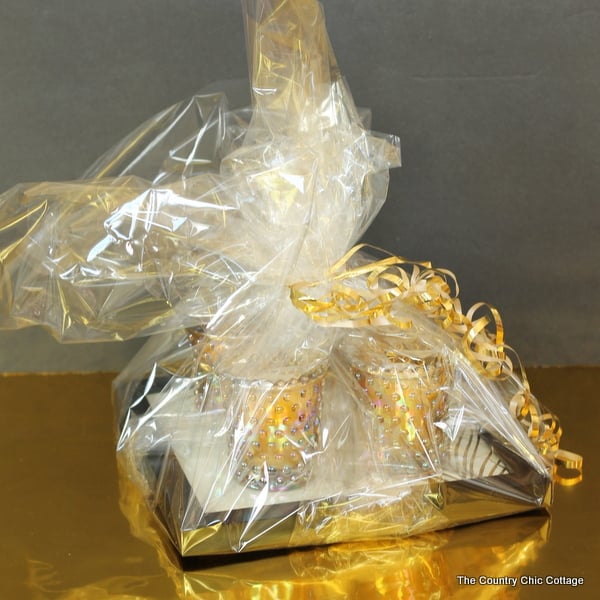 Gift Idea #3: The Candle Lovers Basket
Contents include:
GIFT TOTAL $19.35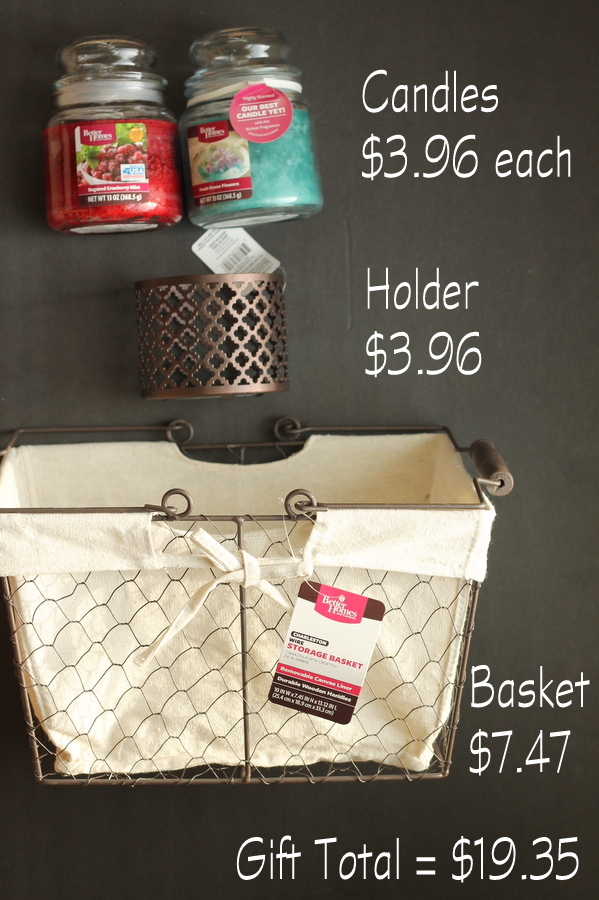 This one is as simple as putting everything in your basket. I used gold foil on this one instead of plain tissue paper for some added flair.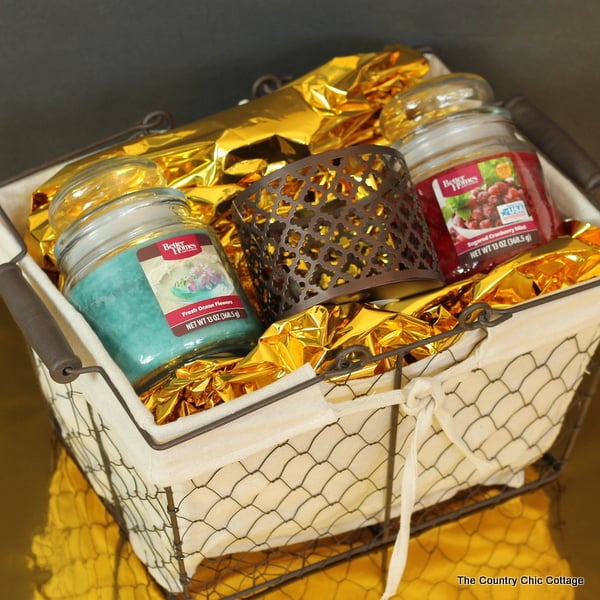 Gift Idea #4: Kitchen Coffee Mug Set
The next two gifts are for anyone on your list who could use some great mugs. Gift number 4 contents include:
BHG white mugs (quantity 2) (now out of stock online) $1.97 each
Better Homes and Gardens Lace Medallion Kitchen Towel (quantity 2) $2.96 each
BHG melamine bowl (now out of stock online) $7.99
GIFT TOTAL $17.85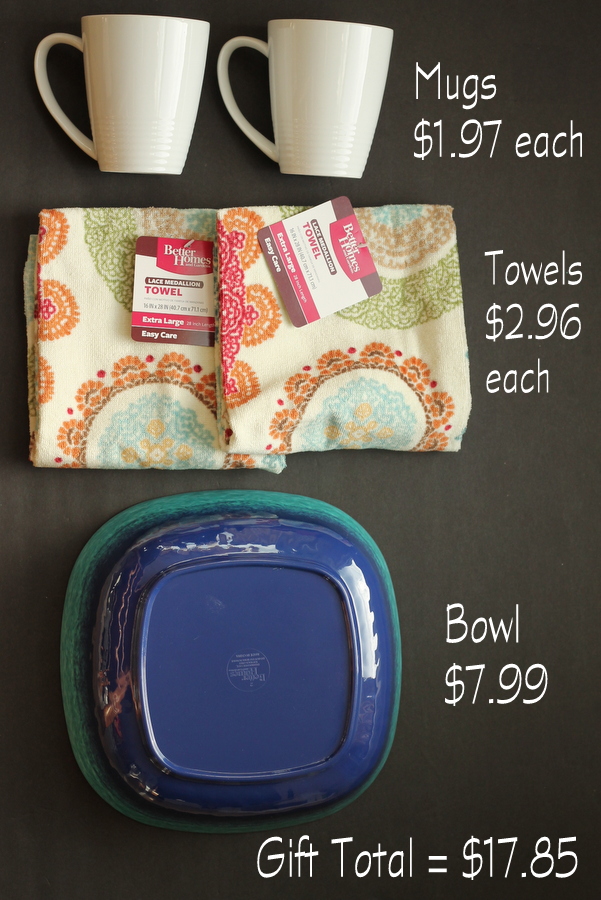 I used a DecoArt glass paint marker to add words to my mugs. Write or draw anything you love with the marker and bake in the oven according to the instructions on the packaging.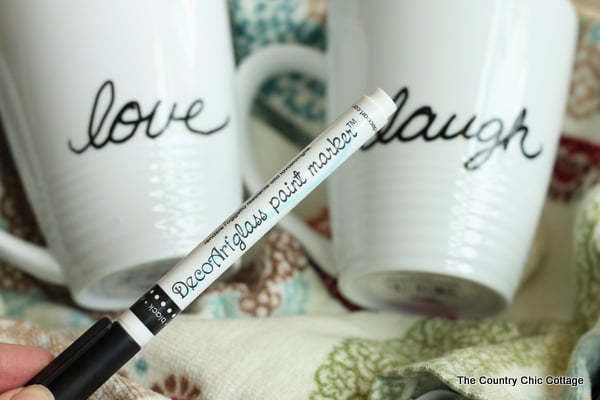 Add the mugs and towels to the bowl for a great gift for any kitchen enthusiast. Gift baskets under $20 are easy to personalize with a bit of craftiness.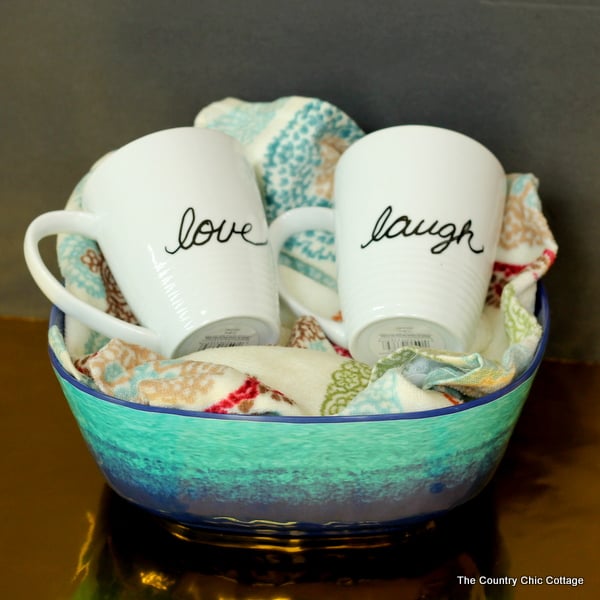 Gift Idea #5: The Coffee Lovers Basket
Gift number 5 is for the coffee lover! Contents include:
GIFT TOTAL $18.31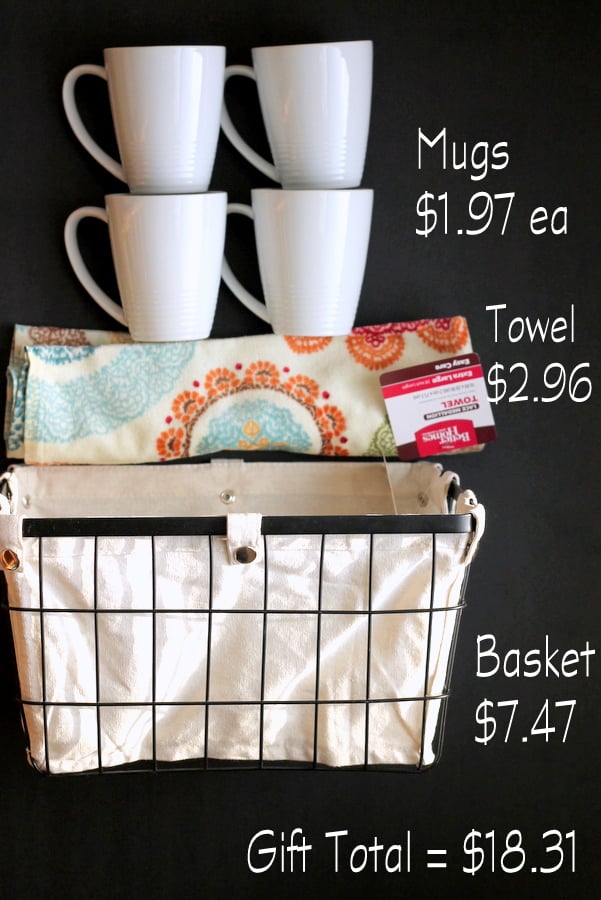 Again just use the glass paint marker to adorn your mugs and bake according to the package directions on the marker. Add to your basket with the kitchen towel. If you have a few extra dollars, be sure to add in some amazing coffee as well.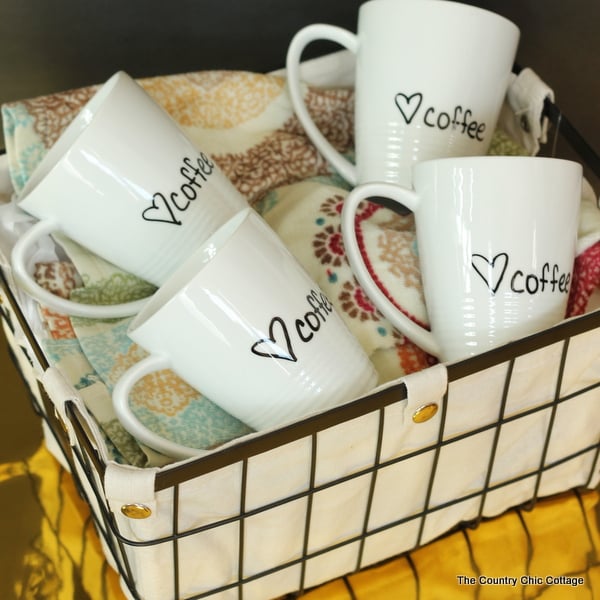 Bonus Gift Basket Idea
Just in case you missed it, I used one of my BHG baskets for another gift idea yesterday. Click here to see this cheese spread mason jar gift basket for the holidays or your favorite hostess.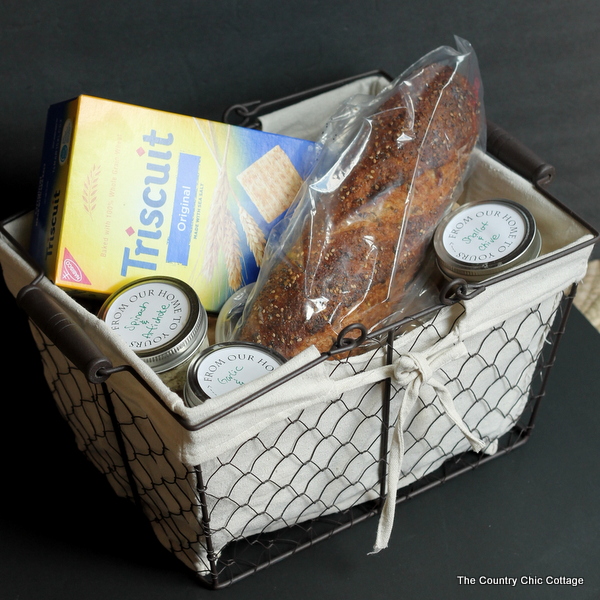 Use these ideas for gift baskets under $20 to make your holiday even more special. You are sure to find something on this list that will work for those you are giving gifts to this year. Happy giving!