I have been seeing embroidery hoop art in various forms all around blogland! So I had to give it a try ya know! Time to make some DIY embroidery hoop art using…. scrapbook paper!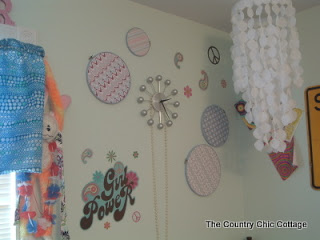 First let's talk hoops. Yes these are cheap at the store. But they are cheaper second hand!! I used a 12 inch, 2 10 inch, and a 6 inch — all together they were like $1.50!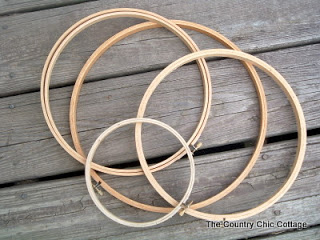 I did not want plain wood. So I seperated the hoops and painted the outside hoop. I masked off the screw first then spray painted them with a few coats of Krylon Dual!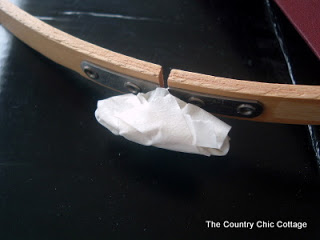 See after I am left with a painted blue outer hoop and the plain jane inner hoop. That inner hoop is going to be covered so no worries…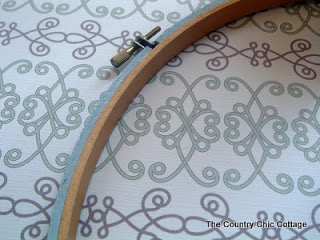 Next let's talk about…why scrapbook paper?? Well I bought a big pack to make the name art that I showed you last week and I had lots left over. These hoops are going in the same room so everything will coordinate well. In addition to your paper and hoops, you will need some mod podge, scissors, and a brush.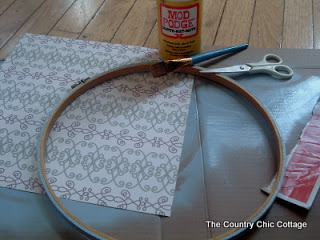 Lay your paper over your hoop…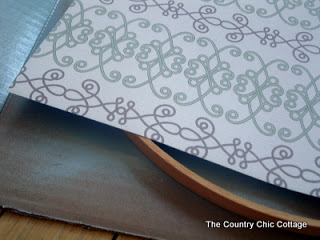 When you have the entire hoop covered, fold the paper down around the edges of the hoop. Then cut the paper 1/4 to 1/2 inch below that fold….
Then make slices from the edge of the paper up to the fold every 1/4 of an inch or so. I did no measuring…wing it…it will be fine…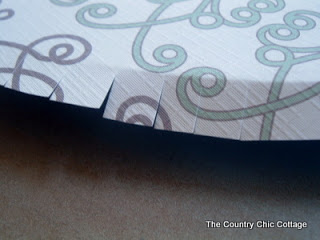 Put mod podge on the hoop rim and stick it right down along that fold on the BACK of your scrap book paper. Then put mod podge all around those ruffled edges. Smooth the ruffles down on the hoop. Messy job but I used my fingers. No pics when you have mod podge hands!!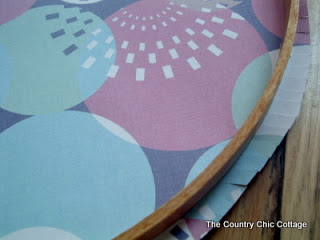 Now once all of your "fringe" is stuck to your hoop, let it dry then put on your outer hoop. Easy peasy!! These are the four we came up with…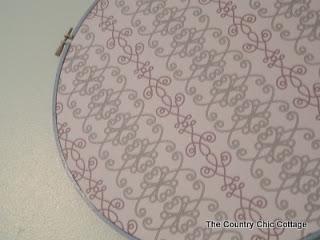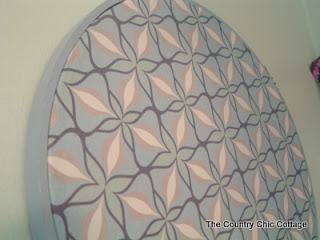 This one is ultra cool…may daughter says it looks like bacon…little bit huh??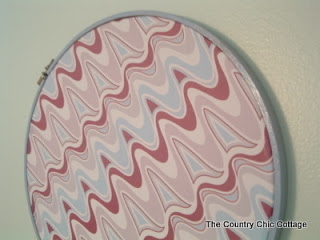 And a little one with stripes…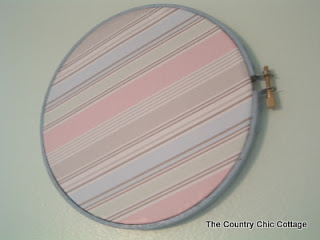 All it takes is a little bitty nail to hang these on the wall. They are extra light weight!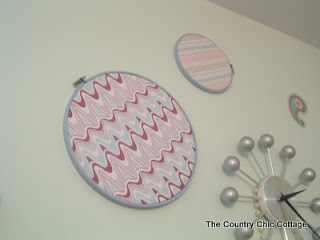 The starburst clock came from a yard sale for like 50 cents. My daughter added the "bling". 🙂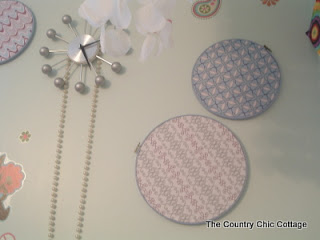 Hanging in front of them is my rose petal chandy!! That is still one of my fave projects of all time!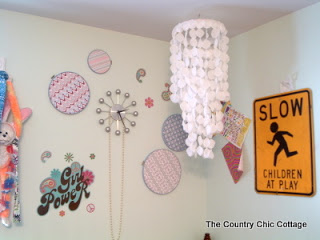 Break out your embroidery hoops ladies!!
Posted at Take a Look Tuesday on Sugar Bee Craft Edition.
~Thanks for stopping by!~
~Angie~