Give a fun DIY mason jar necklace to someone you love this Valentine's Day or for any reason. Birthday coming up? Yep they will love this fun mason jar charm necklace as well. Plus it can be customized with any jar of your imagination. It just takes a few colored pencils and your artistic skills. Don't worry. It is easy. I promise!
It is Craft Lightning week y'all. Each day this week I will post a tutorial that takes 15 minutes or less to complete. Each afternoon I will post a round up of quick and easy Valentine's Day crafts from our blog partners for this series plus from my friend Carolina over at 30 Minute Crafts. Do you want a chance to be featured? Be sure to link up to our Craft Lightning linky party. If you missed any of the fun catch up with round ups from day 1/2, day 3, and day 4.
This project was originally posted at Crafts Unleashed but I am publishing here in case you missed it.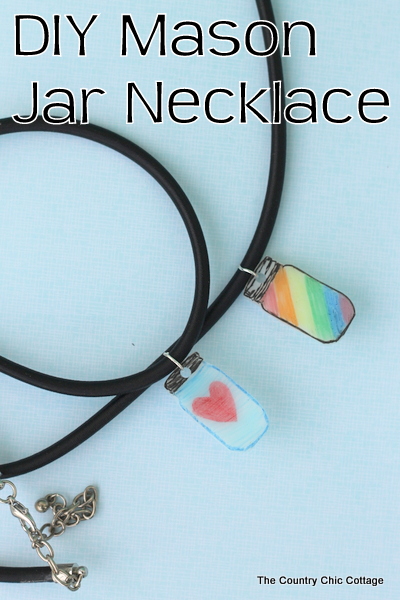 Supplies needed to make your own shrink plastic mason jar gift charms:
Colored Pencils

Oven

Hole punch
Mason Jar Printable (sorry about the one size being cut off y'all I could not get it fixed on the google doc — just free hand in the bottom!)
Pliers
Portions of the supplies for this project were provided to me as part of my design team status with Consumer Crafts. All projects and opinions are my own however.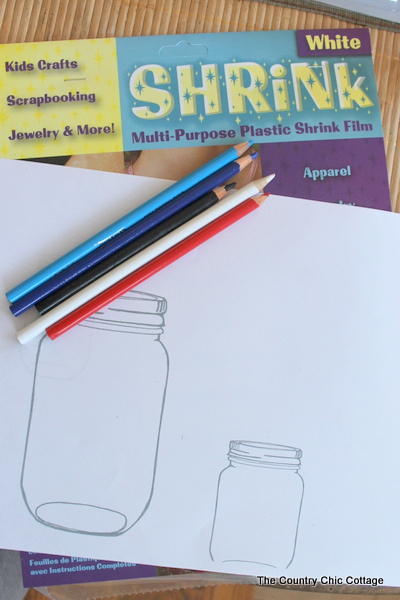 Lay your shrink plastic on top of your printable and trace around your jar. The smallest jar on the google doc is the one I used for the necklaces. You can make the charms larger if you wish. Then color in any areas you wish. Add a name if you'd like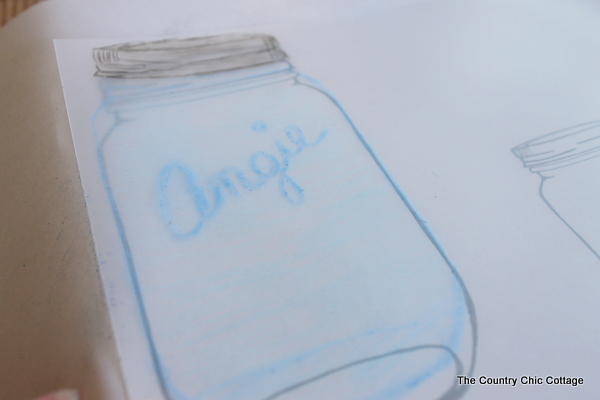 Or even draw some hearts or anything else you feel your gift recipient will love. See how I added a bottom to this jar even though the silly Google doc looks cutoff.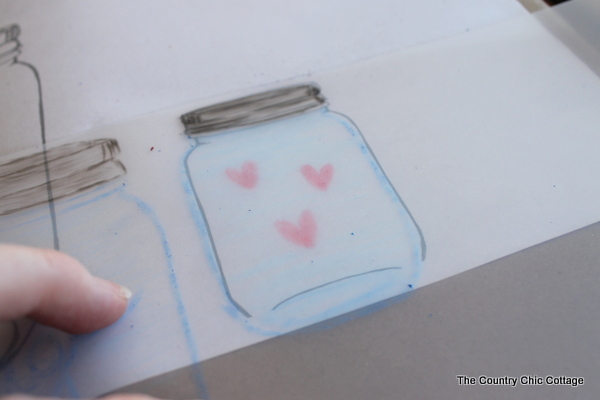 Using scissors, cut the shrink plastic around all of the jars.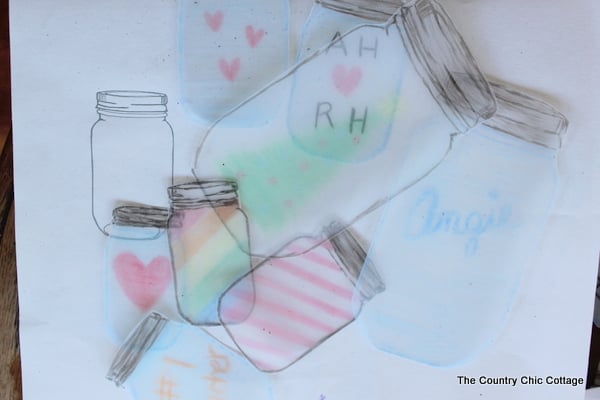 Add holes with a standard hole punch used for paper. Be sure to do this BEFORE you start shrinking the plastic.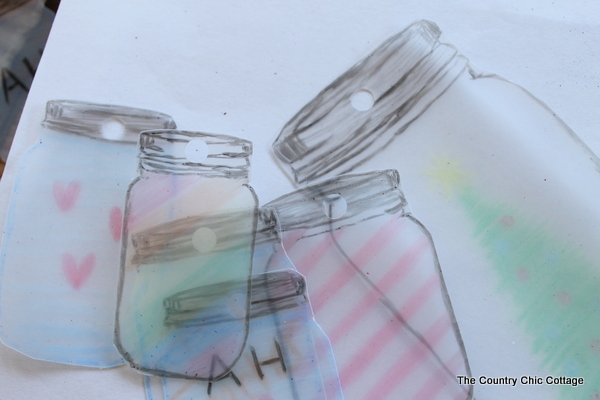 Put in the oven according to the package directions. These literally take 3-5 minutes to shrink up to awesomeness. You can see how much each one will shrink in the picture below. See how light the colors are in the picture above but how vibrant they are once that plastic shrinks like magic.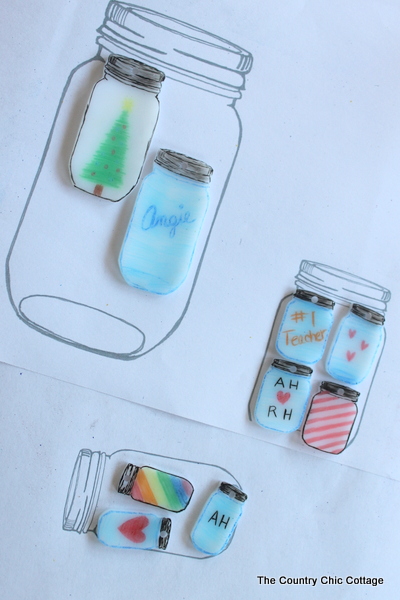 Just use pliers to attach mason jar charm to necklace with a jump ring. So simple. I love that little rainbow jar y'all!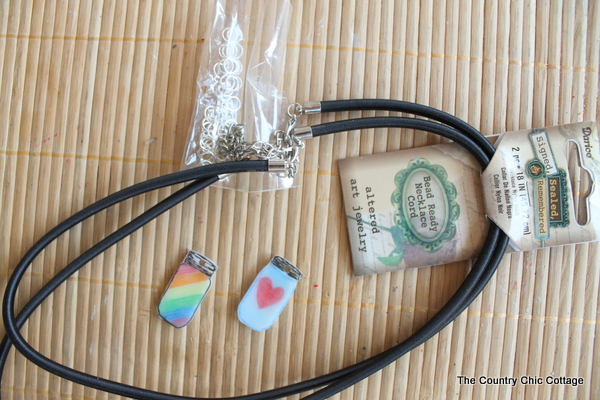 You can also attach these simple mason jar charm to key rings as well. Really anywhere that you want to add a cute mason jar embellishment.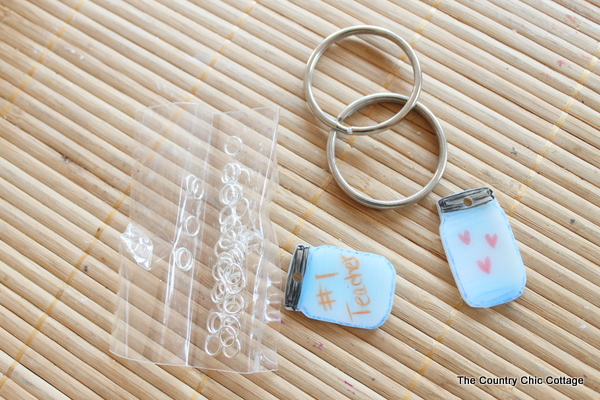 String them with cord to make gift or hang tags as well.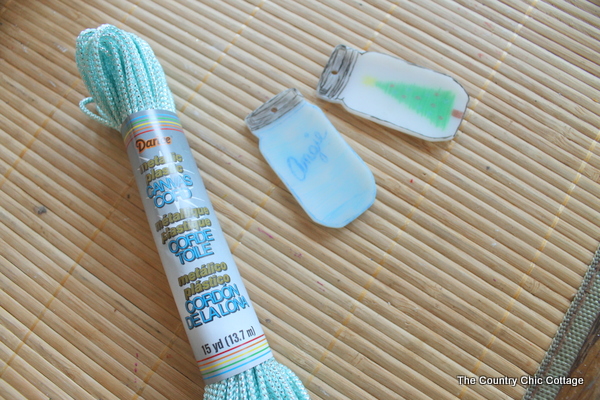 The possibilities are endless with this project. The kids will love drawing on the shrink plastic and adding items to the mason jars. Watching the shrink process is magic for kids and adults alike. Just be sure to follow all package directions and be careful as they will be HOT! Here is a picture of all of the mason jar gifts I ended up making with just one sheet of shrink plastic.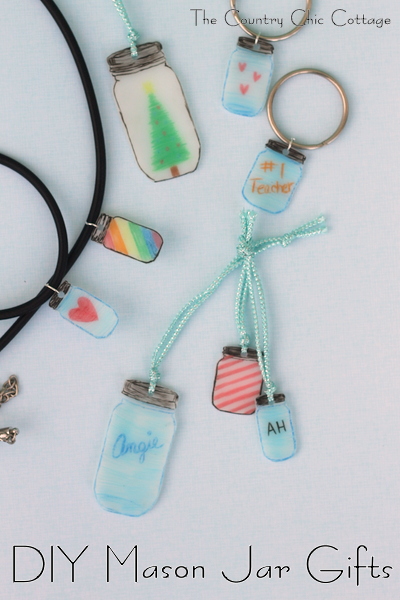 So grab that shrink plastic and colored pencils and get started today. Your Valentine will thank you for the wonderful gift. My DIY mason jar necklace is sure to put a smile on their face.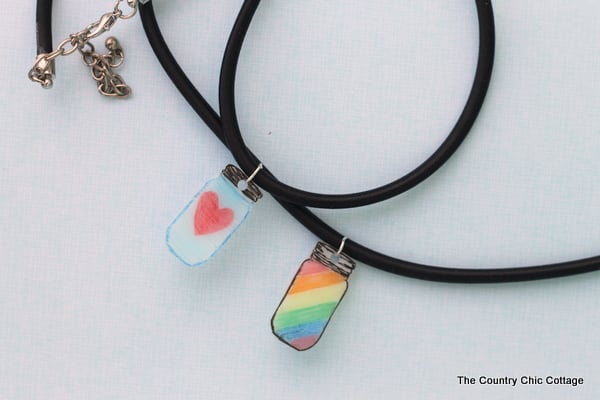 Be sure to link up your Valentine's Day crafts that take 15 minutes or less to complete to our Craft Lightning linky party!
A Year of Jar Crafts
Sign up for our email list to get a FREE book with an entire year of jar crafts! 12 months, 12 crafts, tons of fun!