This post and photos may contain Amazon or other affiliate links. If you purchase something through any link, I may receive a small commission at no extra charge to you. Any supplies used may be given to me free of charge, however, all projects and opinions are my own.
I am working right along in the teen room and next up is our DIY tie dye curtains. I am actually going to reveal the entire room next week so y'all stay tuned. The room is going to be really colorful and fun so the curtains needed to reflect that. We searched Pinterest for inspiration and came up with wanting to tie dye our own curtains. We settled on a pattern that was a little different however….stripes! Grab your dye and lets get started.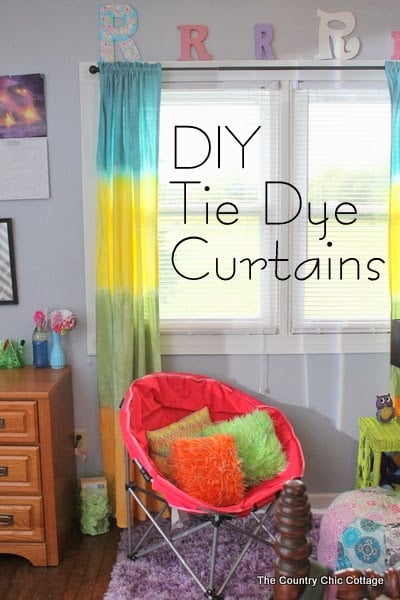 I used RIT liquid dye for my project in four different colors (as shown below). My instructions below will all be based on using the liquid dye. If you choose powder or another method, research on the dye manufacturer's website to find the best method for using the dye you have purchased.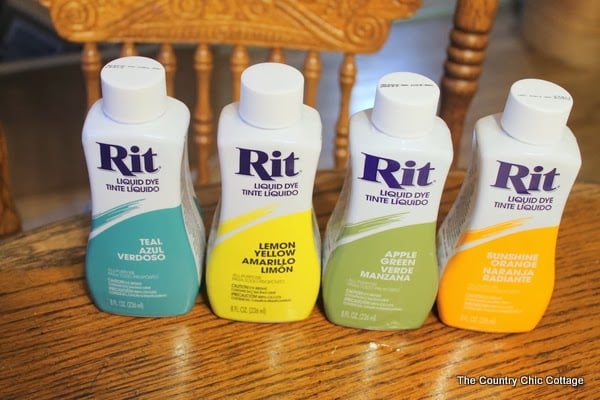 I used one queen sized sheet for the curtains. I cut the sheet in half length wise to get two curtains. I then held it up on the window and approximated a length. I cut both halves to the same length. NOTE: I did not hang my curtain rod until after my curtains were complete to get the exact fit. I then sewed around the two raw edges I had just created by making cuts including making a rod pocket. See how Gina folds her hem in twice in this tutorial? You will want to do that to eliminate raw edges. Just fold over about 5 inches at the top using that same method and use a portion of my tutorial to see how to sew a rod pocket. That means when you are cutting your curtain to length you need to take into account all of the extra you will need to make this rod pocket. Now once the sewing was complete and since I had four dye colors, I divided my curtains into four equal areas and put a rubber band around them to separate the areas.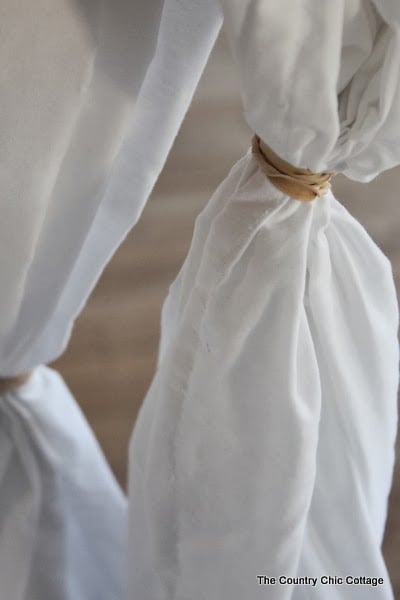 I then dyed the areas one at a time. First I did some research on the RIT website and came up with the following recipe for the dye (WEAR GLOVES WHEN WORKING WITH DYE!!):
Add 1/2 cup salt to the bucket.
Pour in 1 gallon plus 2 cups of VERY hot water and stir to dissolve salt.
Add one drop of liquid dish detergent and stir.
Add 1/4 cup dye and stir.
Put in your item for 15 minutes. (In this case, put the item in until you are almost touching the rubber bands and stop. Make sure the entire dipped area stays under the water. ONLY put in the area from one rubber band to another. The remainder of the curtain should stay out of the dye.)
Remove after 15 minutes and rinse under cold water until the water runs clear.
Allow to dry before moving onto the next color.
You will also see some clothespins in the water below because I was experimenting with some other pieces since I had the dye out. More on that in another post if things work out.
It is very critical to allow each section to dry before moving onto another color so the colors will not bleed as badly. Each section took me 30 – 45 minutes between mixing, dying, and rinsing. So be prepared to not leave your work. Overall this is an easy process and I would encourage you NOT to be afraid of dye. It is a very fun medium to experiment with and the possibilities will blow your mind. Always wear gloves, old clothes, and use an old bucket. Be careful where you get the dye as it WILL STAIN. Oh…and have fun!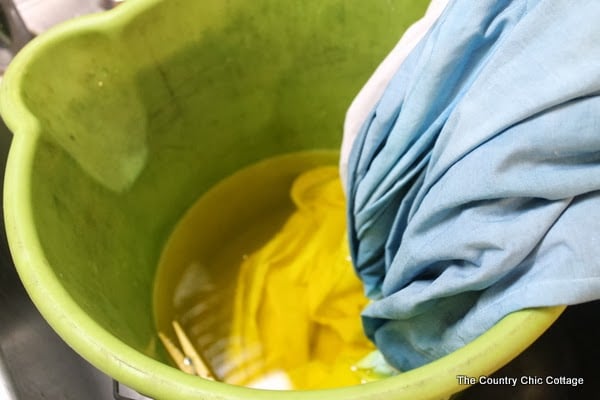 Once all four sections were dyed and dried, I removed my rubber bands and allowed the entire piece to fully dry. The areas between colors are the coolest part in my opinion as some is left white while there are areas where the colors blended as well. Overall these are the perfect curtains for a teen room.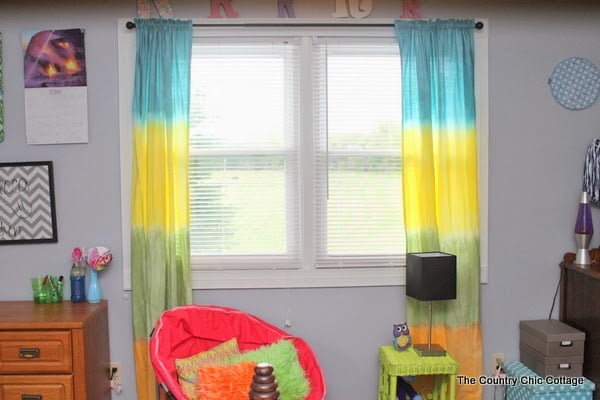 I then used the curtains to determine the height of the curtain rod. I wanted them to barely grace the floor. We did not go all the way to the ceiling on purpose as we wanted to include the "R" collection above the window. Y'all stay tuned for the teen room reveal next week. You don't want to miss the rest of this room. In the meantime, enjoy my DIY tie dye curtain tutorial.