Are you looking for a fun Dr. Seuss cake idea? These Dr. Seuss cupcake push pops are perfect for any Dr. Seuss birthday celebration!
Don't you just love Dr. Seuss? I know I do and my kids do too!
March 2nd is the famous writer's birthday as well as a day to celebrate reading and using your imagination. In fact, many schools celebrate March 2nd as "Read Across America Day" with fun parties and reading a lot of Dr. Seuss's stories.
To commemorate Dr. Seuss's birthday, I made some little treats for my kids to enjoy a little celebration at our own house. We loved them so much that I wanted to share them with you too!
I am currently in love with this push-pop concept and I have no doubt they will knock your socks off. My Dr. Seuss cake push-pops are sure to put a smile on your child's face.
This one was first published on Feb 18, 2013, however, I am republishing with more information.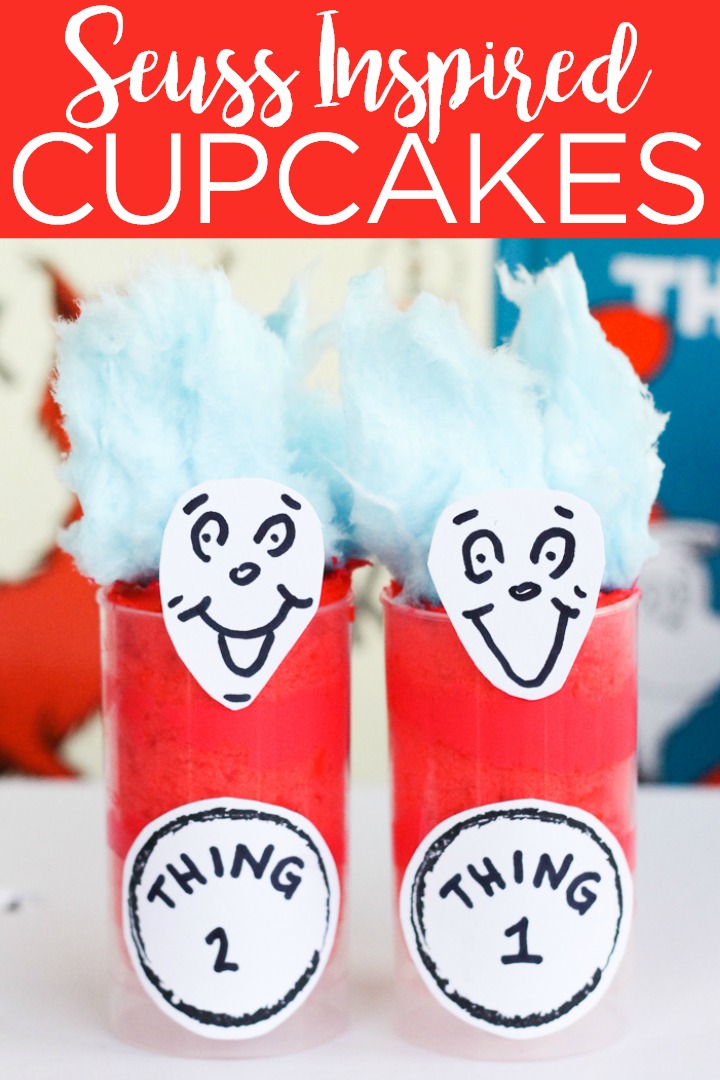 Supplies Needed For Dr. Seuss Cupcake Push Pops
Black marker
Cake mix and ingredients to make the cake
Icing
Blue cotton candy
Adhesive dots
Icing tip and bag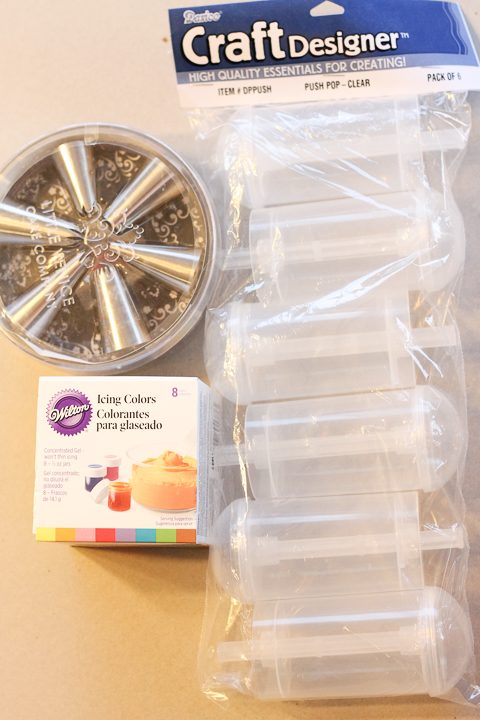 How To Make Dr. Seuss Inspired 'Thing 1 And Thing 2' Cupcake Push Pops
These look far more complicated to make than they really are! Follow these simple instructions and feel free to grab the printable recipe card at the end of this post.
Step 1
Start by putting together the cake batter of your choice. For the purpose of keeping with the Dr. Seuss theme, I decided to use a box mix white cake and tint the batter red before baking the cake.
Tip: Use gel food coloring as it will give the cake batter a much richer color!
I actually baked my cake in 3 layers so each layer would be thinner. Bake the cakes until done and then set aside to cool completely before doing anything else with it.
Step 2
I actually looked up images of Thing 1 and 2 online then drew the faces and round pieces for Thing 1 and Thing 2 freehand.
I simply used a black marker and white cardstock. You could also print some images and trace or just cut them out.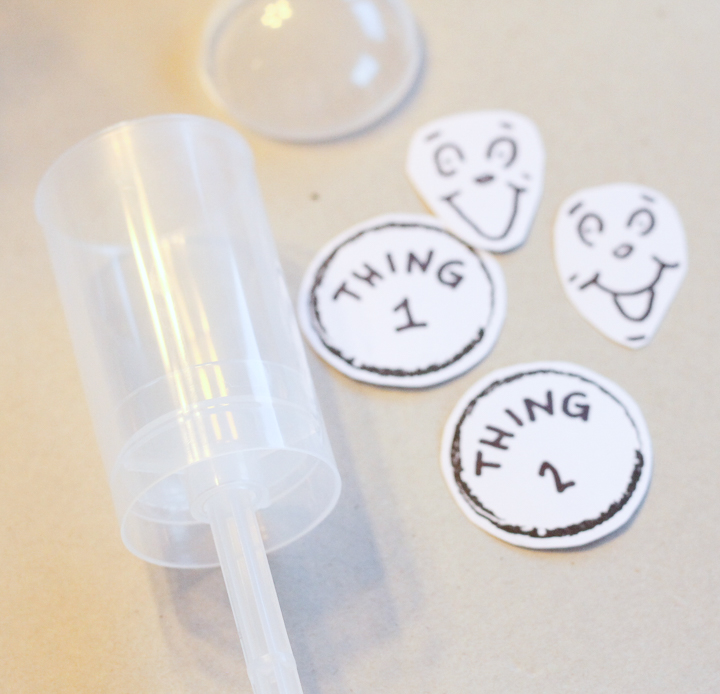 Step 3
To do put together the cake push pops, you need to cut the cake to the correct size. Simply use the push pop container itself to cut your rounds of cake!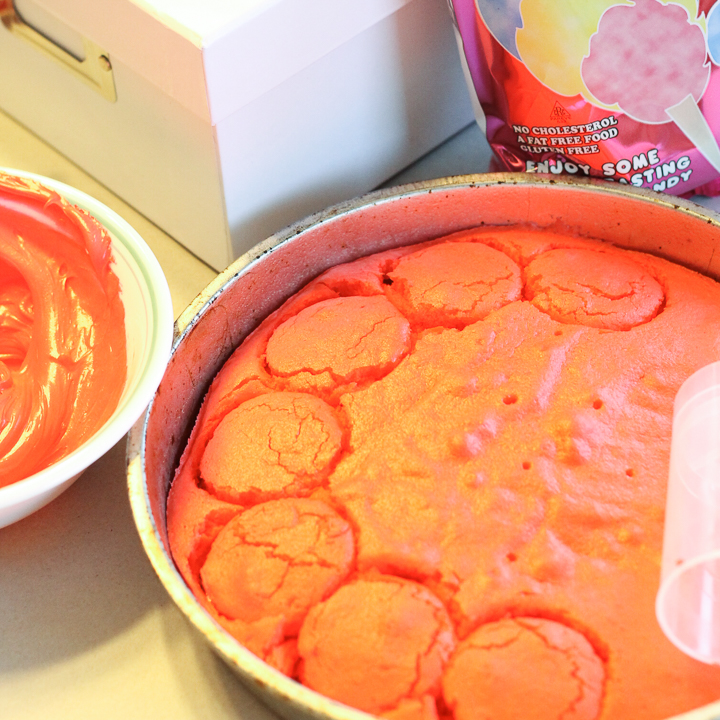 Start with one round of cake in the bottom of your push pop container.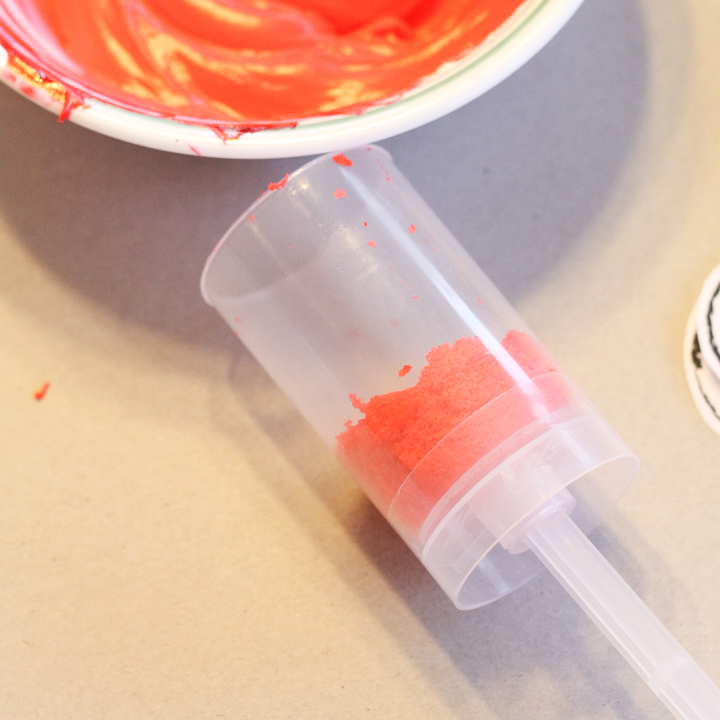 Then, scoop or pipe on a layer of icing.
Tip: Be sure to tint the icing with the same red food coloring before adding it in with the cake!
Next, just repeat these layers until you reach the top of the push pop container. I used 3 layers of cake and 2 layers of icing for a perfect fit.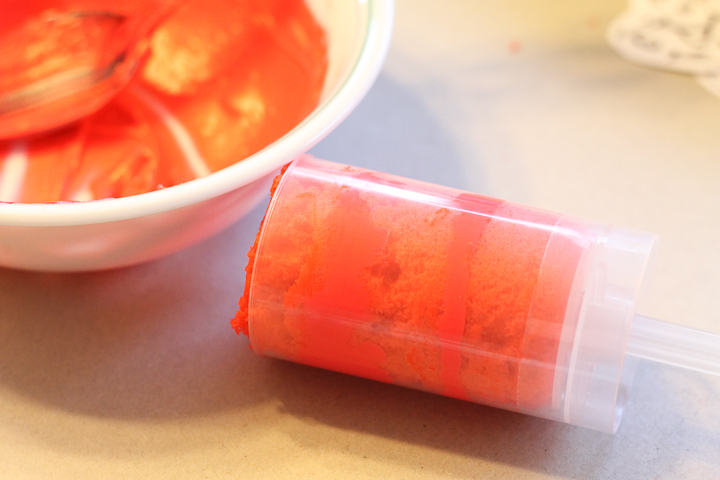 Step 4
Now, to really make these cake push pops really Dr. Seuss themed, add your cardstock decorations for Thing 1 and Thing 2 on with a few glue dots.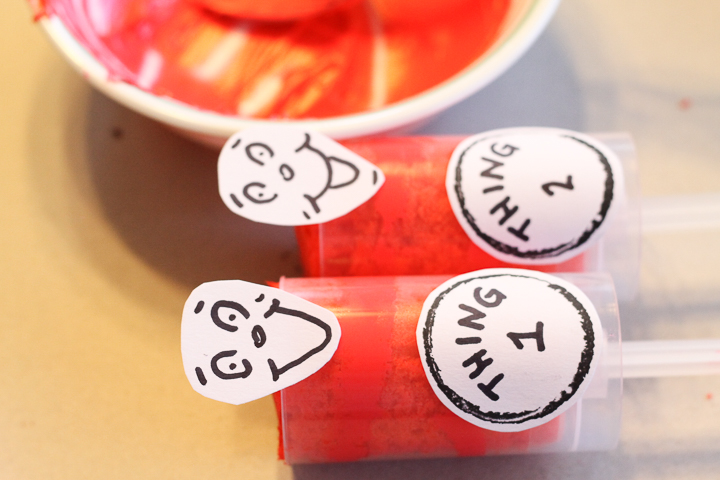 Step 5
After you are done adding the decor, use a little icing to add on some blue cotton candy hair onto the top of your Dr. Seuss birthday treats.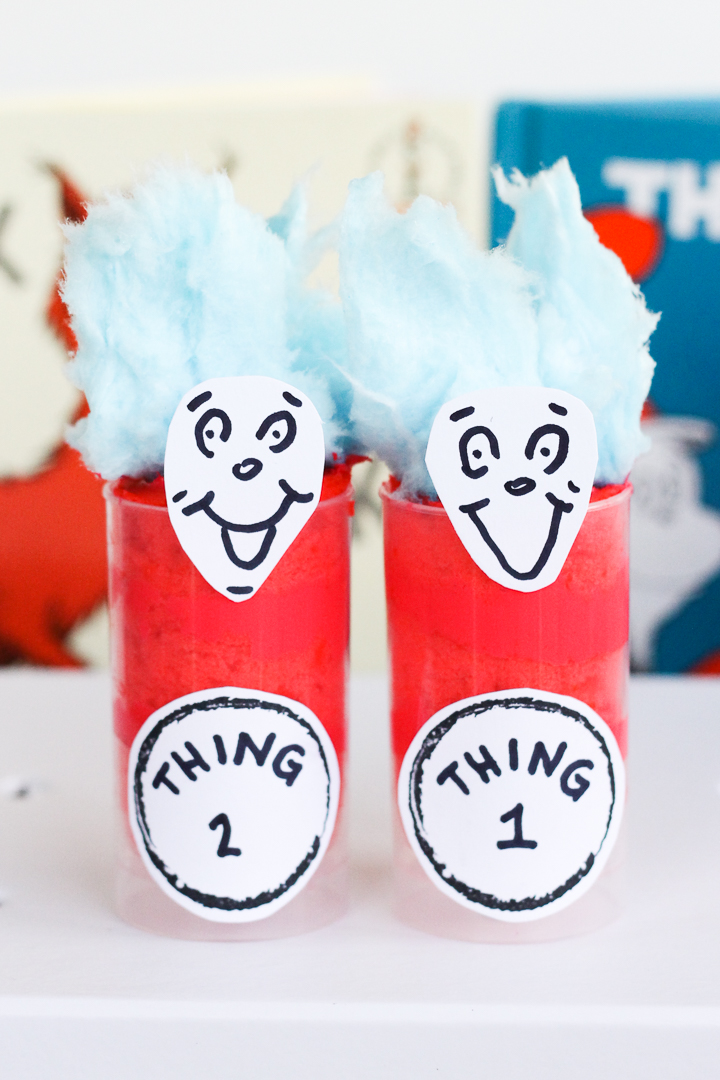 That's it! The Dr. Seuss cupcakes are done and ready to eat! However, they're SO cute that they might just be too adorable to eat. 😉
Dr. Seuss Cake Tip
If you are taking these to school for a party, wait to add your cotton candy hair after you get there. Cotton candy does not do well in transport or when exposed to the moisture of the cake so add it just before serving.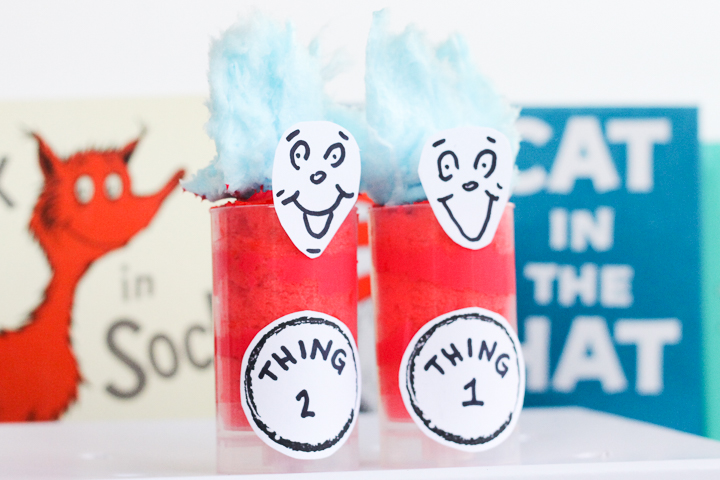 Dr. Seuss Cupcake Push Pops: Final Thoughts
We love reading Dr. Seuss's books any time of the year and have a huge collection of them around our home. I really believe that Dr. Seuss is an author whose work is loved by kids and adults alike.
Our appreciation for his work as well as celebrating his fun imaginative characters and stories make celebrating his birthday so much more fun!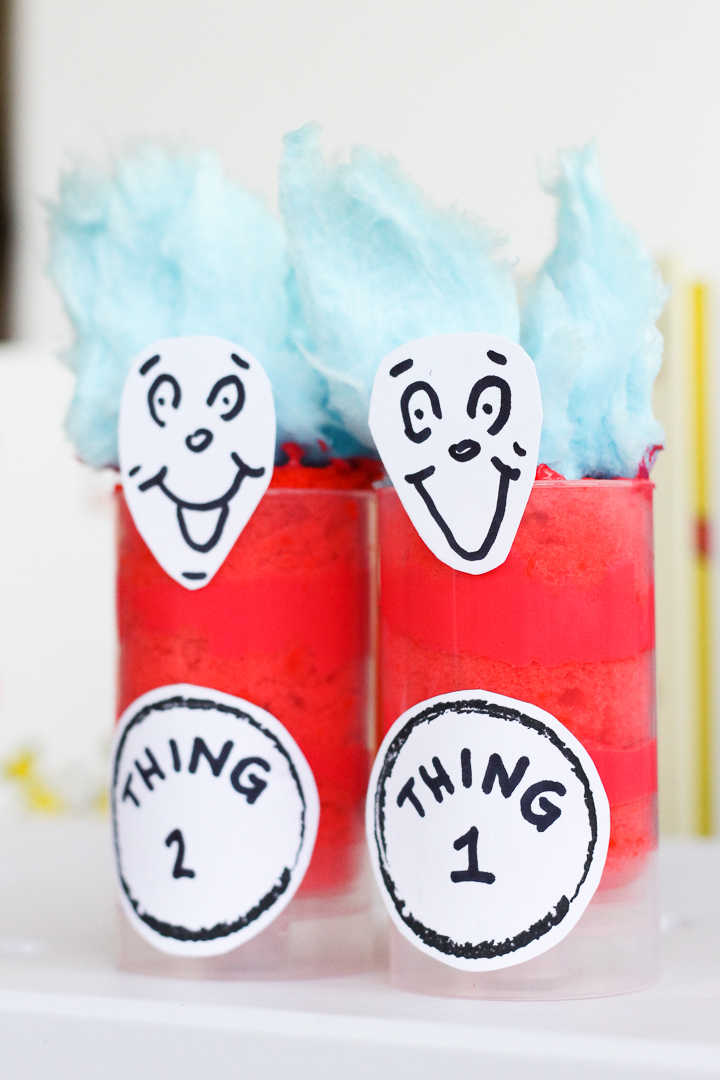 With this Dr. Seuss cake push pop recipe, you can invite Thing 1 and Thing 2 to your house on March 2nd or any day of the year. And, if your family is anything like mine, these push pop cupcakes will disappear faster than the time it took to make them!
I love that they are easy enough for every day but also special enough to be a treat for your celebration of Dr. Seuss's birthday. They also make great birthday party treats if you are planning a Dr. Seuss-themed birthday party!
So, y'all go ahead and whip up a huge batch of these Dr. Seuss birthday treats. They'll be so worth it.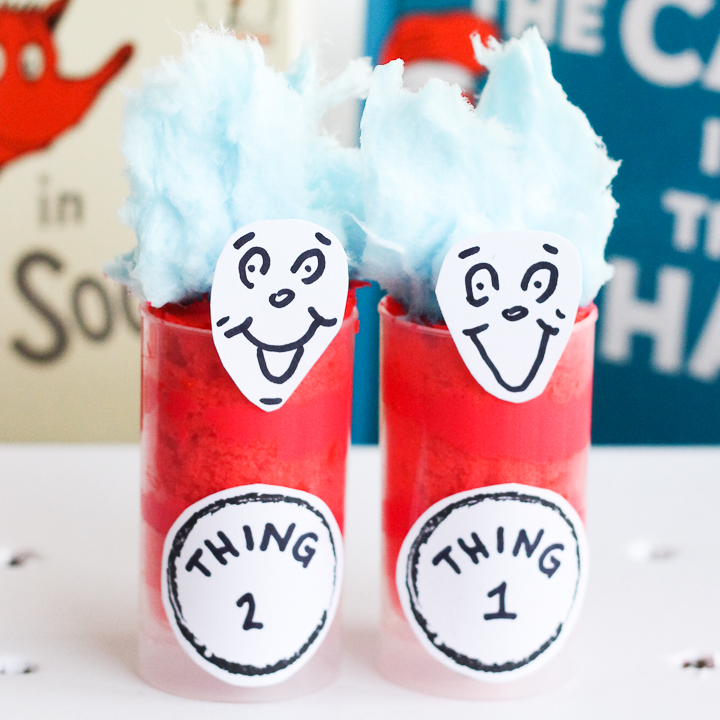 If you want more fun ideas for Dr. Seuss's birthday, try the links below as well!
Looking for easy recipe ideas?
Struggling with supper and what to make? Do you wish you had a way to make meals faster? The dump recipes system allows you to make 10 meals in just one hour or less, rescuing your dinnertime and saving you time and money.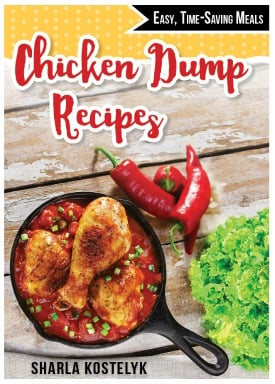 Want to try it for yourself? I have the perfect cookbook for you. Chicken Dump Recipes includes 5 plans, each with printable shopping lists and printable labels. Most of the 25 recipes included can go from the freezer to the crockpot, saving you even more time. All the recipes include gluten-free instructions as well.
What are you waiting for? Give the dump recipes system a try in your home and make meal time a bit easier!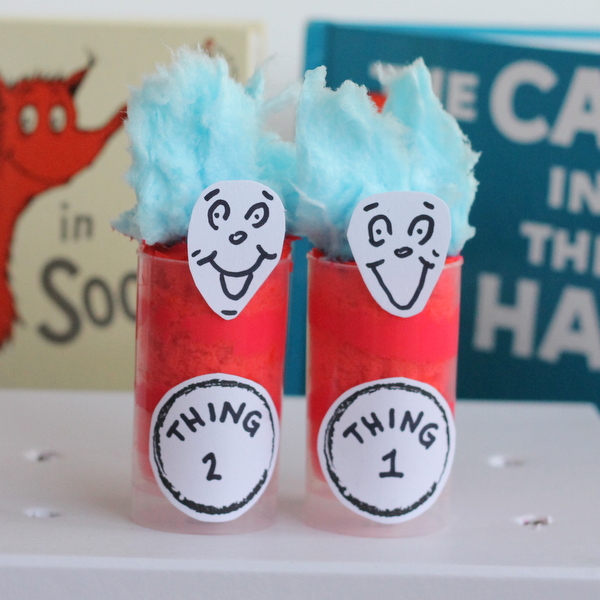 Dr. Seuss Cake Push Pops
Adorable push pop cupcakes that are a cinch to make and festive enough for a party!
Ingredients
black marker

cake mix

and ingredients to make the cake

icing

blue cotton candy

adhesive dots

icing tip and bag
Instructions
Mix up the cake batter and add red food coloring. Bake the cake and set aside to cool.

While the cake is cooling, create the Thing 1 and Thing 2 circles and faces by tracing, copying, or drawing freehand.

Once the cake is fully cooled, use the push pop tubes to cut the cake to the right size. Tint the frosting red.

Layer the cake and icing into the push pop containers. A layer of cake followed by a layer of icing. Add another layer of cake followed by a layer of icing. Continue layering until you reach the top of the push pop container.

Use glue dots to attach your Thing 1 and Thing 2 decorations.

Finally, use a little icing to add on some blue cotton candy hair onto the top of your Dr. Seuss birthday treats.
Tried this project?
tag us to show off your work!