This post and photos may contain Amazon or other affiliate links. If you purchase something through any link, I may receive a small commission at no extra charge to you. Any supplies used may be given to me free of charge, however, all projects and opinions are my own.
I don't like to call my room reveals a "makeover" cause quite frankly it is more like an evolution over time. I don't have the time or the cash to complete a room in a weekend. In this case, over the course of two years I found what works for us and what doesn't. I found pieces that I love and can live with. I figured out what makes our house a home. Come along with me as I show you how our family room has evolved. What better to start with than the after….that is always the best part anyway.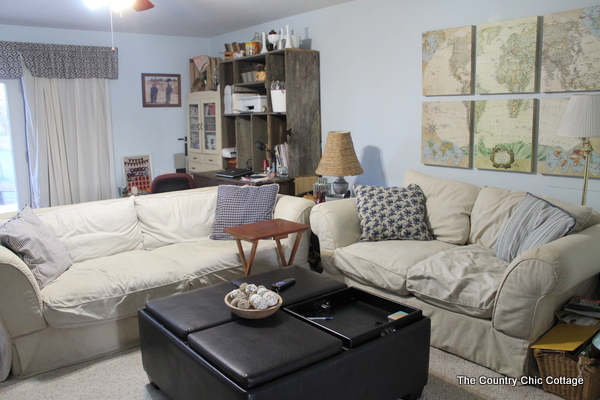 It started somewhere near the below picture. A very large sectional that was so blue it almost tinted the rest of the room. Why yes at some point I did buy curtains to match. My office area is also in the corner and yes that bookshelf is fake wood and awful.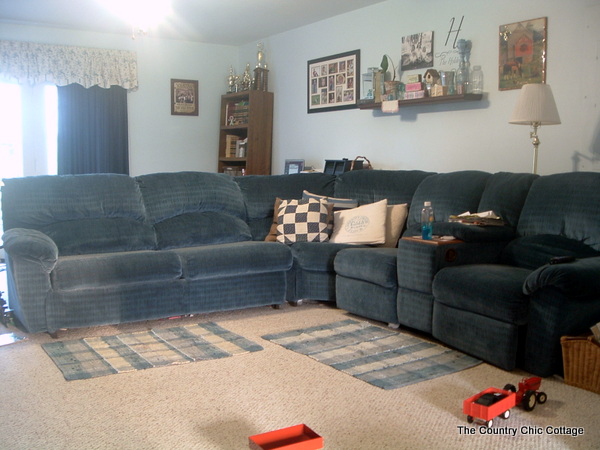 So what happened over the course of two years? Slow and steady progress. The picture below was taken after all of the following (in no particular order):
I made doily curtains for the windows. This alone really lightened the space even though we still had the large blue couch.
I made a HUGE desk hutch out of barnwood. This really helped make a tall statement piece and define the office area.
I refinished a vintage cabinet and replaced that awful book case.
I found some couches on Craig's List and scooped em up! The ottoman pictured was also purchased around that time.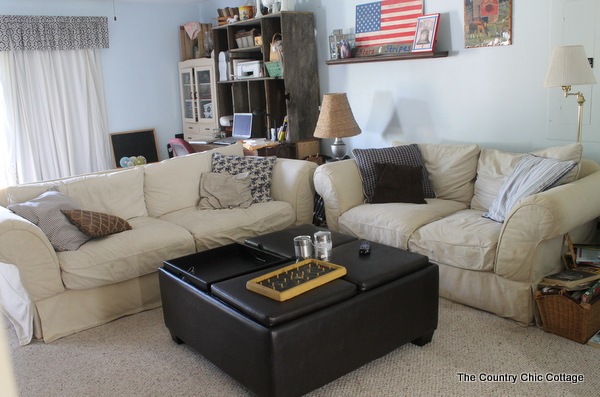 So over those two years everything was coming into focus. The room was becoming more my style. But as you can see, once I had new pieces of furniture the room sort of shifted and well that art and shelf were no longer really OVER the furniture. I could have moved it immediately but I knew I wanted a large piece of art. I wanted to wait to find something I love not just something I would live with. A statement piece on the wall over the couch. Enter Cost Plus World Market.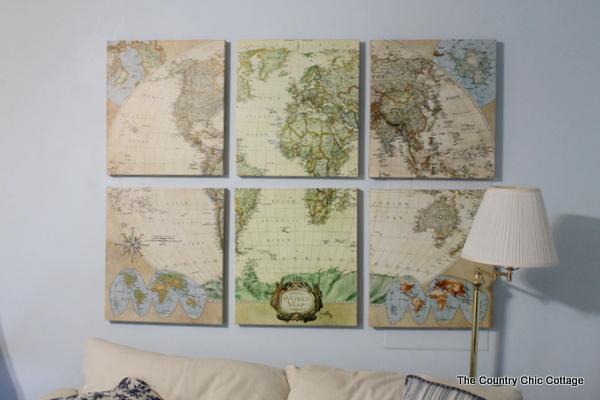 I had never shopped at a World Market store before. But I was excited for a new adventure. I had heard really great things about their prices and selection. I went in with visions of maps dancing in my head but I was willing to get another piece of art if it really spoke to me.
Alas, they had a wide selection of maps and I couldn't stop looking at them. So yes I decided on a map above my couch. It is hard to see in the pictures above so let me get up close and show y'all a problem I have to work around. See what I hid under my art…an electrical box. The electrical box for the entire house is RIGHT in my FAMILY ROOM. Right there in the middle of everything. I have hated that box for years. So I decided it was time to hide it.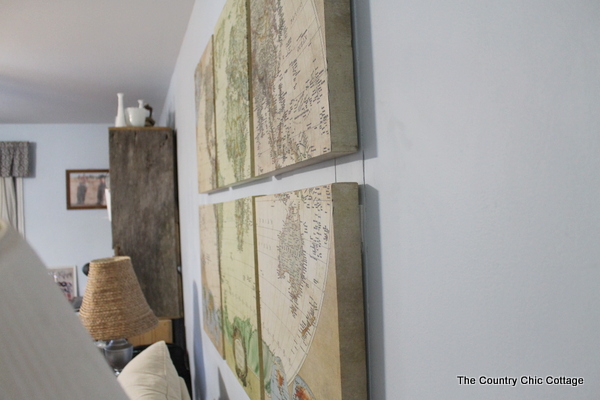 So back to World Market. I had these HUGE measurements in my head cause that was the only way I was going to be able to hide that electrical box. So I looked at art, maps, and everything in between. Some of the maps were gorgeous but they were so heavy. I don't want to have to lift off a heavy piece every time I need to access the electrical in our home.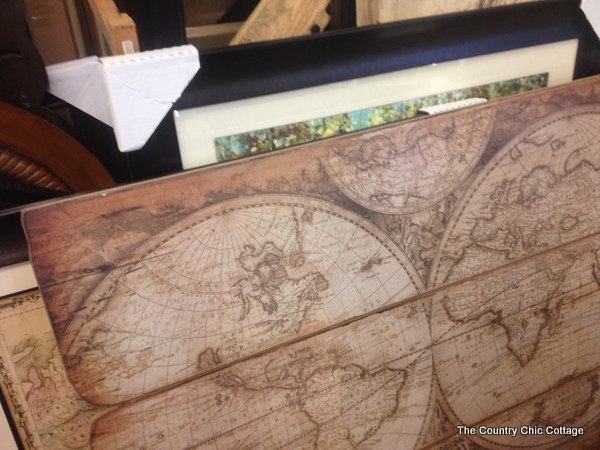 They even had a framed map behind glass. Again heavy and really it was not BIG enough. I was looking for HUGE!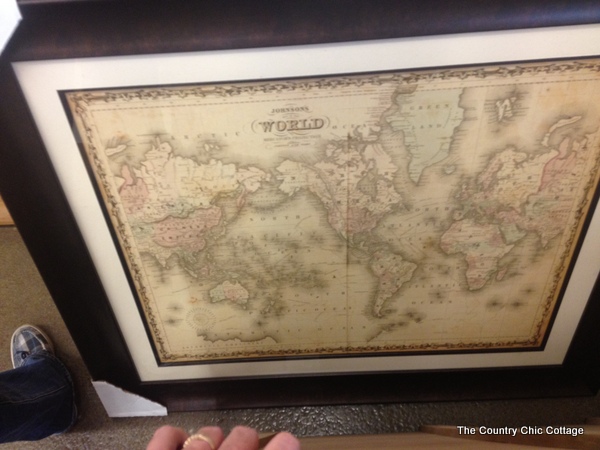 Then the clouds parted and the angels sang as I saw it. A bundle of six canvases that make a map when hung together! This would make a big enough statement above the couch, plus cover the electrical, plus when we needed to access it would be just removing two canvases, PLUS they can easily be hung with command strips. Sold.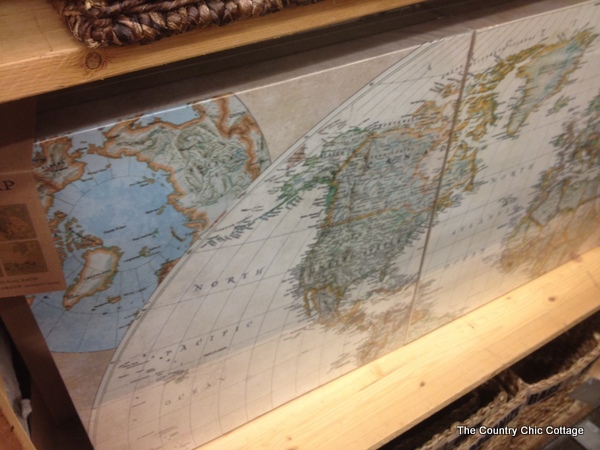 You would think that hanging a few pictures would be an "easy" project right. This one required lots of math y'all. Took me back to college math class all over again. I laid the canvases out on the floor and did calculations and more calculations.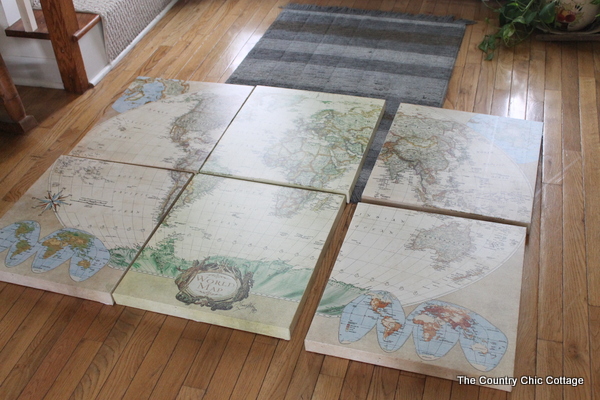 Plus I had to patch many a hole on that wall from what was hanging there before. Then repaint over the patches. It was like the project that never ends. But I ended up only making one new hole that did not work — the rest worked perfectly! That college degree is paying off I tell ya.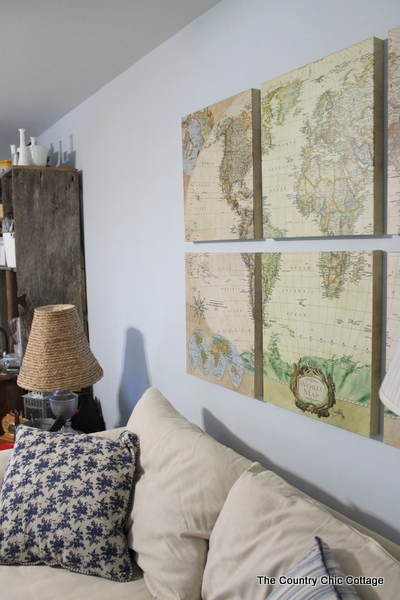 I am in love with the evolution of my family room. Bonus picture for y'all below. I also picked up some decor balls while I was at World Market. Those white ones had me at hello.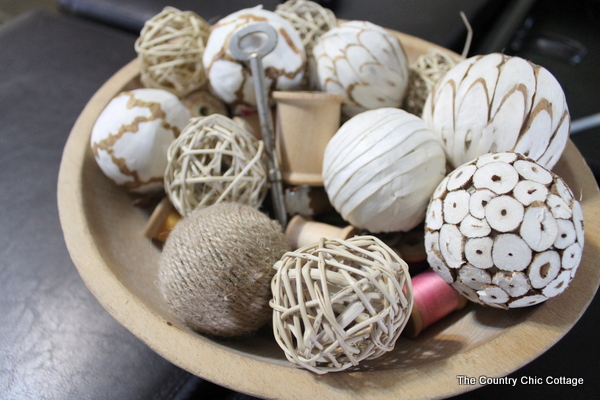 So there you have it, my family room as it stands today. I am sure it will continue to evolve over time. But that is okay. That is what it is all about. Finding what works for you over time and putting it in place. I think that is how well loved spaces happen. For now, you will find me on the couch gazing up at my new map art!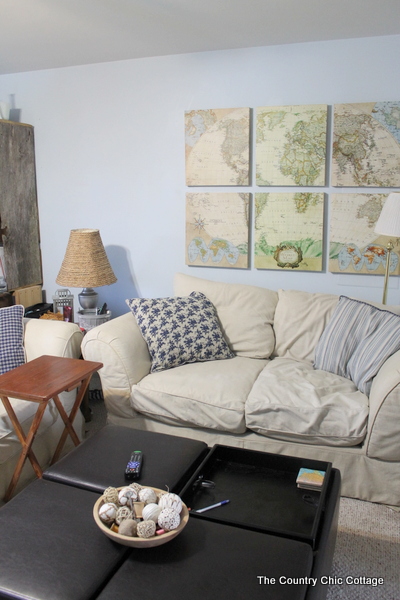 Would you love to go shopping at World Market? Well then, I have a sweepstakes for you.
HGTV Passport to Style Sweepstakes
Grand Prize package includes: A $10,000 World Market shopping spree and design consultation with an HGTV Designer

There will also be 3 runner up prize winners that will each receive a $1,000 World Market gift card!

The HGTV Sweepstakes runs from

September 22, 2012 until October 26, 2012.

If you share the sweepstakes with 5 of your friends (via FB share or email) you can receive 5 additional bonus entries. This is part of the registration process when entering. Users can also enter daily for more chances to win.

Enter online at

WORLDMARKETSWEEPSTAKES.COM

or

FACEBOOK.COM/WORLDMARKET
This shop is part of a social shopper marketing insight campaign with Pollinate Media Group™, but all my opinions are my own.