I am still working on the teen room and we have added an accent wall that you all are going to love. I thought I would share with you my tips on how to paint a gradient color wall just in case you ever want to add this fun detail to your own home. Yep I even have the math to get your lines correct….and it was a head scratcher.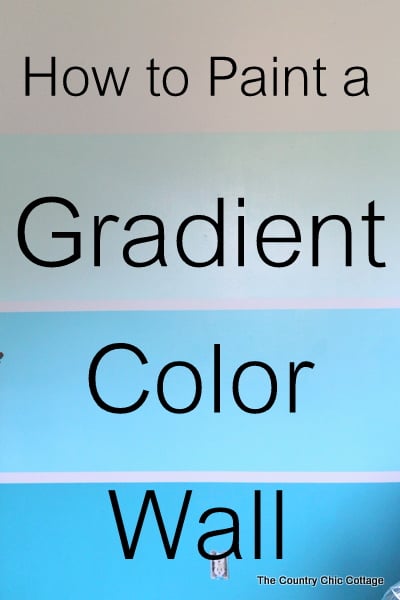 Step 1: Start with a Blank Canvas
Start with a plain color wall. I repainted the rest of the walls in this room a great gray color but this wall I went over with a couple of coats of white. The top stripe in my version of the gradient wall is white plus this gives you a clean slate for your other colors. Yes this is what a room looks like when it is getting a remodel. Yours too right?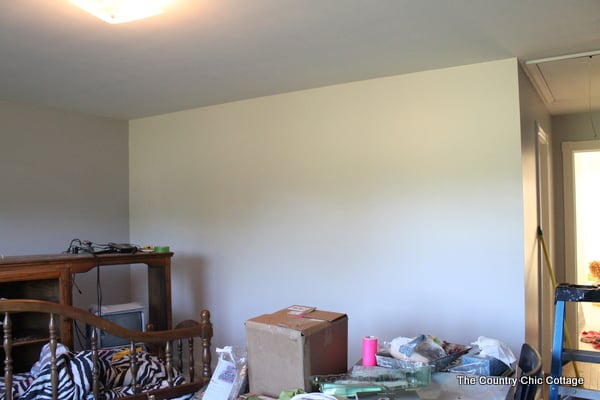 Before we continue with the gradient color wall details I have a painting tip for you. HomeRight was nice enough to send me their PaintStick EZ-Twist to try out in this room. I am going to tell y'all….I hate painting. So why not give it a go right? I painted an entire 13 x 16 room plus a hallway in 45 minutes. That my friends is progress. There are some other benefits to this paint roller as well. First of all it was super easy to use and my teen could help with the painting. Second the mess in the room was minimal. The PaintStick comes with an attachment for your paint can and it just sucks the paint right out of the can. No messy drips down the side as you try to pour. I will say that the clean up of the PaintStick itself is a bit time consuming but I did get better at it after a few times. All in all ladies and gents….if you want to paint a wall the easy way….use your PaintStick EZ-Twist to get the job done!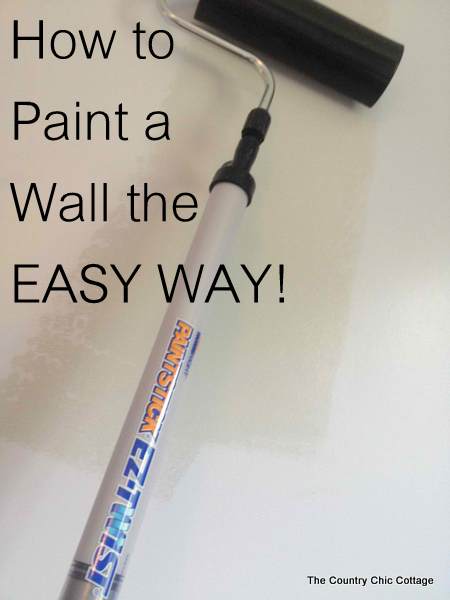 Step 2: Measure and Tape Your Wall
Now back to the math portion of our program today. Ugh. Math. Here are your steps along with my fancy illustration:
1) Start with a measurement of your wall from ceiling (or bottom of molding) to top of baseboard. Cut that in half and mark your paper. Then take the width of your painter's tape
and divide that in half. The two lines at 45 inches and 46.5 inches represent both SIDES of my painter's tape. So half way for me was 45.75 inches. I then added 3/4 of an inch and subtracted 3/4 of an inch for my 1 1/2 inch wide painter's tape. Making sense?
2) Now divide your first distance in half. So half of my 45.75 was 22.875. I then had to again add and subtract my 3/4 of an inch for the painter's tape.
3) Repeat number 2 but on the bottom.
4) Now to actually place my tape I had to calculate how for it was from the ceiling to the bottom of the painter's tape on the first line as well as how for it was from the bottom of the first piece of tape to the bottom of the next piece of tape and so on. So I was left with measurements to go to the bottom of each piece of TAPE and could then start on my wall.
Boy that is confusing….huh?? I did some serious trial and error on this one. Do your math, mark your wall, step back and make sure it looks right. You can always recalculate and remark before committing to paint.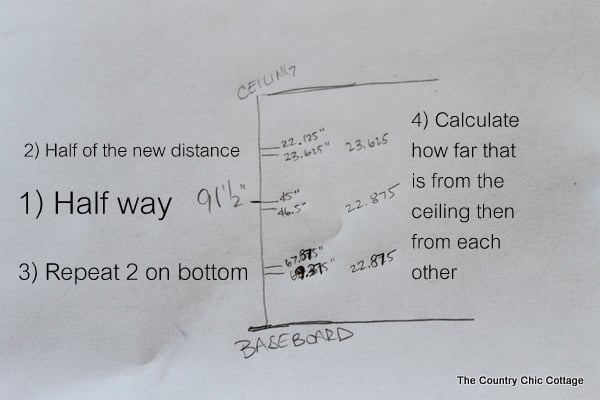 Step 3: Make Sure the Stripes are Perfectly Even Before Painting!
Mark your wall with a level
and a pencil given the measurements you have from above. Again stand back and look once you have marked to make sure your lines look correct. You can always remove your marks and calculate again.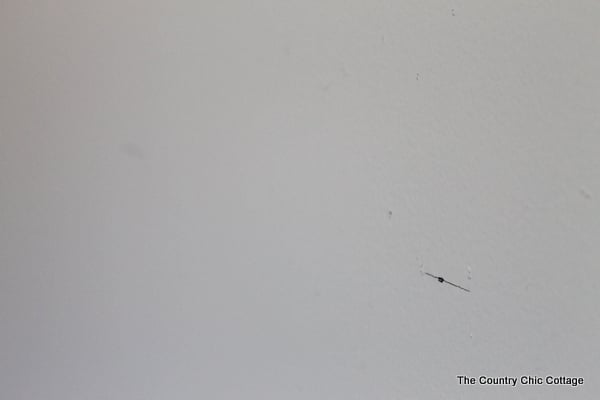 Now you can apply your painter's tape to those marks with the BOTTOM of the painter's tape on your markings. I used Frog tape

for my lines and was super happy with the results.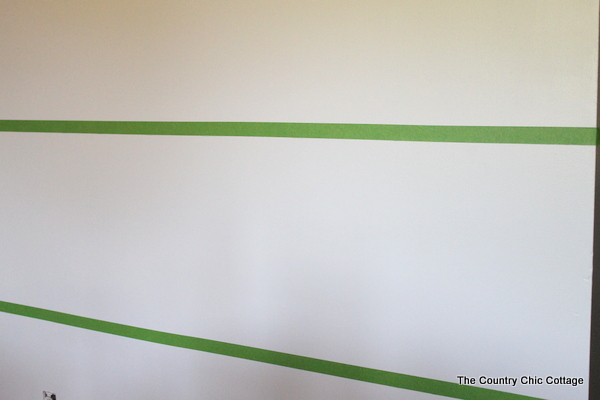 Step 4: Choosing the Perfect Gradient Wall Color Paint
Now how do you choose your colors you may ask? I took a paint strip that we had chosen to be our colors. Then had paint mixed in every other color on the strip. That way there is a noticeable gradient.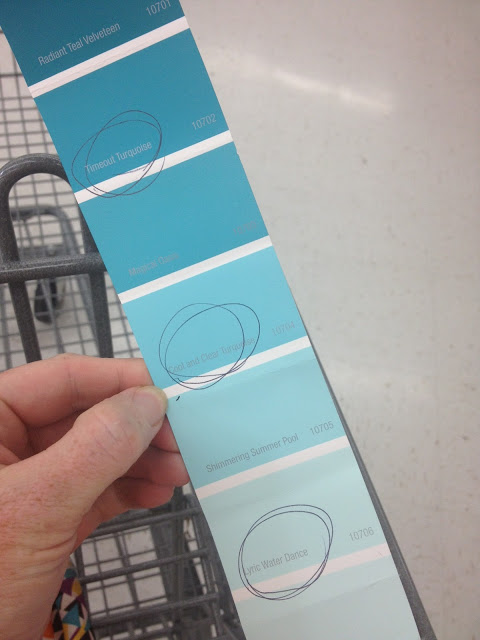 The only other tip is to remove your tape while your print is still wet. The picture below is my wall with only one coat of each color. Retape your lines and paint with a second coat again removing the tape while it is wet.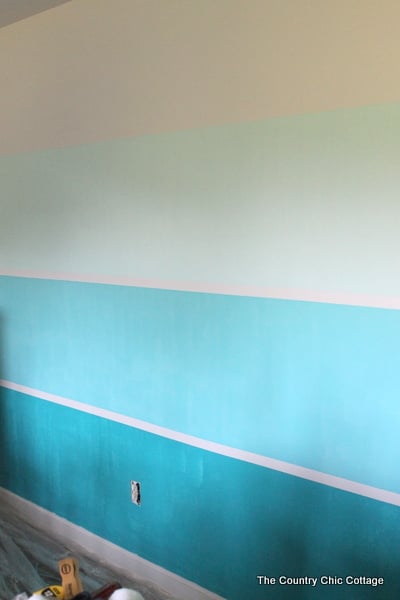 Your DIY gradient color wall will be complete in no time with these simple steps. Now who is excited to see this teen room come together? No one can be as excited as I am right now! Okay my teen daughter is more excited than me. So what about you? Will you be using my tips on how to paint a gradient color wall anytime soon?