I have been a part of an Instagram series all month dedicated to decluttering and organizing your home. These ideas for an organized laundry room complete the month with a bang. I recently did a little clutter free intervention in my own laundry area so I felt inspired to show off some other spaces as well. Y'all enjoy and come away with tons of ideas to implement in your own home.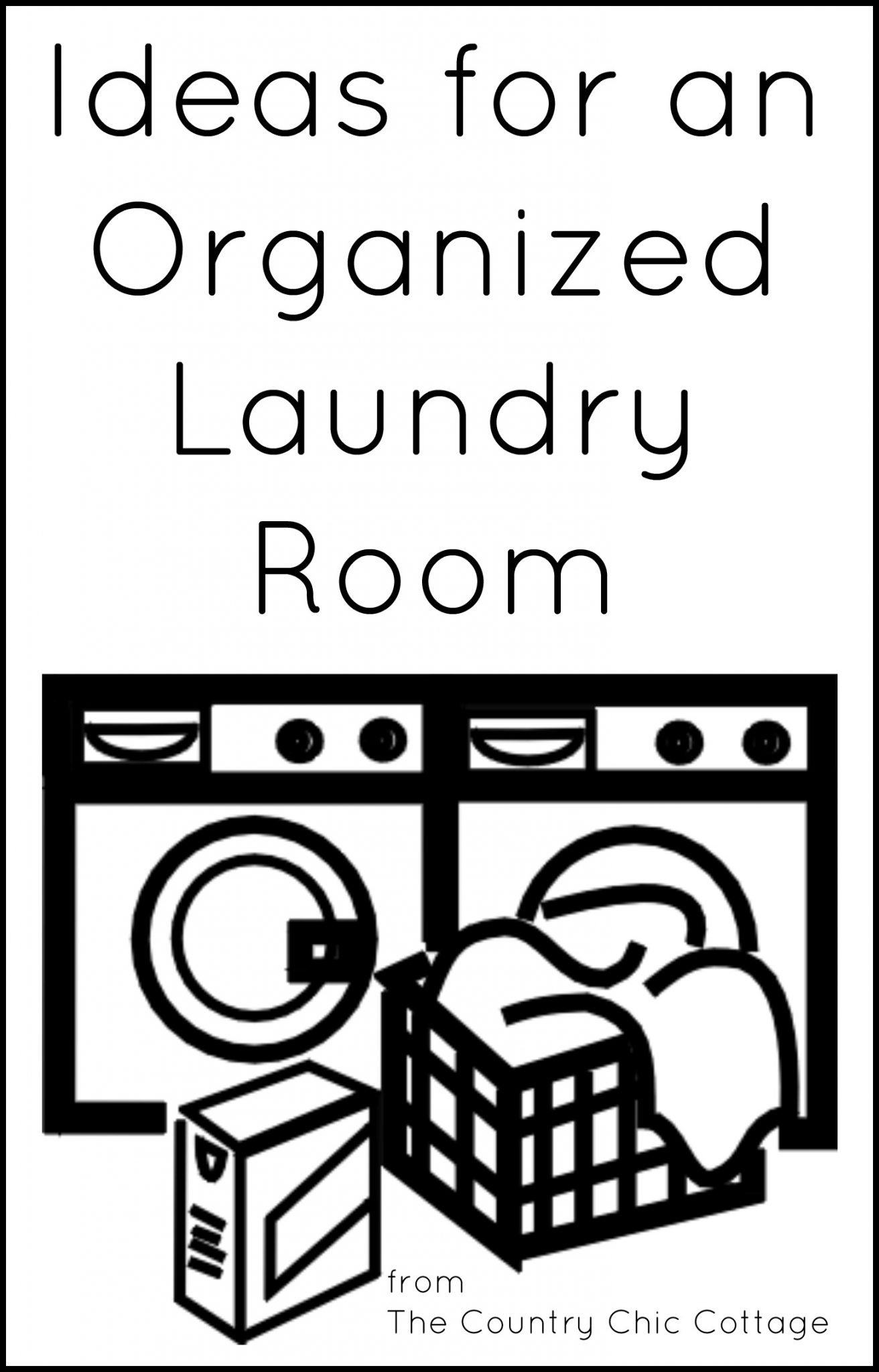 Lets start with an amazing picture and example of what a laundry room can look like! I love the counter, the shelves, lets face it….just the room itself! My dream laundry room for sure!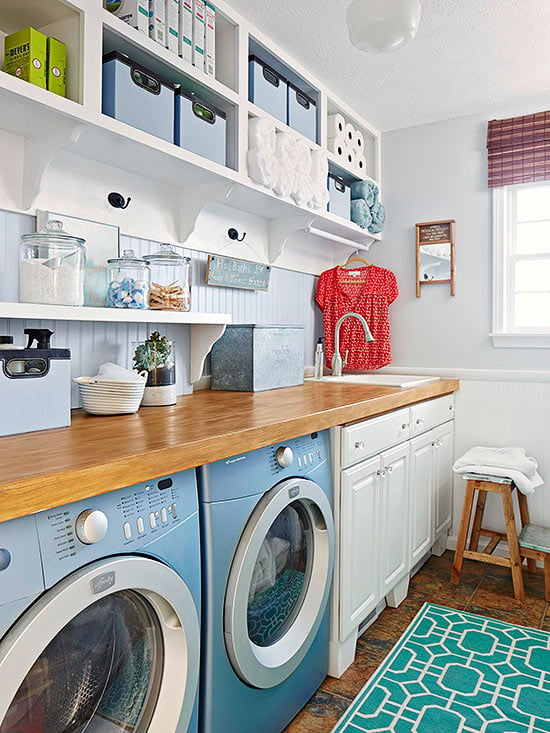 Next up is a brilliant laundry area if you have room in your budget for build in storage. A set of custom build ins like these could change the look of any laundry area big or small.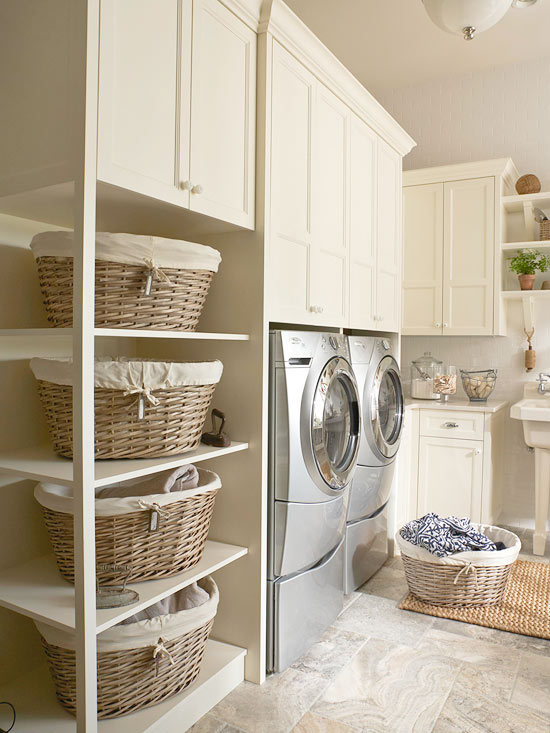 A laundry sorter can be a life saver in any home. One with an ironing board on top is just plain brilliant. You may love or hate all of the color in this next picture but you have to admit that you need one of these in your life.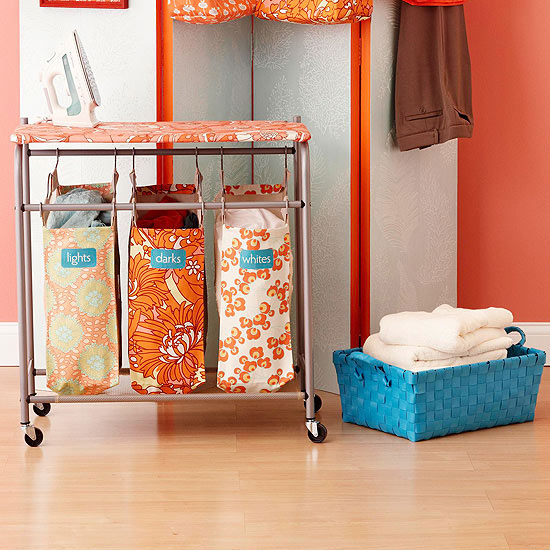 Hold onto your hats y'all! This next picture is from a blog and they are making their own custom built ins. I love the laundry basket storage on the sides! Click here to read more and see other pictures.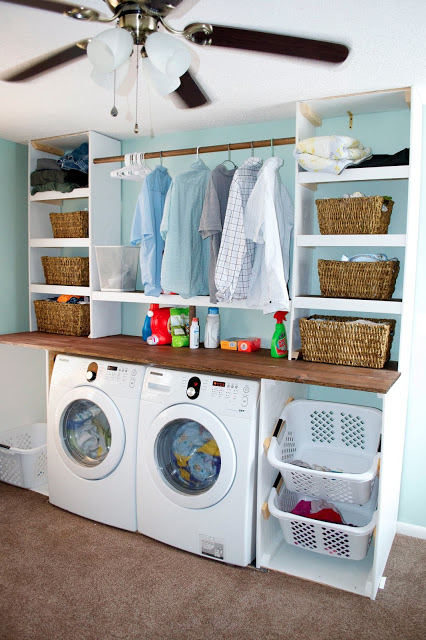 Need a gorgeous laundry room on a budget? Let View Along the Way show you how in this post. Everything about this space is amazing….the before and after will take your breath away!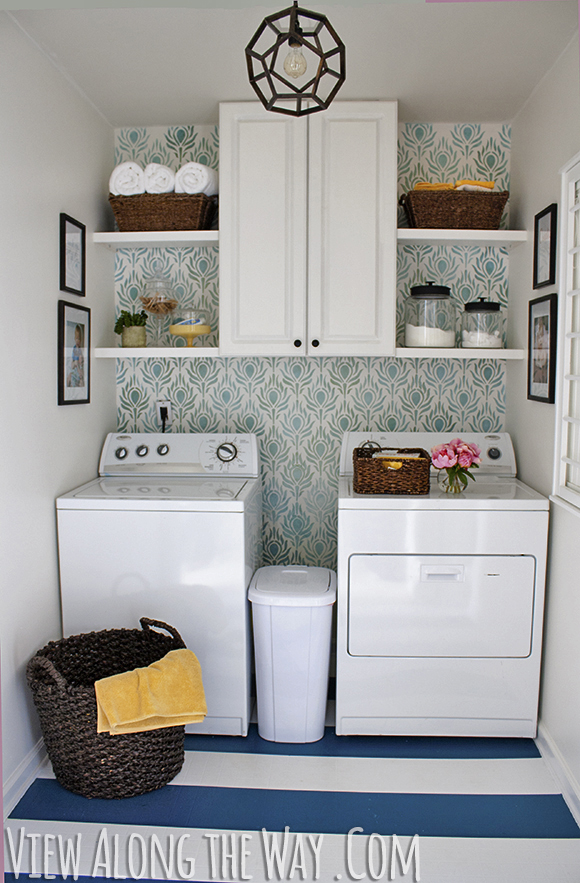 You can also see great laundry room inspiration over at Four Generations One Roof. She even has a tutorial on how to build those floating shelves for your home. I also love the idea of hanging a wire basket on the wall!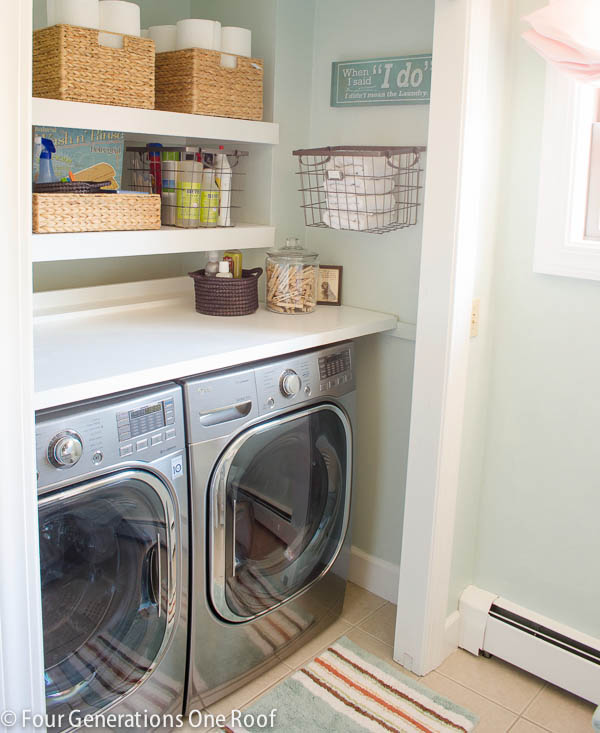 Need a laundry room that serves multiple purposes? You can do that as well! I love the shelves and the curtains hiding the washer and dryer in this next room idea.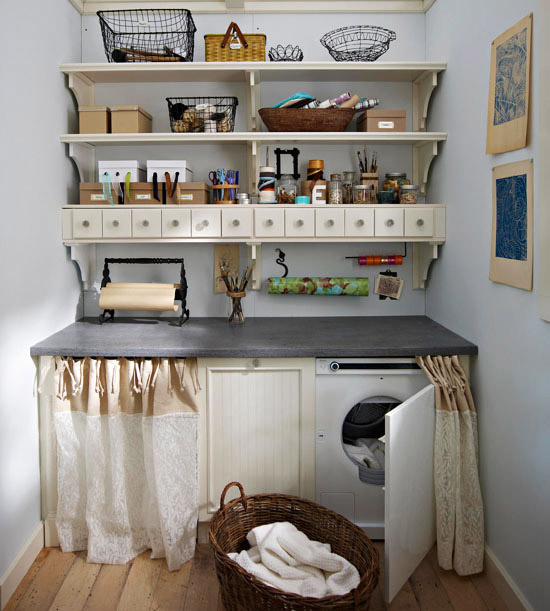 How about a laundry room/office/kids play room? Yep you can do that to! Great ideas for using a large laundry room to serve several purposes here.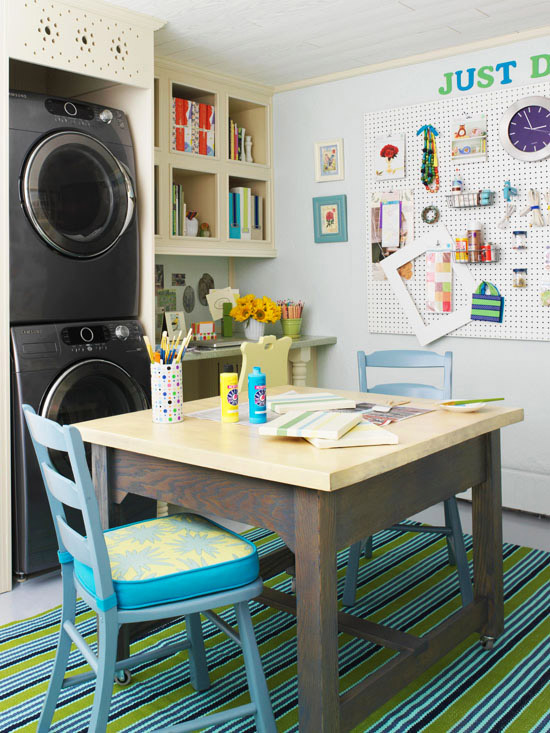 I of course love farmhouse style and you can even bring that into a laundry room. This next picture just makes my heart go pitter patter y'all. Someone get me some of those cabinets….stat….
Hiding your laundry area behind barn doors is just brilliant. Adding chalkboard to those doors…amazing! Such a colorful area that can be closed off when guests are on the way. So much better than the bi-fold doors that my laundry room is currently sporting.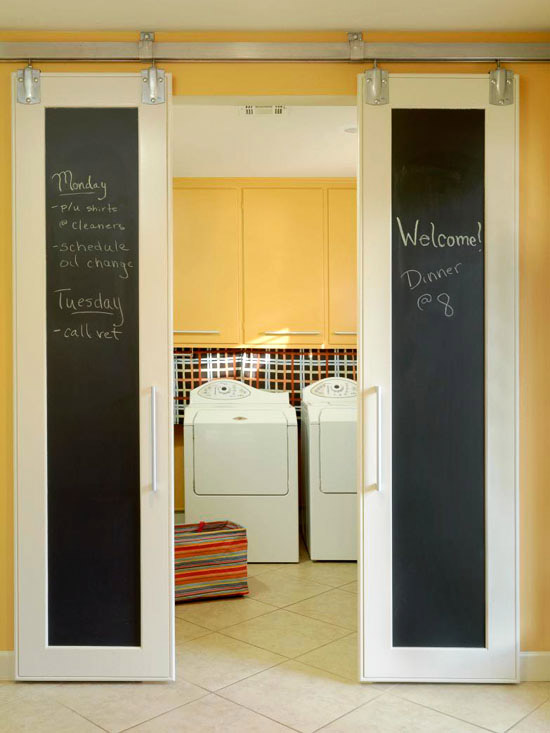 An area for your laundry does not have to be boring. In fact, it can be bright, cheerful, and fun! Let these ideas inspire you to get an organized laundry room in your home.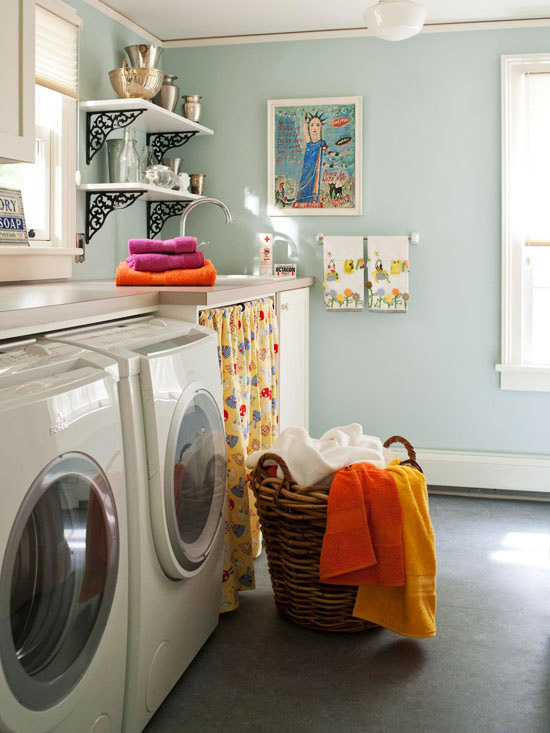 My partners for this series both have amazing laundry rooms as well. If you want more of a farmhouse industrial look be sure to check out The Shabby Creek Cottage. You will want to click here to follow her on Instagram as well.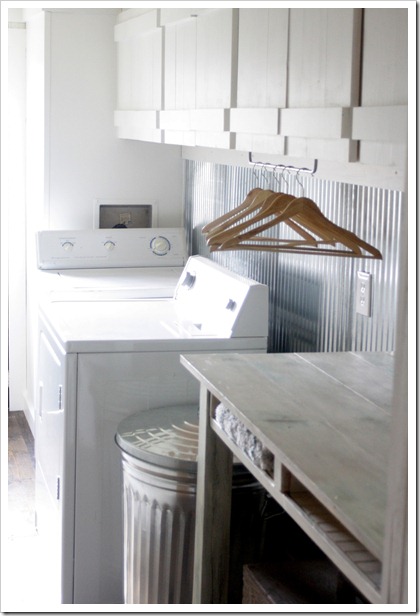 You can also checkout the amazing laundry room of Clean Mama. I love that shelf! Be sure to click here and follow her on Instagram as well to get your life clean and organized!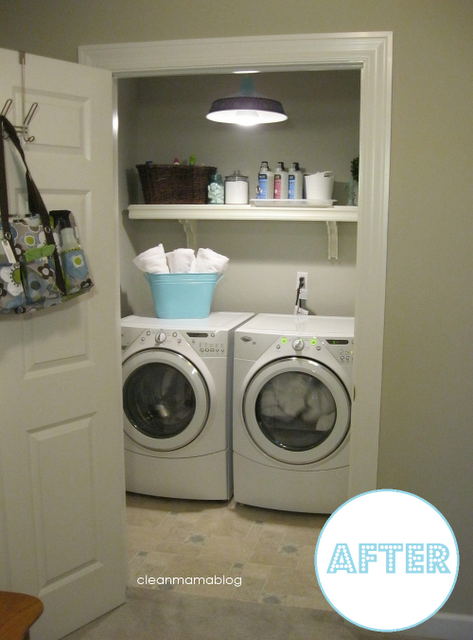 Plus just in case you were wondering….you can click here to check out my laundry room closet. Yes literally a closet! You can also click here to follow me on Instragram for tons of pictures that you won't even see on the blog!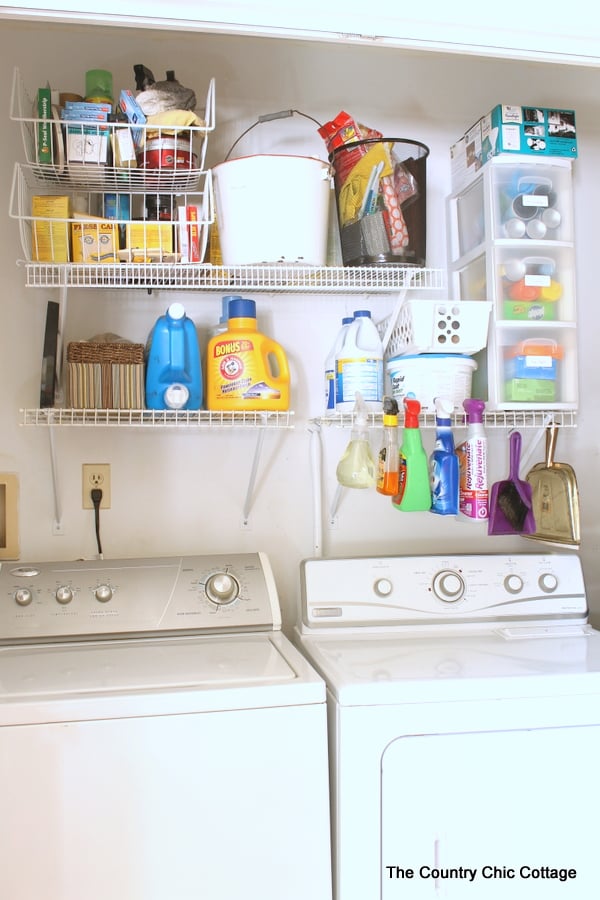 I hope you have enjoyed these ideas for an organized laundry room. Inspiration is often what leads me to a project that I love. I hope it does that for you as well!
Declutter Your Home in 31 Days!
Clear the clutter and organize your home with our daily emails! Every day for a month we will send you a prompt to declutter! Sign up for our email list below to get started.