My latest interior designed space is outside y'all. I teamed up with Serenity Health and Home Decor to bring you a front porch complete with a solar powered fountain. Maybe you are in the dark ages like me and did not realize that fountains could be solar powered? Yes I was there just a few short weeks ago. Then the great people at Serenity Health and Home Decor sent me a fountain to try out. More on that in just a second. Lets talk about the front porch first cause I am in love with all of the bright colors in this space.
I showed y'all
my colorful herb container garden
a few days ago so you know that I like to bring lots of color to my outdoor spaces. I feel free outside to be daring and bold. I started by buying some really bright indoor outdoor fabrics from Fabric.com. I started with the
colorful chevron type fabric in oasis
. I then added on a couple of bold geometric patterns in coordinating colors (
Caribbean
and
pear
). I love how the fabrics are so different yet they coordinate. Plus buying the outdoor fabrics online was cheaper than just two chair cushions that I liked at a local store. That is a win win!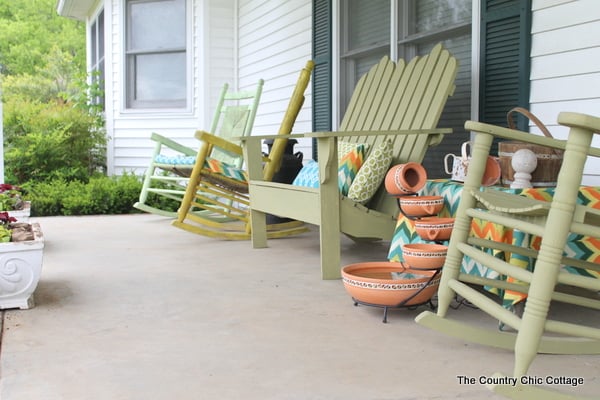 I used a portion of the fabric to cover the seat cushions for these rocking chairs. If you have not broken out your
sewing machine
yet….what are you waiting for? Don't be scared just jump in and go for it! I am self taught all the way and yes I learn a little more every time I sit down at my machine. The rewards are so worth it though. I get to create this gorgeous porch for a fraction of the price of buying all of these elements at the store.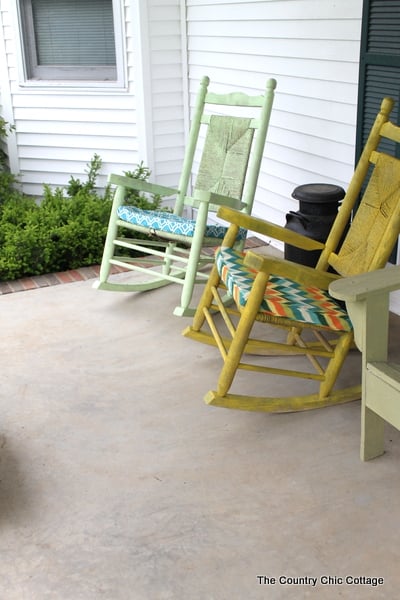 I am going to tell y'all a little secret about this view. We are getting all new replacement windows and the installation started yesterday. It has already made a huge difference when it comes to this view and I love it!
The pillows alone are something to look at. They are all made by just sewing straight lines but what an impact they make when grouped together. I actually had all of those pillow forms on hand so they did not cost me anything but fabric.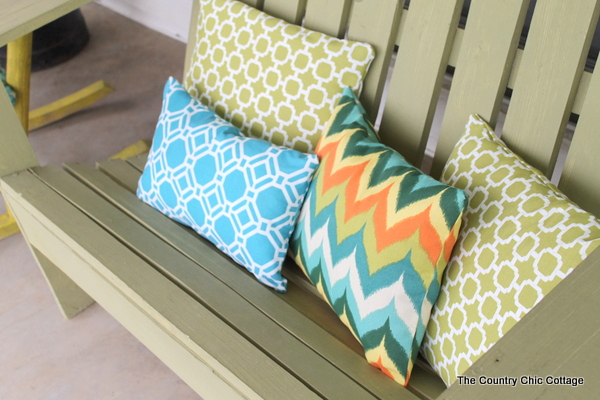 My
knock off sign
from the Pottery Barn is still hanging around after 2 years of use. I still love the rustic beauty up here on the porch.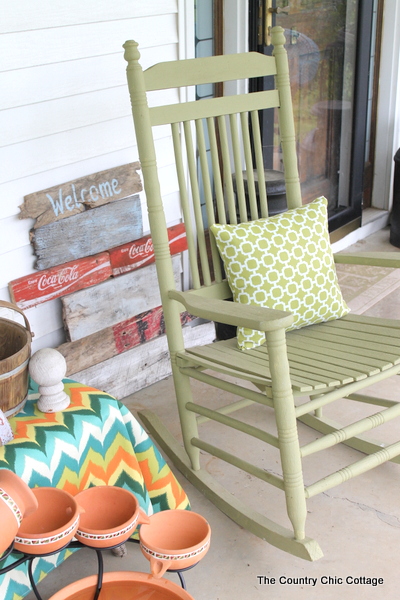 Now for the solar fountain that y'all are going to love. Yes this is solar powered and comes with its own solar panel and everything. It is from
Serenity Health and Home Decor
and I think it is gorgeous. It fits in perfectly up here since that fabric behind it has an exotic flair to it.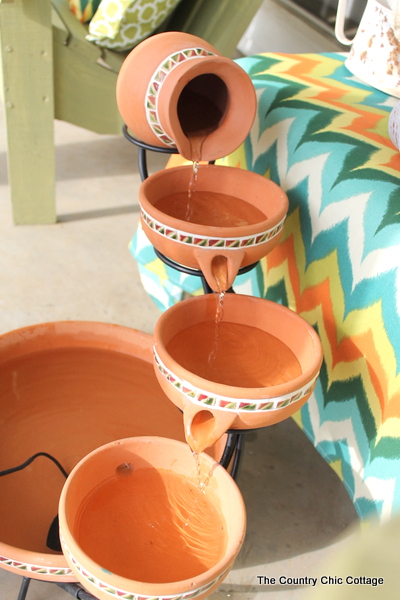 I imagine long summer evenings out here listening to the water and relaxing. Doesn't that sound heavenly? You could also add this to your landscaping since it is solar powered. I think the fact that this fountain is solar powered makes it a brilliant addition to your outdoor decor.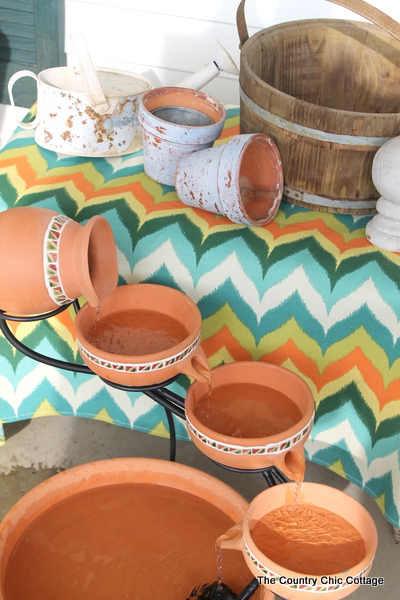 In case you are wondering, the fountain was super easy to put together and hook up to the solar panel. So no worries y'all….you can do this! Head over to Serenity Health and Home Decor to see this fountain plus more in their wide selection. Maybe a wall fountain or fire pit is more your style? Yep they have those too! My other love is their rock waterfalls for outdoors….trust me you don't want to miss those.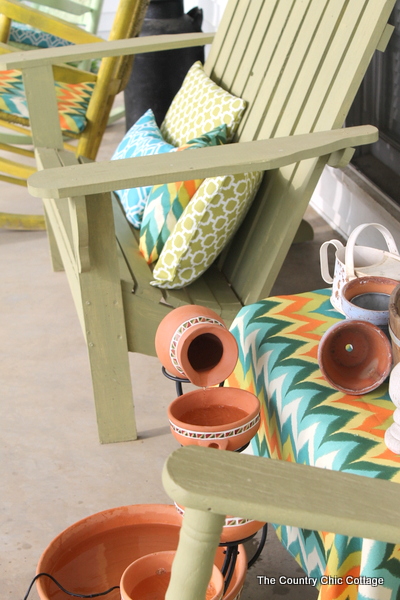 I hope you have enjoyed my porch makeover as much as I am going to enjoy using it this summer. Want a porch like this of your own? Get busy cause you can have one too!
I was paid for this post by Serenity Health and Home Decor but all opinions are my own.