We had the preteen birthday bash this past weekend! Thought I would give y'all a peek! Maybe you can get some kids birthday party ideas from this! We kept our decorations simple — tweens are too old for themed decor — or mine is! So we went with colors as our theme!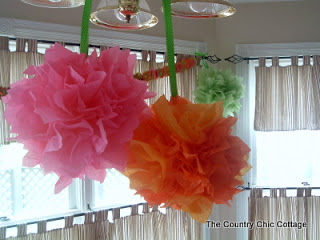 I just used styrofoam balls and tissue paper to make up these large pom poms!! Love the two hanging from the light!! Then I added two more on either side of the window!
Our colors were pink, green, orange, and touches of blue! They all worked together really well! The colors came off of some polka dotted plates I found at the store…she loved em…I loved em…that is a win win!
We took crepe paper streamers and cut them into squares. I then strung the squares on fishing line!!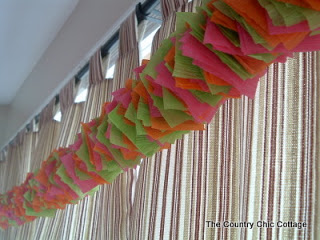 You need an entire movie to watch while you do this…but it looks AMAZING!! This is definitely an idea to get away from plain, boring crepe paper streamers!!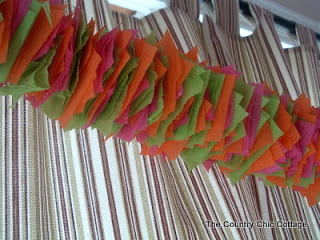 We found very little blue at the store in the shade she wanted so this large pom pom will have to do! 🙂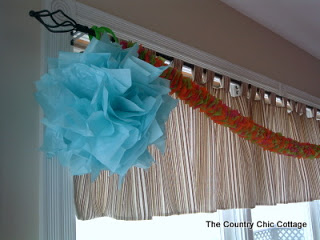 I always use the treat bags as part of the decor. Let's face it…if they are not out where I can see them I will forget to give em out! 🙂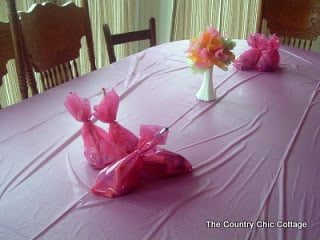 For the centers of the tables I dressed up my milk glass!! Using smaller styrofoam balls and different colors of tissue paper, I made pom poms.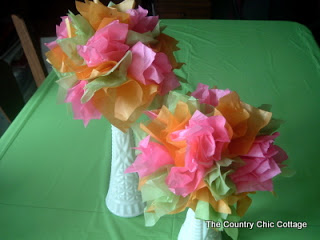 I actually used a drop or two of hot glue to make sure they stayed on the vases…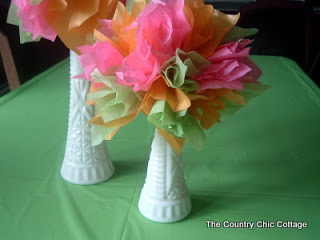 Okay I like the presents to match the decor…I am crazy like that…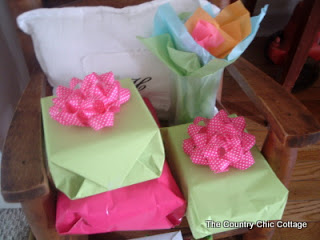 I always make our cakes. The napkins can be seen on the left…the cake was made to look like those and the plates.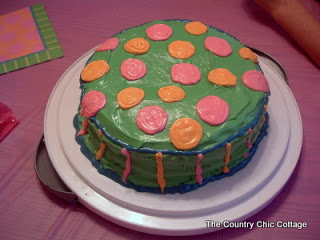 Overall we had a blast!! And got to blow out 11 candles!! 🙂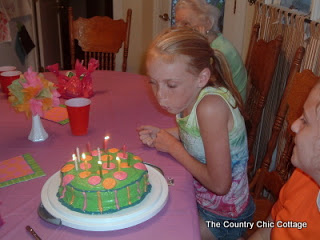 Posted at Friday Favs on Naptime Crafters.
Posted at Feature Yourself Friday on Fingerprints on the Fridge.
~Thanks for stopping by!~