I have a treat for y'all today! My recipe for the easiest microwave peanut brittle ever and over 50 holiday treats linked up below. Ready to get this holiday treat ball rolling? I have made this microwave peanut brittle for years from a hand written recipe that someone gave me. This has never failed on me. It always comes out perfectly. And by perfectly I mean light, airy, and NOT break your teeth hard. Sounds great right? Plus it is done in 10 minutes. Can it get any better? Yep I even chocolate dip some of my brittle. Let the party begin.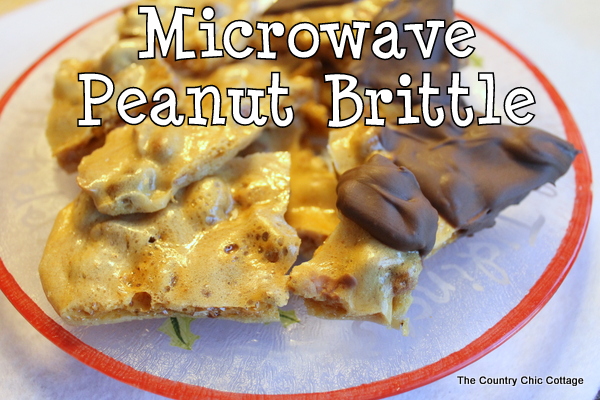 Ingredients:
1 cup peanuts (I use the lightly salted variety.)
1 cup sugar
1/2 cup white Karo syrup
1 tsp margarine or butter
1 tsp vanilla
1 tsp baking soda
chocolate flavored almond bark or candy coating (optional)
(NOTE: All microwave times are on high power.)
Put peanuts in a microwave safe bowl. Heat for 30 seconds in the microwave and stir. Heat for 30 seconds more.
Add sugar and syrup to the peanuts. Stir well and heat for 4 minutes. Remove and stir well. Cook for 3 more minutes.
Add margarine and valiaa to mixture and stir. Cook for 2 more minutes.
(NOTE: During these steps prepare a piece of foil or wax paper. Coat it in butter or margarine. The next steps need to be done very quickly.)
Remove your mix from the microwave and move to the counter. It will be extremely HOT! VERY quickly add the baking soda, stir, and pour onto your prepared foil/wax paper. The reaction will begin as soon as you add your soda. Be extremely careful when pouring.
Allow to cool. When cool enough to handle, remove from paper and turn over. Allow to completely cool. Break into pieces.
If you want some chocolate covered pieces, melt chocolate flavored almond bark or candy coating according to the package directions. Dip in some pieces and allow to harden. Enjoy!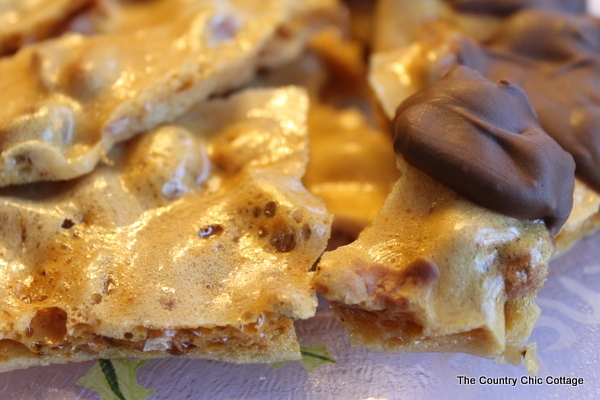 Now are you ready to kick off your holiday baking with a bang? Here are over 50 recipes to enjoy this holiday season for around the blogosphere. Visit, print, bake, and enjoy!