I thought some of you may need a mini heat press review as I have been getting a ton of questions on the 6×7 Cricut EasyPress. I use it quite a bit and it has been out of stock for months. So, I thought I would do a review of a mini heat press of a different brand to see how well it works. Will this be a good substitute for the small EasyPress? Let's find out!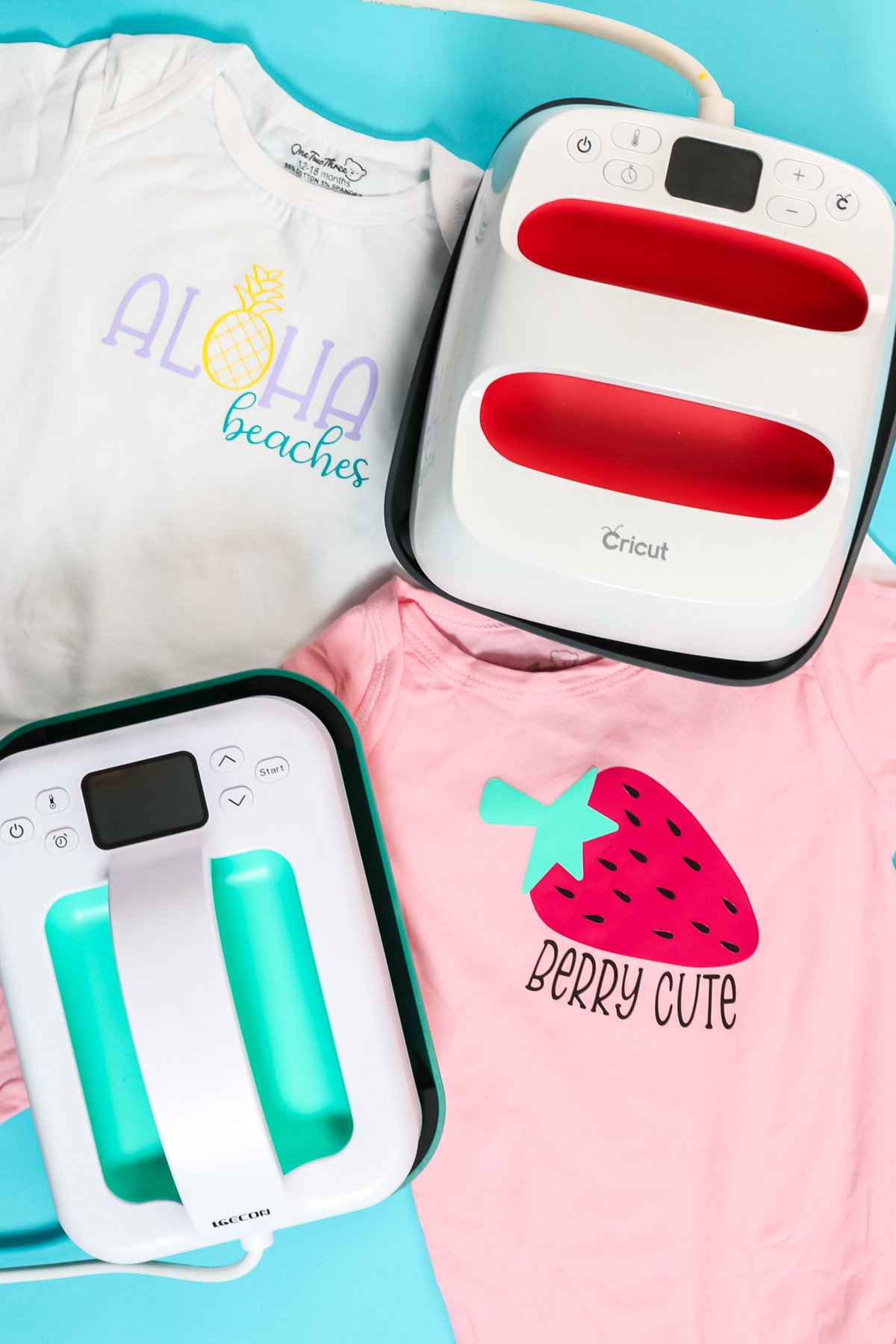 Mini Heat Press Review
I use this size most often for things like onesies or smaller projects. It's just super convenient to pull out and is really great for a ton of projects. I found a similar size on on Amazon from a different brand. Let's see how it works! Just click play on the video below.
Can't watch the video or miss some of the information? You can read more about this mini heat press review below.
Supplies Used
Mini Heat Press Unboxing
The press itself comes with a base for resting the press when in use, a bag for storage, and a user manual. This is similar to what you will find with a Cricut EasyPress so no surprises here! I did choose a mint green color but the press was sold in a few different versions if you don't like this color.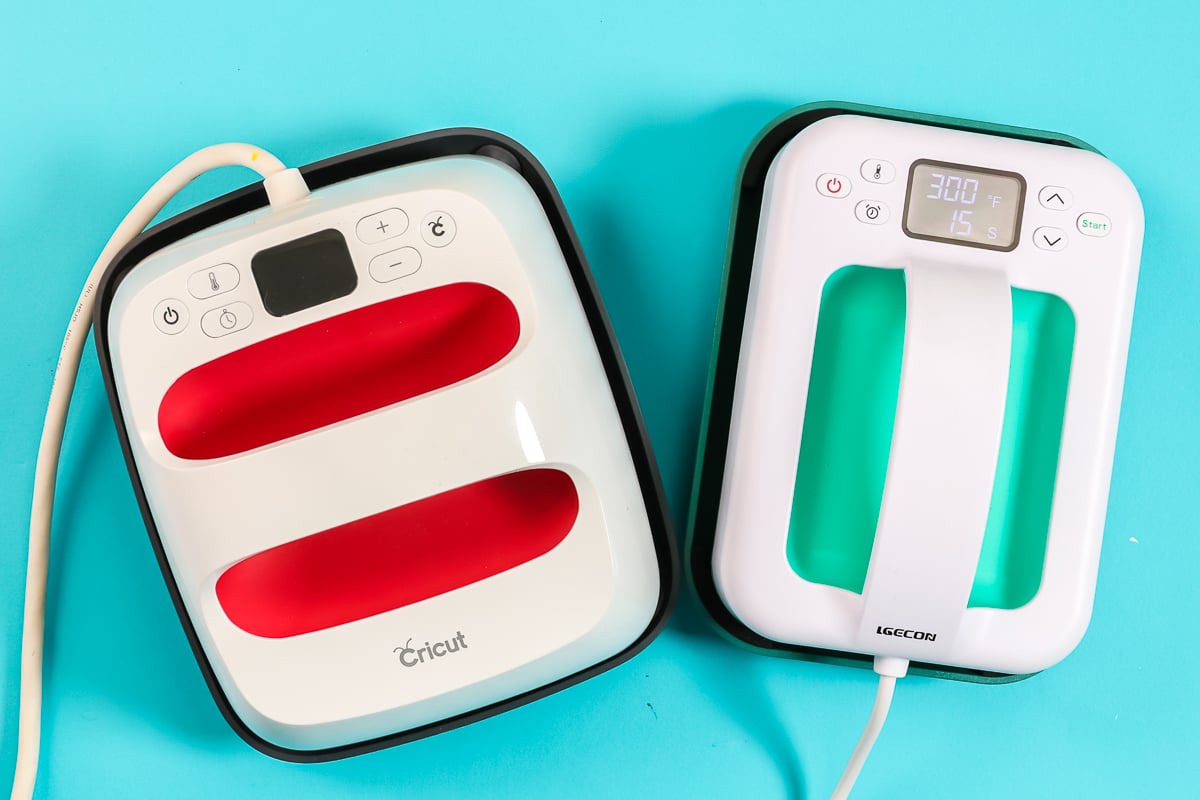 Feature Comparison
The two presses are roughly the same size. The one from Amazon is about a 5×7 while the original EasyPress is a 6×7. It's a little bit smaller, but comparable. I would say that the Easy Press is slightly heavier than the off-brand press as well. The plate itself looks really similar.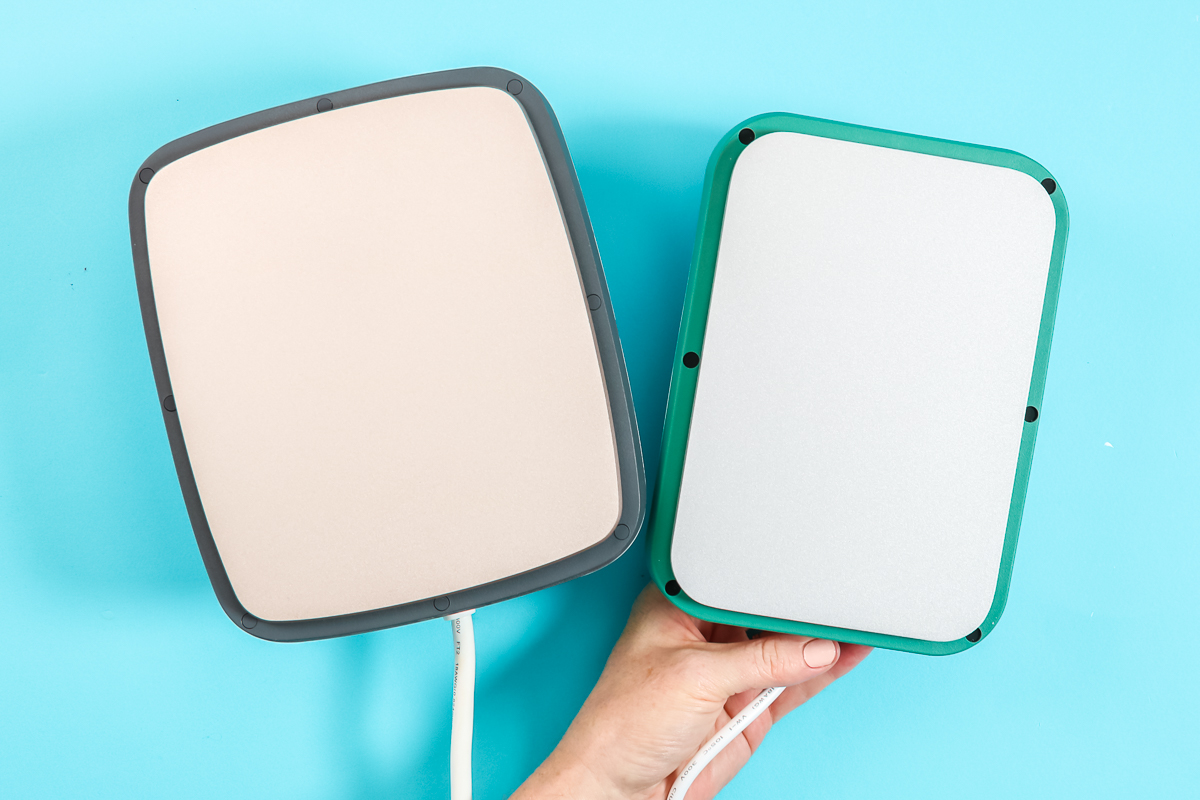 The base is very similar to the Cricut base. I'm kind of disappointed because it's not as bright of a color as the press itself.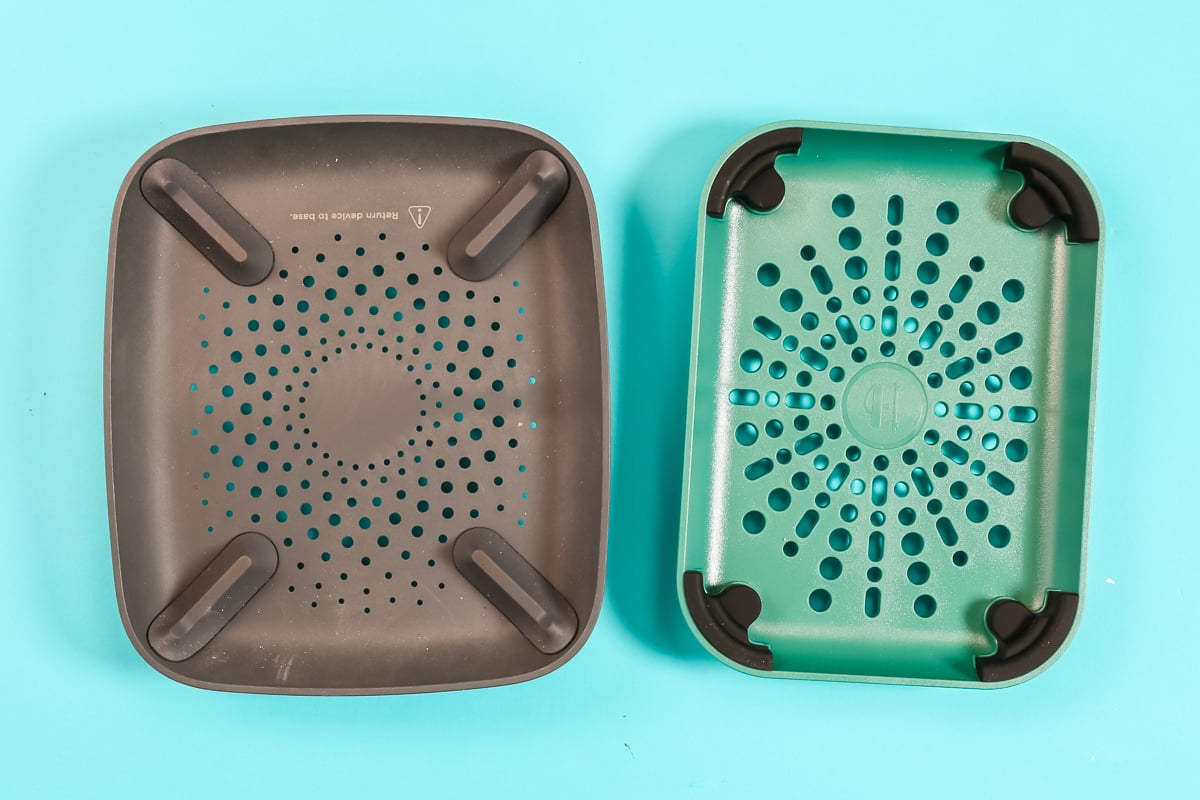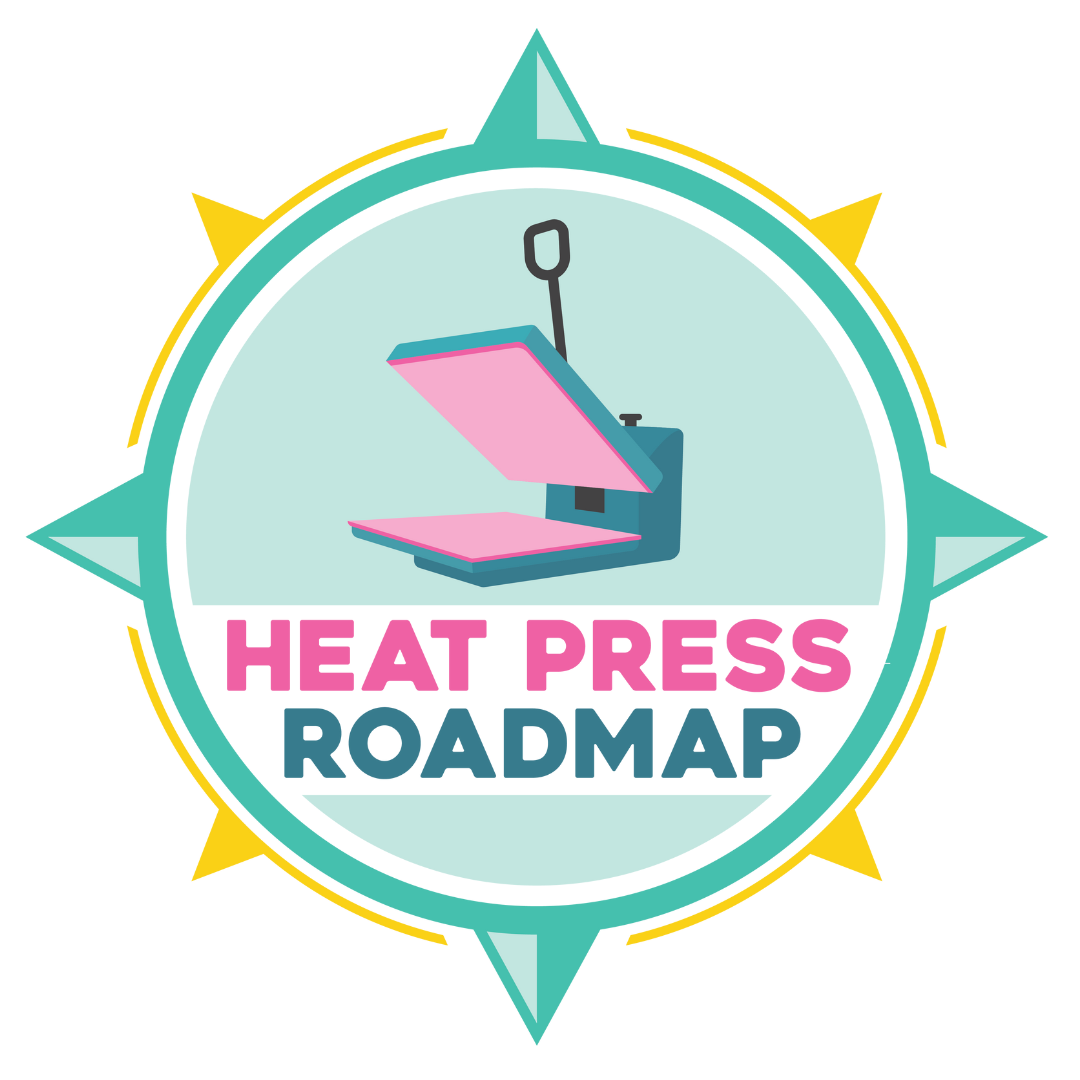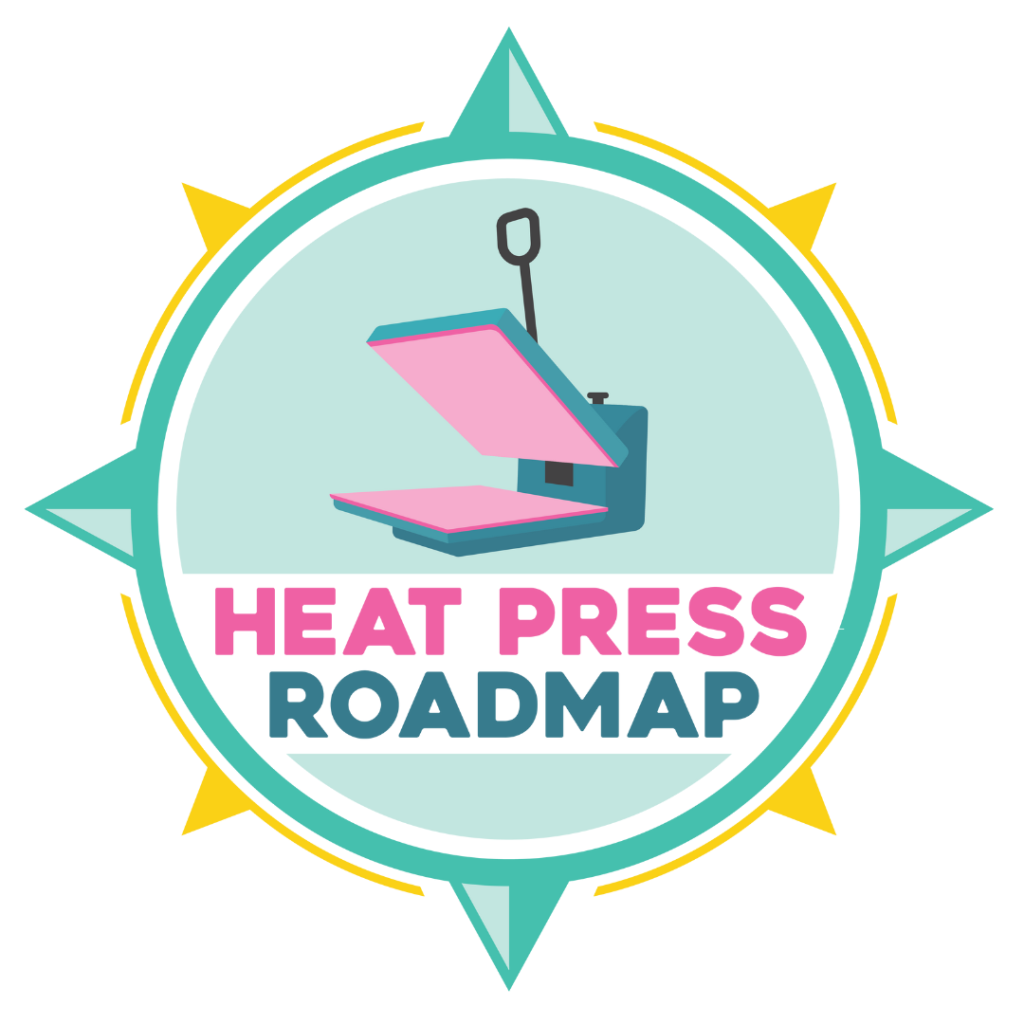 Not sure which heat press is for you? Heat Press Roadmap has your answer! This extensive course is designed to guide you on your journey to deciding on the best heat press for your needs, space, and budget.
Join Angie Holden and Cori George as they explore 17 heat presses in 27 videos. Get the details and sign up for Heat Press Roadmap here!
Mini Heat Press Buttons
There is the power button to turn it on and off. When you turn it off, it does remember the last setting. I had it set at 300 degrees for 15 seconds. I turned it off, turned it back on, and it does remember that. If you want to change the temperature, you press the thermometer button until it starts flashing. When you hold the button down, it goes really fast. I like that and at the same time I don't because it was harder for me to find the right temperature. I do think I would get used to it. You press the clock to change the time and you use the arrow buttons to go up and down. Again, if you hold them, it will go rapidly up. The maximum temperature is 400 degrees F. I will note that the buttons themselves are similar to the Cricut Easy Press.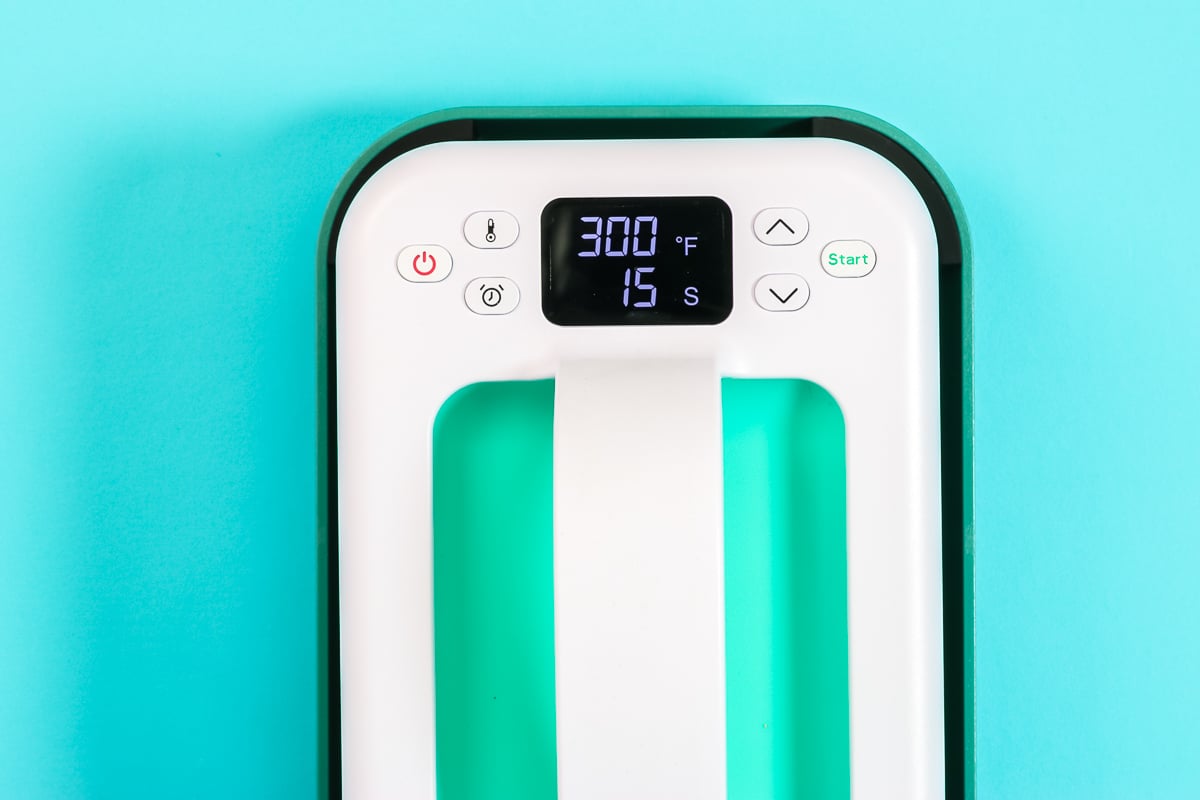 Using the Mini Heat Press
Once it is heated up, it does beep to alert you that it is heated up. You put it on your surface and you press the start button to start the counter. You can press the start button again to stop the counter. I do think that the plate itself is not as smooth. It does not glide as easily across the surface as the Cricut Easy Press does.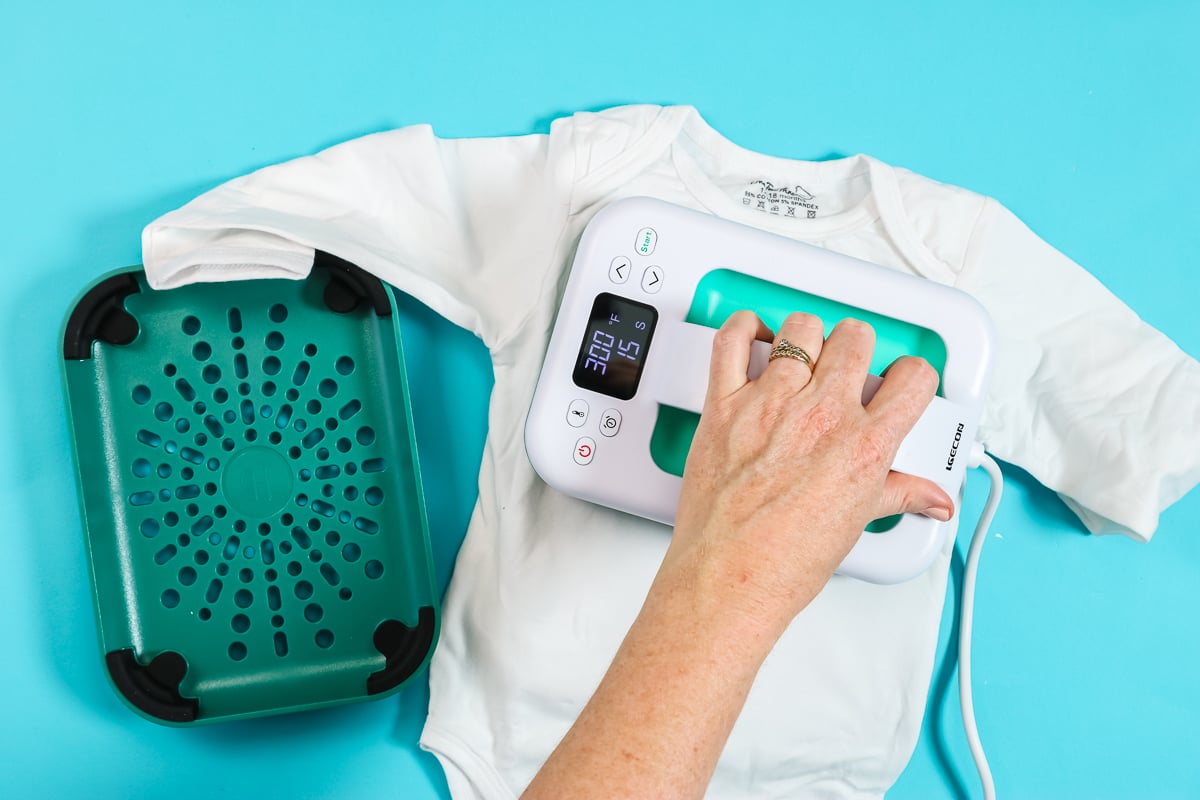 I pressed the HTV for the first onesie all at one time. Again for pressure, you can just press down on the handle as much or as little as you would like. Once the timer gets to zero, it does start beeping and we can remove the press. Once it's cool, you can start lifting up the carrier sheets and pulling them back. The press worked great on this design. Let's try it on another one!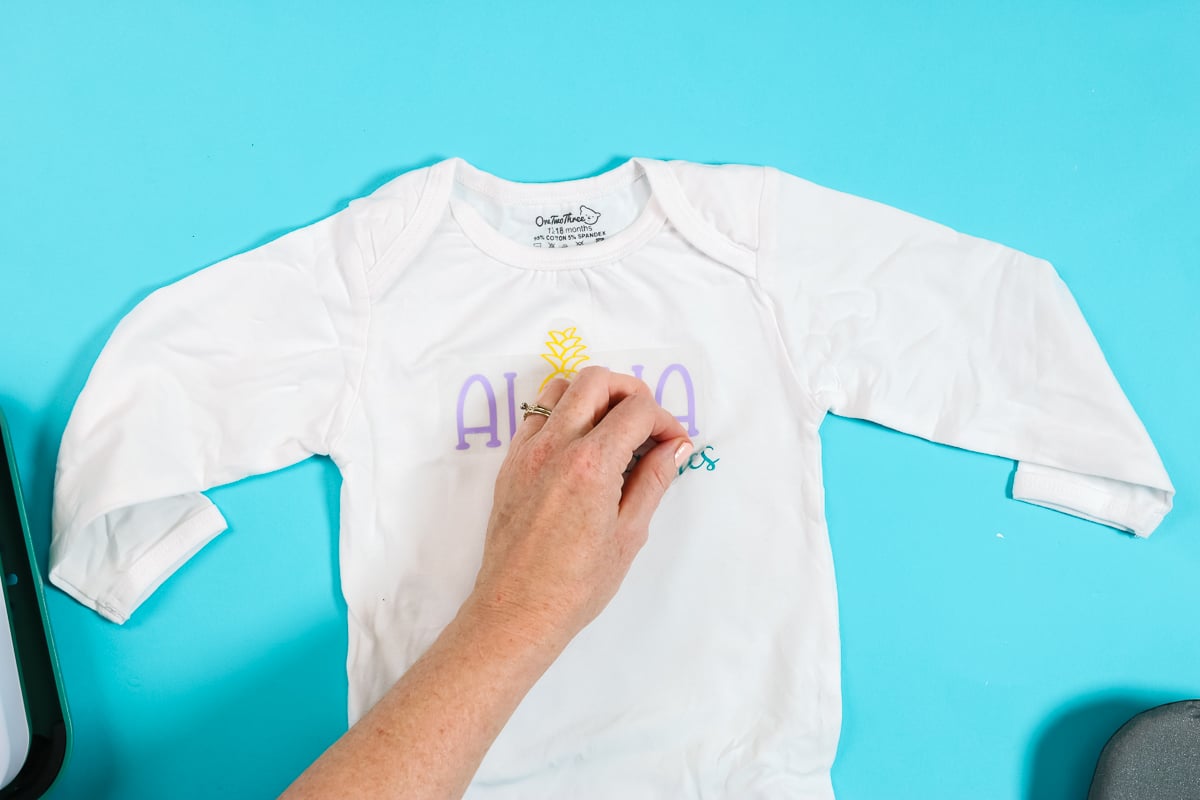 NOTE: I let this sit long enough that it turned itself off. I did want to test that feature and it did turn itself off. If you accidentally leave it on, it will turn itself off after a period of time.
Layering HTV with a Mini Heat Press
I put the bottom layer on first and then start adding some of the other layers to the design. On layered designs, I generally press about half the time for each of the bottom layers.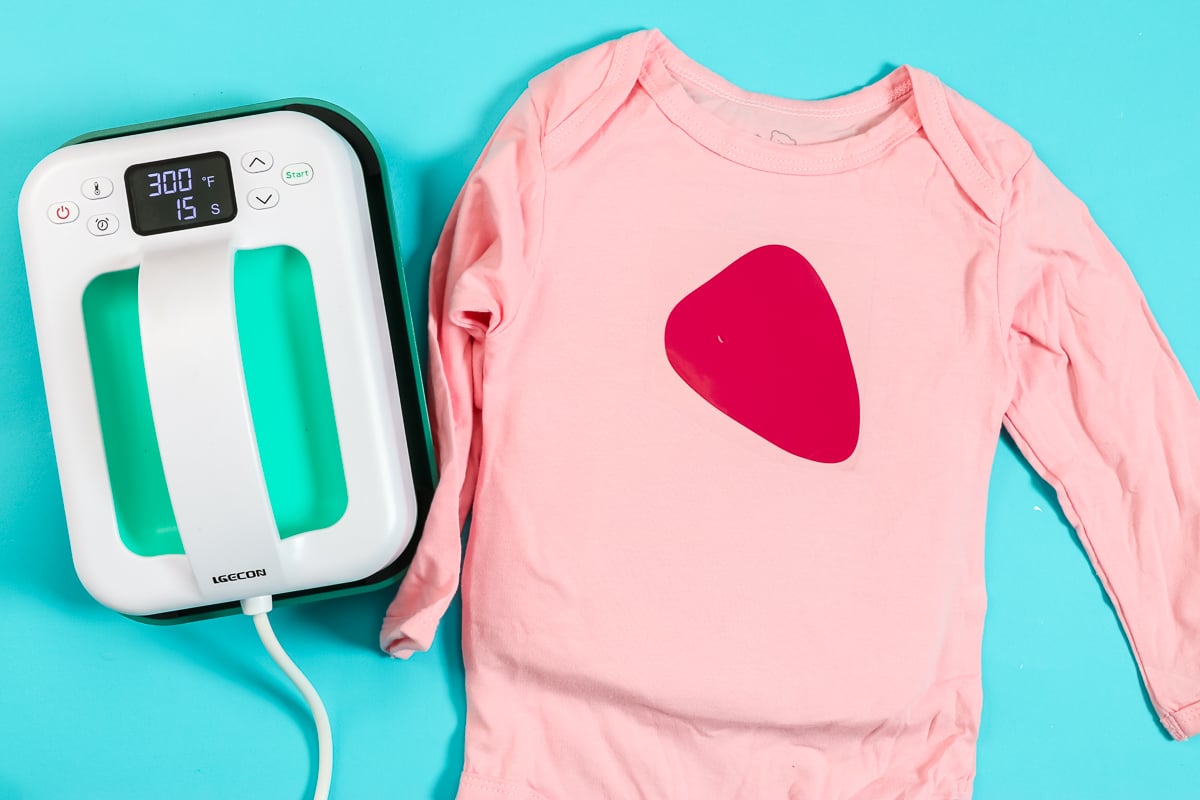 Peel the carrier sheet off the bottom layer and add additional layers on top. I can press the next two layers at the same time. Ensure your entire design is covered by a carrier sheet and press again. This time press for the full time.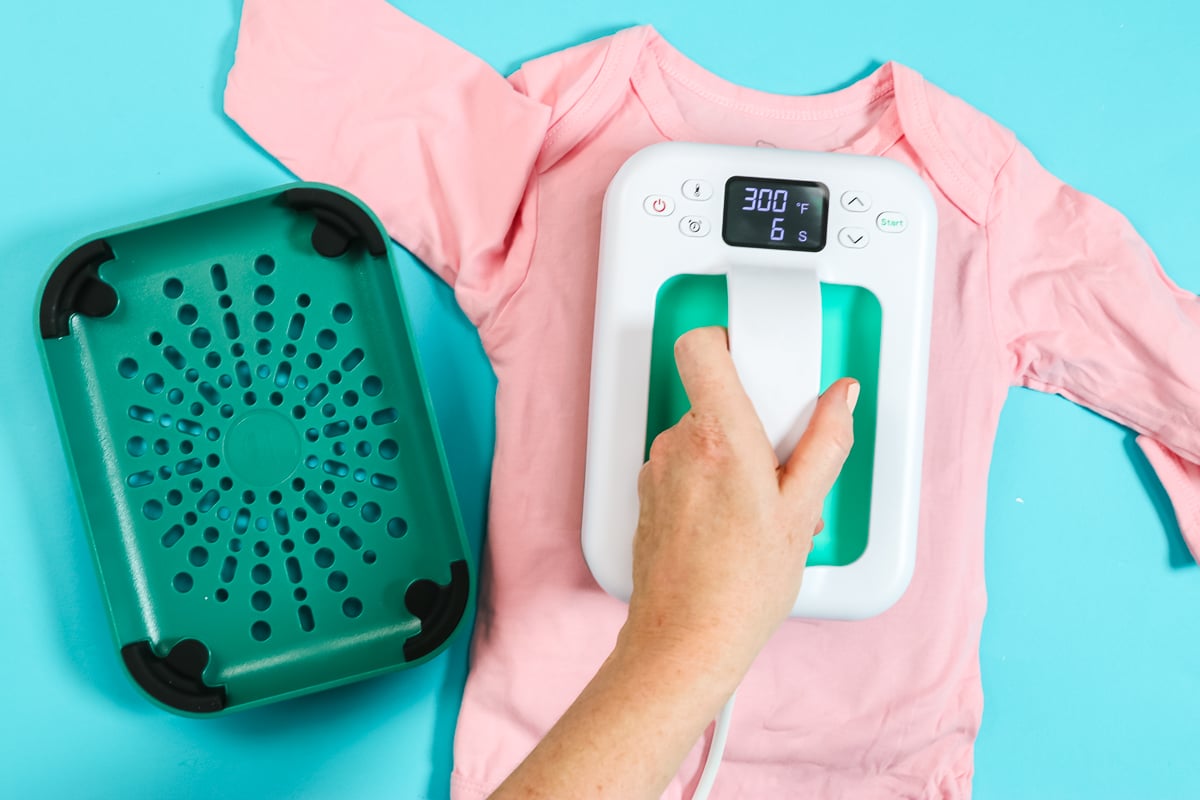 Press from the back then let it cool before I peel back the carrier sheet. Then we'll just remove the carrier sheet from our other layers.
Mini Heat Press Review
For me, this off-brand press did a great job. I can't say anything about the longevity of it. I have not used it for months or years, as I have with the small Cricut Easy Press. Overall, it feels comparable to me. I do think it would be a good investment. If you are bummed that you cannot buy in the 6×7 Cricut Easy Press, this might be the alternative for you!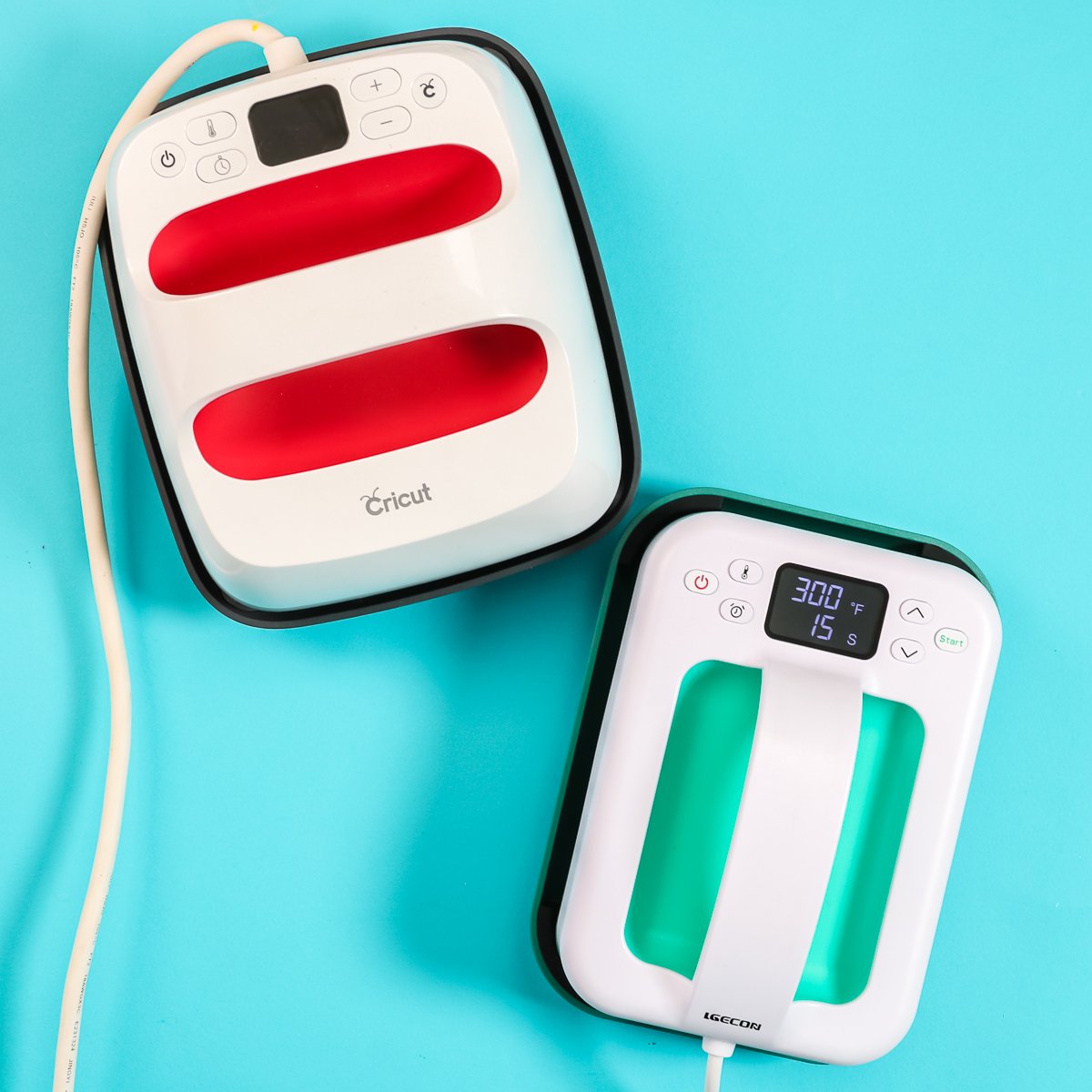 So, have you been searching everywhere for the 6×7 Cricut EasyPress? You may not be able to purchase it from Cricut any longer, however, this press could be a great alternative for your Cricut crafts.