What does every mom need this Mother's Day? A break, a kiss on the cheek, their kids to say something nice to them, you know the typical wish list. Well I have a way each of you can get exactly that without even asking. Print out my Mother's Day cootie catcher for your kids then send them to play. Little do they know they will be giving you a Mother's Day gift in no time.
My Mother's Day Cootie Catcher is full of great things to do on the inside that will make any mom smile. "Hug your mom!" "Help your mom in the kitchen." Oh yes this is THE printable that everyone needs to print for their children. Just click on the image below or print it directly from my google doc. For this version of the cootie catcher, the kids pick a flower color then move it back and forth while spelling the color. Then pick a number and again go back and forth but this time while counting. Pick another number and lift the flap to read what is inside. Then mom gets to collect her "gift" from the little ones.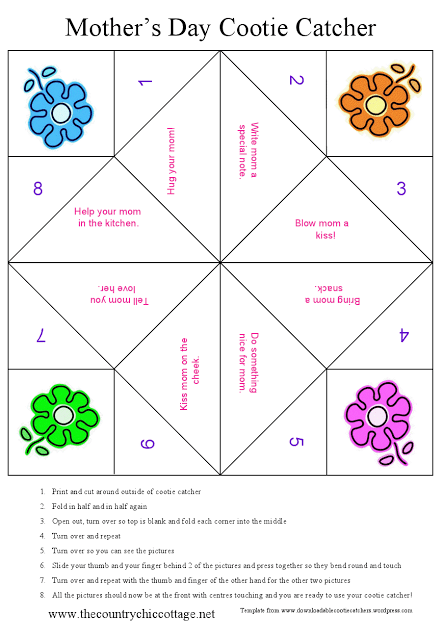 There are folding instructions on the bottom but if you have trouble there is also
a great description over on wikipedia
(yes cootie catchers are even on wikipedia). Print your own cootie catcher right now and leave it out for the kids. You will be surprised at all the love and affection you get this Mother's Day. All for the price of one sheet of paper and some ink? Priceless I tell ya!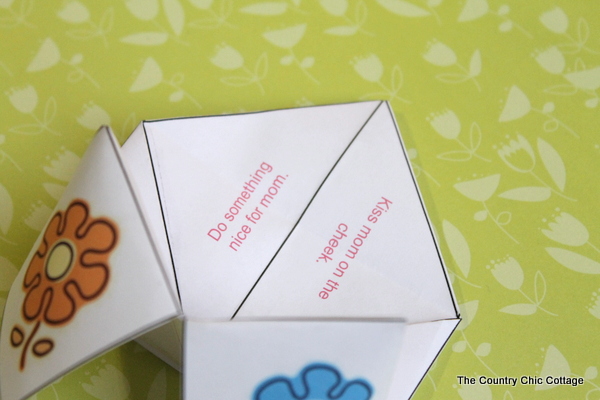 Love cootie catchers? Be sure to print my Dr. Seuss Cootie Catcher and Valentine's Day Cootie Catcher as well!