I get asked all the time what is the best printer for a Cricut machine. I thought I would compare a couple of different printers today. This includes the one I use daily and the current HOT printer for crafters. Which will do the best job? Which do I like best? I am spilling everything you need to know about these two printers and which I will be keeping in my craft room below. If you own a cutting machine, you don't want to miss this comparison!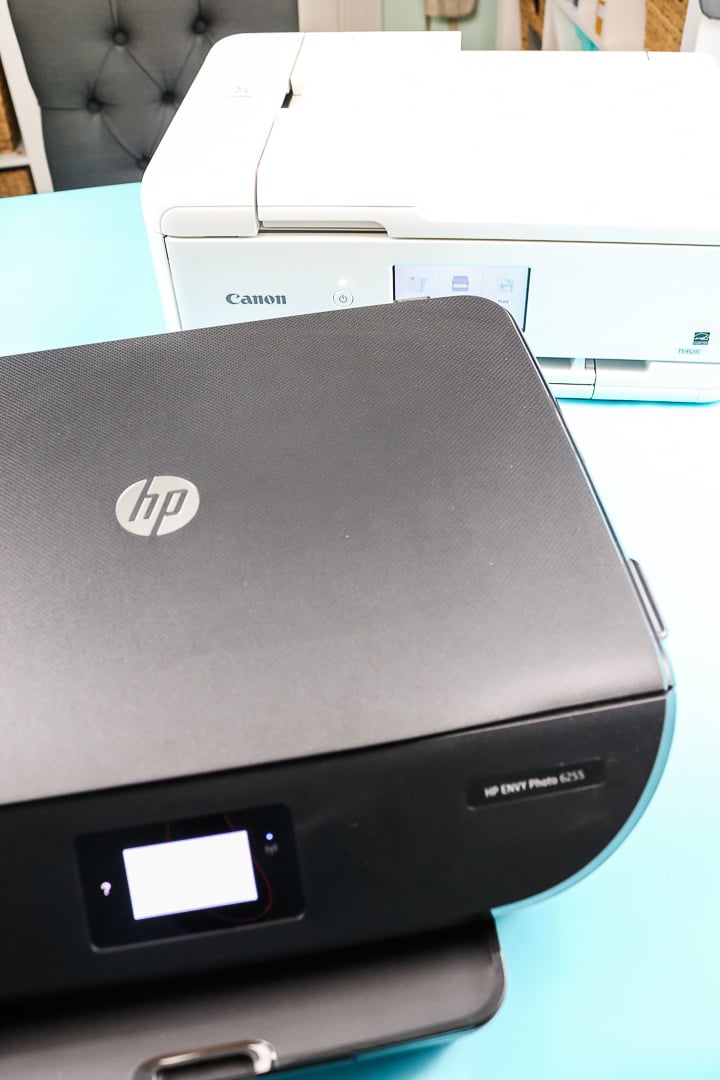 Which two printers are we comparing?
Let's take a quick look at the contenders for our top prize of best Cricut printer! Here are the two inkjet printers I have chosen for my tests. Now, either of these will work with your Cricut machine. Other printers will work with your Cricut machine as well. These are just a couple of my favorites including one that's been in my home a long time. I find an inkjet printer suits my needs best for home craft projects.
HP Photo Envy 6255
This is my standard printer that I use every day. It's an HP Photo Envy, and I actually have the 6255. Now, that's an older model. The equivalent of that in the newest model is a 7155. If you're looking for something really similar but can't find my exact model, search around for a 7155 instead.
I've used an HP printer for many, many, many years. I've loved the Envy series. I don't think you can go wrong with the HP Photo Envy.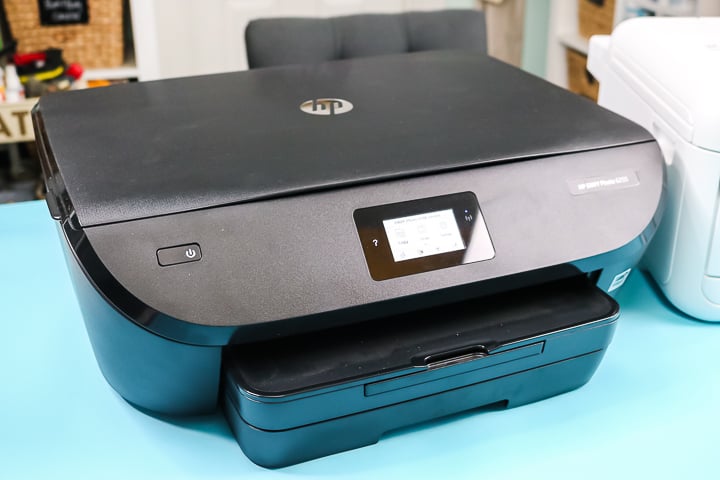 Canon Pixma TS9521C
The latest thing on the market is the Canon PIXMA. This is the TS9521C, and it's being labeled as the crafter's printer, for a few different reasons. So, I definitely wanted to give it a try. I wanted to see if I liked it as much as my HP and if I could recommend this one for use with a Cricut.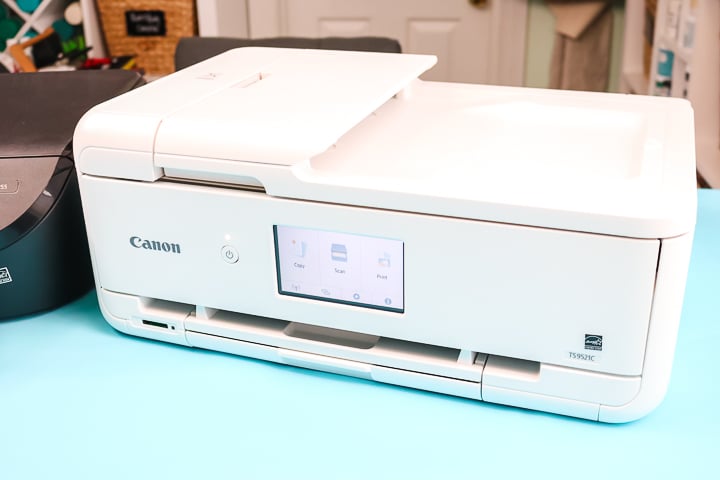 Printer Comparison Video
Want to see all of the comparisons in a video so you don't have to read about it? Just click play below!
Can't watch the video or missed some of the information? You can follow along below as well!
What are the differences between the two printers?
Now let's compare and contrast the two printers and see what the differences and possibly the similarities are.
Printer Price
First, let's talk about price because it's all going to come down to pricing in the end most likely. The HP Photo Envy, the latest model, averages about $180 at all the places I've looked. The Canon PIXMA is about $250, so it is about $70 more than the HP Envy series. I will talk about where to purchase each of these printers in the recommendation section.
Ink Cost and Replacement
The second thing is going to be ink. That's your biggest expense when looking at a printer. There are actually a couple of different ways to buy ink for both of these printers. So let's take a look at both printers and subscription programs. Please note that with both subscriptions your printer will communicate via Wi-Fi and order the ink for you so you must have an internet connection.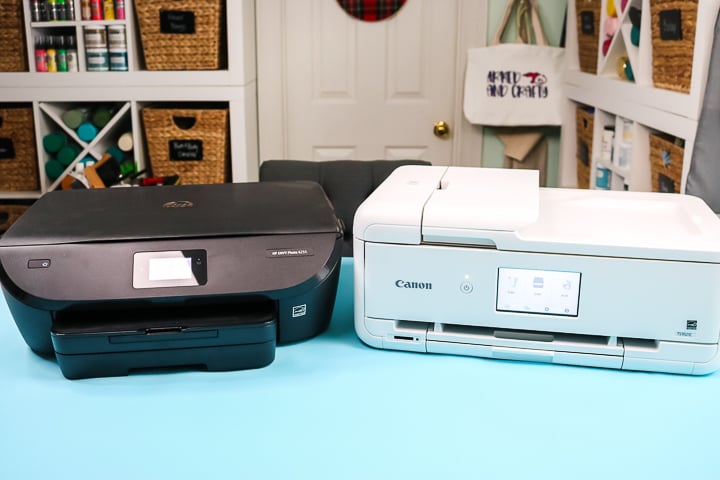 HP Photo Envy
With this printer, you can get HP Instant Ink which charges a monthly fee that is anywhere from 99 cents and up. For that fee, you get a certain amount of pages. So for the 99 cents, you get 15 pages, and then every page after that is basically like a dollar for 10 pages. The 99 cents makes it 7 cents a page. If you were to go over your 15 pages it would be 10 cents a page.
I personally love Instant Ink. That's what I use every month because when I say 99 cents a month, you get to print 15 pages of whatever you want. You can print 15 full-sized sheets at the best quality that uses the most ink for that one price. I know that I like to print at the best quality when I'm doing anything with my Cricut. I also know that uses more ink, so I feel like HP Instant Ink is this solution for me. A lot of people don't like that monthly fee. So the only other option is to buy the cartridges as they run out, which you definitely can with the HP printer.
Canon Pixma
With this printer as well, you can buy cartridges as they run out, or they partner with Amazon Dash for replacement. It's a little bit of a different program, wherein your printer basically tells Amazon Dash when you run out of ink and it orders it from Amazon for you. So you just pay for the cartridge, but you do get a 10% discount on your cartridges.
The pricing per sheet is a little more difficult to calculate than it was with the HP printer above. The information I could find on the PIXMA is that it averages like 15 to 16 cents a page for color printing. I couldn't really determine if that was best quality prints or just regular prints, but I would say that the PIXMA going to be slightly more expensive per page than the HP, just with the research I've done.
I actually do recommend a subscription program with either printer. The primary benefit of that is you never run out of ink. You never have to remember the ink at the store. I absolutely love HP Instant Ink and would recommend it to anyone!
Printer Size
When closed, the HP Photo Envy is about 6 1/2 x 17 1/2 x 16 1/2 inches. To operate the HP, all you have to do is open the exit tray on the front. This makes it 21 1/2 wide. It does have a scanner on top that you may need to open as well but you can just open it maybe 3 or 4 inches and access everything. There is a model of the Envy that has an automatic feed on top which will increase the size a bit.
The Canon PIXMA needs a little bit of a bigger area. So first of all, shut, you're looking at about 8 x 15 x 19 inches. To print regular copy paper, you need to flip up the screen on the front and open an exit tray. The exit tray is pretty large and makes it about 26 inches wide. Any special media that is not your standard size has to go through the back tray. The back tray doubles the height of the printer basically and makes it about 35 inches wide. So it is quite a bit bigger, especially if you need to fold it out and use the functionality of the back tray.
Paper Size
The HP prints up to 8 1/2 x 11-inch paper. It will also print four by six or five by seven photo paper, but 8 1/2 x 11 is going to be your max. The PIXMA, however, will print up to a 12 by 12-inch sheet. That is one reason why it's called the crafter's printer because you can print your own 12 by 12 card stock. It will print standard 8 1/2 x 11 paper as well as those small photo papers. There are tons of different options for size but the maximum is going to be 12 inches by 12 inches. If you have been shopping for a wide format printer for your crafts, you may want to consider the Canon.
Printing Size
Both printers will print full width, with no borders. So, with the Pixma, you can get a full width 12 by 12 print all the way to the edges. The Envy will print up to 8 1/2 x 11 full width. Once again, all the way to the edges both ways.
Print Speeds
You might be concerned about how long they take to print. I actually didn't find a whole ton of difference. I always use the best quality when I am printing for my Cricut machine. If I had both these printers on the best quality, I don't really see a difference in the time it takes to actually print whatever I'm printing. So I don't think that time is really a difference factor. They're basically about the same as far as print speeds.
Mobile Versus Desktop Printing
I did want to mention that both of these will print on mobile or desktop. If you're worried about something that will print with your mobile phone, both of these have applications that will do that, so you don't need to worry about that either. Both of these will do the same function.
Print Quality
Let's take a closer look at some of the things I've printed with both of these machines. For me, this really is the deciding factor when choosing the best printer for a Cricut. After all, you want the best print you can get for your crafts with high-quality print resolution.
Printing on Copy Paper
First let's take a look at printing just regular 8 1/2 x 11 copy paper in both machines. I tried to print on both machines using best quality settings. For the Canon, in some cases I had trouble getting it to print with these settings. I just didn't get a consistent print. You can see some of my results in the image below. The left page was printed with HP, the middle was Canon best quality, and the right is Canon with regular printing. You can see a ton of difference if the best quality print does not work!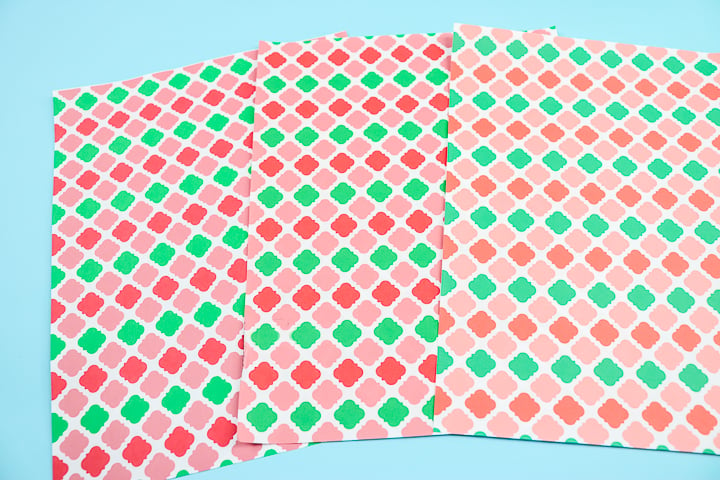 I did want to caution you that there is a color difference between regular and best. You might also see streaks in a regular print if you don't turn it on best quality. If you're having trouble with your printer, always try changing it to the best quality first.
Photo Prints
All right, so let's move on to photos. You don't need a separate photo printer in most cases as these printers can print small prints as well. I'm using this HP photo paper in both printers. Again, from left to right, we have the HP print, the Canon print on best quality, and one where the Canon printed regular quality. You can REALLY see the difference in the colors with the photo paper I feel like. The difference between the best quality on the HP and Canon is minimal.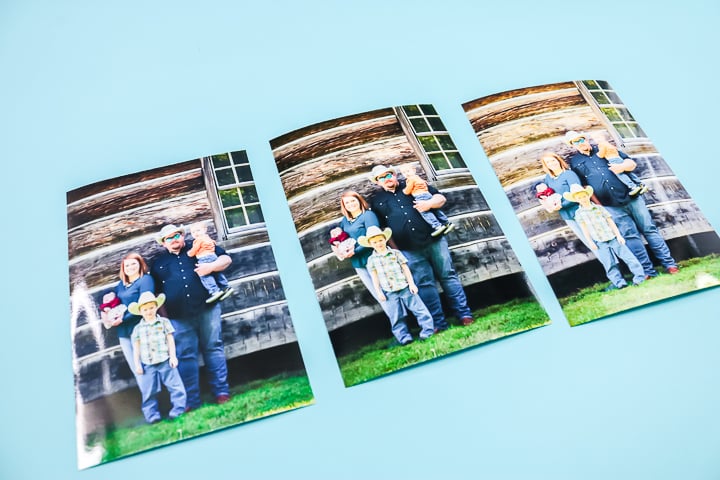 12×12 Paper
Let's move on and try printing larger things, like a 12 by 12 paper. I am printing on a regular 12 by 12 piece of white card stock. Again, this paper is too large to work in the HP, so we'll only experiment with the Canon. I had a REALLY hard time getting this to print right. In fact, I never got a 12×12 piece that was true to color. You can see a few different sheets below where I had picked best quality but when compared with the same print on 8 1/2 x 11, the colors are way off. So I was not able to get a super vibrant print on the 12 by 12. Yes, it does print 12 by 12, but it doesn't print the colors as I would like them or the colors as they appear on my screen.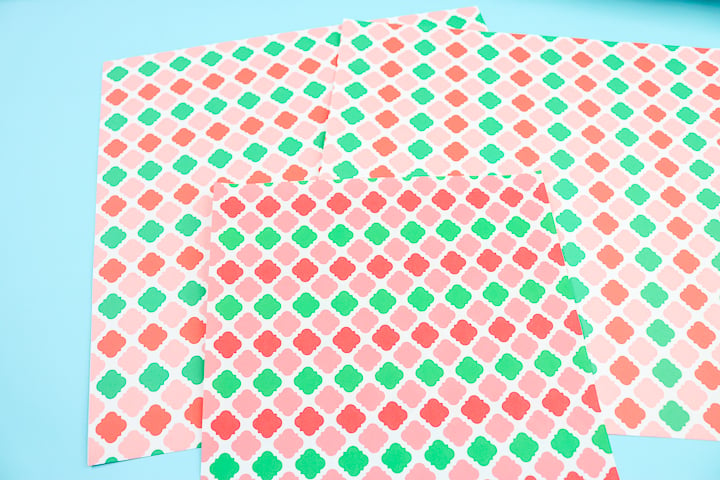 Sticker Paper
For the sticker paper, I'm going to be using the Cricut printable sticker paper in my Canon. I actually cannot get this to work in the HP. It's way too thick to feed through the feed tray, but I'm hoping it will feed through the back of the Canon. For the HP, I'm going to print on the printable vinyl instead, which will make stickers, but they're much thinner. I'm going to use the print then cut function on my Cricut for both experiments.
The stickers on the left below are with the HP. The ones on the right are with the Canon. Again I tried several settings but always got a more muted color than I was expecting. I was much happier with the print off my HP. However, I can't get these super thick sticker papers through my HP at all. So if that bothers you, that could be an issue. Now, I will note, I do have my auto bleed on for the Cricut printing, so there is like a fuzzy line around the outside edge of each sticker but that is on both prints.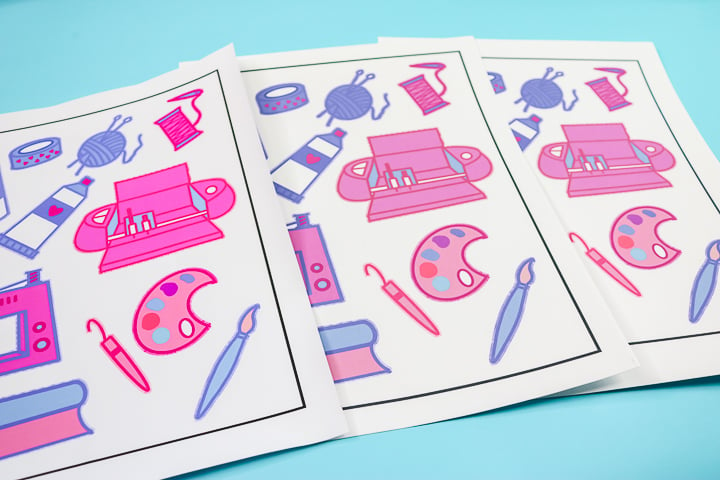 What is the best printer for a Cricut?
So now the only question left is which of these printers should you get to use with your Cricut machine? I was really hoping that I would love the Canon because I wanted that extra functionality of the 12 by 12 prints, as well as those thick sticker papers, but I'm just not crazy about the color of my prints. I tried multiple ways, multiple settings, and it's just super inconsistent for me, where I can get like the same quality print out of my HP every single time I print. I cannot seem to do that with the Canon. I seem to get muted colors on some things and then other things I pick best quality and I get super bright colors comparable to the HP.
So for me, I'm going to keep the HP Photo Envy in my craft room. I'm going to skip the 12 by 12 printing and big thick sticker papers. But if you really need those options, I think the Canon is the only way to go. You might be able to waste a bunch of paper, play with the settings, and get something that works for you. I'm not saying you can't. It's just that I tried multiple things and was not able to get a consistent print every time that looked like the HP version.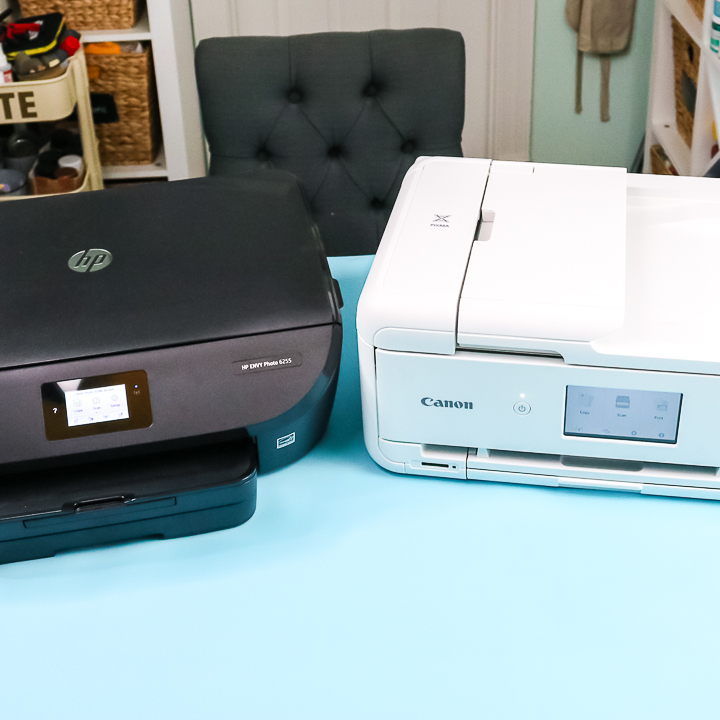 Where can I buy these Cricut printers?
Hopefully this post helped you decide which is the best printer for a Cricut and now maybe you are ready to buy! Use the links below for purchasing the printer as well as the supplies shown in this post.
How do you use a printer with your Cricut?
Finally, if you are confused about using a printer with your Cricut, I have some links for you as well! Try these posts and videos to help clarify print then cut.
So, now that you know the best printer for a Cricut, what will you make? Get started with print then cut on your Cricut machine today. You will love the projects that you can create!