I have been researching mulch alternatives for some time. Why you may ask? I have a love-hate relationship with mulch. I mean sure it covers the ground and prevents some weeds. But I hate buying it year after year. I feel like my money is just being thrown on the ground along with the mulch. Then I read that mulch can attract termites. YIKES! But oh the story gets better. On my search to find the perfect landscaping element to add curb appeal to our home, I had some hilarious interactions with some of the solutions that I found. Read on to see more! This post is sponsored by Lowe's however all projects and opinions are my own.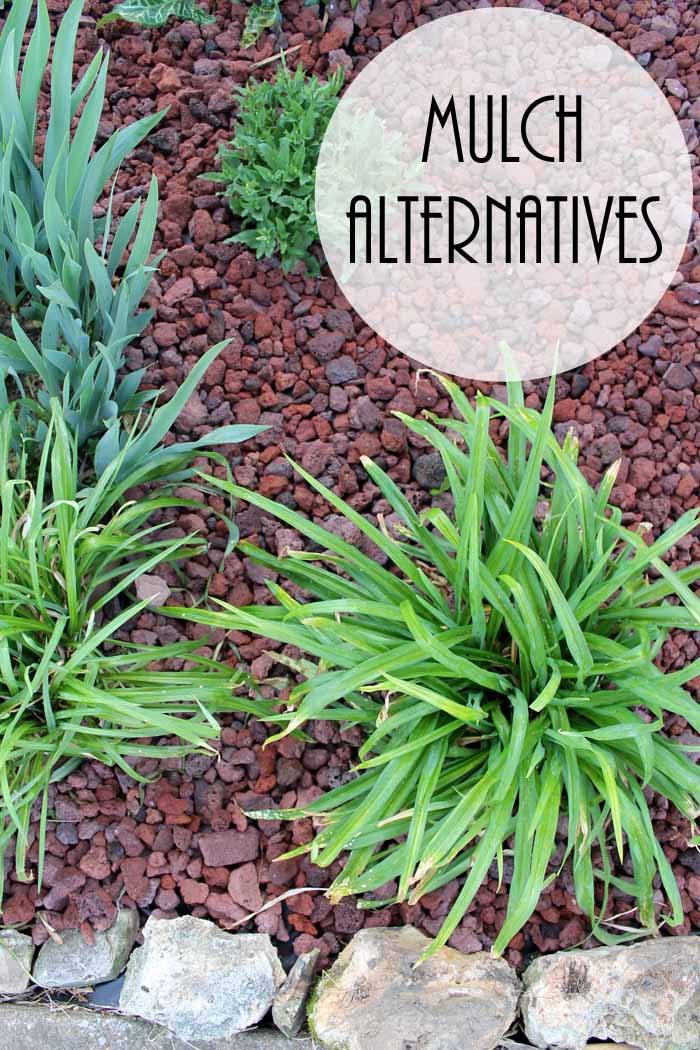 I first moved from mulch to pine straw. It seemed like a great alternative and it did work….for a while. We live in the middle of nowhere. It turns out that every tick within several miles was attracted to the bed of pine needles I had created. It was horrible. Then there was the year that I purchased my pine straw, laid it out and had everything looking great. I was proud! That night we had a torrential downpour. I looked outside the next morning and the pine straw was GONE. Washed away. I should have just taken my money and laid it on the ground outside. That would have been much more efficient.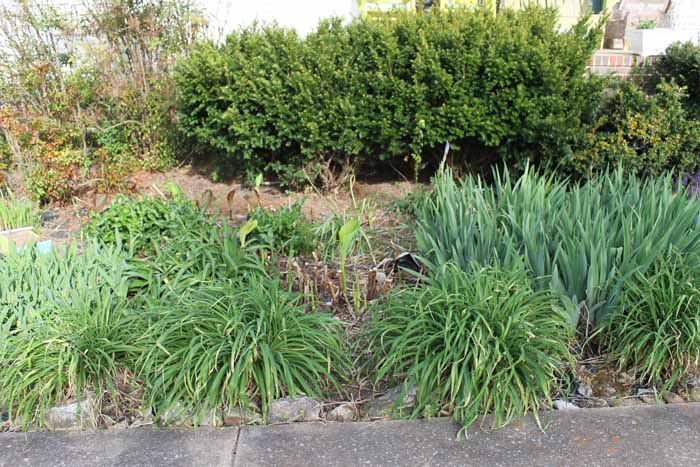 I covered the ground in landscape fabric a few years ago. However, it says right on the package that you need to cover the fabric with a product like mulch or pine straw in order to protect it from the sun's rays. I ignored the instructions for a few years and literally we have had just the fabric peeking out. I say we get a thumbs down when it comes to curb appeal…..don't you?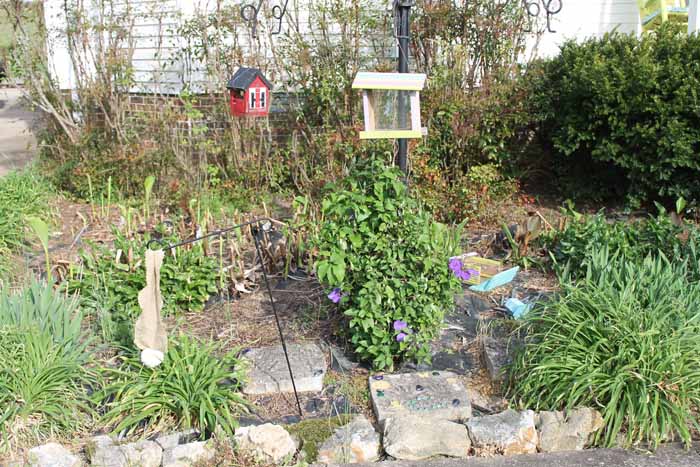 I thought about covering the entire thing with rock but y'all….they are so heavy. My back was screaming at me not to try it….don't do it. I held off. And we lived with something that was not at all what I wanted. I did more and more research in the meantime just hoping for a solution that would fit in between all of these options.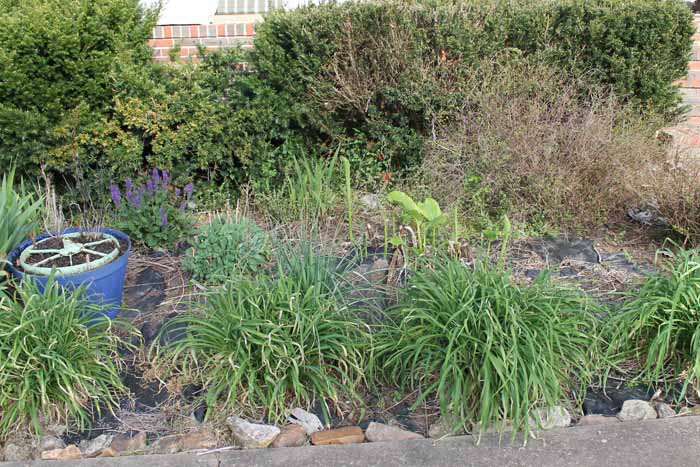 Enter Lowe's. I found the perfect product for my dilemma. Lava rock! It is a lighter weight than regular rock however heavy enough to not wash away in the rain. It is rock so I am hopeful that it will not attract every critter in a two mile radius. So far I am thrilled with the look and for me it was the best solution for my budget. If you are looking for a permanent ground cover that does not require you to purchase year after year, this product just may be the solution for you!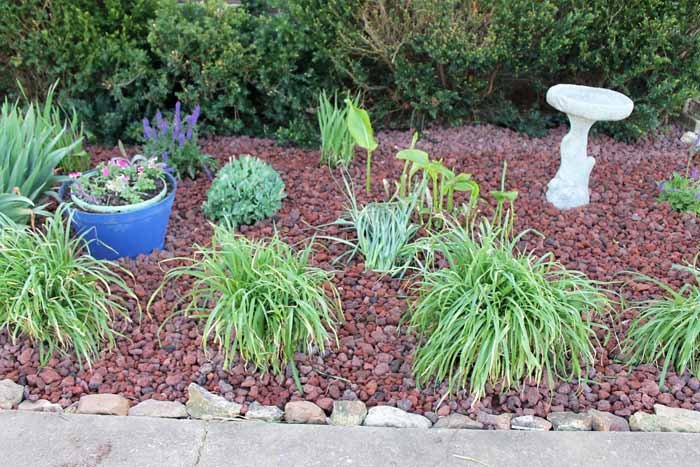 You can shop the image above for the items that I used to complete this project. They included landscape fabric, landscape pins, and Flower Rock. I recommend a high quality landscape fabric. The one I used has a 30 year guarantee. I laid it out over every area that I could cover and held it in place with the pins. I used large rocks to give myself an edge border around the sidewalk then covered the entire thing in Flower Rock.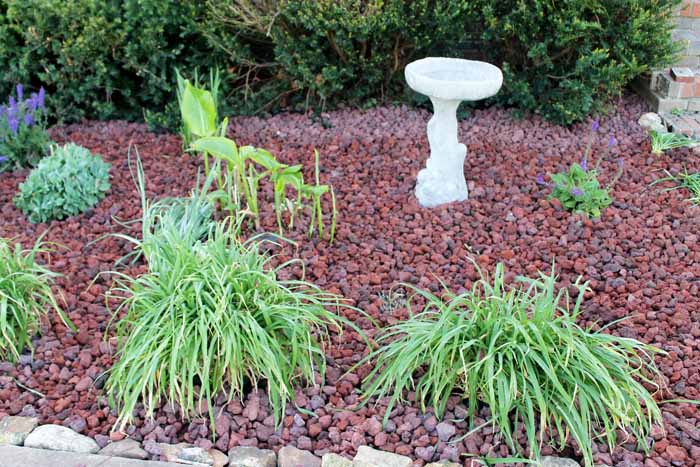 Remember to cut holes in your landscape fabric for any plants but cut them as small as possible. Any hole is a potential for weed to grow in your beautiful landscaping! But I have a low cost solution for you there as well! There is a Spectracide product tagged in the image as well that will kill weeds easily. It only kills what you spray it on so it is safe for flower beds. It has been my go to product for years. It is perfect in this situation for around the ends of the planting bed.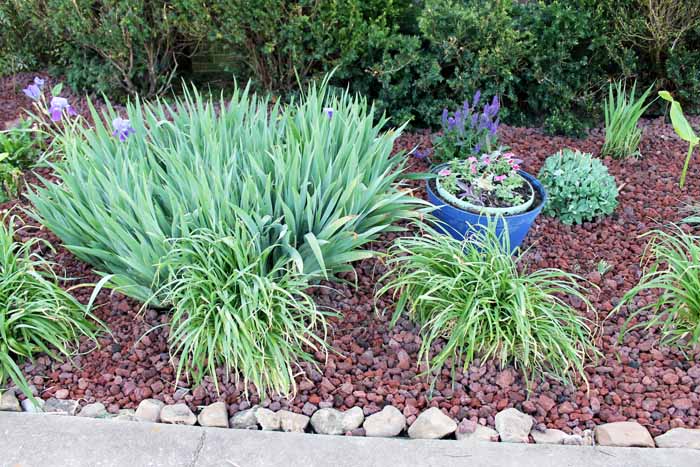 A few tips and tricks for creating your own outdoor oasis on a budget:
Go slow! We have lived in this house almost 15 years and I have added a few plants and things every single year. This helps tremendously with the budget.
Live with it! We did not build this house so there were plants in this area that I did not love. I lived with them until I could afford to dig them up and replace them with ones that I personally love.
Use the guarantee! Lowe's has a One-Year Plant Guarantee. If your trees, shrubs or perennials don't survive a year, they will replace them free of charge. Just bring in the plant and your receipt.
Look for free options! Often your friends and neighbors will be willing to divide up some of their plants or dig up some unwanted bulbs. These can add beauty to your landscape on a budget.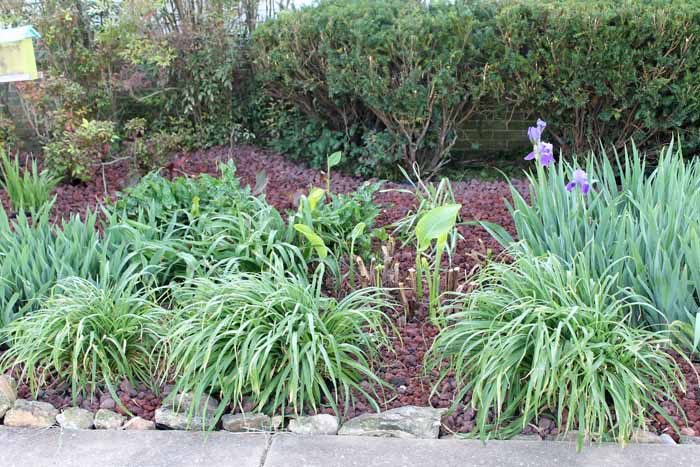 You can get the curb appeal your home desperately needs just with a little elbow grease and creativity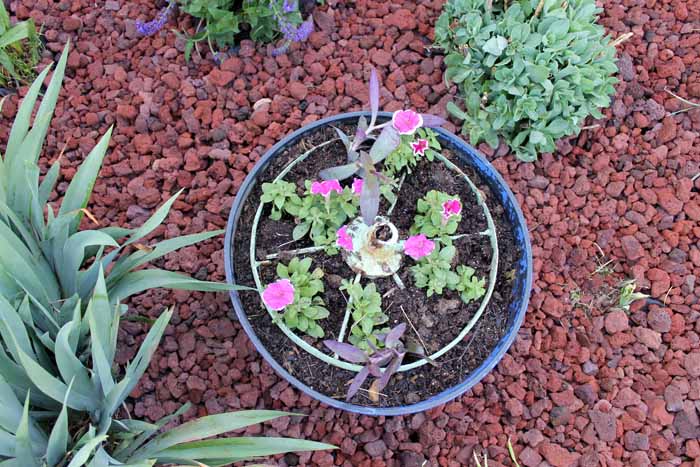 I added some flowers to an old wagon wheel in a planter. This adds color to this flower bed without a ton of money. Think outside of the box when looking at options for your space.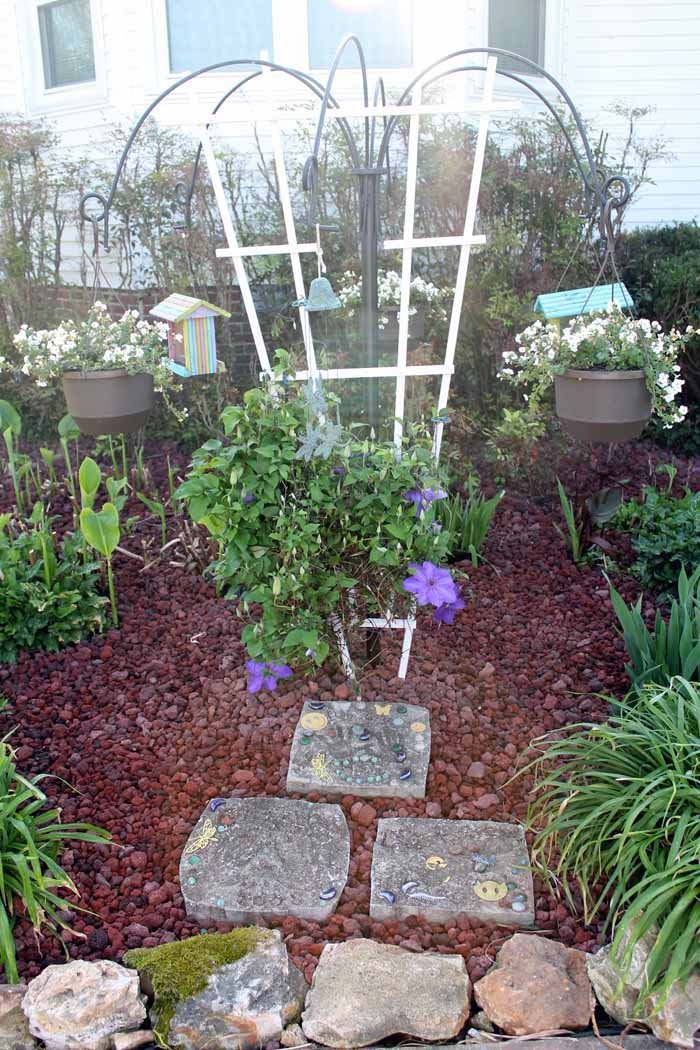 Years ago my husband made me this flower pot hanger out of old hay rake teeth. I still love it but felt it needed a few pops of color. I added on this trellis and some hanging baskets from Lowe's. You can shop the picture above to get the same look.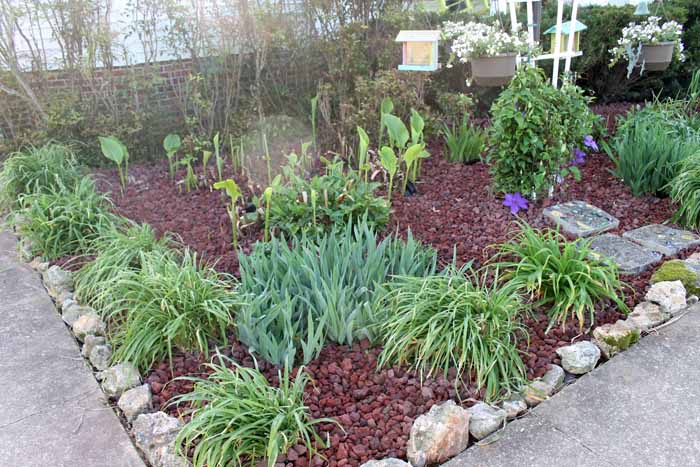 I am thrilled with our new space!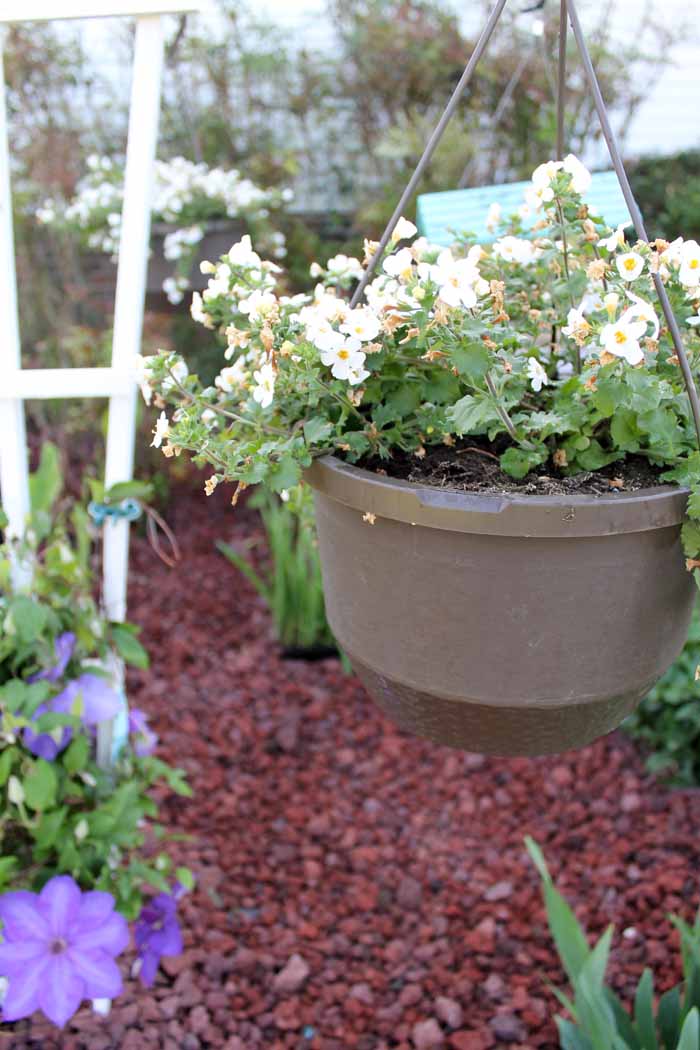 Adding some curb appeal has never been easier! With these mulch alternatives, you will have a landscape that is about as maintenance free as you can get.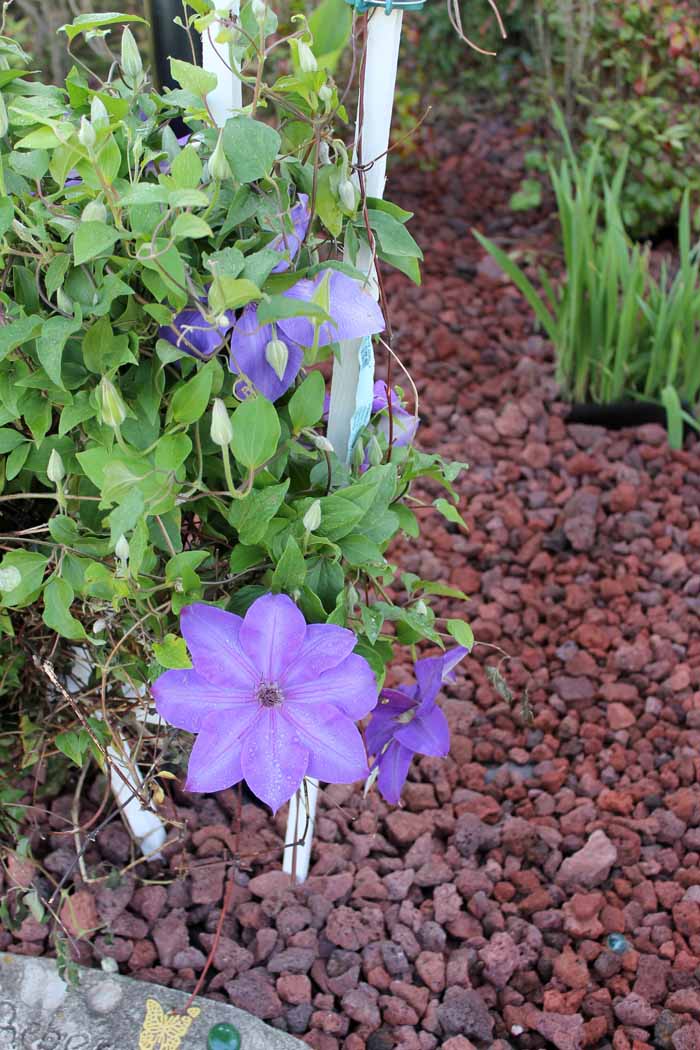 I will be enjoy this space for years to come!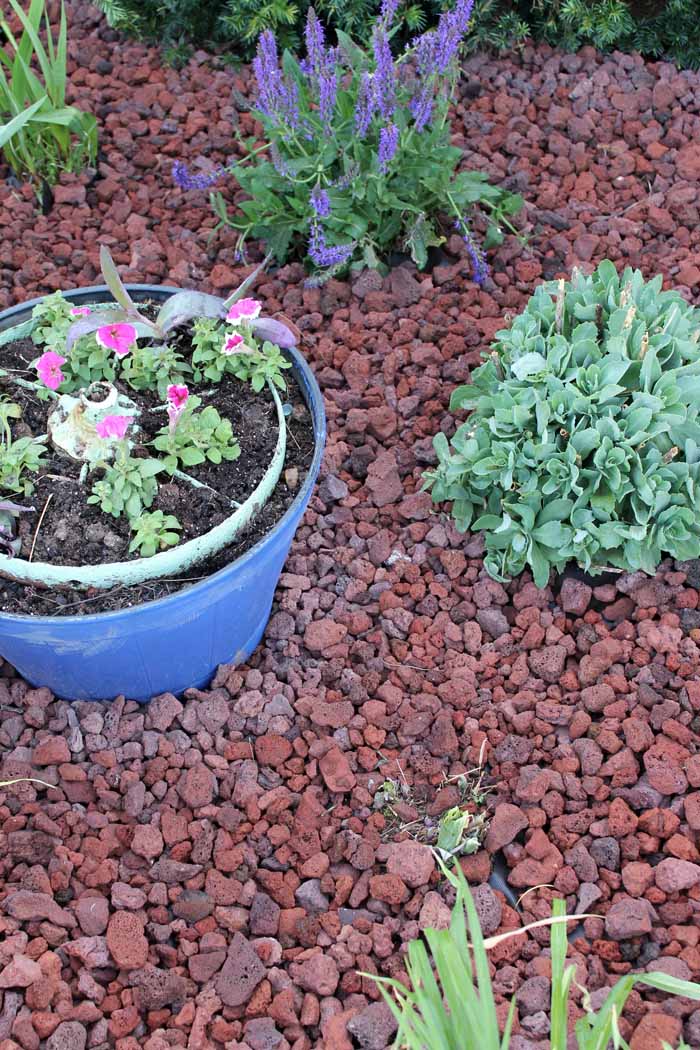 These mulch alternatives are even puppy dog approved!
This is a sponsored post written by me on behalf of Lowe's.