Do y'all like videos? What about videos on home decor and crafts? I have a special event to share with y'all that is happening all next week. But first I have a video of my own to show you. Let's make some Thanksgiving napkin rings from a paper towel roll. I love recycling crafts don't y'all?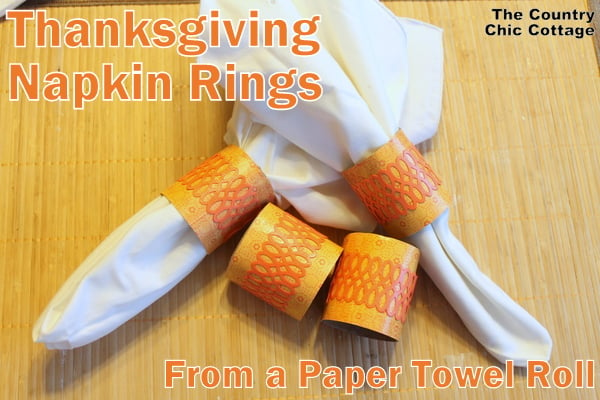 You will need:
Cardboard paper towel roll (one will make approximately 5 rings)
Mod Podge (I used gloss)
Scrapbook paper (two colors or patterns)
Clothespins (you will see why in the video)
Paper cutter (makes this craft faster)
Paper Punch (if you do not have a paper punch consider buying precut scrapbook embellishments)
So are y'all ready for a video? Carolina from
30 Minute Crafts
and I teamed up to bring you Craft Lightning. In this version, we both do a craft in 10 minutes or less. Proving that…YES you do have the time to craft! Check out the video as we both craft LIVE and unscripted. Be gentle…this is our first attempt.
I hope y'all enjoyed that! We hope that we get better with each one we do. Breaking into video is nerve wrecking y'all. Would you like a chance to live craft with me and Carolina? We will be doing a series of these events. If you would like to sign up on our mailing list and we might just ask YOU to craft live with us! No blog required just a computer and a webcam. Plus there are details below on how to watch us LIVE and many more home bloggers next week for a video series. If you like steps in words instead of on video, I have those for you too…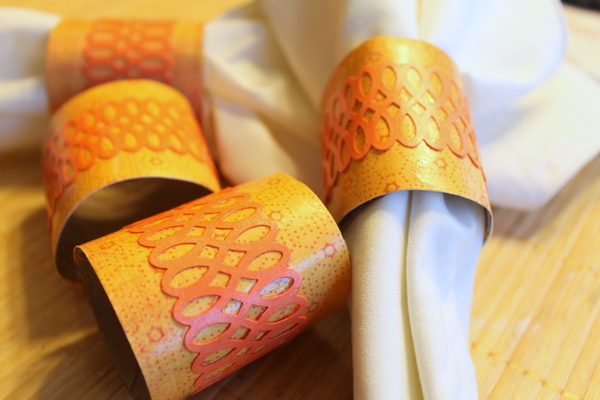 Cut your paper towel roll into 2 inch sections.
Use paper cutter to cut the patterned scrapbook paper into 2 inch strips then cut to length to fit around your paper towel roll sections with a little overlap.
Use Mod Podge to adhere your paper strip to the paper towel roll. Use clothespins to hold this for a few minutes while it dries.
Use your paper punch to punch a decorative strip out of your second type of scrapbook paper.
Use Mod Podge to add that to your napkin ring and again use the clothespins to hold it while it dries.
Add a protective coat of Mod Podge over the entire surface.
Put on a napkin and enjoy!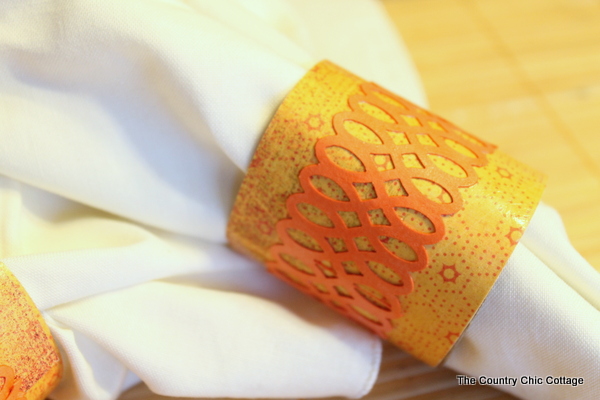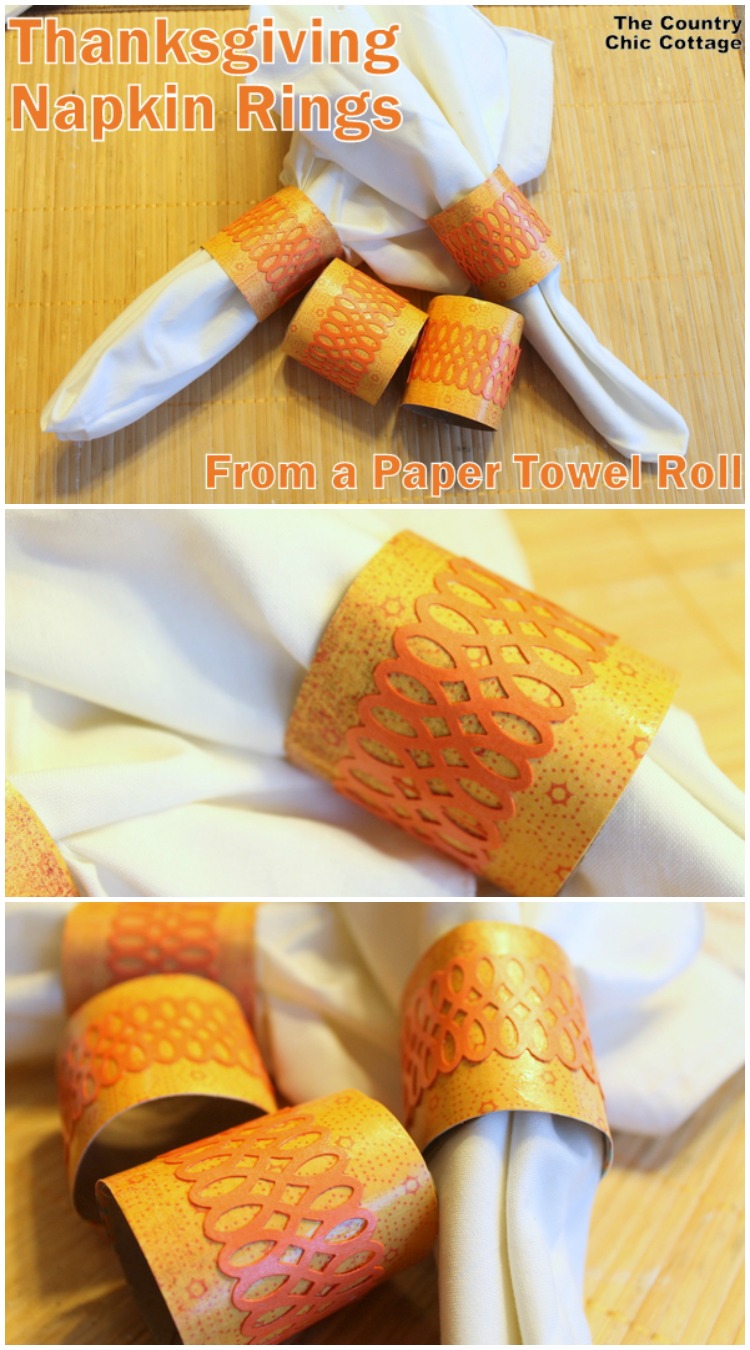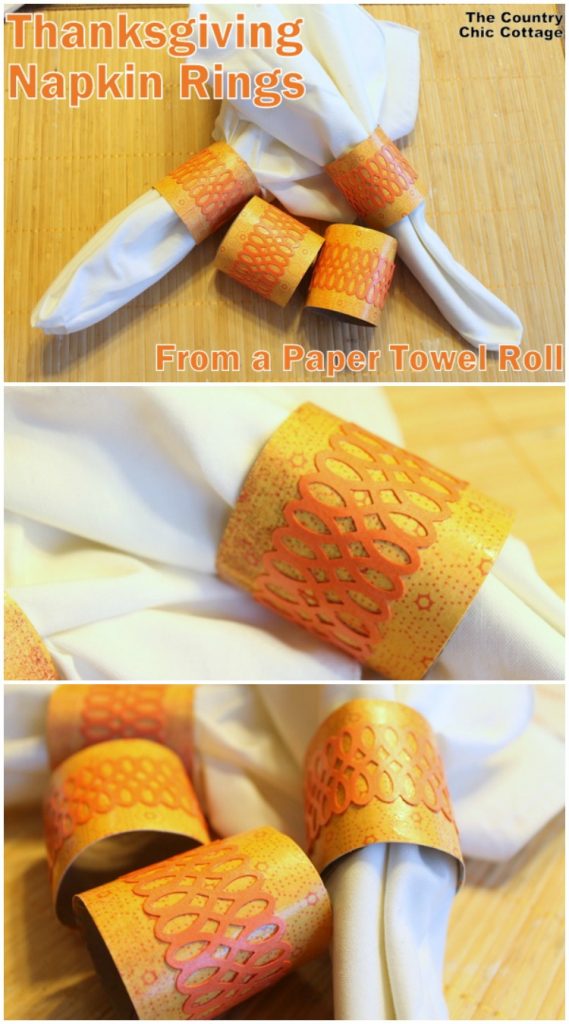 Easy peasy and perfect for your Thanksgiving table! Now are you ready to watch tons of live video content next week for a Homemade Thanksgiving?
You can follow along with us on Google+ for all of the information and to keep up to date on the calendar of events. I will be posting about my live event right here so you can watch live on my blog on Thursday starting at 4 pm PST or 6 pm CST or 7 pm EST. I am awful with those time conversions so I thought I would do that one for you! Can't make it to the live show? No problem! You can go to each participants you tube channel and watch the recordings. We will be linking those in the Google+ event for you all so you can go in and watch at your leisure. Exciting right? I know I feel like I know someone better when I see them on video so here is your chance. Now for a complete schedule for y'all so you can pick which events you can attend LIVE! Any questions feel free to ask!
Homemade Thanksgiving
*All times PST
Monday – November 5
Five Printable Placecard Options
Kristi B of Creative Kristi
12:00 pm PST
Using Natural Elements from Your Own Yard to Create Fall Displays
Barbara Garrett of The Everyday Home
2:00 pm PST
Tuesday – November 6
Decorating on the Cheap – 5 Trending Hometalk Projects
Hometalk.com with guest Heather Patterson (At The Picket Fence)
11:00 am PST
Table Centerpieces
Aimee Lane of It's Overflowing with guest Emily Morgenstern (52 Mantels)
12:00 pm PST
Creating a Fall Mantel
Barbara Garrett of The Everyday Home
1:00 PM PST
Wednesday – November 7
Thanksgiving Crafts for Kids
Amanda Formaro of Crafts by Amanda
11:00 AM PST
Thanksgiving Crafts
Amber Price of Crazy Little Projects
1:00 PM PST
Turkey Cookies with Your Kids
Natalie Dixon of A Turtle's Life
2:00 PM PST
Embellish with Paint
Colleen Jorgensen of Just Paint It!
4:00 PM PST
Thursday – November 8
A Fall Garden Flag from Dollar Store Items
Brittany Bailey of Pretty Handy Girl with guest +Sandra Powell (Sawdust & Paper Scraps)
10:00 AM PST
Hand Crafted Thanksgiving Home Decor
Shannon Fox of Fox Hollow Cottage with guest +Debbie Manno (Debbiedoo's)
11:00 AM PST
Tips and Tricks for Hosting Your Family and Not Going Bonkers!
Nellie Bellie with guests Jessica Kielman (Mom4Real) & Jen Marrs (Four Marrs & One Venus)
12:00 PM PST
Creative Kids' Thanksgiving Ideas
Amy Bell of Positively Splendid
1:00 PM PST
Decorating with Natural Elements
Sharon Hines of Mrs. Hines Class with guests Ann Drake (On Sutton Place),
Colleen Jorgensen,(Just Paint It), & Jane Windham (Cottage at the Crossroads)
3:00 PM PST
Quick Thanksgiving Crafts
Angie of Country Chic Cottage& Carolina Moore of 30 Minute Crafts
4:00 PM PST
Friday – November 9
Thanksgiving Placecards
Karen Watson of The Graphics Fairy with guests +Gina Luker (Shabby Creek Cottage)
11:00 AM PST
Ways to Personalize Your Thanksgiving Table
Kim Demmon of Today's Creative Blog
2:00 PM PST