Time to start organizing a closet! And what better way than a DIY closet organizer!! First of all, do y'all know
Ana White aka Knock Off Wood
?? Amazing furniture plans for FREE!! Yep FREE!! I based my closet organizer off of one of her plans. I also love her site so I wanted to start this post off with a shout out to her blog!
Now let's get to organizing!! Here is the kids closet with the new organizer all in place!!
AFTER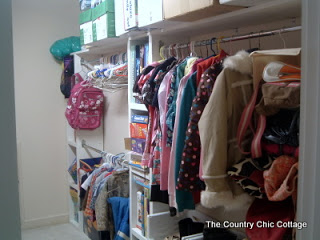 How did we get there?? I found
Ana White's simple closet organizer plans
. Simple, easy to follow…I had found a winner!! I just had to gather a little help from hubby! We made some changes which I will cover in a minute. The best thing about DIY is you can customize!!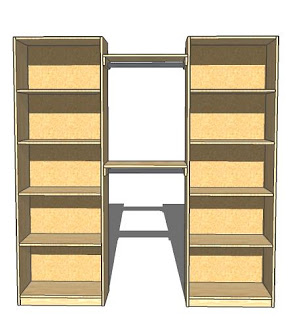 Now why did I need a custom closet organizer?? My home is filled with those wire closet shelves. That would be fine…but the owners before us did not install them into studs. What happens you ask?? Well a big mess when the shelves fall…and this is AFTER we started cleaning up the mess…
BEFORE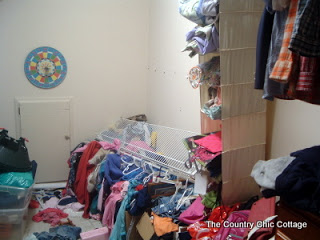 So we took Ana'a plans. First of all my hubby is anti-MDF or plywood so we used real wood, thick wood, the kinda wood that isn't going anywhere!! We have about a 12 foot span. So we went with two towers on the end and one in the middle. A shelf was added all the way across the top. On the left I went with two tiered hanging. On the right, just one hanging bar at the top for longer clothes.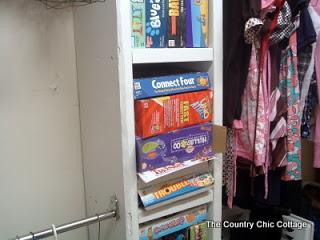 The entire deal was secured to the wall STUDS using L-brackets. Yes studs. No more shelves in the closet floor!!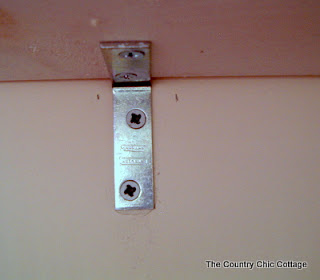 The local Tru-value was the source for these awesome adjustable closet rods!! I am so glad I found them!!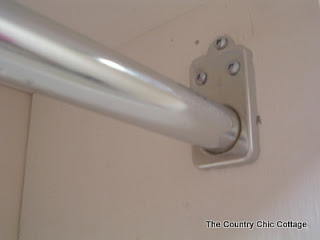 Now the main thing I was after besides getting everything off the floor, was GAME STORAGE!! So we made the cubbies where most games would fit like books!! GENIUS!! The kids can get their own games and put them away correctly!! This has been a dream come true!!
Most of the games worked fine this way, a few had to be stored horizontally. Overall I love the games stored this way!! Each tower is 6 foot tall and has 4 equally sized cubbies. Turned out to be the perfect size for almost all games!! If you want to get even more technical you could measure your longest game. Yes I fly by the seat of my pants at times…but hey it worked! 🙂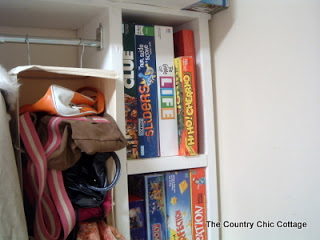 So after the massive clean up, clean out, donate bonanza…we were left with TONS of extra hang space!! Gotta love that!! I used the bottom for the clothes for my youngest. That way he can reach his own clothes and no one has to help him. One thing I neglected to mention…this is the only closet for three kids. One walk in closet for the entire upstairs floor of our house. It works but it really needs to be organized to work well. Three kids clothes, games, shoes, storage, etc, etc. We needed a closet system! This is the right side of the closet. The left side still has a wire shelf. Maybe we will wait til that one falls to fix it too…maybe not… 🙂 Flying by the seat of my pants again!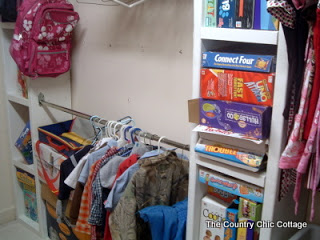 So download Ana's plans. Change em up to fit what you need. And organize the heck out of your closet!! How much did it cost me?? Well a good blogger would have an itemized list. I apparently am not that good. But it was less than $100 for all of the materials! The difference from before however is priceless!!
Posted at Whatever Goes Wednesday on Someday Crafts.
Posted at What I Whipped Up Wednesday on Sugar and Dots.
Posted at Good Life Wednesdays on A Beach Cottage.
Posted at the party on Organize and Decorate Everything.

~Thanks for stopping by!~
Declutter Your Home in 31 Days!
Clear the clutter and organize your home with our daily emails! Every day for a month we will send you a prompt to declutter! Sign up for our email list below to get started.