It is remodel time around here! We are considering a change to a bathroom in a small house we currently rent out. I tried out a free Bath Fitter consultation just to see what my options were. I thought I would take y'all along on the consultation so you can see the steps. This post is sponsored by Bath Fitter however all opinions are my own.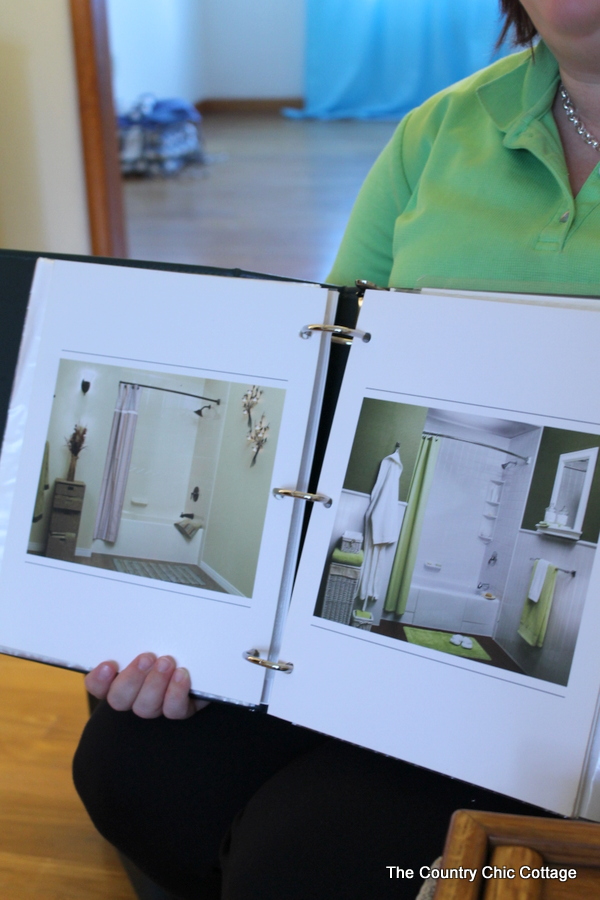 First of all I scheduled a free in home consultation. Psst….you can scheduled your own as well if you would like. Just click here to schedule with Bath Fitter online or call (888) 985-5122. They set up a time and date that was convenient for me. I loved that they would come out at 7 pm y'all. The consultant arrived right on time and was very professional (hi Stephanie!). She started by showing us all of the options in her binder as well as her mini Barbie bath tub! I was immediately at ease when they were able to show a huge variety of customers in our area as references.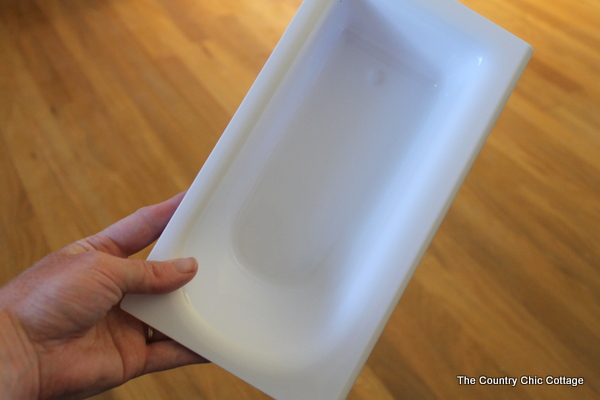 The small bathtub helped me to visualize just how the Bath Fitter system would work. I took a few pictures of the binder pages for y'all however to get the full experience you are just going to have to schedule your own consultation. There are so many options that there is no way I could show every single one here.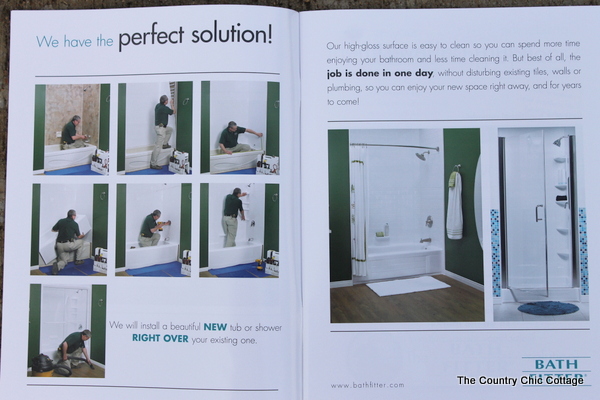 The Bath Fitter installation is done in one day right over your existing tub. They also do tub to shower conversions if that is something you are looking into. The consultant also walked us through the other options for a remodel and how Bath Fitter compares with those.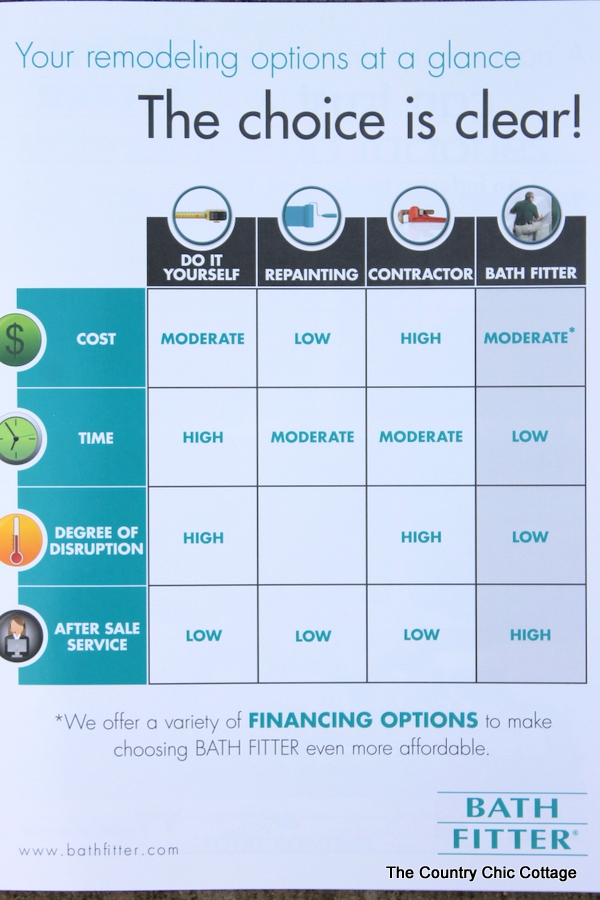 Yes they even have financing options so you can make payments on your gorgeous new bathroom. For us, the lifetime warranty and seamless construction were the top selling points. We love a great warranty and Bath Fitter has it.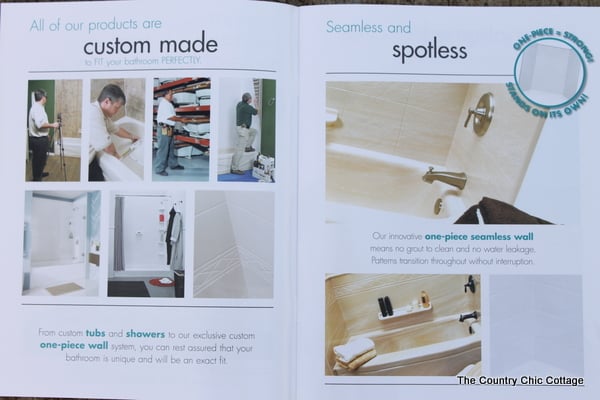 Stephanie showed us a small example of how the seamless construction will look on the walls. No seams equals no leaks….am I right?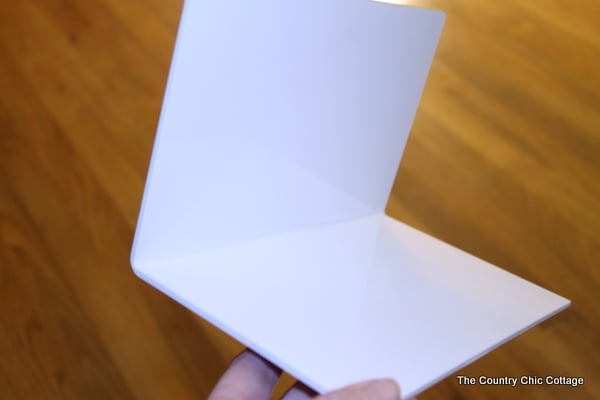 Now it was time to go further and pick from the many, many options that Bath Fitter offers. We chose the tub style, wall style, faucet, and options such as shelves and soap dishes. You can also add a ceiling, built in curtain rod, and so much more. For a design loving girl like myself, this part was heavenly! It was super easy however the consultant would weigh in with her opinion if I was stuck on deciding between some of the options.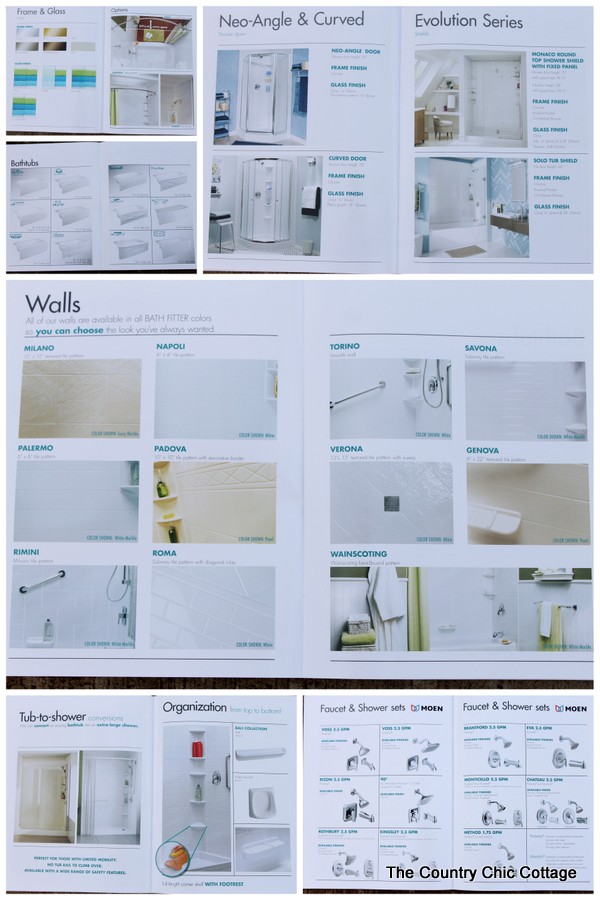 We ended up choosing the Roma tile with a dome ceiling along with the Kingston faucet. Additionally we added a soap dish and corner shelf to our design. Next we headed to the bathroom and choose a color for our Bath Fitter. It was between the white and pearl you see below. We laid it out in the existing bathroom to see what would blend best. We picked the pearl and many of your rang in on Instagram with your opinions as well….it was pearl by a land slide!
Next up was an informational video all about Bath Fitter. We watched the video while the consultant took the appropriate measurements in the bathroom.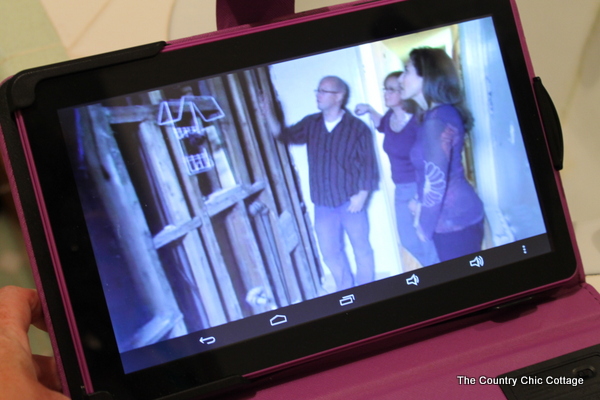 The Bath Fitter motto is "Measure, Make, Install". I just had to invade the bathroom to get the behind the scenes view just for y'all. Psst…don't worry I will get behind the scenes views of more of the process in later blog posts! The precise measurements and the fact that bathtub with be custom made both help to ensure a perfect fit.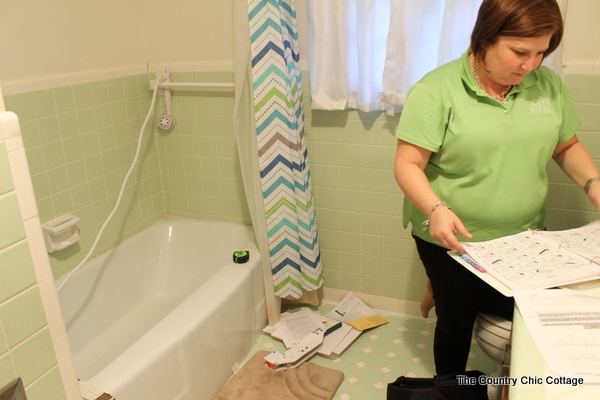 As you can see the tub is several years old and is not made for a shower. Bath Fitter quoted retrofitting this tub for a shower including the plumbing and all. It is really a one stop shop for the work that needs to be done in this bathroom. I love the pale green vintage tile in this room so a complete gut job is definitely not on the agenda. The Bath Fitter system seemed to be the way to go for our situation and budget.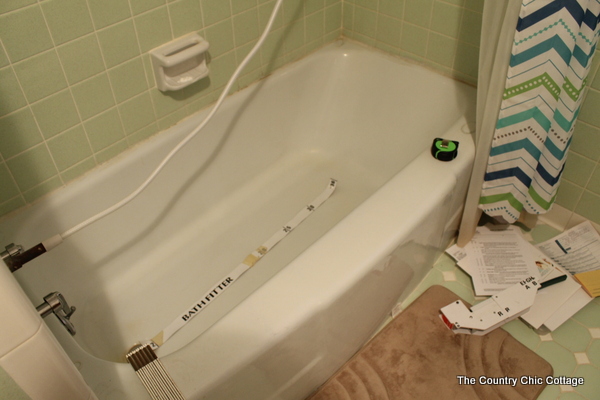 So we sat down right then and received a quote back on the spot. I LOVE that you don't have to wait for pricing! We filled everything out for Bath Fitter to start custom building our very own tub insert. That is right, the factory is working away on an insert that is just for OUR bathroom and our situation. A custom bathroom remodel that only takes one day to complete? Yes I was sold.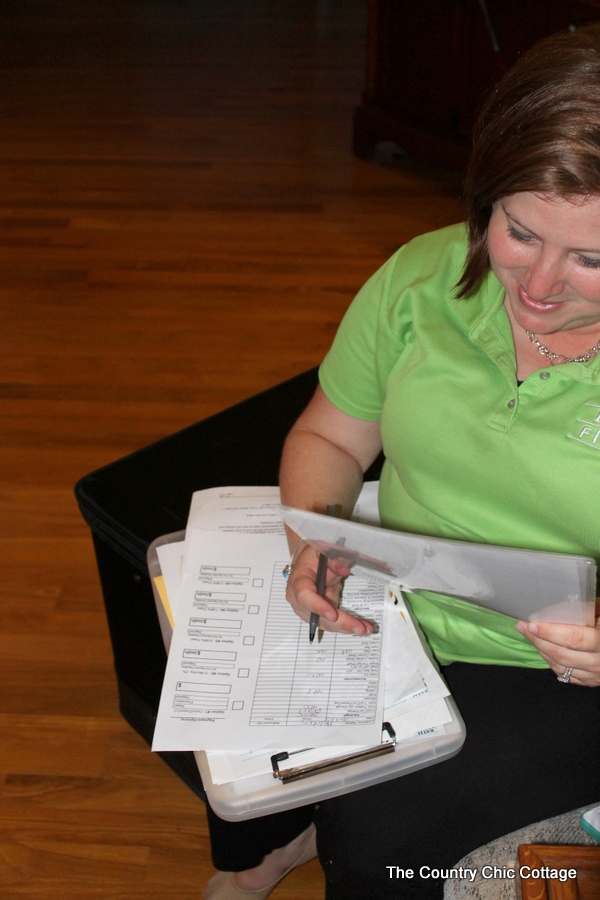 So y'all stay tuned because this area is about to get a BIG makeover courtesy of Bath Fitter. You can follow along with the entire process right here on the blog or on my social media channels. If you want an idea of just what your bathroom can look like with Bath Fitter, be sure to design your own bathroom online before calling. Then you can click here to schedule a consultation with Bath Fitter online or call (888) 985-5122.