This post and photos may contain Amazon or other affiliate links. If you purchase something through any link, I may receive a small commission at no extra charge to you. Any supplies used may be given to me free of charge, however, all projects and opinions are my own.
This is a sponsored post written by me on behalf of FrogTape® for IZEA. All opinions are 100% mine.
Have you ever wondered about painting trim and if you are doing it right? I have the tips and tricks below that will lead to success when painting your baseboards and trim. Grab the supplies you need and get started revamping your home today. A little paint can give your home a whole new look in a matter of minutes. This post is sponsored by FrogTape® however all projects and opinions are my own.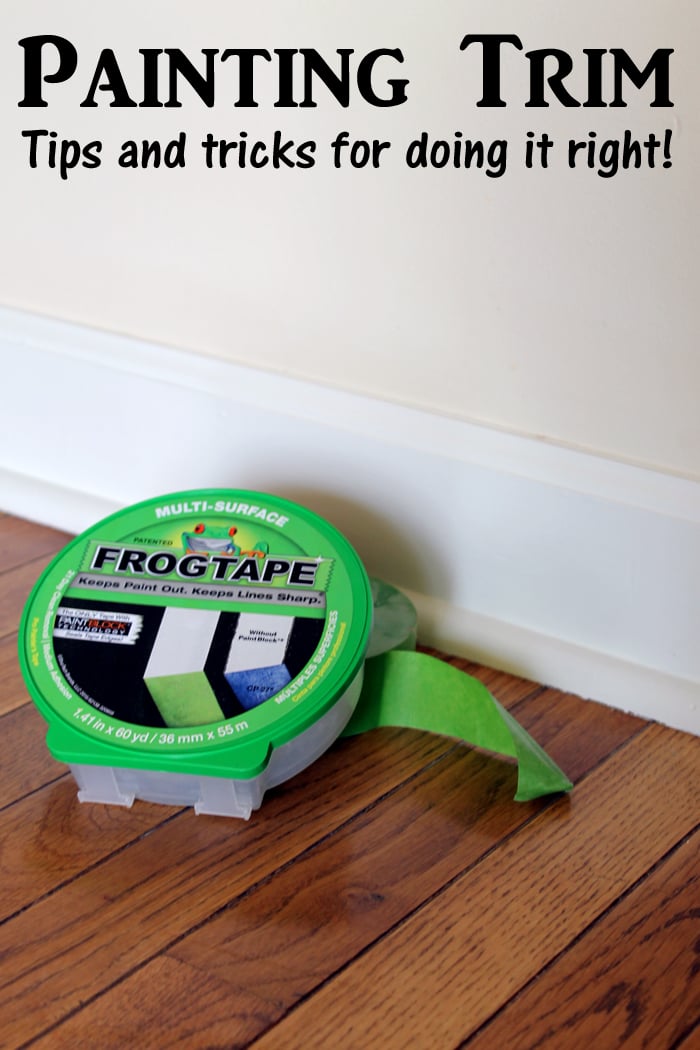 Tip #1: Pick the right supplies!
You will need some supplies to get started on the right foot when painting trim in your home.
The paint should be a semi-gloss paint. Please purchase a good quality name brand paint. I don't have any personal preferences but one with a paint and primer in one will give you the best coverage for your money.
You will also need a good quality painter's tape to protect your floors and walls. I have tried many and can only recommend FrogTape® brand painter's tape. It is the only painting tape treated with patented PaintBlock® Technology. PaintBlock® reacts with the water in latex paint and instantly gels to form a barrier against paint bleed giving you the sharpest paint lines possible. It is the only painter's tape that I will use around our home and I have been using it for many years. Choose either the FrogTape® Multi-Surface green tape for every day surfaces or the FrogTape® Delicate Surface yellow tape for freshly painted walls or other surfaces that require a lighter touch.
Finally the brush. Splurge a bit on a good quality brush and you will never go back. They make painting so much easier and you will have fewer brush strokes. Wash your brush well after your projects and they will last forever!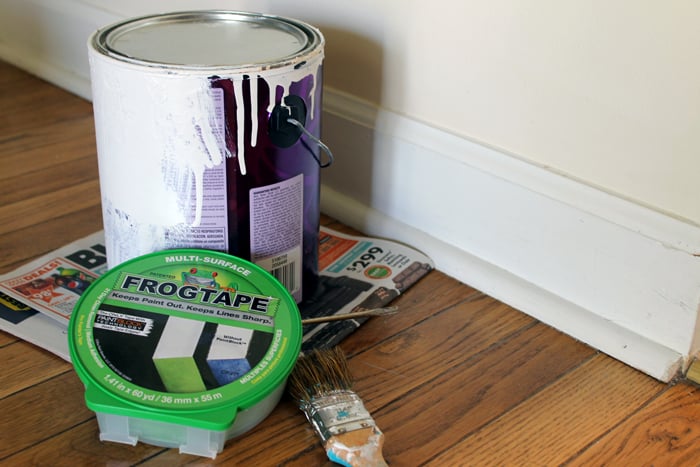 Tip #2: Prepare!
Now that you have all of the right supplies, it is time to prepare your area. Start by patching any holes and seams in your baseboard with a paintable caulk. I just use the caulk and my finger for any patching. Allow to dry according to the package recommendations before painting. Clean the trim well with a sponge and cleaner. Allow to dry. Then grab your FrogTape® and begin to apply to your surfaces. You will want to start by protecting the floor when painting baseboards. Roll out the FrogTape® then press well where the tape meets your trim.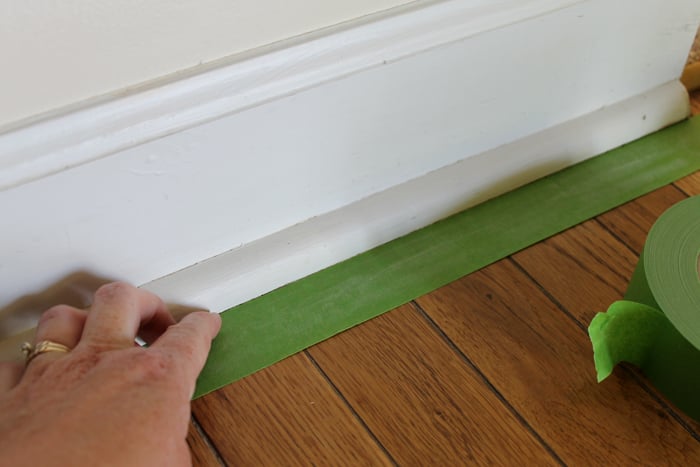 Repeat this same procedure on the wall. For the cleanest, crispest paint lines, I recommend using the tape wherever the trim meets any surface. There are other products on the market that claim you do not have to tape, however I find that only this method will give me those ultra straight paint lines.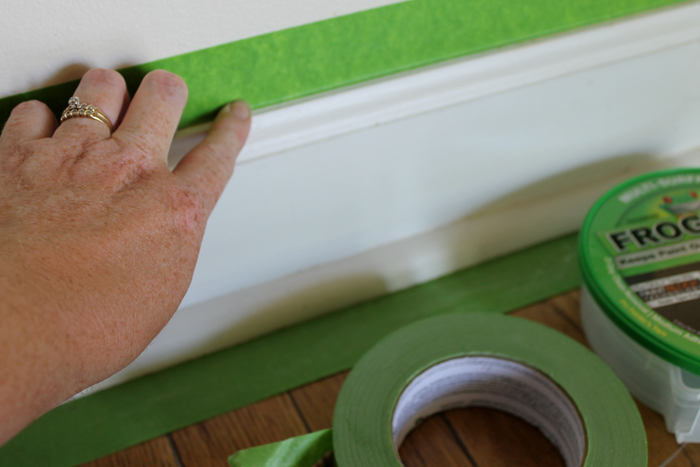 Tip #3: Application!
Apply your paint in one direction. Paint the wide part of your baseboard first then go back and complete the top and bottom portion that is against the tape. I trust the FrogTape® enough to know that I don't have to be careful in those areas. Be sure to apply the paint in an even layer across all of your trim.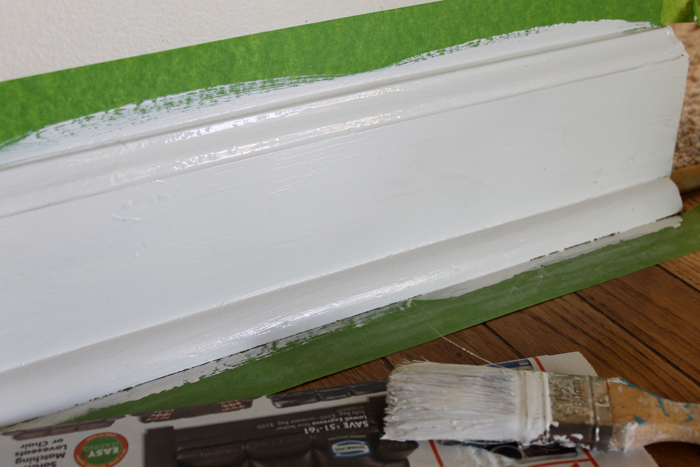 Tip #4: Clean up!
I remove my FrogTape® as soon as I am done painting. Pull from the surface then immediately wad up and throw away.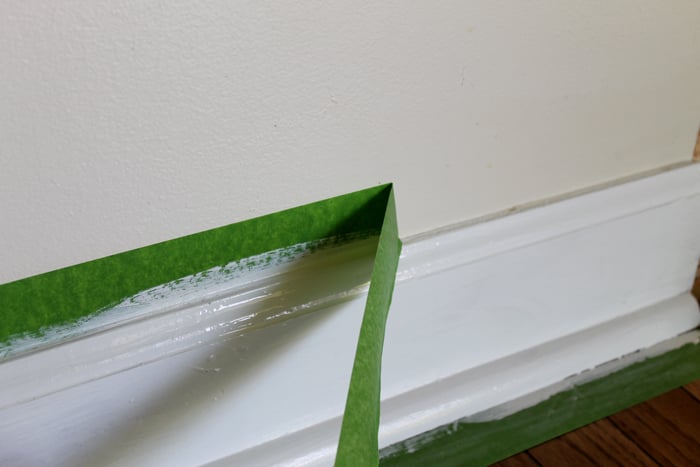 I absolutely love seeing those crisp paint lines as I pull the tape away from the trim. This is seriously the most rewarding part of this job. All of your efforts come together into beautifully painted trim that you can be proud to show off in your home! YOU DID IT!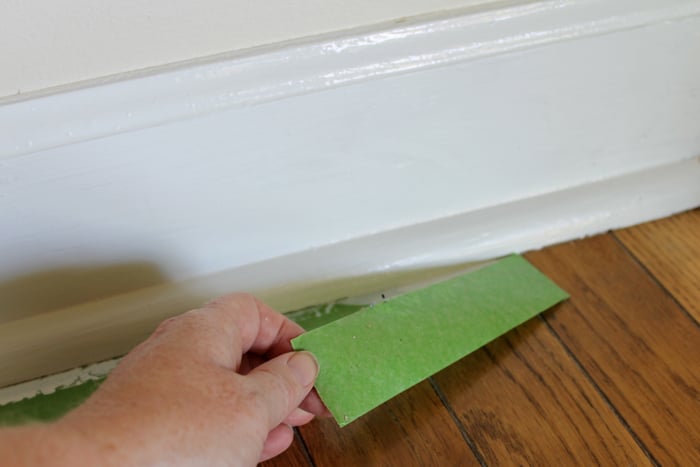 You can also check out more FrogTape® painting inspiration. Get inspired to do something fun on your walls with FrogTape® or using it when painting trim. Either way, it is the best solution to keeping clean paint lines in your home. Follow these tips and tricks for the ultimate success when painting trim in your home!