I am continuing quick crafts week with a great woven mirror that you might have seen in your favorite home decor catalog. Yep it is knock off time! This week is Craft Lightning so this is a super fast knock off as well. What is Craft Lightning? Occasionally I team up with Carolina from
30 Minute Crafts
and we bring you an entire week of crafts that can be completed in 15 minutes or less. If you have missed any of the fun this week be sure to check out the features from
day 1
,
day 2
,
day 3
, and
day 4
. Also stay tuned as we have one more feature post going up this afternoon and I am going to have a special wrap up for y'all tomorrow. Now lets learn how to make a woven mirror. I love taking thrift store cast offs and turning them into something that looked like it stepped outside of the home decor department. My latest mirror from a plate charger is one example of this. Read on to learn how I made this beauty for only $1.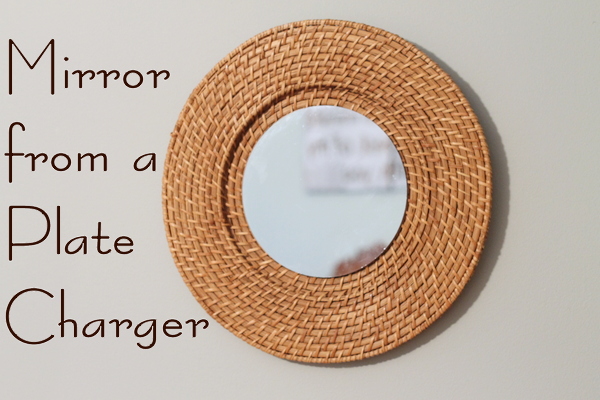 First of all my inspiration. I have seen tons of rope and woven mirrors around and have been in love. I put together a little inspirational collage for y'all below. I love each of these mirrors but some of the price tags are…let's just say…out of my range. So I went on a thrift store hunt.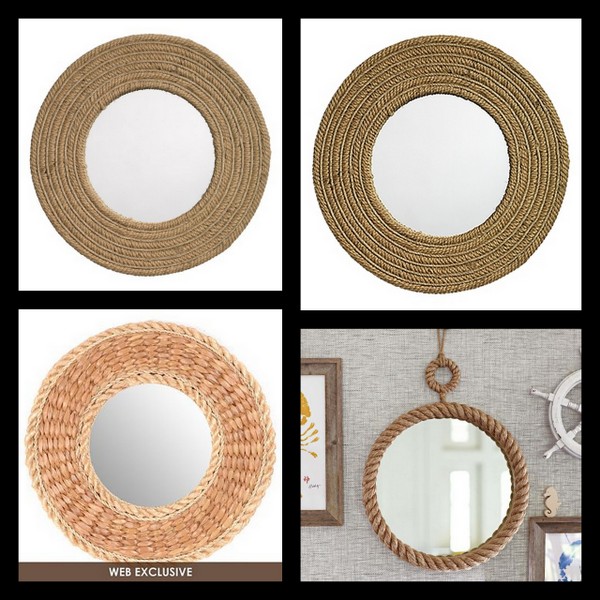 Sources: Zinc Door, Bixby and Ball, Kirklands, Pottery Barn
I found a woven plate charger at Goodwill for $1 and knew I could make it awesome. I actually had a small mirror at home left over from another project. Pick up these types of mirrors
if you don't have one at home. Look at your local craft or dollar store to find one of your own.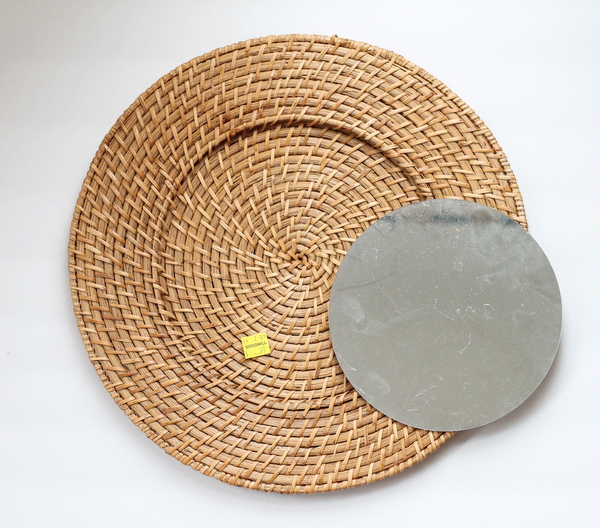 My favorite adhesive for these types of jobs is
E-6000
. I have not met anything this glue will not work on.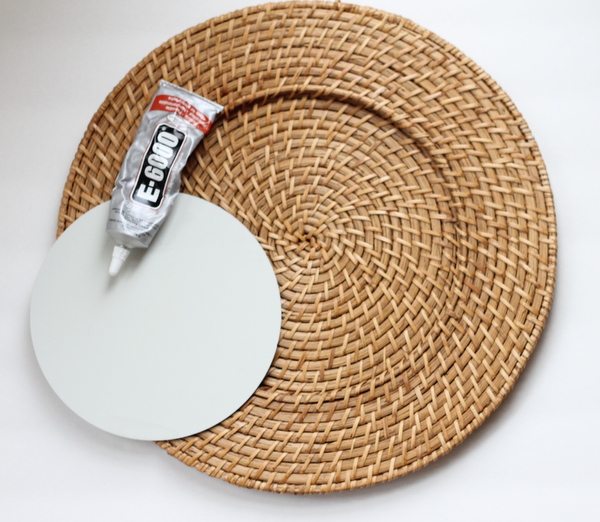 I applied the E-6000 according to the package directions and weighted down the mirror to dry. I left my project to cure for a full 24 hours before touching it.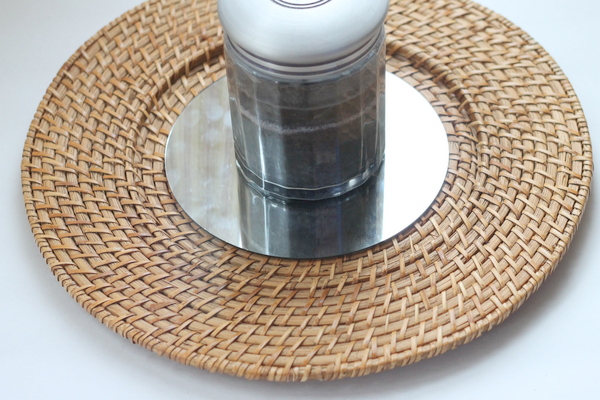 Now here is a bit of an unconventional tip for you. I have been using this method to hang plates on my walls for years and knew the same method would work for this mirror. Just take a small piece of ribbon…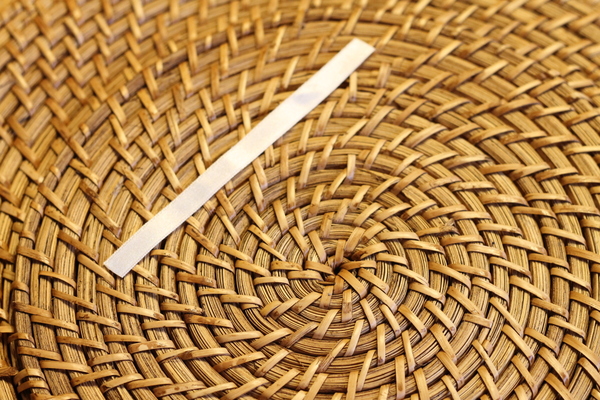 Then use your hot glue to adhere a loop to the back of your finished woven mirror. It is simple, easy, inexpensive, and most importantly it works great.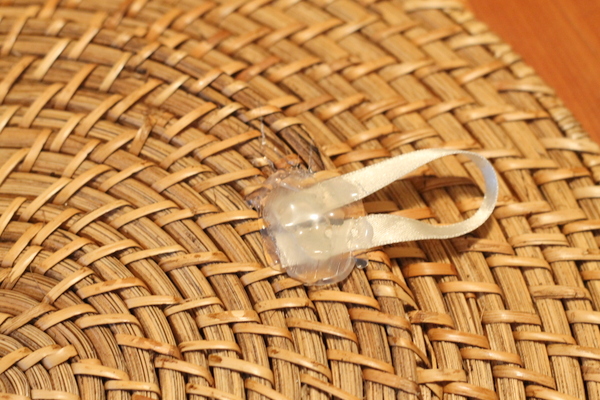 All that was left was to hang it on the wall.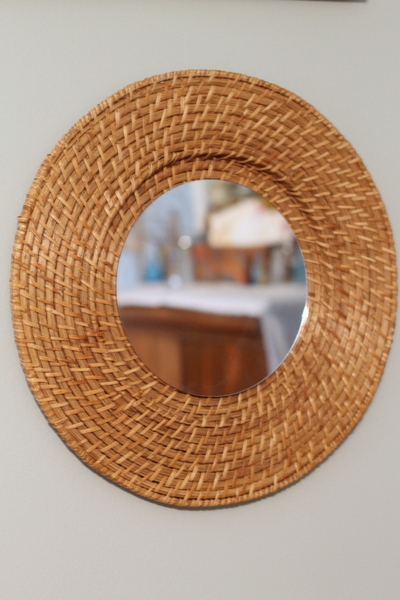 So simple yet amazingly gorgeous. I love getting that big store look on a tiny budget.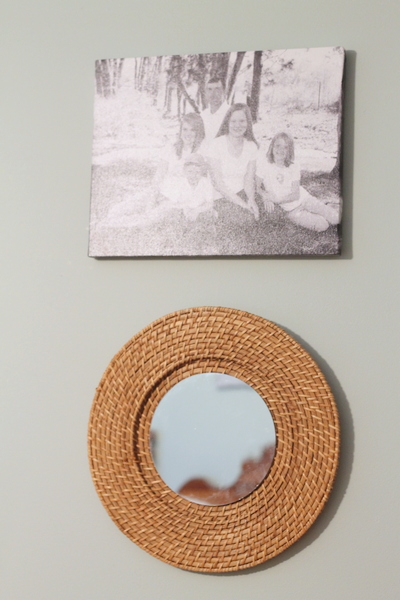 Stay tuned as we wrap up Craft Lightning week today and tomorrow. I hope y'all enjoyed this quick and easy woven mirror knock off and will make your own in 15 minutes or less.