When you want to do a beautiful yet affordable farmhouse bedroom makeover, check out the Better Homes and Gardens collection at Walmart. I'm opening up my bedroom to take you on a tour of my own rustic farmhouse bedroom decor to show you a sampling of the amazing decor they carry!
Who loves a fun makeover? We've been busy.
I was challenged by the Better Homes and Gardens collection at Walmart to work on my bedroom this month. It was long overdue for a bedroom update, and I have some awesome rustic farmhouse bedroom decor ideas to share with y'all.
I am in love with the changes in our master bedroom, and I know that with such a large selection, you can find some ideas to use in your own home.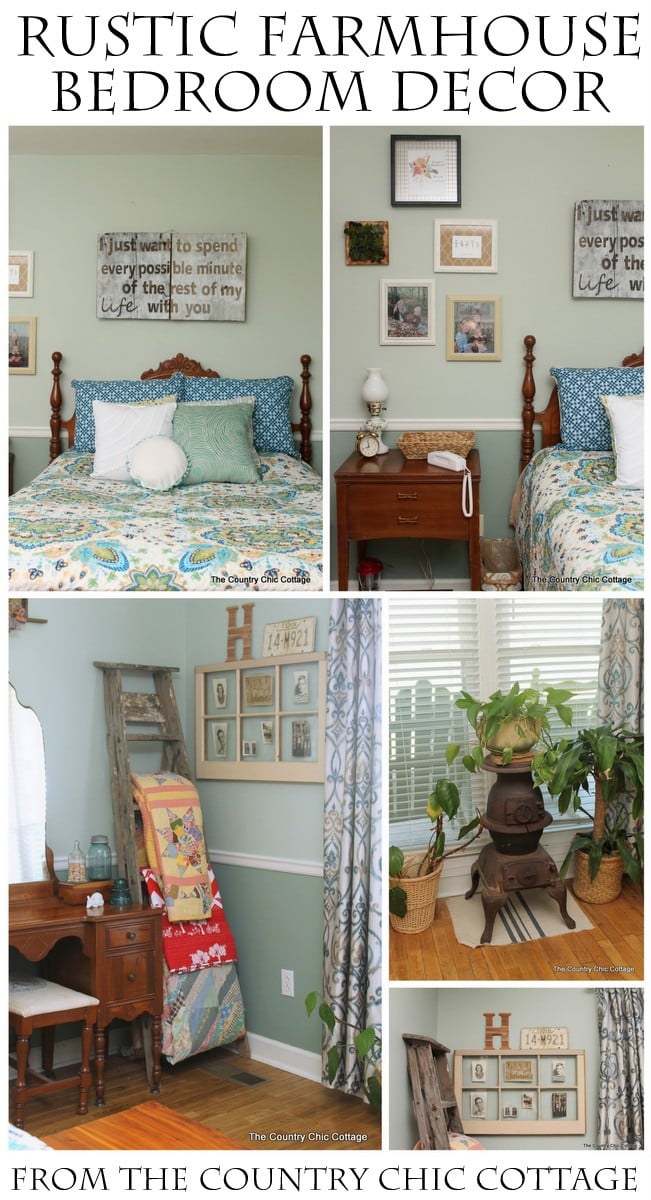 Beautiful And Affordable Farmhouse Bedroom Decor Reveal
Let's take a quick tour of my bedroom so I can show you what I've done and introduce you to some amazing affordable farmhouse decor pieces you may want to use in your home too.
We will start with the bed because, after all, it is the heart of the bedroom. The wall behind our bed got some big changes with this makeover. I added two gallery-style walls above each nightstand.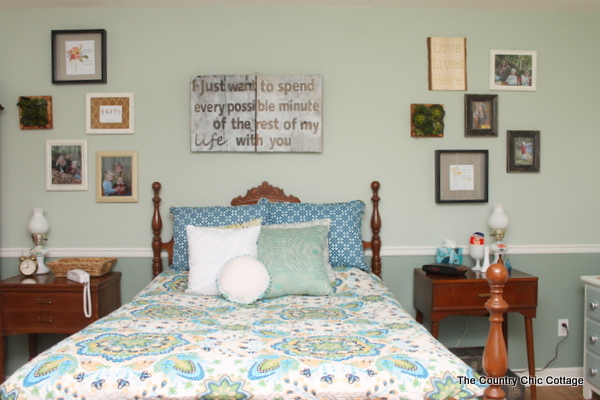 Farmhouse Decor Around The Bed
You can see how I made that hunger games quote sign from barn wood. It's one of my favorite projects of all time!
Tip: Love barn wood? Check out these other DIY barn wood projects.
We love the coziness and ambiance that quilts provide, and this one seemed to like it was the perfect fit for our room. You can find terrific farmhouse quilts at Walmart.com!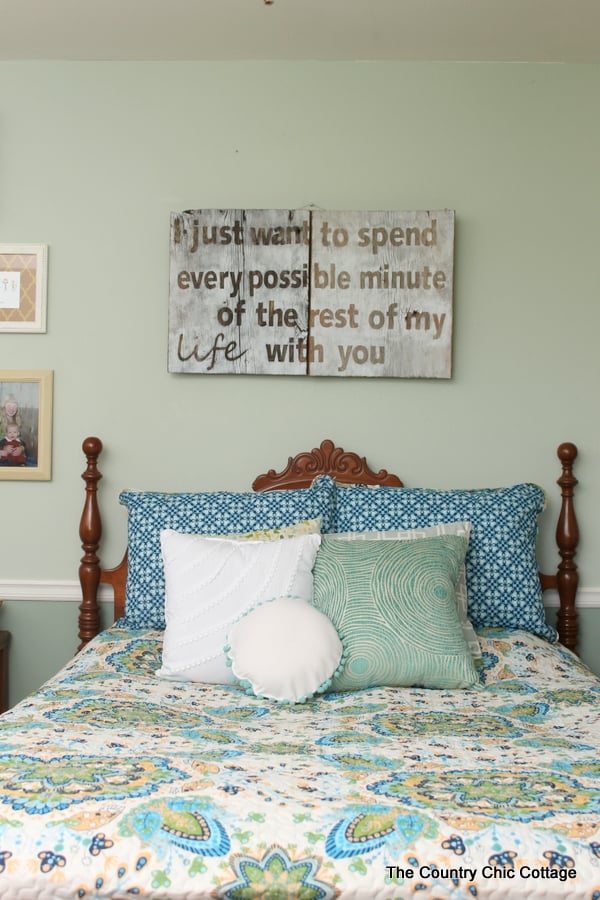 No bed would be complete without a collection of throw pillows. The two in the back are both old pillows that I covered in fabrics I found at Walmart. I love the fabric section of our local store!
They also have pom pom trim now which I picked up to make the circular pillow in the very front. The Better Homes and Gardens Collection at Walmart also offers a wide selection of pillows in different colors and patterns.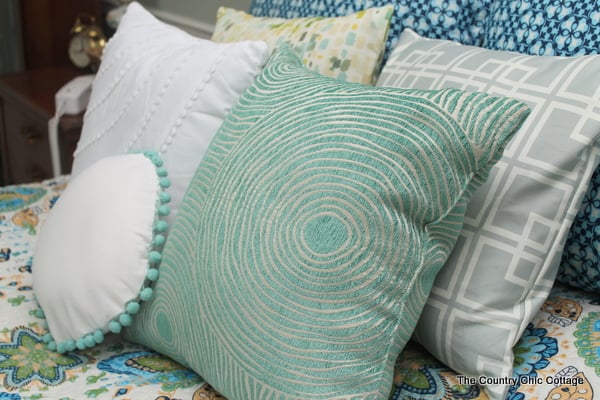 Farmhouse Bedroom Wall Decor
This is my side of the bed…can you tell that I love photographs? 😁 Check out how to make the Love Lives Here sign.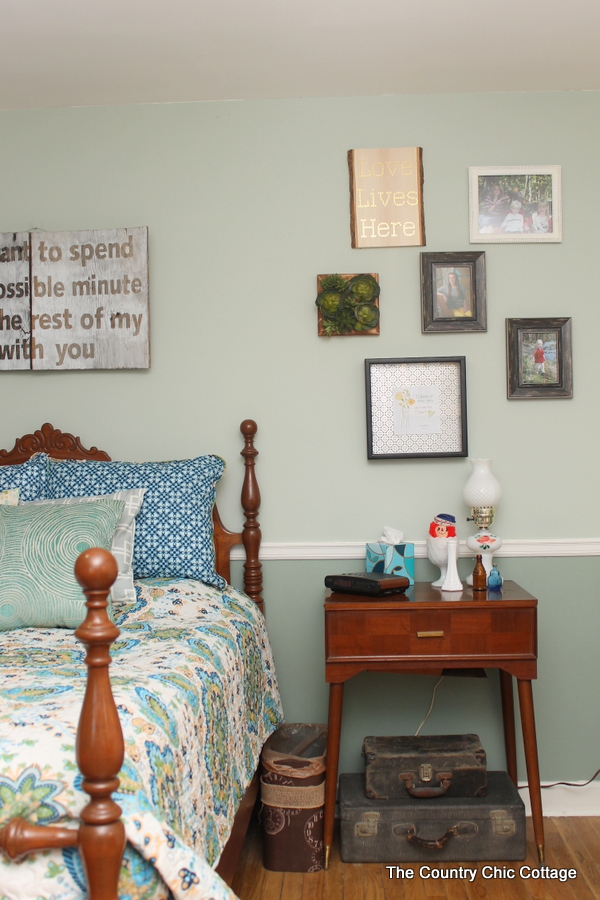 I added my faux succulent wall art in this room as well. The frames are an assortment that I have collected over the years.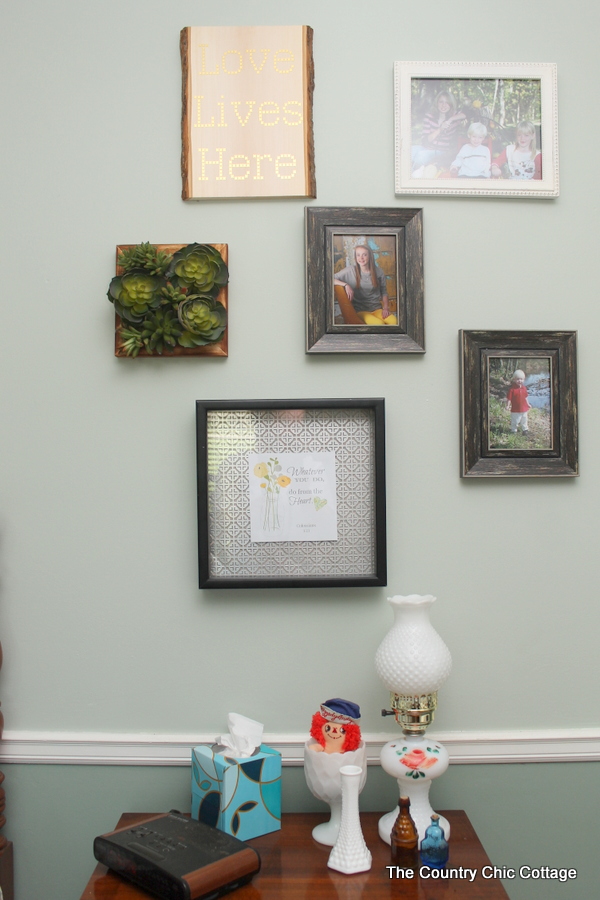 You can grab the Better Homes and Gardens Shadowbox Frames
at Walmart stores. I added in some MD Hobby Craft metal and some mason jar printables from On Sutton Place to the shadowbox frame.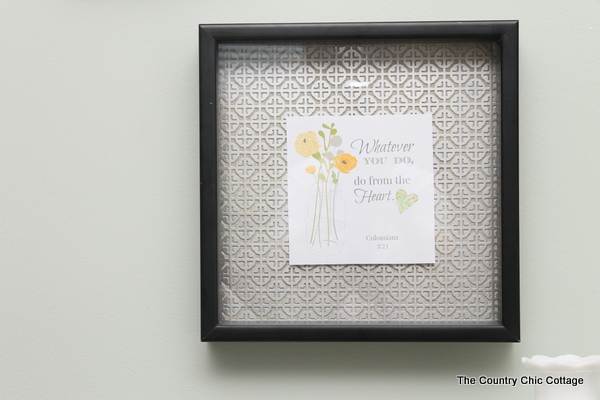 Rustic Farmhouse Furniture And Decor Pieces
On either side of the bed, I used vintage sewing machines as nightstands. I love the way they look (you can see a picture of mine in a picture above as well as down below). Vintage suitcases make perfect storage, so I always have a few stacked up under my nightstand.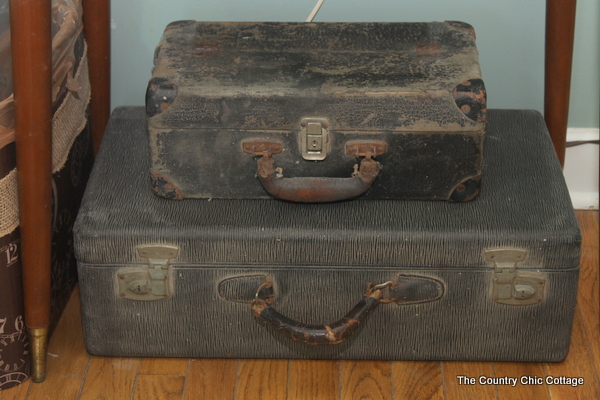 The remainder of this corner of the room has a chest of drawers I painted previously along with a few more pictures. I told y'all I was obsessed. 😉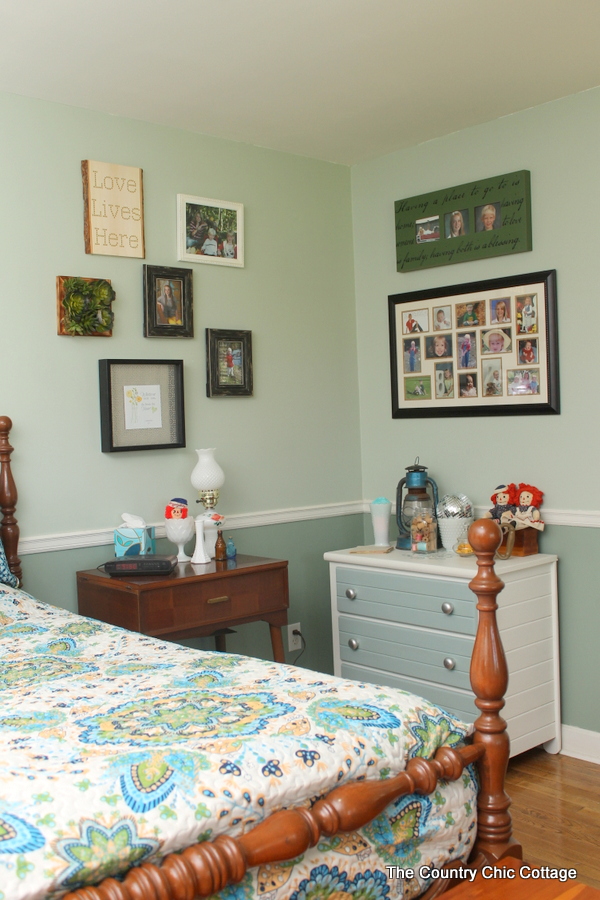 The top of the chest has an eclectic collection of both vintage and new items. Raggedy Ann and Andy always have a place in my bedroom.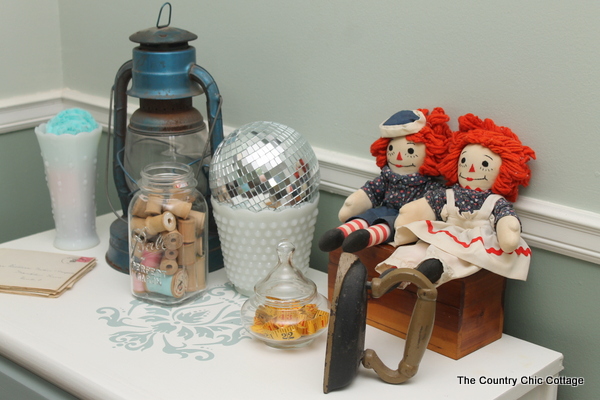 The opposite side of the bed belongs to Hubby and also has a vintage sewing machine as a nightstand. More pictures and another Better Homes and Gardens shadowbox as well!
Tip: Make the cork matted picture yourself with my tutorial.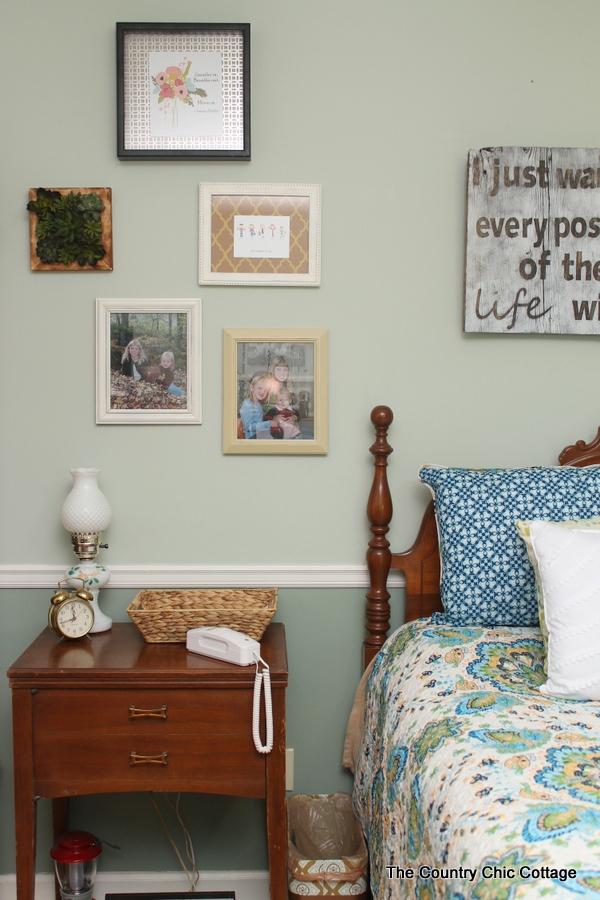 The wall opposite of our bed has more rustic farmhouse finds.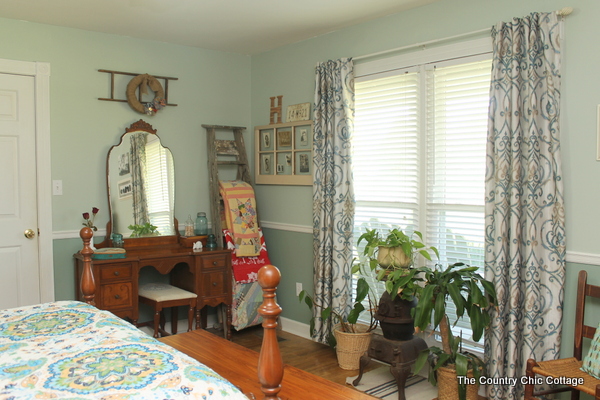 An antique dresser fits perfectly in this space. I also handmade the hanging wreath myself and though it fit perfectly above the mirror. Learn how to make that quilt flowers wreath at home!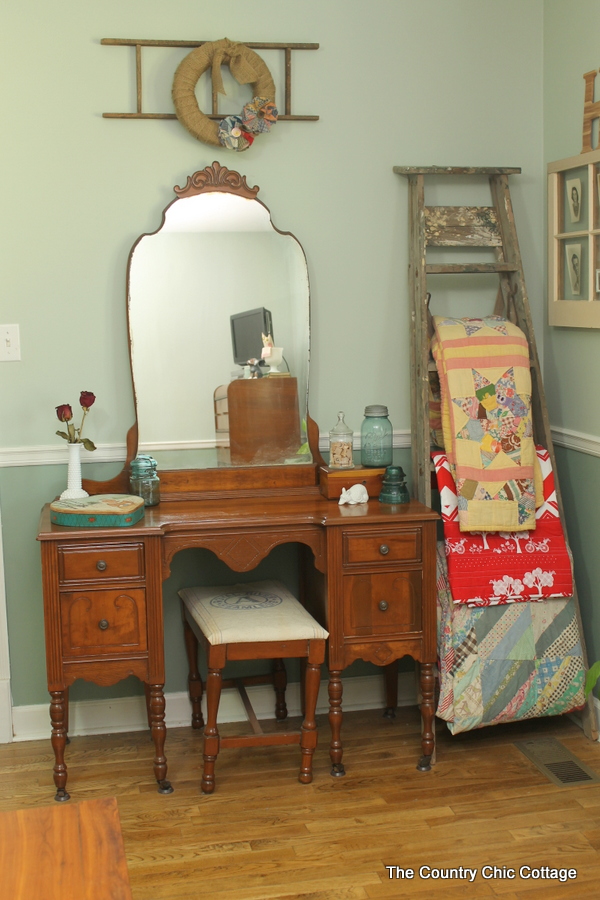 The seat of the dresser is a project I actually did and covered in a grain sack years ago. I absolutely love how well it turned out!
The corner has one of my favorite pieces of the entire room. I used an old wood ladder as a blanket ladder to display our quilts. I find that the rustic ladder quilt hanger adds the perfect touch. Not only does it fit the farmhouse style but it's a great way store quilts while also making it easy to just grab one when I'm cold.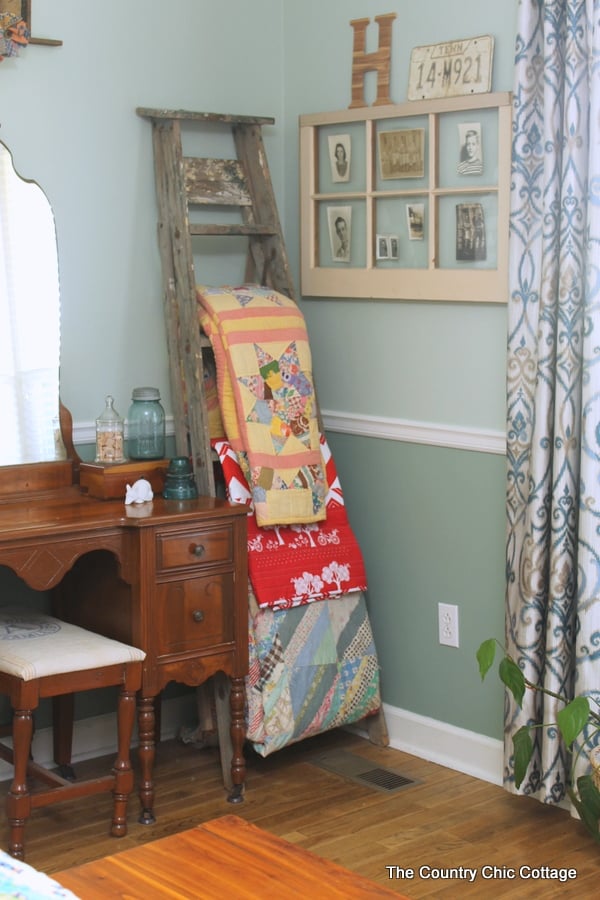 The corner also has an old window which has various old black and white pictures inside.
Rustic Farmhouse Window Treatments And Plants
I gave the windows a fresh set of curtains and a new Better Homes and Gardens Cream Swirl Curtain Rod
.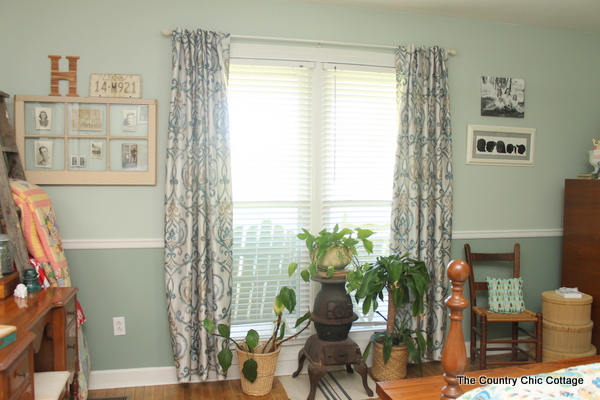 The new Better Homes and Gardens Ikat Scroll Curtain Panels
are gorgeous y'all. I am absolutely in love!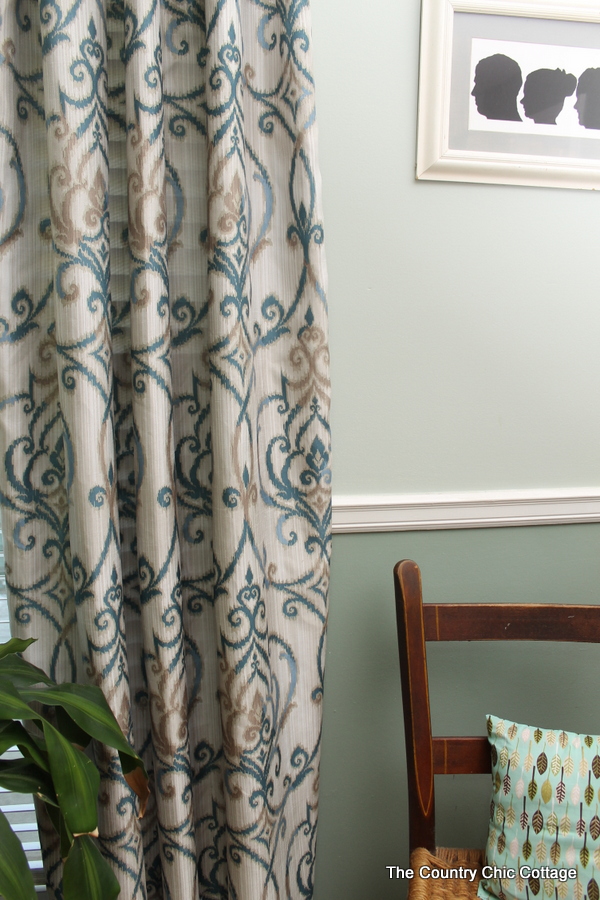 You may wonder what that unique plant stand is in the center of that window. Would you believe that it's an old wood-burning stove? It's perfect and serves as a plant stand now since it cannot function as a stove anymore.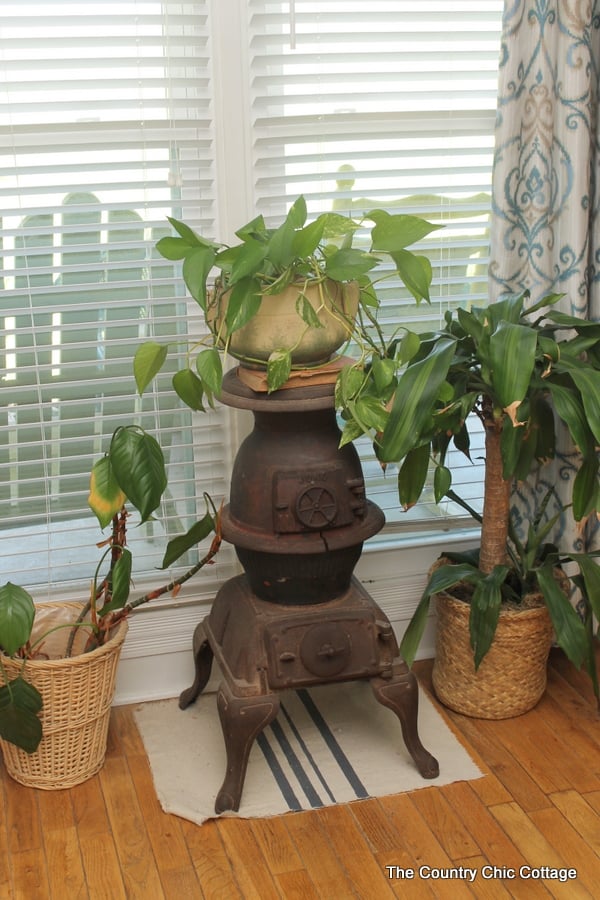 Making The Final Turn Around The Room
The final corner of our room has a few more pieces of rustic farmhouse furniture and a television. I even made that silhouette portrait of our family. It's one of my favorites!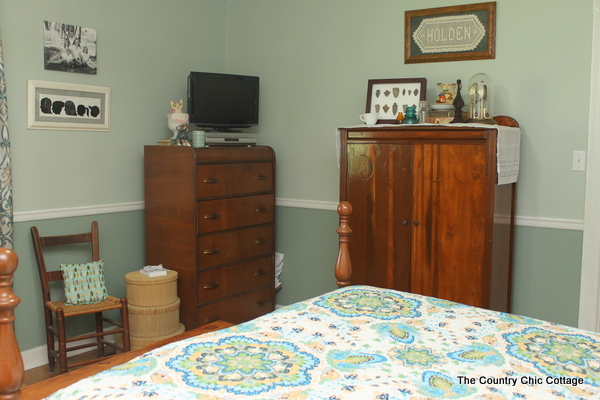 The top of that wardrobe has a collection of arrowheads that I just have to show off for a moment. They were all gathered on our farm as the Native Americans were here long before we bought this place.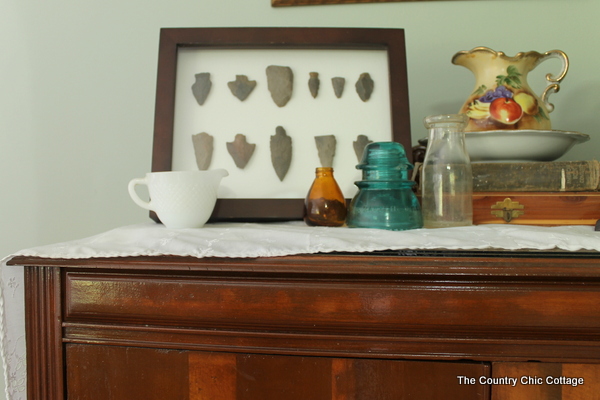 And of course, I have another vintage suitcase for storage in this area as well! You knew that was coming, right?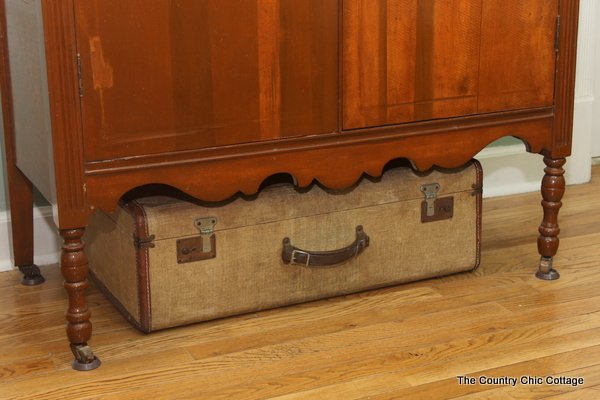 Rustic Farmhouse Bedroom Makeover: Bringing It All Together
I hope y'all have enjoyed this tour of our new farmhouse bedroom as much as we are enjoying living in it! I'm so happy with the way it turned out and love the new pieces that we got from the Better Homes and Gardens collection at Walmart. They bring everything together to create a cohesive design.
Are you going to redo your bedroom? If so, let me know in the comments what ideas you've come up with!
More Rustic Inspiration