I had this idea to cover barn wood with some metallic gold paint. It turned out awesome. But I just couldn't stop there. This rustic gold centerpiece was the result. Use this for a dinner party or even for Thanksgiving. A few bottles and some barn wood can become this rustic beauty in just a few minutes. This post is a part of my design team status with DecoArt. I am compensated for my participation however all projects and opinions are my own.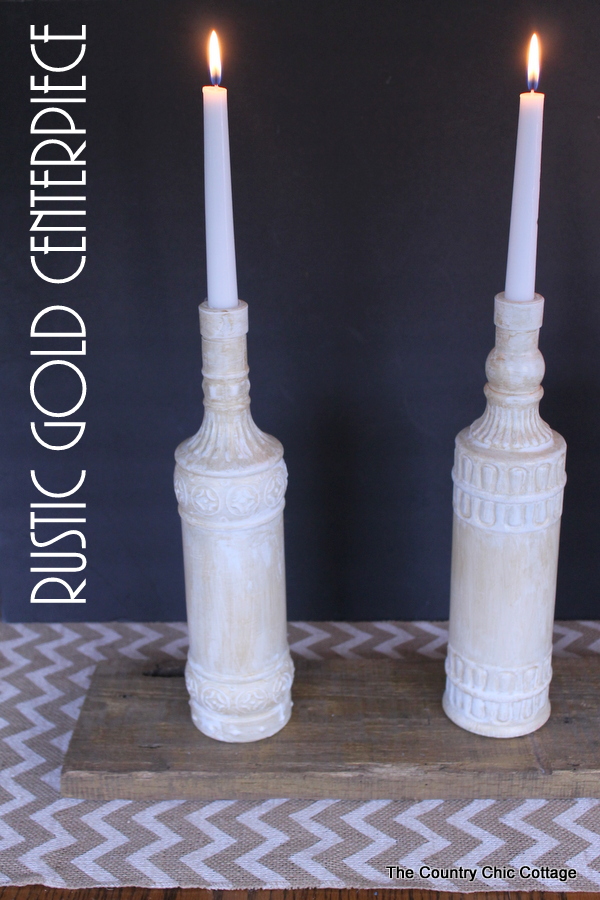 Supplies need to make your own rustic gold centerpiece: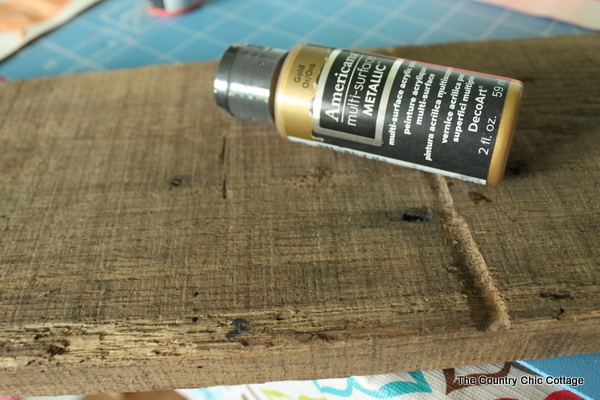 Start by giving your barn wood a glamorous make over. Get some gold metallic paint on your brush. You want a very dry brush for this application so blot it off some before painting. Then swiftly move the brush over the barn wood surface. You will get some coverage with some areas of barn wood peeking through.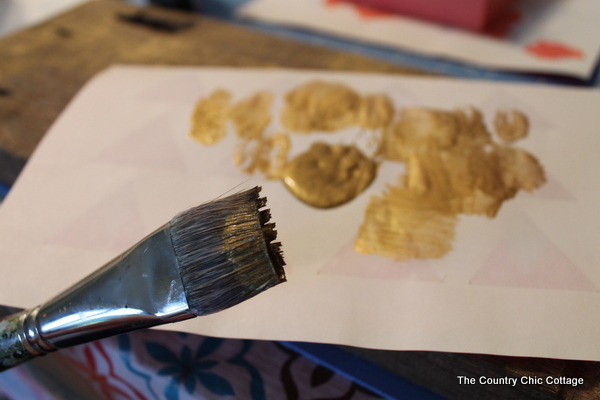 Next we are going to paint those bottles. Yes they started off as a bright blue. However the shape is amazing so I decided to paint them to go with this rustic gold centerpiece. My paint of choice is the Americana Chalky Finish for glass in everlasting. I used almost this entire 2 oz bottle on the three bottles. Be sure to clean your glass really well with rubbing alcohol before beginning. Read and follow all instructions on the back of your bottle.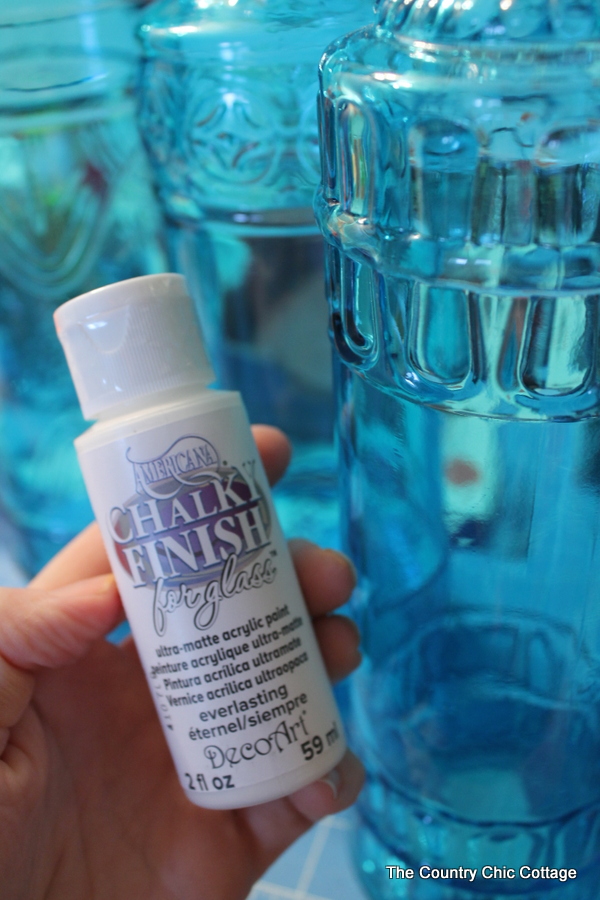 Use multiple thin coats until the desired look is reached. It took me 3 to 4 coats to get the coverage you see in the pictures. I then let the paint cure according to the package instructions before waxing. For the waxing, I mixed the same Americana Multi Surface in Gold metallic that I used for the barn wood into the wax. Use about 2 parts wax to 1 part paint. Mix well (a popsicle stick works great for this).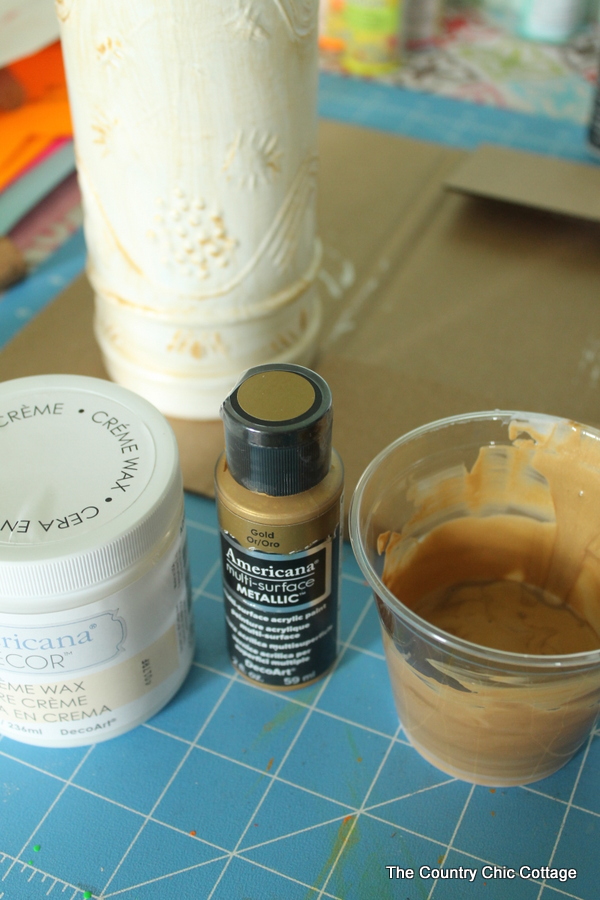 Then apply the wax over the surface, allow to dry, and buff off with a rag. If you get the wax JUST when it dries the surface will be glossy when you buff. The bottle on the left below has two coats of wax while the one on the right has just one. (The bottle on the left still needs to be buffed.) I used two coats to get more of that gold metallic onto my bottles. Buff in between coats.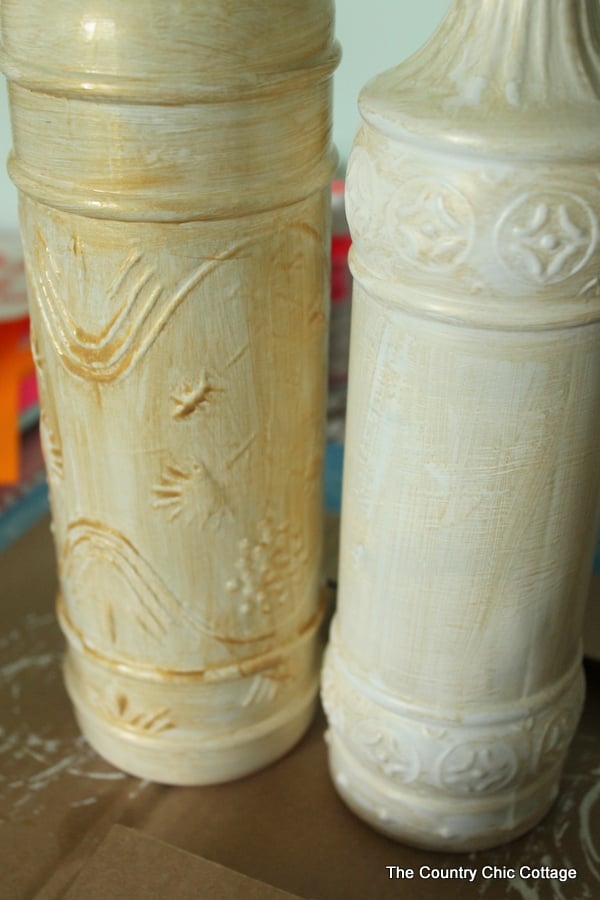 The bottles have a gold metallic like shine with the white peeking through in areas. They are slightly rustic as the wax sits more in the crevices then on the flat surfaces. They are perfect for an amazing rustic tablescape.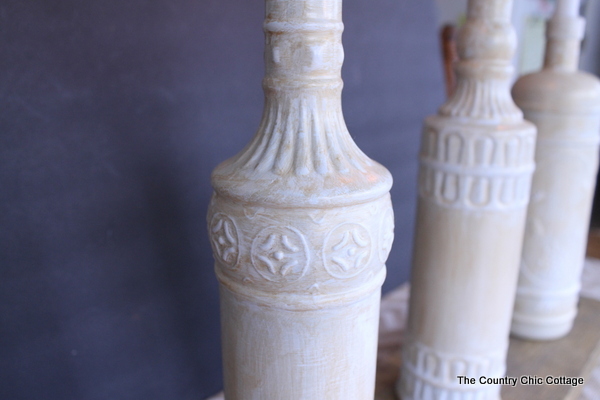 Add taper candles to your bottles and light. I had to cut the taper candles to fit the bottles and one of them the candle wanted to fall through. Just melt some wax and add to the mouth of the bottle before inserting your candle if this happens to you. That will hold the candle into position and allow you to enjoy the view.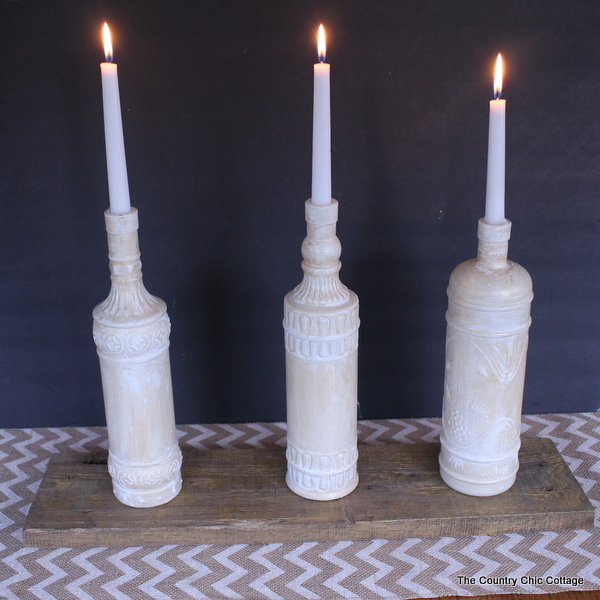 Add this rustic gold centerpiece to the center of your dining room or kitchen table today. Later on this month I will show you more about what I am going to use this for. Y'all stay tuned!