Learn how to make the best coffee cake recipe right in your slow cooker! This is a quick and easy way to make breakfast any day of the week.
This coffee cake recipe is so easy to put together. You might even call it a dump cake recipe! It's perfect for busy mornings when you want something extra special to eat without all the fuss and effort.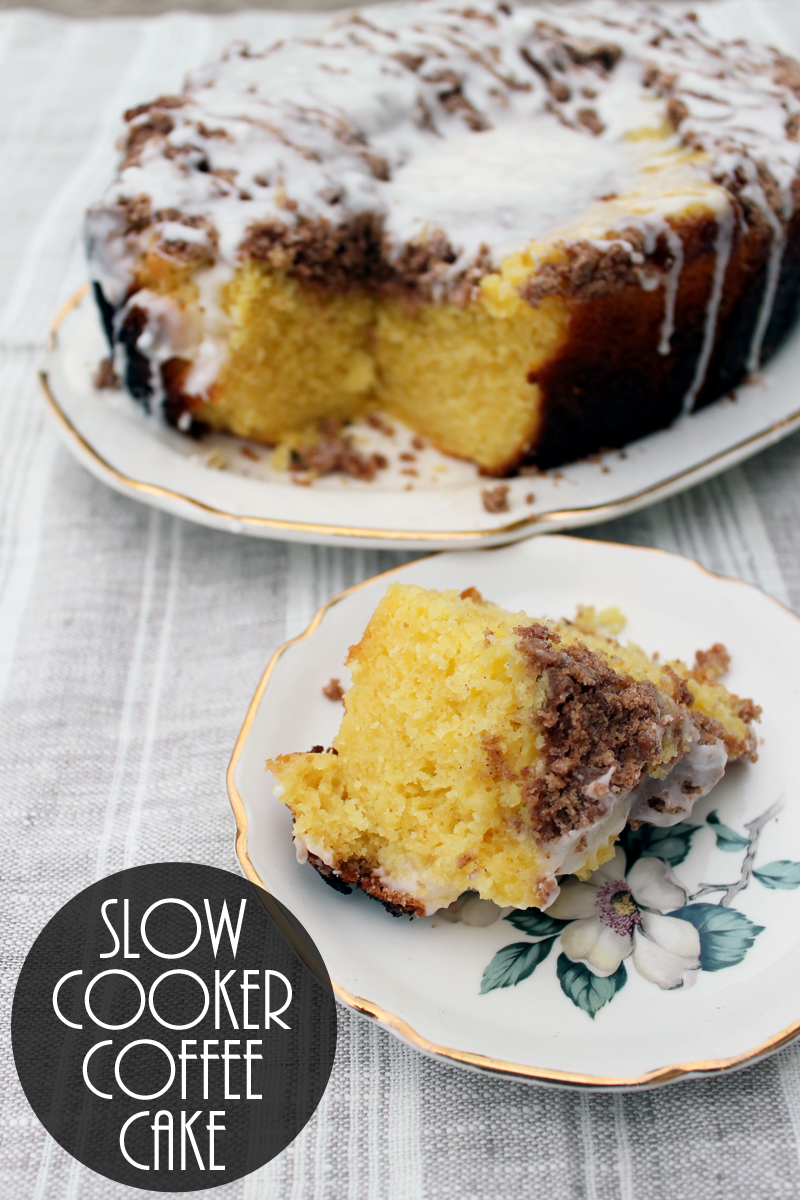 Easy Crockpot Coffee Cake
Did you know you can bake in your crockpot too? When I discovered this, I was in heaven! Now, I love baking in my slow cooker.
It doesn't heat up my entire kitchen and it's easier to clean up when I am finished.
If you think a cake in the slow cooker will turn out to be a big pile of mush, you haven't tried my recipe. This cake tastes just like it came out of the oven!
Keep reading and learn how to make your own brunch-worthy crockpot coffee cake.
Ingredients Needed To Make Coffee Cake Recipe
For this recipe, I took a shortcut and made this with a box of yellow cake mix. Don't just follow the ingredients on the box, though!
Cake Hack: Add some sour cream, eggs, and butter to the cake batter before you place it in the slow cooker. This will help it bake with the perfect texture.
Coffee Cake Toppings
What sets this apart from other slow cooker dump cakes is the crumb topping and the vanilla glaze.
For the crumb topping, I used a combination of:
Flour
Brown sugar
Butter
Cinnamon
Salt
Then, make your own homemade glaze! It tastes so much better than melting some frosting on top. All you need is some powdered sugar, milk, and vanilla.
Note: If you are sensitive to dairy or lactose-intolerant, use either oat milk or almond milk for the glaze.
More Glaze Flavors
I made my glaze a simple vanilla flavor, but there are so many other ideas you can do with the glaze. All of these flavors will taste divine on this coffee cake.
Orange Glaze – 1 cup powdered sugar, 1/4 teaspoon orange zest, 1 tablespoon orange juice.
Lemon Glaze – 1 cup powdered sugar, 2 tablespoons milk, 1 tablespoon lemon juice
Espresso Glaze – 3/4 cup powdered sugar, 1 1/2 tablespoons cold espresso, salt.
Let me know which one you try in the comments down below!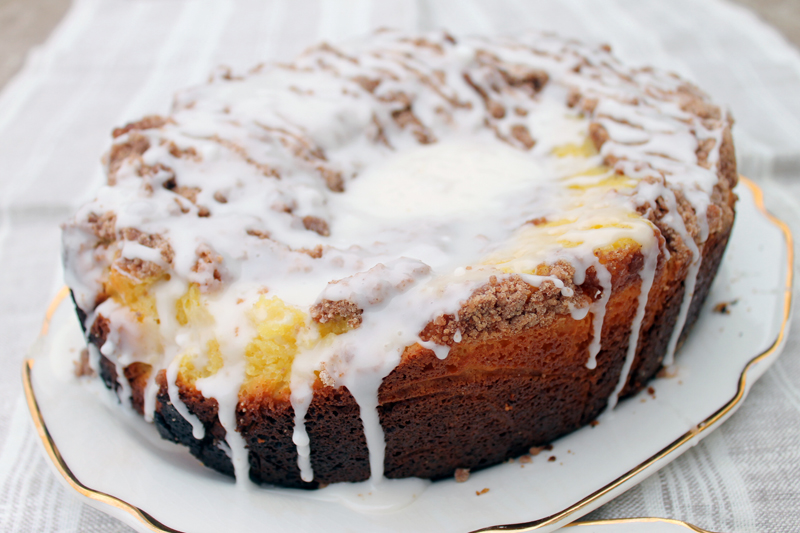 What To Serve With Cinnamon Coffee Cake
What do you like to eat or drink with your coffee cake?
In my opinion, this is the perfect addition to your brunch or breakfast menu. I think it tastes the best with a hot cup of coffee and some crispy bacon!
If you want to enjoy it with your breakfast, make a Farmer's Breakfast Skillet with it. This will fill you up!
Or, you can go simple and just serve it with a bowl of fruit and some scrambled eggs.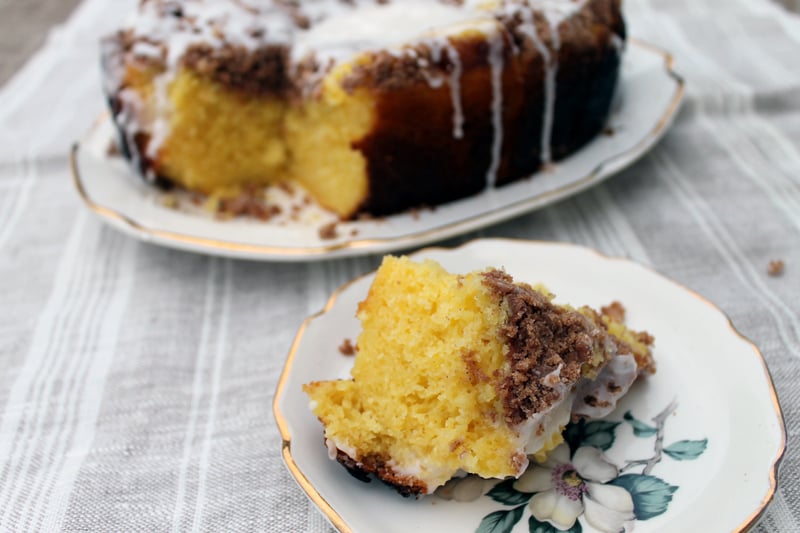 How To Properly Store Coffee Cake
There are a few different ways to properly store your coffee cake so it stays fresh and delicious!
Option 1: Without The Glaze
If you make this coffee cake recipe without the glaze, you can store it in an airtight container at room temperature (like on your countertop). It will stay fresh for about a week.
Option 2: With The Glaze
This vanilla glaze has milk in it. So, if you used the glaze on your coffee cake, you should seal it in a container and store it in the refrigerator. It will stay fresh for about a week this way.
Either way that you store it, keep the air off of it. The air will make the cake go stale really fast!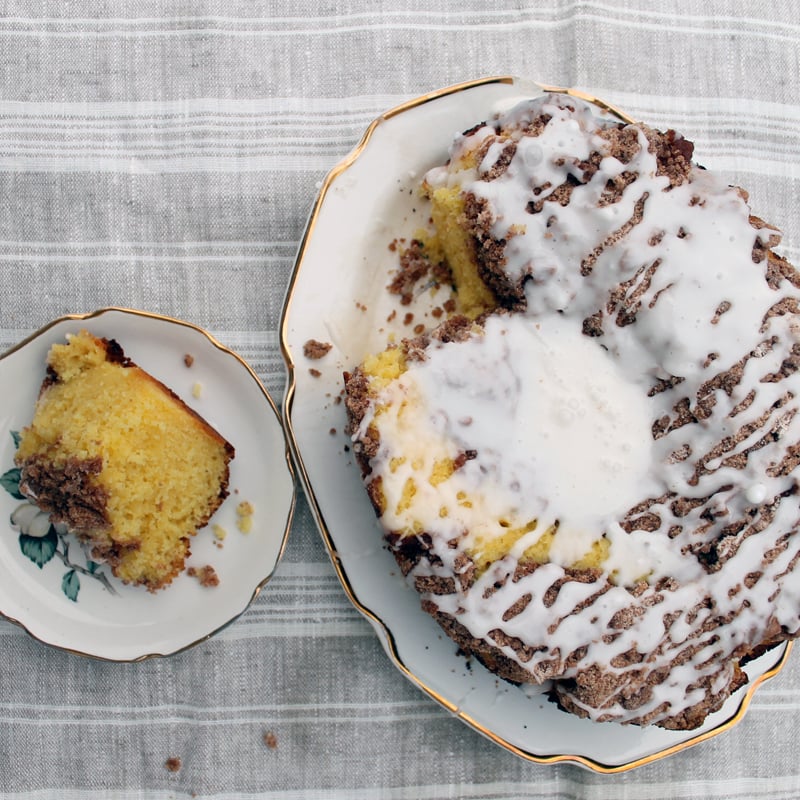 Sounds delicious right? You will love this slow cooker coffee cake on your breakfast table. I love that it bakes up in the crock pot!
Need to print this recipe? Try the recipe card below!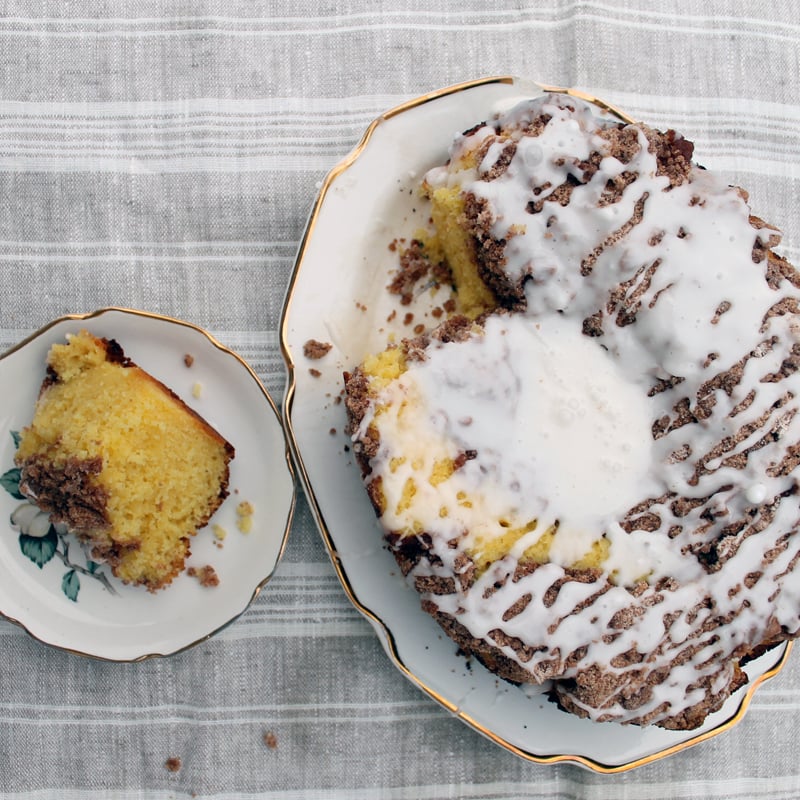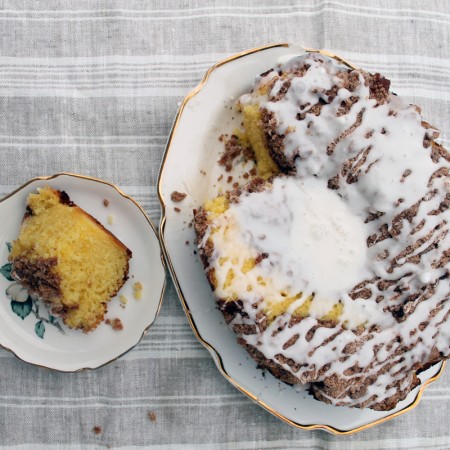 Crock Pot Coffee Cake
This is how to make amazing Crock Pot coffee cake with a sweet glaze.
Ingredients
Coffee Cake Toppings
1

cup

all-purpose flour

1/2

cup

packed brown sugar

4

tablespoons

butter

softened

2

teaspoons

ground cinnamon

1/8

teaspoon

salt
Cake Batter
1

box yellow cake mix

1

cup

sour cream

1/2

cup

butter

melted

4

eggs
Glaze
1/2

cup

powdered sugar

2 to 3

teaspoons

milk

1/4

teaspoon

vanilla
Instructions
Place a plastic slow cooker liner inside and spray it with cooking spray.

In a medium bowl, mix all of the topping ingredients above. Set aside.

In a large bowl, add all of the cake ingredients. Stir until well blended then pour into the slow cooker.

Place a clean dish towel over the cooker then add the lid. This will absorb the excess moisture.

Cook on high for 1 hour.

Remove the slow cooker liner and rotate 180 degrees.

Put back in slow cooker.

Sprinkle topping over cake.

Put dish towel and cover back on slow cooker.

Cook on high for 30 minutes to an hour or until a toothpick inserted in the center comes out clean.

Transfer liner to a cooling rack. Let stand 10 minutes then lift plastic liner with cake inside. Put on a cooling rack and let cool completely then remove liner.

In a small bowl, add glaze ingredients and stir until smooth.

Drizzle over cake and serve!
Tried this project?
tag us to show off your work!
More Coffee Cake Recipes
Need more ideas for coffee cake recipes? Try these!