Here are some great small bathroom storage ideas that are perfect if you rent or own your home. Implement these ideas in minutes for more space!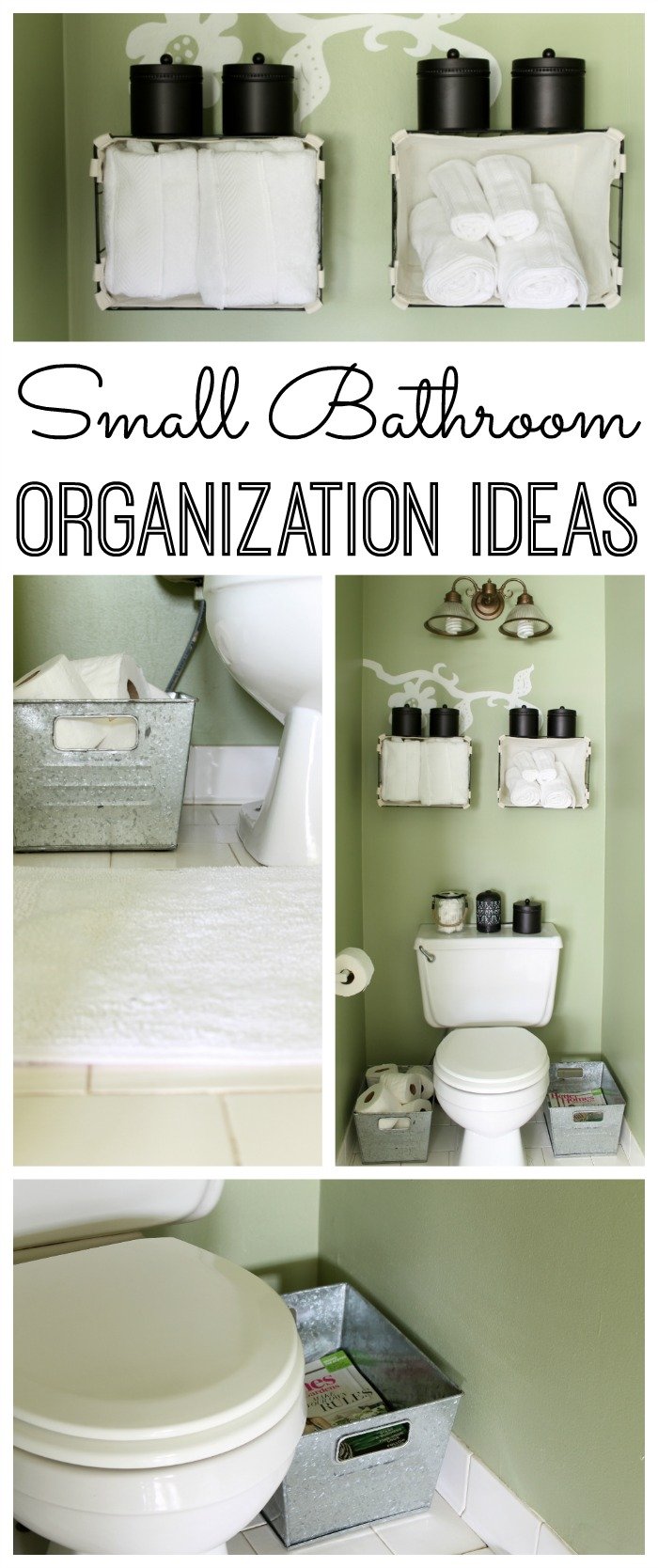 Have a tiny bathroom and in need of some small bathroom organization ideas? I am here to help!
After redecorating and reorganizing my tiny bathroom, I have some tips that I think are going to help you out so much.
I know there are a ton of houses that have a small powder room or other tiny bathroom areas and these organization ideas are perfect for those.
Small Bathroom Storage Ideas
One of the biggest complaints about tiny bathrooms is that there is nowhere to store your stuff! Where do you keep extra toilet paper rolls? What about other cleaning supplies?
Check out these clever ideas and feel free to use them in your bathroom too.
Hang Wire Baskets On The Wall
The first thing I wanted was some storage on that wall. I debated on a ton of different options but I went with something a little different.
You may not think about hanging baskets on your walls but these wire baskets from the Better Homes and Gardens collection work perfectly on a wall.
They hang well and act like shelves once in place.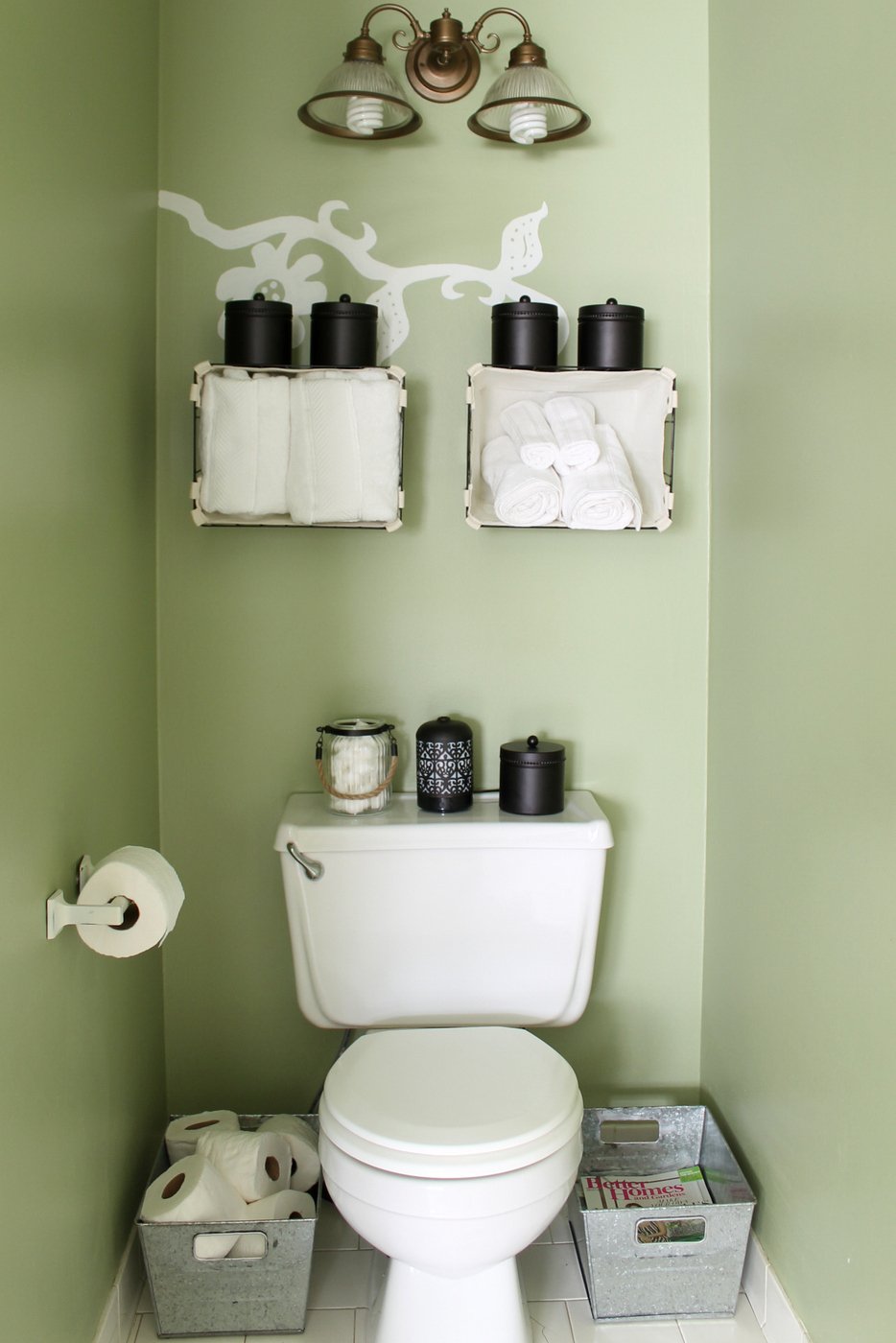 They are also great for those that rent as they will hang on command hooks perfectly. I used a few white towels from the Better Homes and Gardens Live Better Collection in the baskets.
Store Jars On Top Of The Baskets
I love this idea for storing towels in a small bathroom. I used several of the Galleon Covered Jars in bronze around the area for small things that always need to be organized in bathrooms.
These were a huge surprise to me. I love them! They are of great quality and perfect for the bathroom.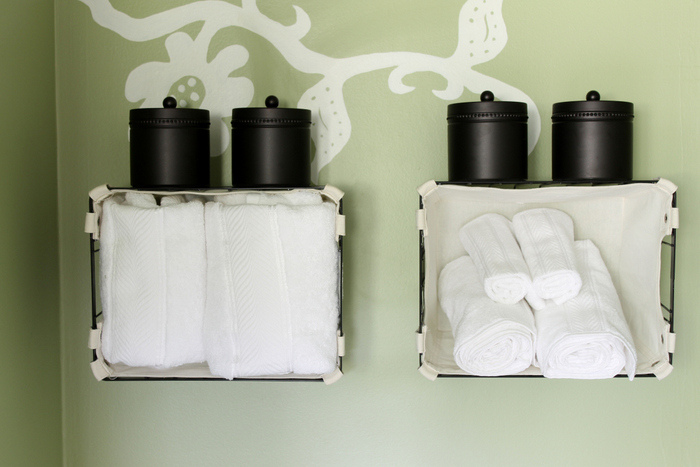 Store Bathroom Supplies On Top Of The Toilet
I love to utilize the back of the toilet for storage solutions as well. After all, space is a premium in small bathrooms.
I added a nautical touch with the rope on this glass lantern from Better Homes and Gardens. I thought it was perfect for storing cotton balls!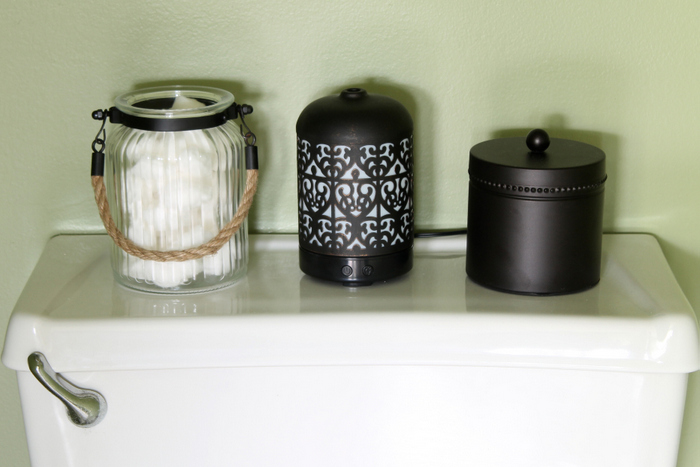 Place An Essential Oil Diffuser In The Bathroom
In the center of the image above, I have an extra special item for y'all. It has nothing to do with the organization but maybe something you just can't do without in the bathroom or any room of your home.
It is an essential oil diffuser!
If you are a fan of diffusing essential oils, this is a must. I used the Moroccan scroll version but there are tons of options from Better Homes and Gardens at Walmart.
Plus, it gets better y'all! They are also a night light!
So, this one machine can serve multiple purposes in your bathroom. I just had to add this in so y'all are sure not to miss these beauties!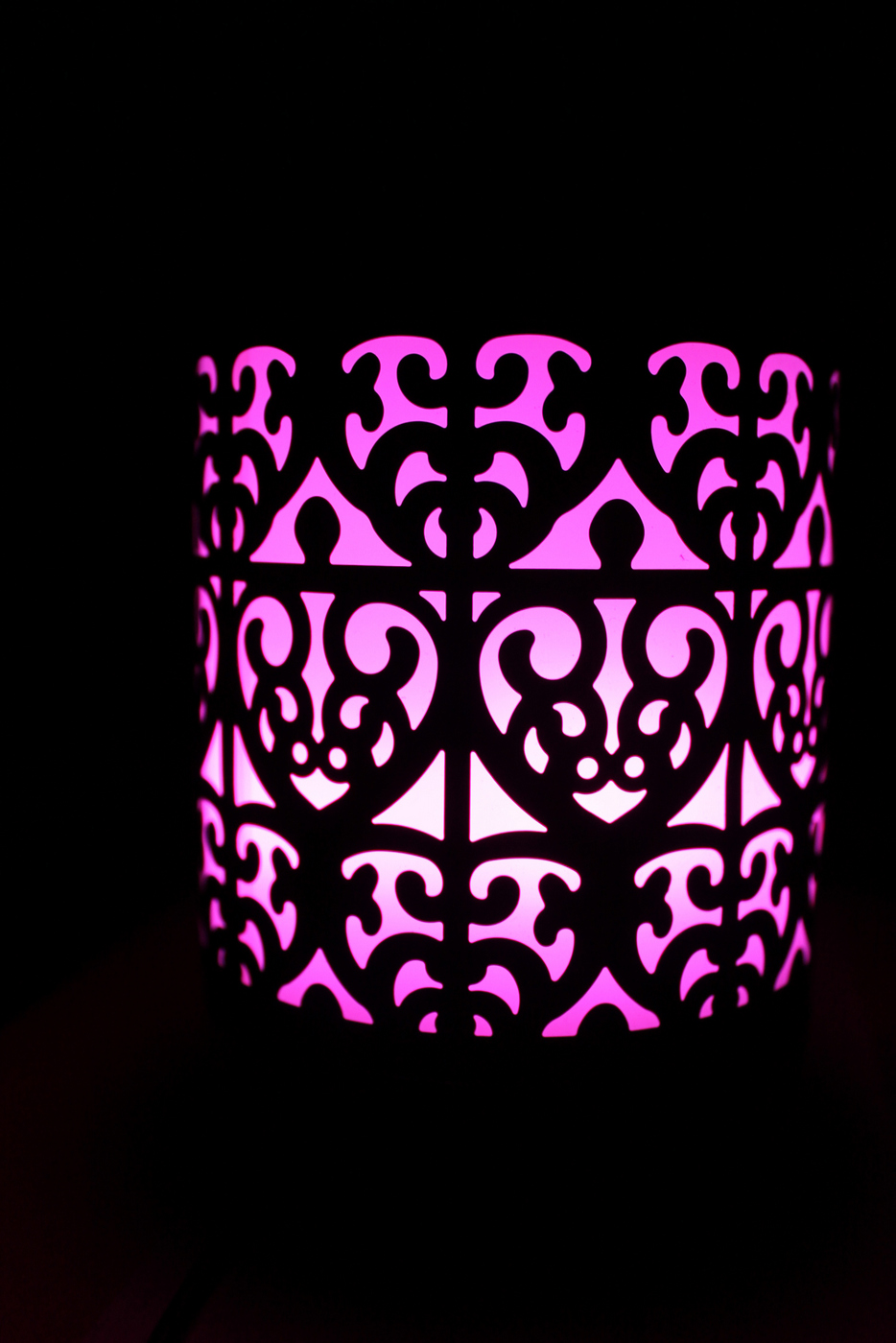 Extra Toilet Paper Storage In A Small Bathroom
On the floor next to the toilet, I used two of the small galvanized bins from BHG for storage. I love that farmhouse feel and these are perfect for sturdy storage.
One is holding toilet paper as seen below.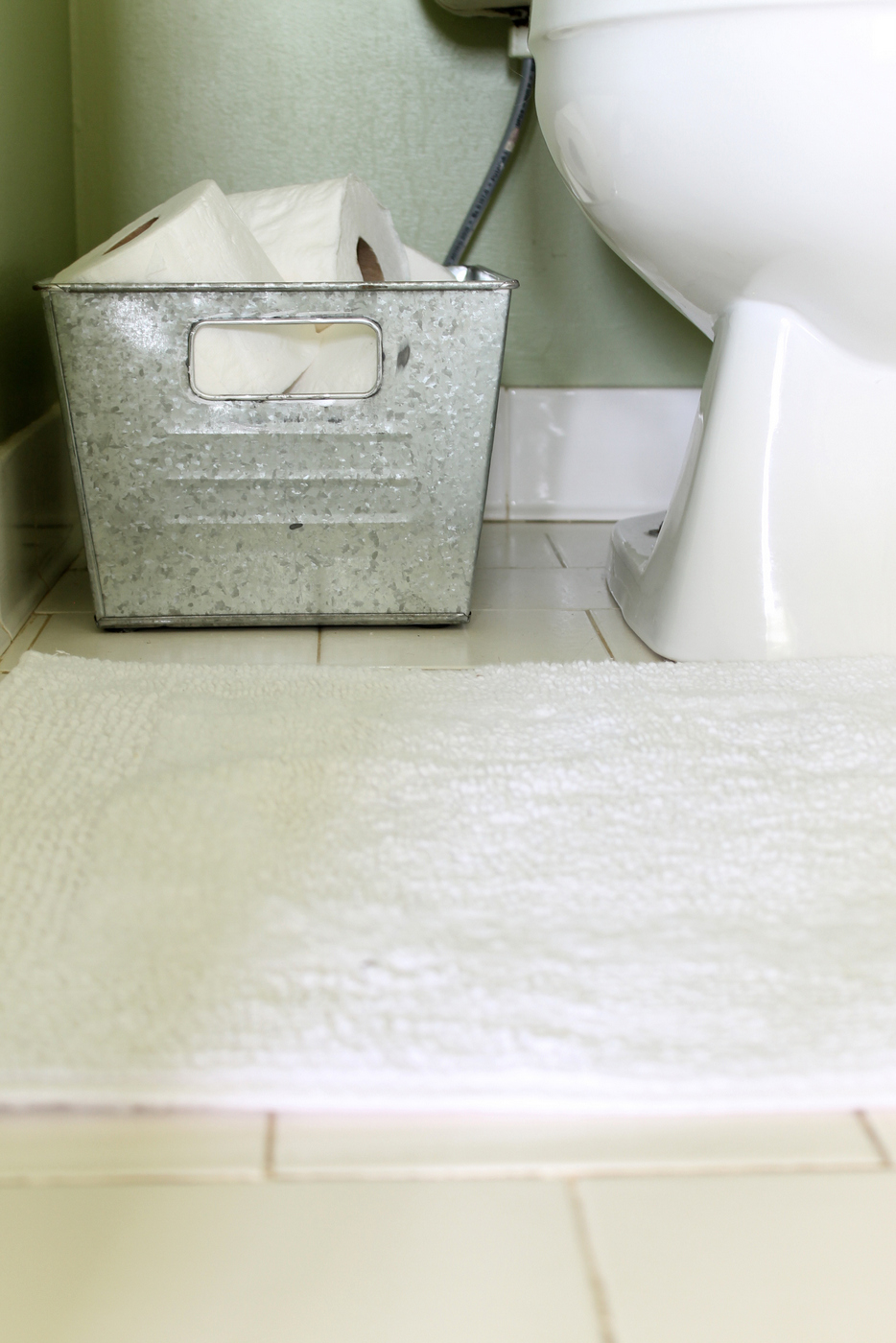 Where To Store Magazines In A Small Bathroom
Use a matching tin for some magazines or reading materials.
The new white rugs in my bathroom are also from Better Homes and Gardens and can be found at Walmart. Just in case you want to spruce up your small bathroom while organizing it!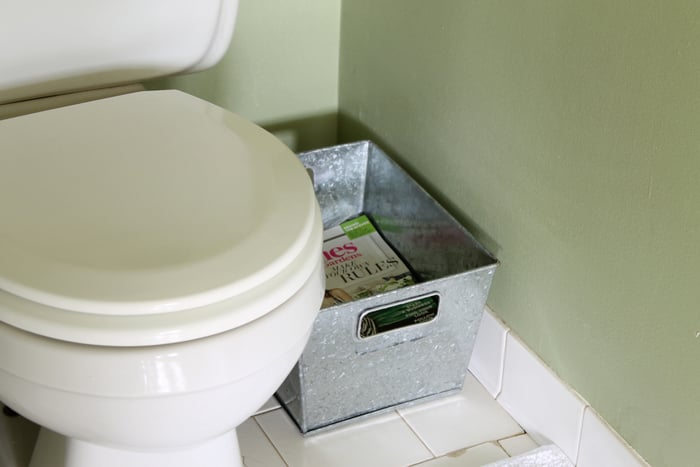 Be Creative
As you organize your small bathroom, just be creative! Stick to a decorating theme and use your walls. Hang up baskets and jars and other containers that can hold extra supplies.
It's fun to see how many different ways you can use one tiny space to hold everything you need.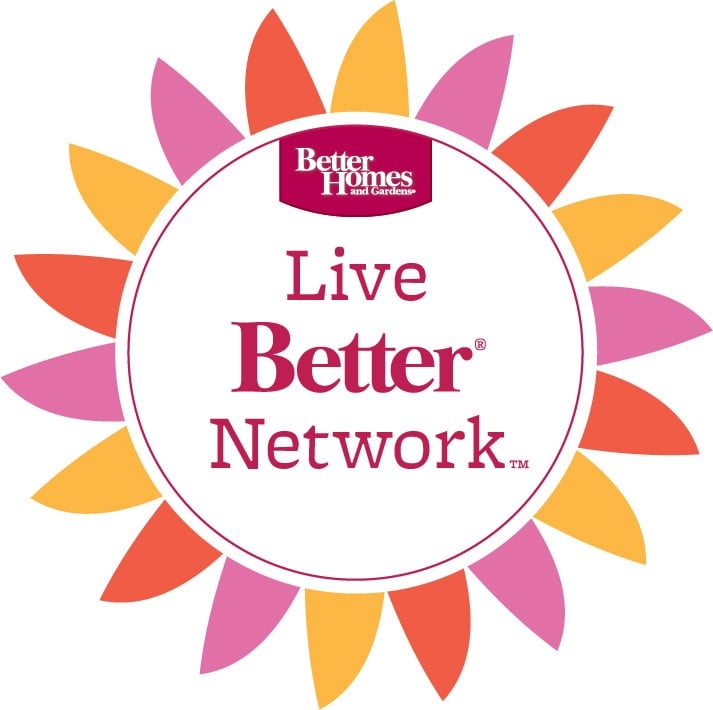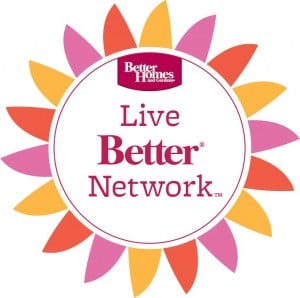 Declutter Your Home in 31 Days!
Clear the clutter and organize your home with our daily emails! Every day for a month we will send you a prompt to declutter! Sign up for our email list below to get started.