I have a great pork sausage quesidilla recipe for your Cinco De Mayo celebration. This was something I came up with after combining a couple of different recipes. I love quesidillas…..puffy heart love them! These are different than anything I have ever had anywhere and delicious. Perfect for your entire family!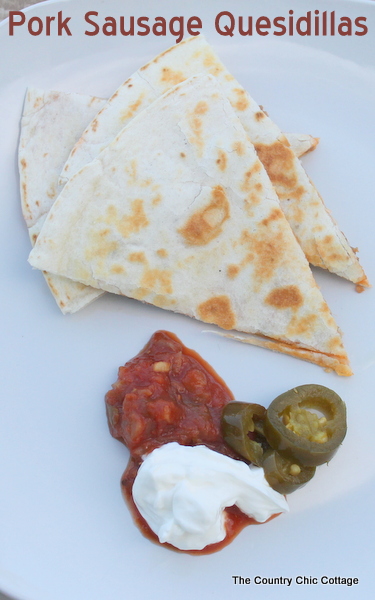 Pork Sausage Quesidillas
1 lb spicy pork sausage
1 package of 10 10″ tortillas
1/2 cup salsa
1/2 cup shredded sharp cheddar
2 – 3 Tbsp shredded sharp cheddar per quesidilla
olive oil
salsa, sour cream, jalapenos for serving as desired
Brown 1 lb pork sausage in a skillet and drain when done. In the meantime, begin by coating a large non stick skillet with a little olive oil. Brown one side of all of your tortillas in the pan. Add olive oil as needed to prevent sticking. Add 1/2 cup salsa and 1/2 cup cheddar to the sausage and cook until cheese is melted. Divide mixture into 5 portions. Place one tortilla brown side up into the large non stick pan, add 1/5 of sausage mixture, 2 – 3 Tbsp cheese, and cover with another tortilla brown side down. Press down with back of large spatula. Flip when underside is brown and cheese in the middle is melted. I use two spatulas to flip my quesidilla. Brown second side then remove from pan. Repeat until you have five quesidillas. I use a pizza cutter to cut mine into wedges. Serve with salsa, sour cream, and jalapenos.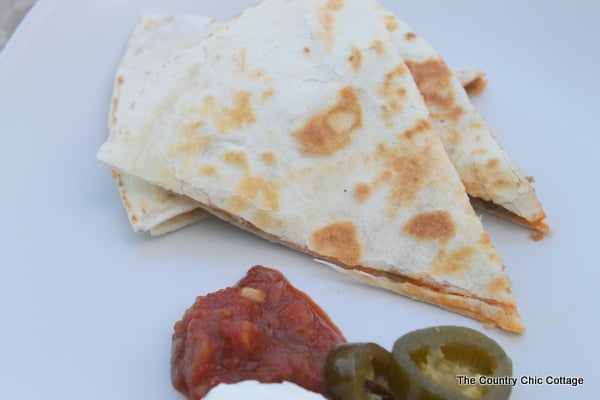 I hope you enjoy this recipe as much as we do. Celebrate Cinco De Mayo with your family by serving up these spicy pork sausage quesidillas!