I am taking a time out from my handmade gift series to bring y'all a Styrofoam craft! Styrofoam has a wonderful stak tree product that is amazing! It stacks up to be a great big 18 inch high tree. Wanna see what I did with mine….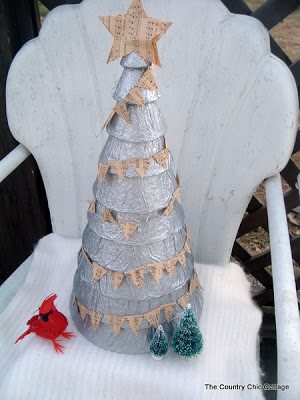 Here is a picture of the product in a little bitty box! Dow Chemical makes Styrofoam and they actually sent me the tree so I could try it out. That itty bitty box transforms into a tree in a few minutes.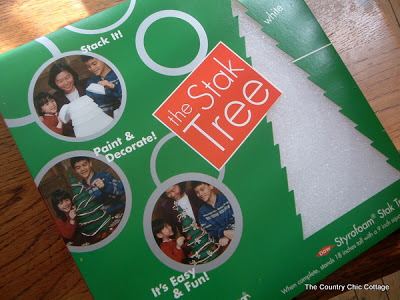 Here are my rings all spread out. I took silver tissue paper and cut it into wide strips. I then mod podged it onto each ring.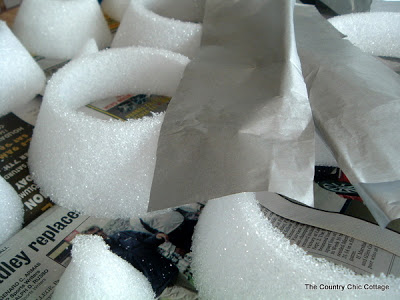 I used tooth picks to hold up the rings while the mod podge dries… The tissue paper gets all wrinkly but that was part of my plan…promise!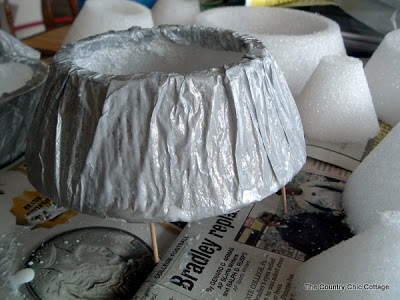 After all the pieces were covered and dried, just stack them up and you have a tree. I then sprayed my entire tree with a light coat of Glitter Blast spray paint that Krylon sent me. Then it was time to decorate.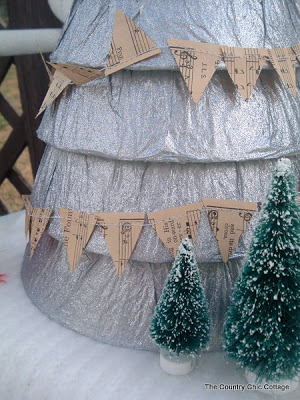 I took sheet music and cut it into triangles. I then sewed them together using my sewing machine. Making a large long bunting to wrap around my tree. I used hot glue in a few places to secure it.
On the base, I layed a piece of fuzzy white sweater. The red bird I got at the dollar tree and the trees were from clearance last year.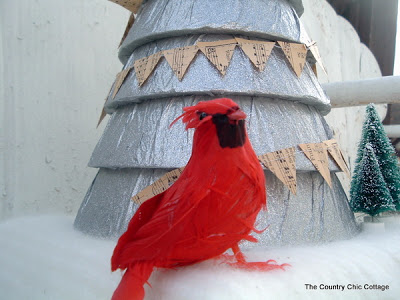 For the top, I cut out three stars from sheet music. Using hot glue, I secured them to the top.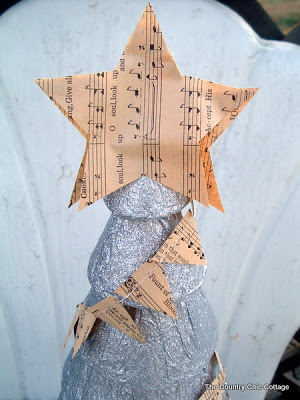 I got this done, took it outside, took pictures, stood back, looked at it….I think I could have covered this one in aluminum foil and gotten the same effect. If someone tries that, pretty please send me links or pictures!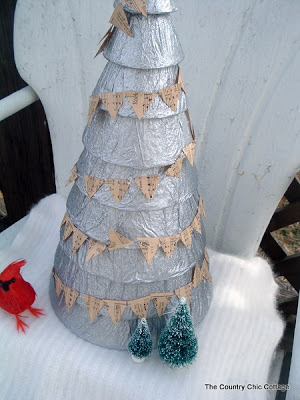 Now that I am finished with this project, I am soooo ready to decorate for Christmas! Ideas are swimming in my head y'all! I need to get through next week and I will be ready to begin! What about y'all? Have you started? Ready to start but holding off?