Is sublimation on HTV possible? A couple of weeks ago, I did a whole video on how to sublimate on dark colors and cotton. I tested a bunch of different options, including things like EasySubli, glitter HTV, and even flocked HTV. That video went over really well, but the number one question I'm getting is: can you sublimate on any HTV? I'm here today to answer that question and more about sublimation on HTV.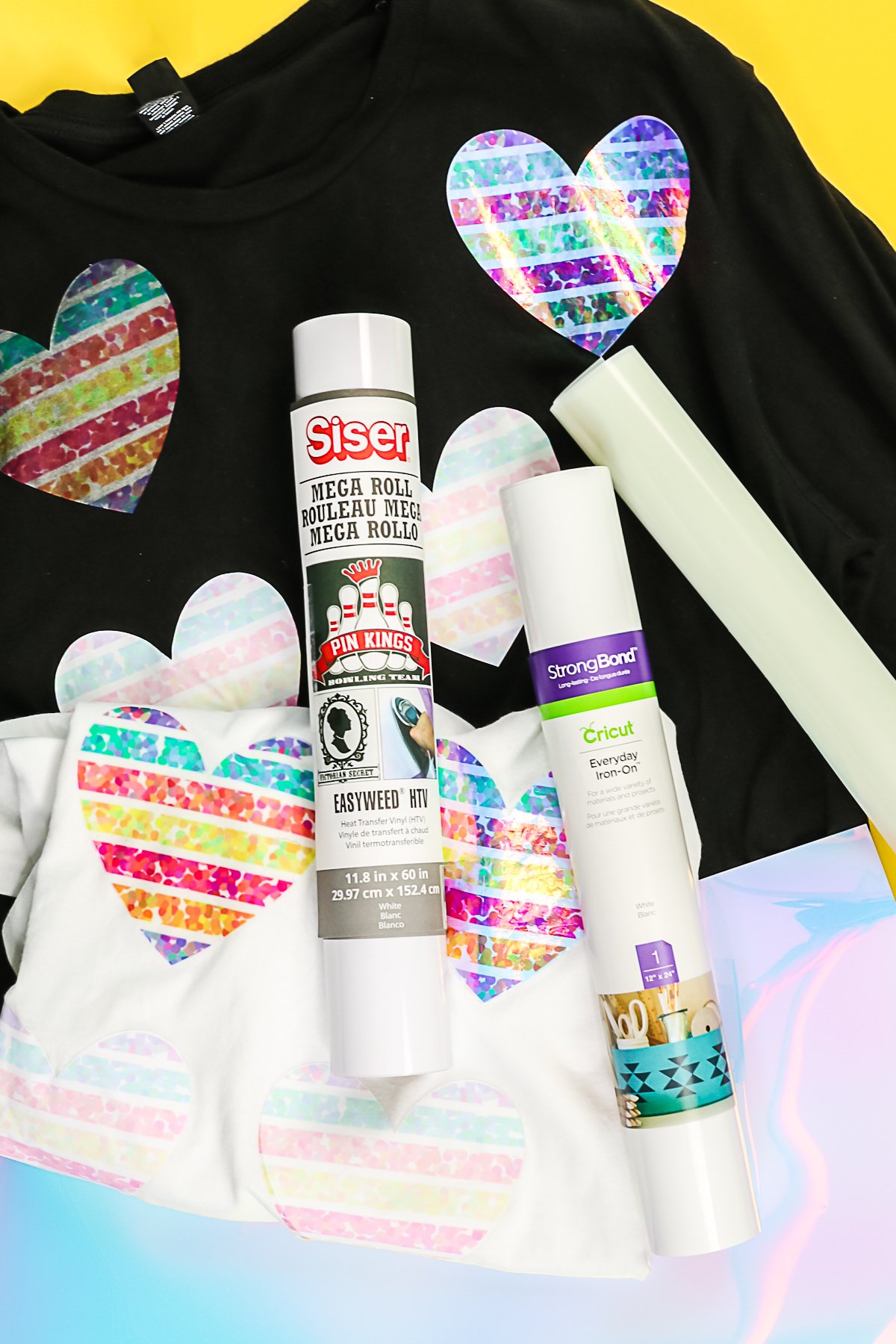 Sublimation on HTV
What are we going to try? The two things that I've been getting the most requests to try are Siser EasyWeed HTV and regular Cricut Everyday Iron-On. Will these two work? We're going to find out, but I'm going to add a couple of different products to these tests. One is Siser Mystic White, and it's a holographic HTV. The other one is called Clear Dye Sub, and I know it works well for cotton products. You can click play on the video below and watch my tests!
Can't watch the video or missing some of the information? You can also follow along with the information below!
Supplies Needed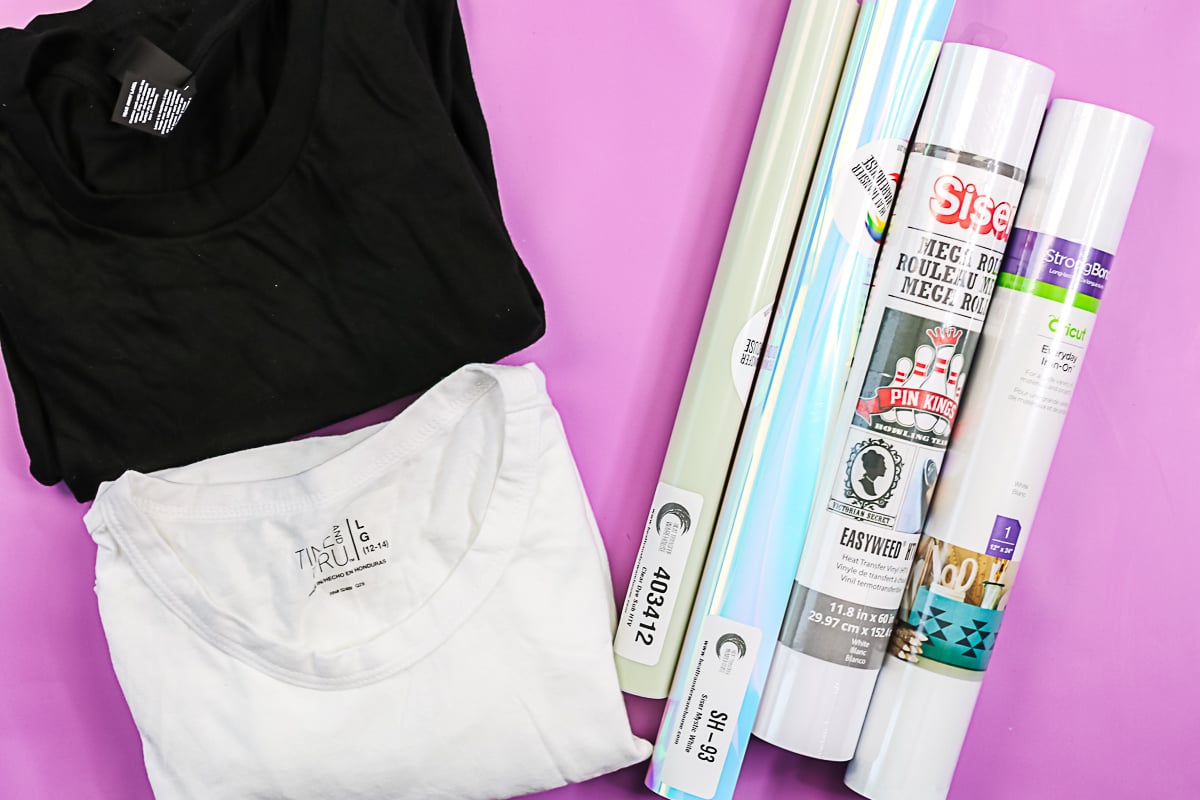 Printing, Cutting, and Weeding the HTV
I used a Cricut machine to cut each of the HTV products as well as print my sublimation prints. That way I could make them the same size. These are all printed on a sublimation printer with sublimation ink on sublimation paper. I used the iron-on setting to cut all of the HTV products, however, I should have probably used the holographic iron-on setting for the Siser Mystic White. Be sure to mirror your image when cutting on all of these.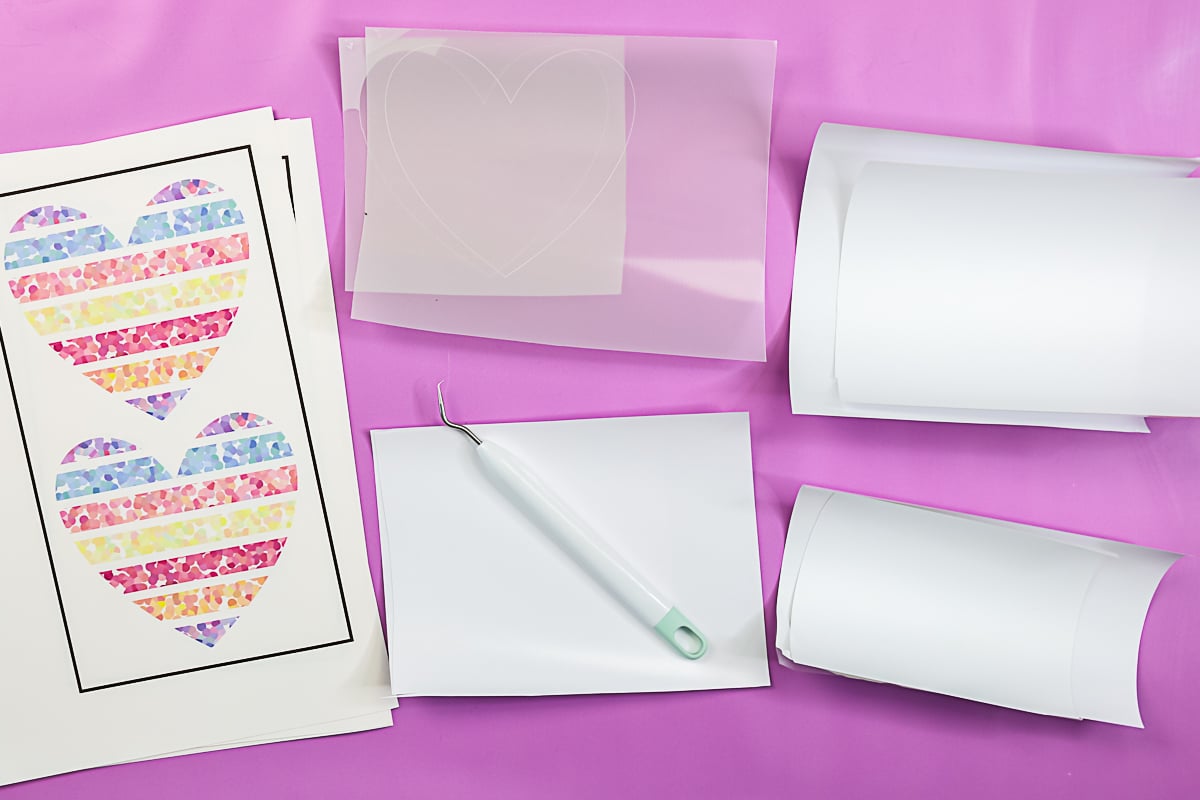 NOTE: On the clear Dye Sub HTV, both sides are shiny. It's the rough side that goes against the mat, and then you cut it on the iron-on setting. The best way to tell is to take one of the corners and start peeling it back and see what is your liner side.
I cut and weeded two of each heart so I could do the same thing on the black and white shirt. You can just cut the sublimation hearts with a pair of scissors. Leaving white around the outside edge isn't going to hurt anything.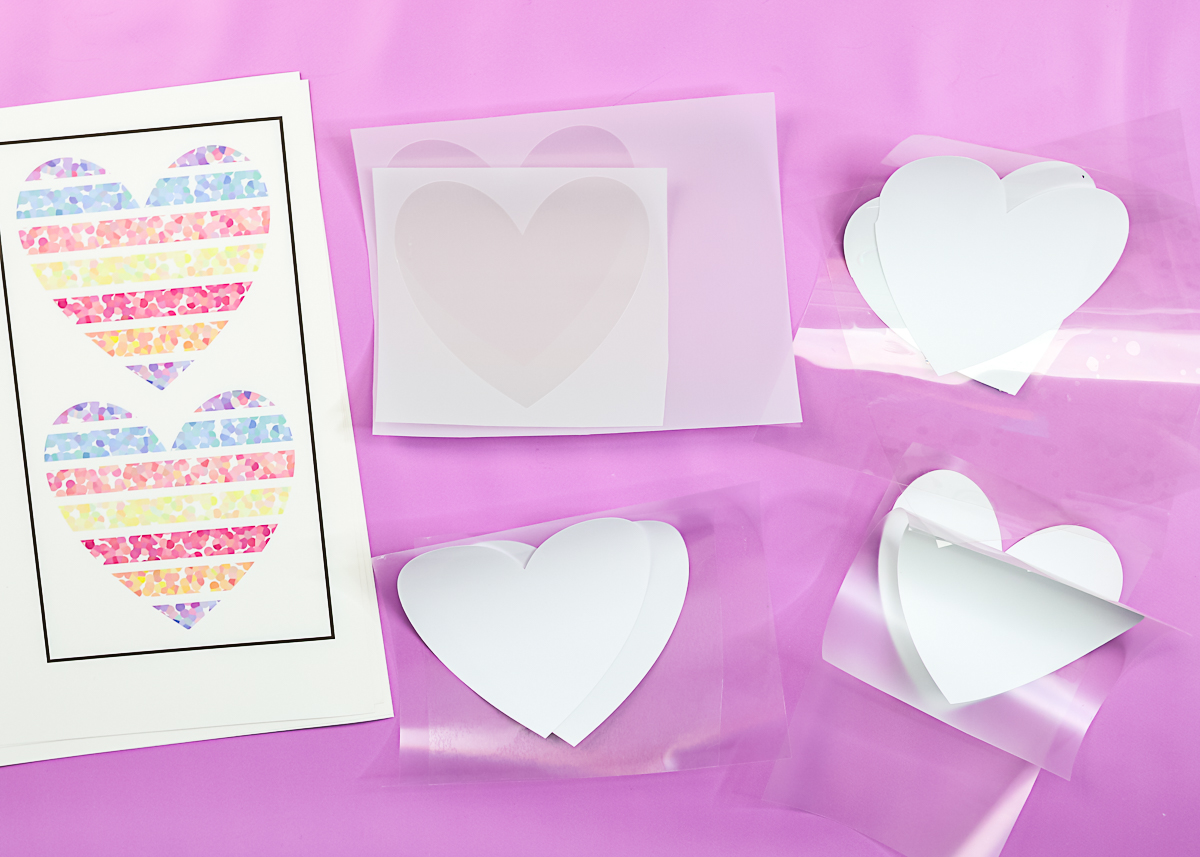 Pressing HTV on Shirts
For the shirts, I'm going to lint roll and prepress every shirt to remove any moisture as well as any dirt or debris. I'm going to press each of these vinyl pieces on first and then sublimate then after. Here are my times and temperatures for each product:
Dye sub clear 320 degrees Fahrenheit for five seconds, peel cold.
Mystic white is 320 degrees Fahrenheit for 10 seconds, peel cold.
Siser HTV is 305 degrees Fahrenheit for 10 seconds, peel hot.
Cricut Everyday Iron-on is 315 degrees Fahrenheit for 15 seconds, peel cold.
This is just to press the HTV on. We'll have different times and temperatures to do the sublimation on the top.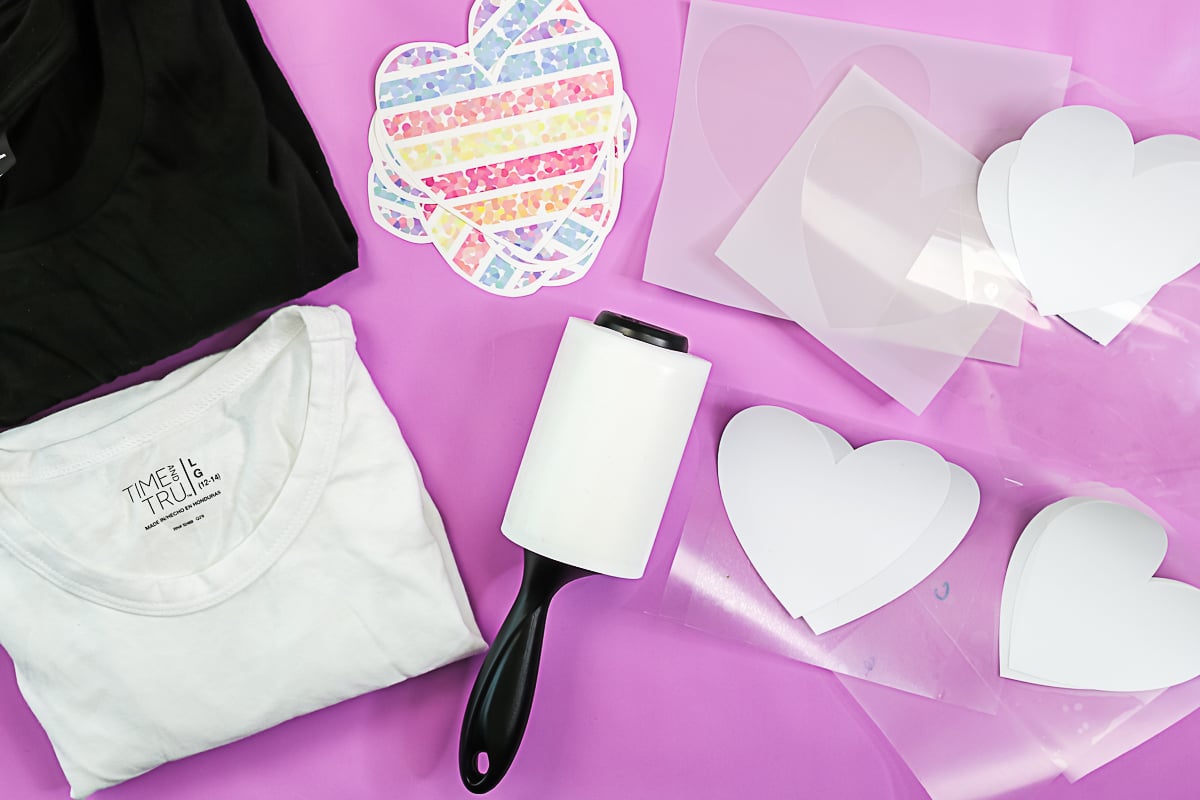 HTV Before Sublimation
Let's take a look at these before sublimation. I will say the Clear Dye Sub was definitely the hardest one to get to stick to the shirt. The directions were 320 for five seconds. I ended up doing 320 for 15 seconds. I just could not get it to stick. NOTE: You need to lint roll this one REALLY well before pressing as I could see lint through mine after pressing.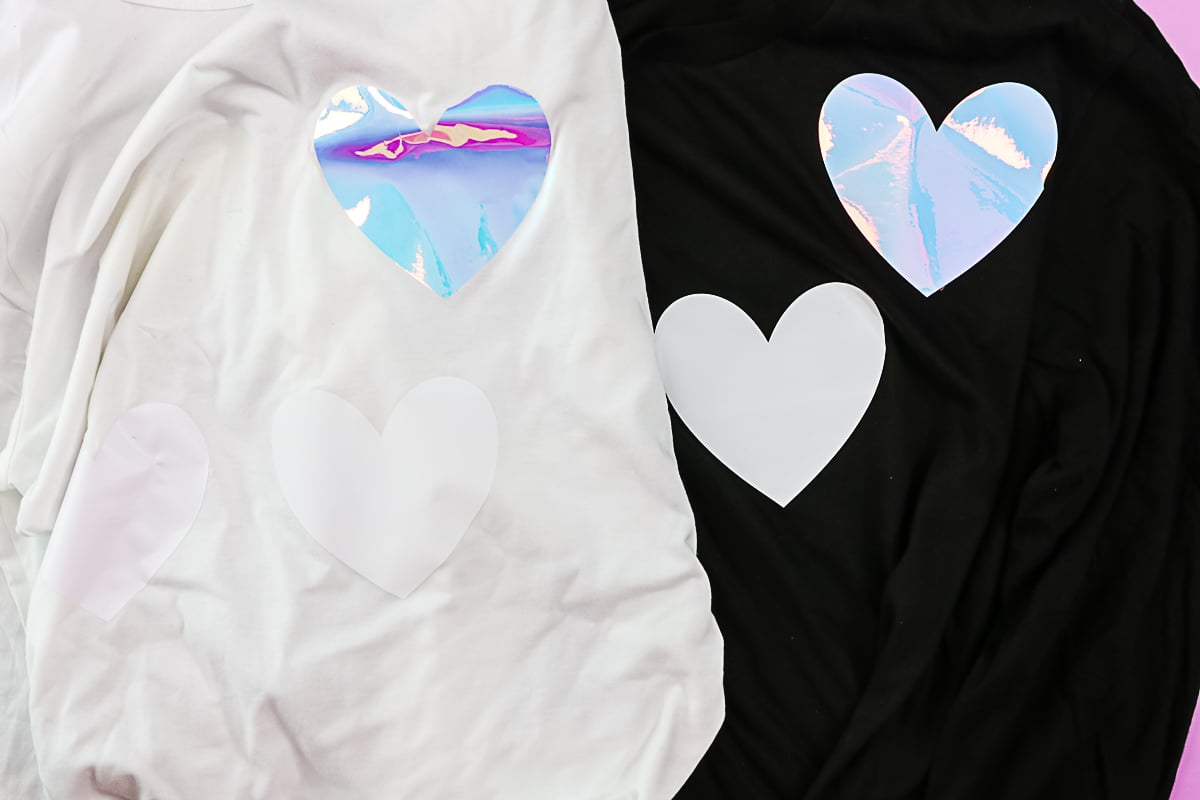 Upper left is the clear dye sub. Upper right is the Mystic White. Bottom left is the Siser and the bottom right is the Cricut.
NOTE: You can see that you can barely see the clear on the white, but the clear on the black looks off-white.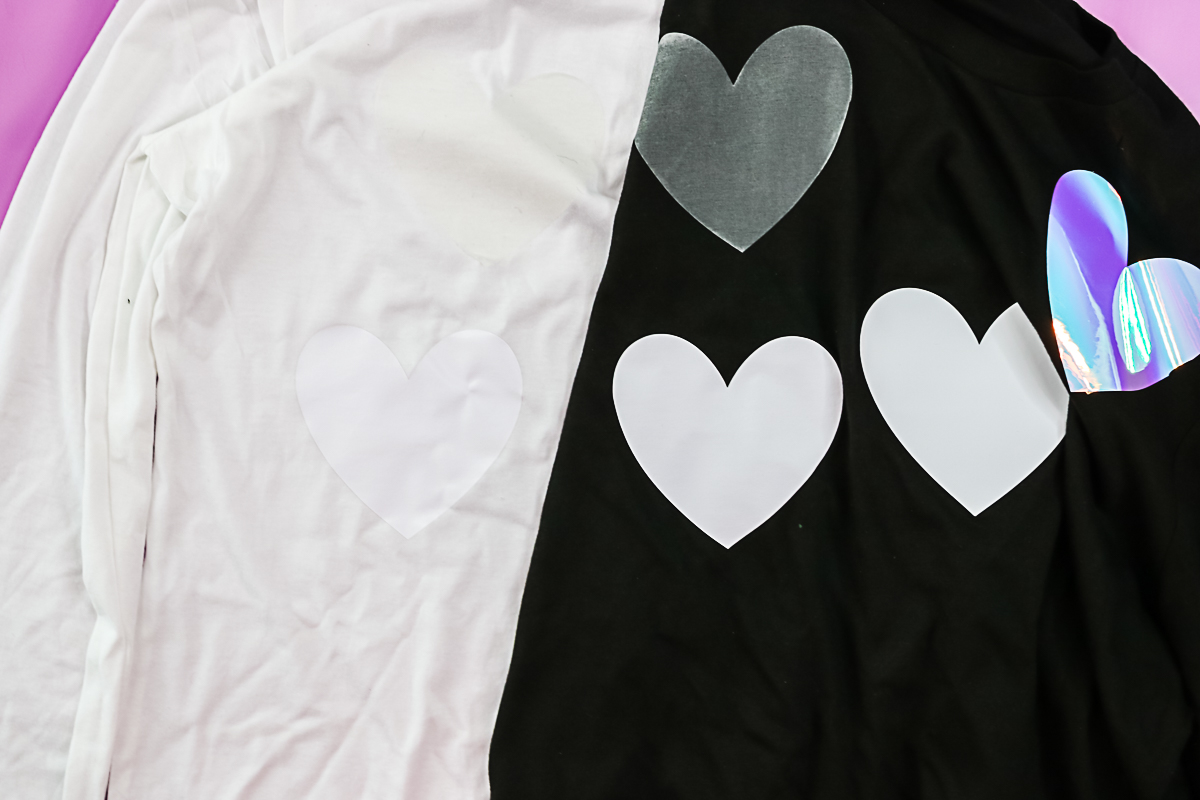 Sublimation on HTV
I'm going to sublimate my hearts on top of each HTV heart. I'll lint roll the heart, put the sublimation print in place, locating as best as I can, tape that down, and press. Here are the times and temperatures I am going to try:
Dye sub clear 380 for 30 seconds.
The mystic white, Siser, and Cricut is 356 for 25 seconds. I'm kind of experimenting on these three, so I'm not sure.
Let's take a look at each of these in detail before I put them in the laundry. NOTE: I will be waiting 24 hours before putting any of the shirts in the laundry. I also am putting a sublimation heart on a polyester shirt and I will not be washing that one at all to have something to compare to.
Clear Dye Sub HTV
This is sublimation on the Clear Dye Sub HTV. You can see it on black, white, and the shirt on the right is sublimation on a 100% polyester shirt for comparison. This product is definitely not for any shirts that have any color. However, the sublimation on the dye sub clear on white looks amazing! I'm interested to see how well it looks once it goes through a few laundry cycles. I mentioned the lint under this clear, and you can still see it now that I've sublimated on top. I would recommend lint rolling really well before you press the HTV.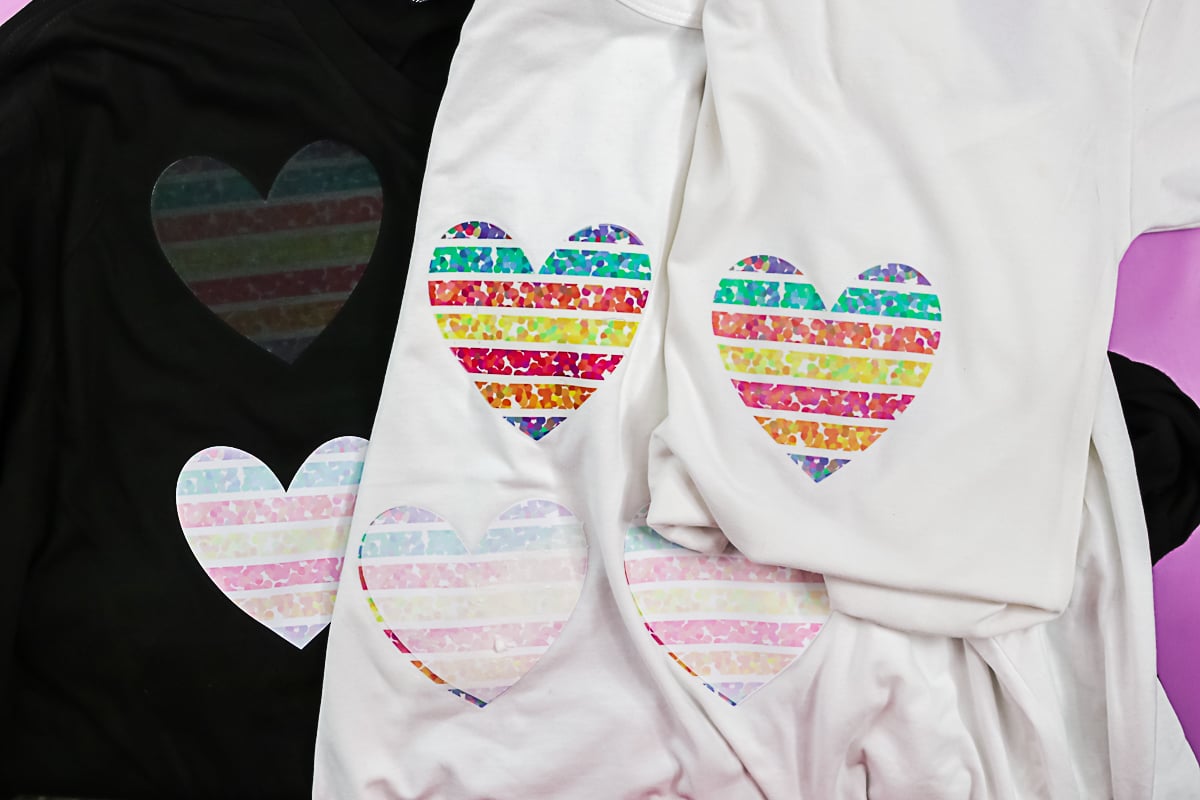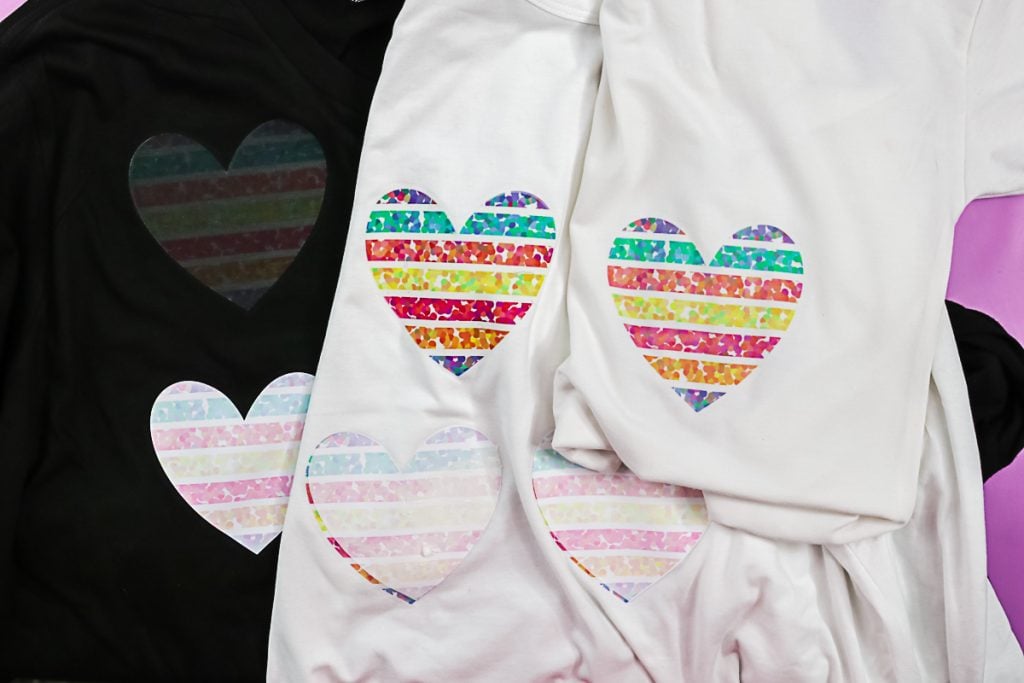 Siser Mystic White
You can see a comparison below between black, white, and then the 100% polyester shirt. You can see it looks really good now. We'll see what it looks like once I run it through the laundry, but that metallic color shows through your sublimation. It will alter your print a little, but you may actually like this look.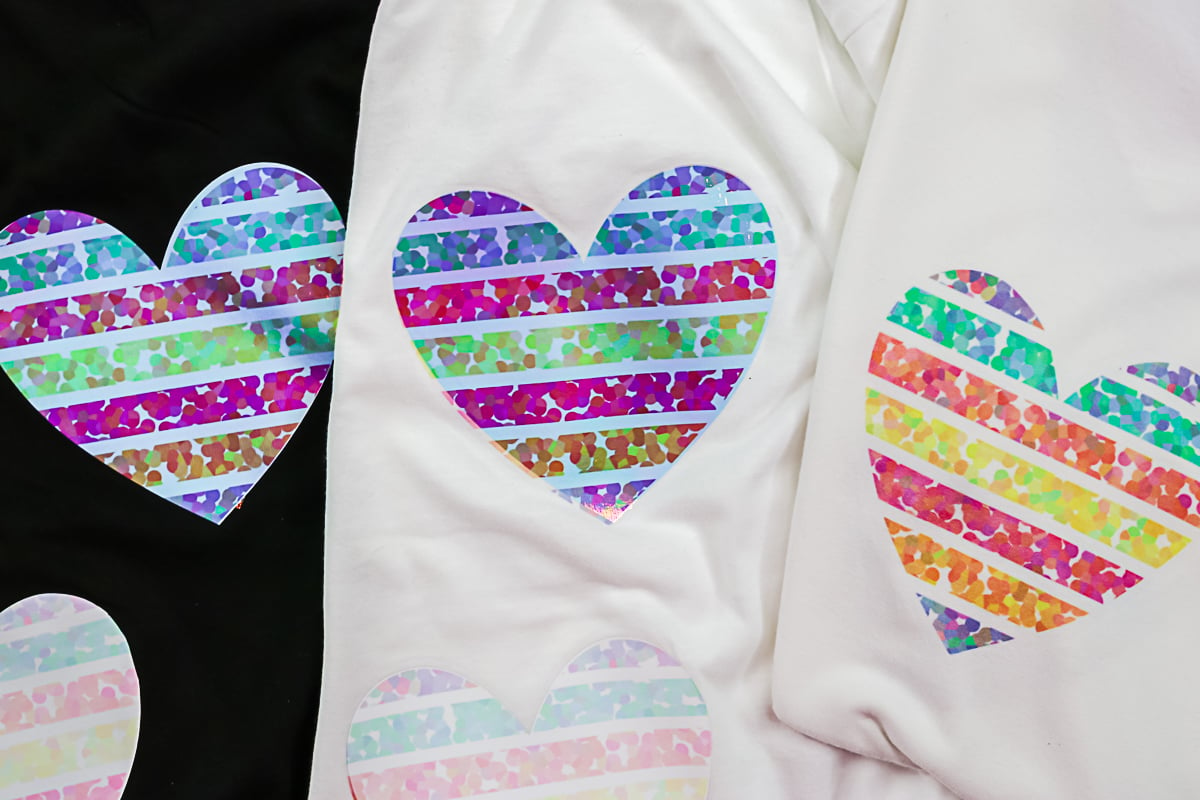 Siser HTV
The print was coming out super light on this one, so I went back and pressed at 380 for about 20 seconds on both of these. Then, the paper started sticking. These actually look like they have a little thin coat of paper on top. We'll take a look at this after I run it through the laundry the first time. This paper may come back off and it may be bright, but as you can see, it's super light compared with the polyester sublimation shirt on the right.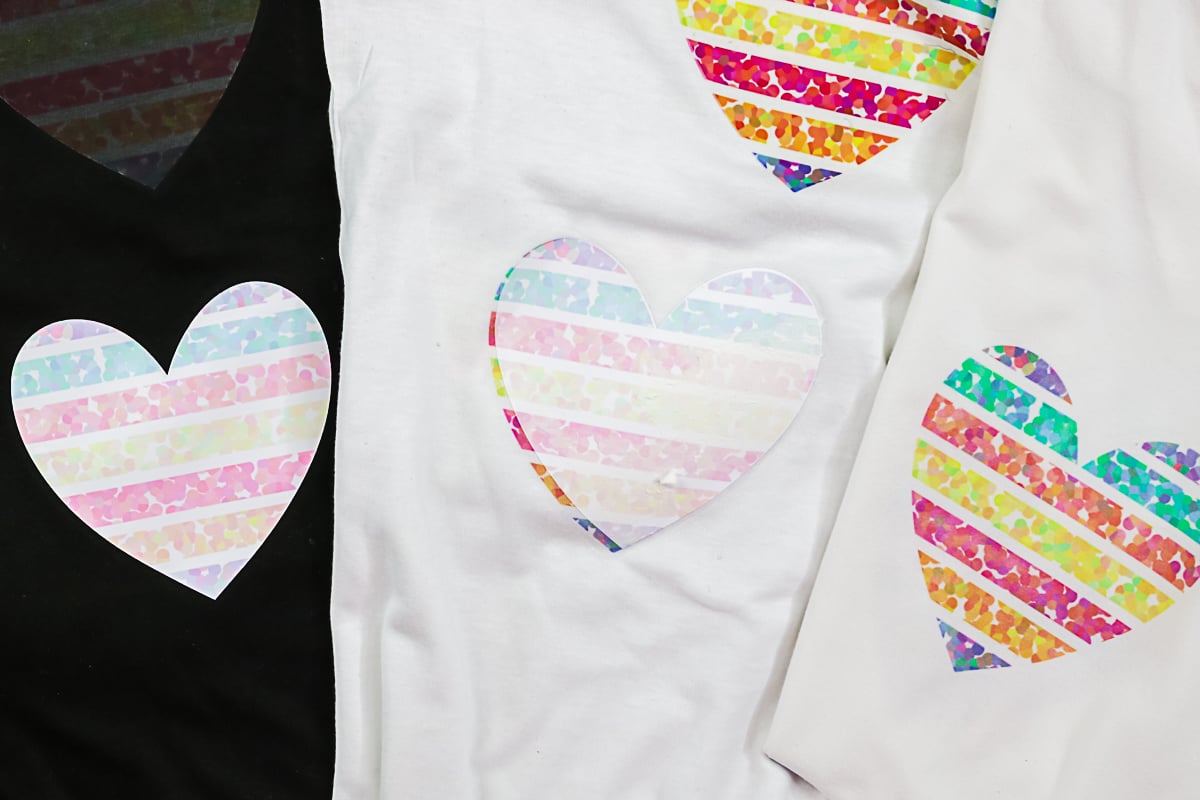 Cricut Everyday Iron-On
The Cricut Everyday Iron-On is basically the same as the Siser above. Again, it looks super light, so I pressed it that second time. There might be some paper on here as well. It is still light looking compared to the polyester sublimation shirt. Keep reading to see how these hold up after washing.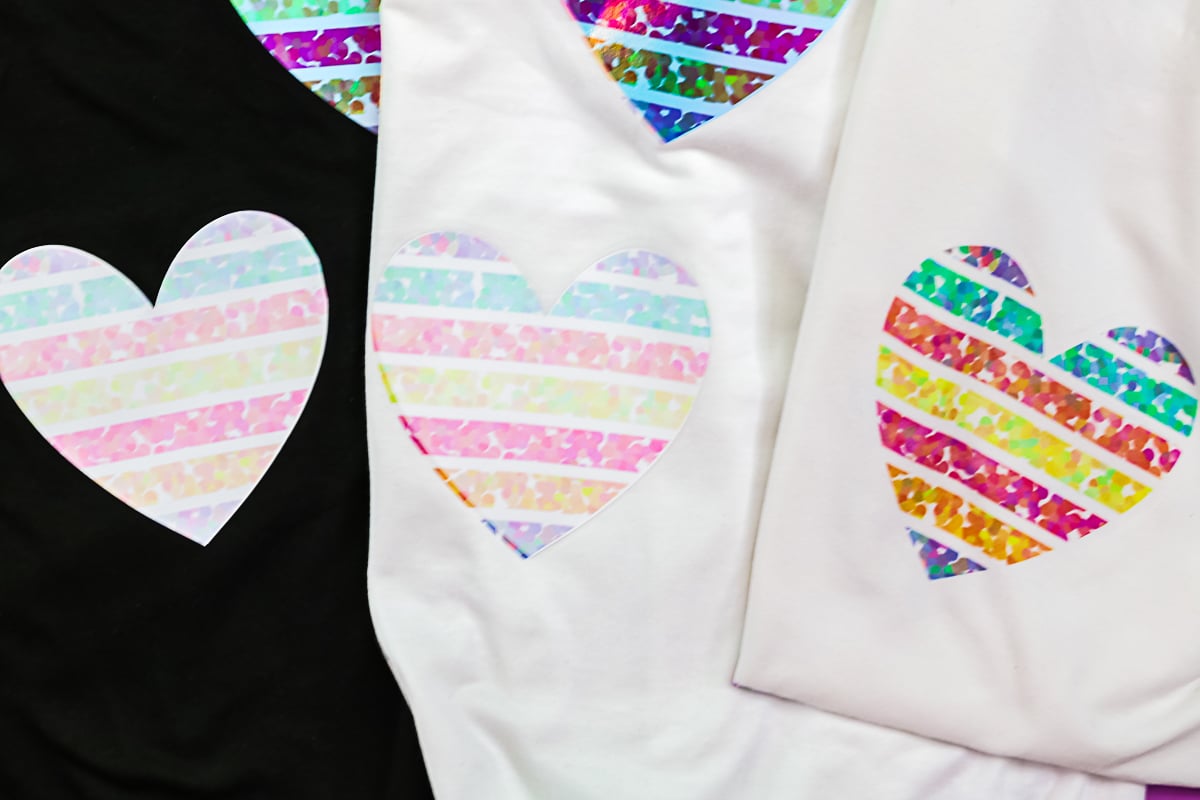 Results After One Wash
Let's take a look after just one laundry cycle. There is no longer any paper on both of the Siser and the Cricut products, but there's also very little ink. The ink basically came out in the first laundry cycle. The top shirt is the one that is 100% polyester for comparison so you can see just how much fading there is. I definitely think the Siser and the Cricut regular white HTV is a fail. The clear and mystic white still look good so I am going to wash these shirts a few more times.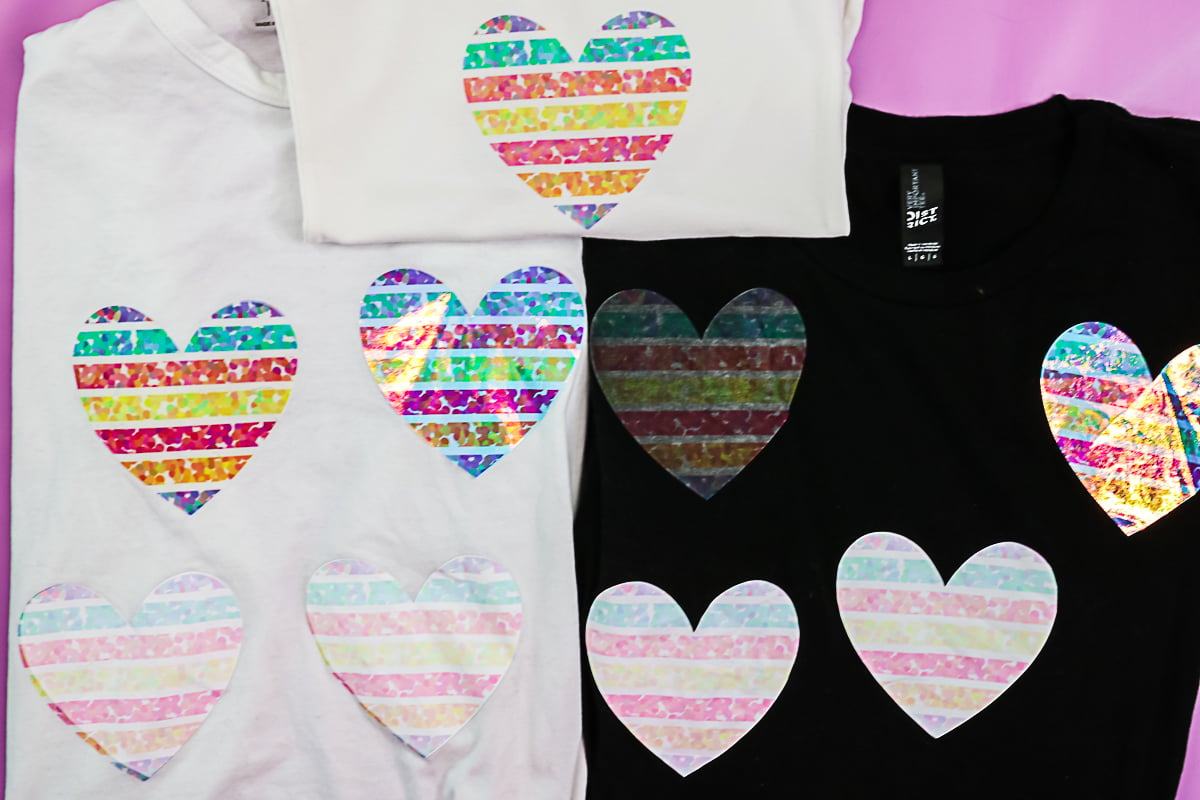 Results After Several Washes
Let's take a look after four laundry cycles. This is the Clear Dye Sub with the polyester shirt in the middle. As you can see, the Dye Sub is still super vibrant. I'm really in love with this product. It feels great on the shirt, and has hardly faded at all. This is definitely a winner in my book. The product does not look great on a dark shirt. You can see the dark definitely shows through. It's definitely not for dark shirts. Stick with white or light shirts with this product.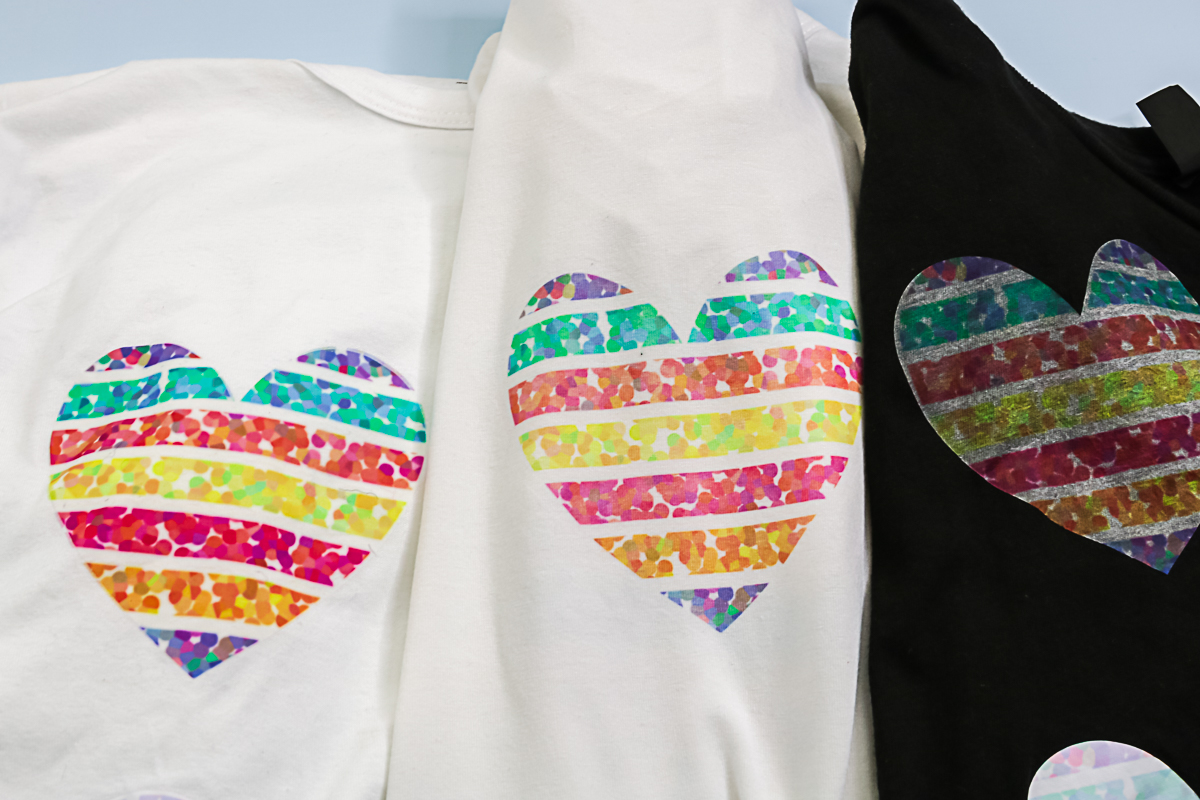 Next up, you have this Siser Mystic White, which looks great after the four laundry cycles. As with any holographic HTV, I find that it's kind of cracking a little bit or looks wrinkled. I find that with any holographic. I did do all of my cycles in cold water and hung them to dry. The polyester shirt is in the center for comparison. As you can see, it looks great on the dark shirt as well. If you love the look of holographic HTV, definitely pick up some of the Mystic White and try it on your shirts for sublimation on HTV.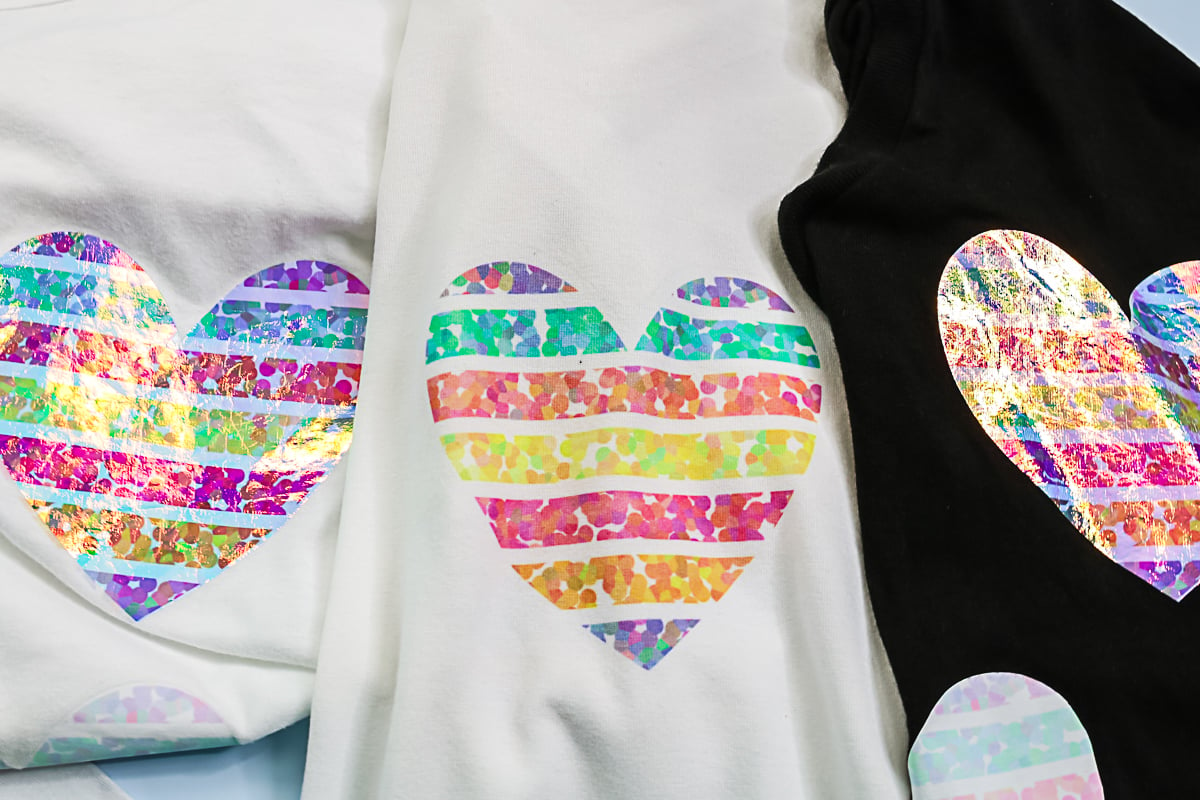 Which Do I Recommend?
The clear winners for me were definitely the Clear Sub and the Mystic White. I'm not a huge fan of holographic HTV, so the Mystic White for me is out, but you might like the feel and love the look. With the clear, of course, we have the downfall that it is clear and can only be used on something light, but the feel is amazing. You can barely feel it on the shirt. I would say it's similar to, or maybe even better, than the EasySubli.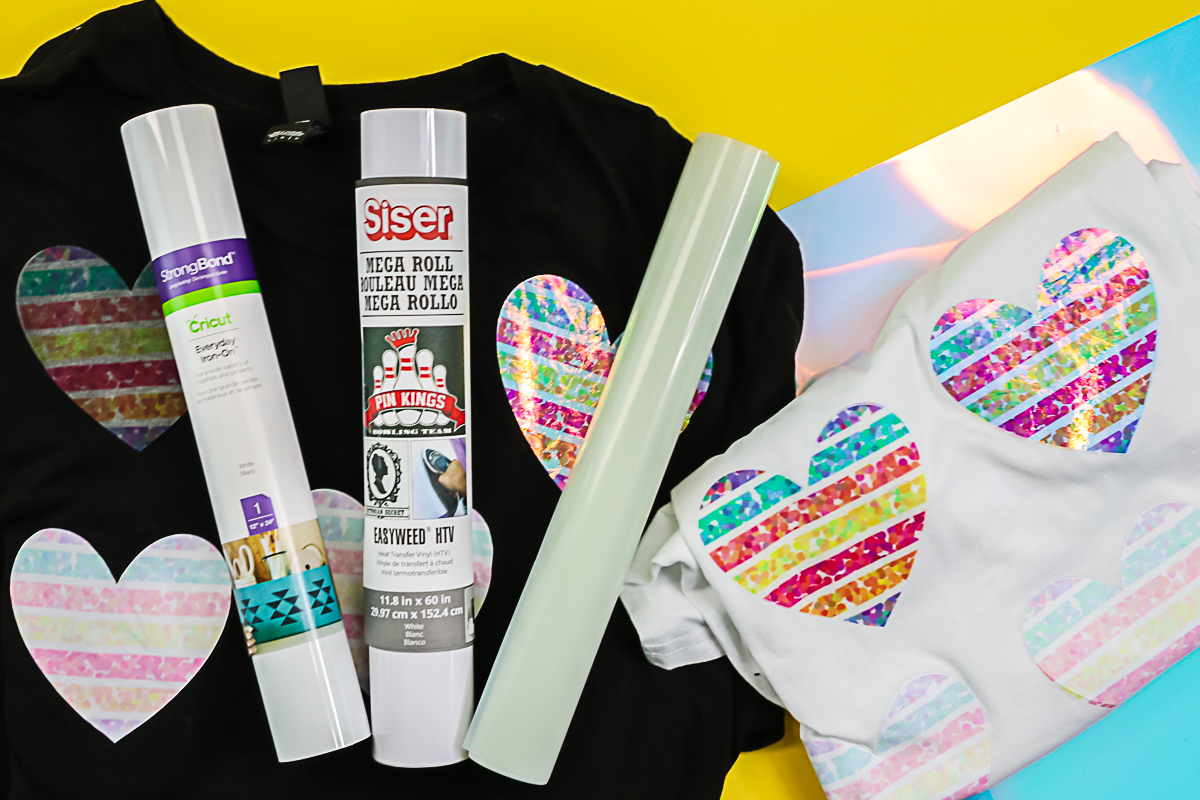 If I were doing a white cotton shirt, I would probably pick the Clear Dye Sub, but I would make sure that I got all of that lint off of the shirt before pressing. Can you sublimate on any HTV? The answer is no. It does still need to have some sort of polyester content, and not all HTV products do. Can you experiment with different HTVs just like I have here? Definitely. If you have an HTV product that you're curious about, run it through some tests and see if it'll work.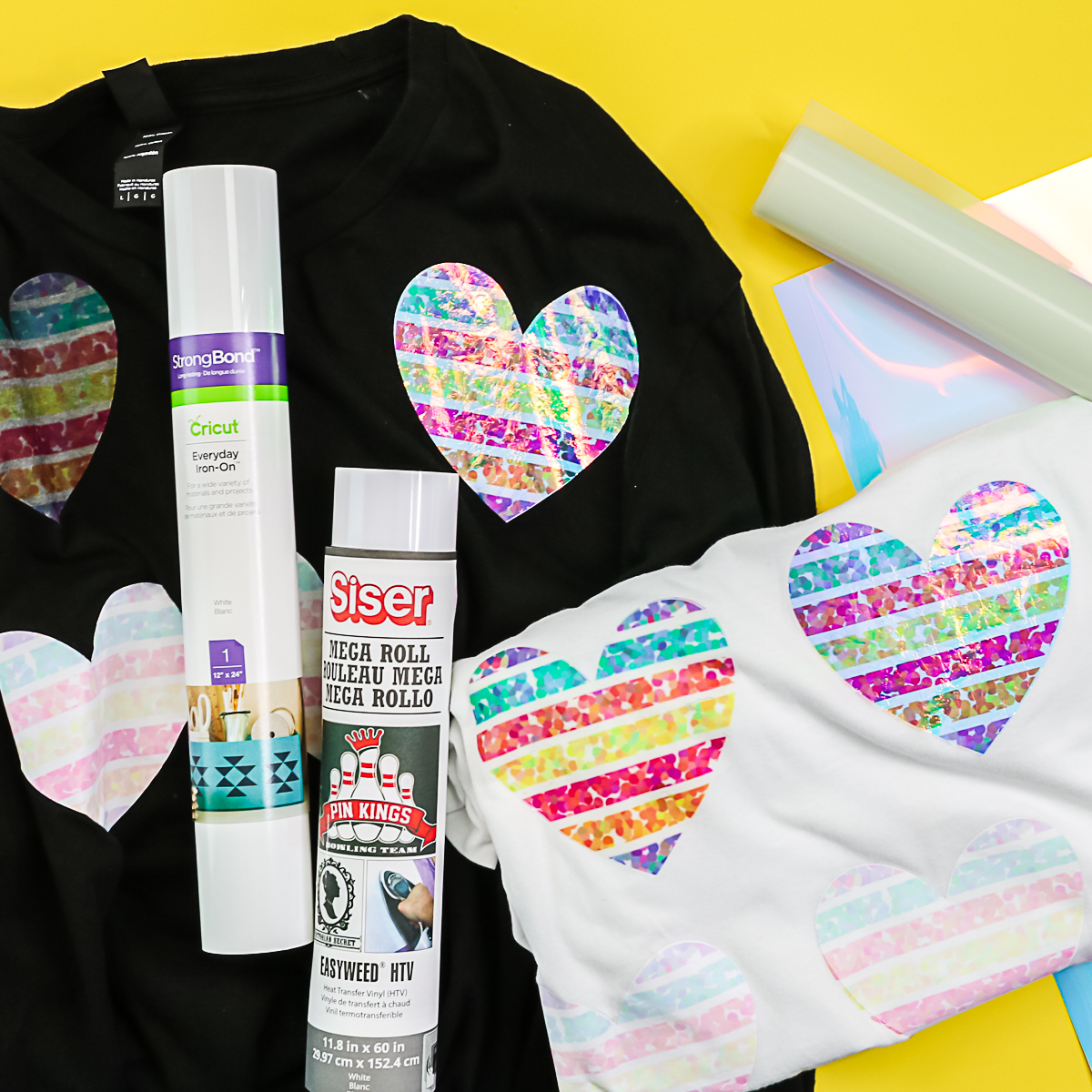 Try sublimation on HTV for your next project. You may love the look! If you are looking to do a cotton shirt, you might just find that sublimation on HTV is the clear winner for your project.