I have been making these twice baked potatoes for years. I developed this recipe over time and I have never seen anyone use these ingredients. My secret? Cream cheese! That is definitely what makes these little potatoes the star of the show. We eat these as appetizers or finger foods. Just grab em up and eat them skin and all. Be sure to read to the bottom of this post as I am joining in with some other bloggers to bring you even more appetizer recipes for the big game. Oh yes game day will be here before you know it.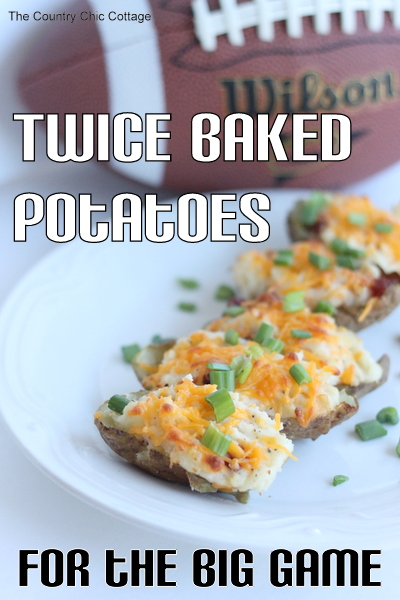 Twice Baked Potatoes
Ingredients:
7 small to medium sized potatoes (baked)
3 tbsp butter
2 oz cream cheese
1/4 cup sour cream
1/2 tsp salt
1/2 tsp pepper
1/2 cup real bacon bits
1 cup shredded sharp cheddar cheese (divided)
chopped green onions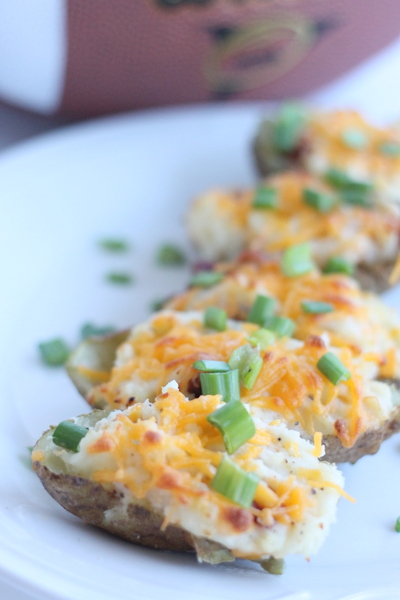 Bake potatoes before beginning and allow to cool enough to handle. Preheat oven to 425 degrees. Cut each potato in half and scoop out insides with a spoon. Place insides of potato into a large bowl. Place empty potato skins onto a baking sheet. Add the following to the potato in the bowl: butter, cream cheese, sour cream, salt and pepper. Slightly mash potato with a fork while you mix in ingredients. Mixture should be slightly chunky when finished. Add bacon bits and 1/2 cup sharp cheddar to potato mixture and stir to combine. Add potato mixture to potato skins until they are all full. Sprinkle the tops with additional 1/2 cup sharp cheddar. Bake potatoes for 10 – 12 minutes until tops are slightly brown. Garnish with chopped green onion if desired. Eat these whole as an appetizer or a side dish for any meal.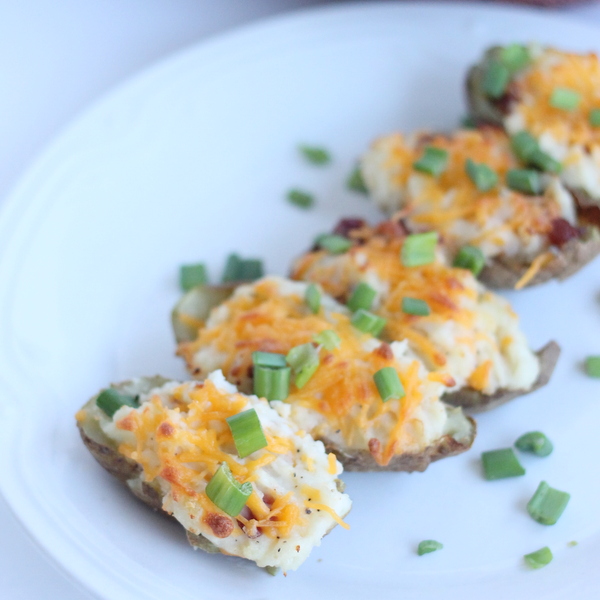 I hope y'all enjoy my version of the twice baked potato. Need more ideas for the big game? You are in luck today! I have gathered up some blog friends to give y'all even more appetizer recipes today.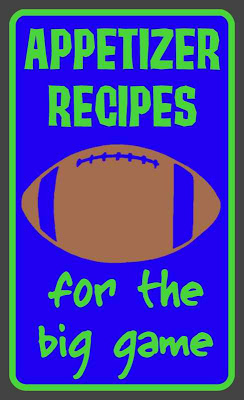 Head on over and visit these lovely ladies to complete your meal for the Super Bowl. Just the titles of these recipes make my mouth water. I might just have to try out some of these before big game day…what about y'all?