It is time for Crafty Hangouts again. This month we have mason jar crafts all week long. I am kicking things off with these two toned dyed jars that are perfect for candle holders. Plus you can make them in just a few minutes. The hangouts this week are actually sponsored by Ball brand. I am using two different Ball brand jars in this video and if you will hang around until the end of the week I will use a different type of jar for another craft.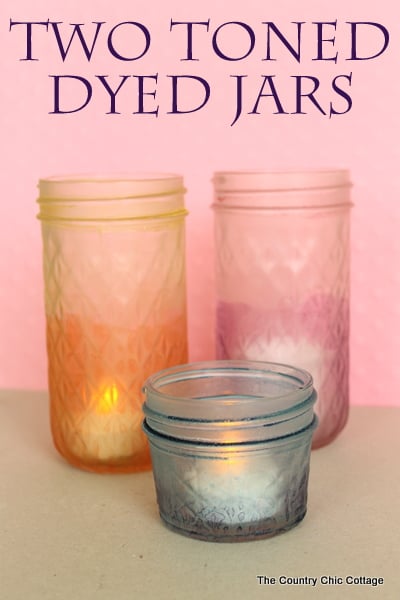 You can see how to make the jars above LIVE in the video below. Yep in less than 10 minutes you can learn how to make these two toned dyed jars plus another jar craft from my friend Carolina who blogs at 30 Minute Crafts.
In case you miss any of the instructions, here is how to make the dyed jars in a few simple steps:
Protect your work surface, clothing, etc.
Paint the outside of the jar with decoupage medium.
Allow to dry completely.
Shake the RIT dye well then dip your paint brush directly into the bottle.
Apply one color of RIT dye to the bottom in a thin even layer.
Apply your second color of RIT dye to the top but this time allow to drip a little to blend the two colors in the middle.
Allow your project to dry completely before touching.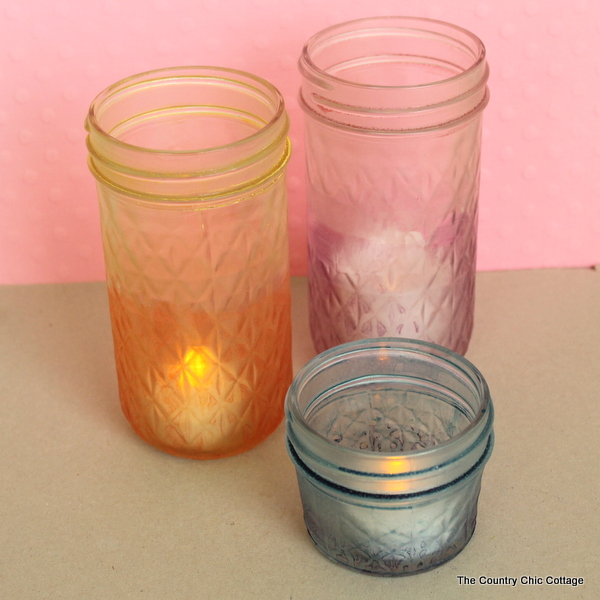 Add candles and you have gorgeous two toned dyed jars for candle holders at a party, your home, or even a wedding. Or pop in some spring flowers and use these as a vase. Maybe make a bunch of these for a centerpiece for a spring party? I am sure you can come up with a place to add these dyed jars to your life!
A huge thank you to Ball for supplying the jars for this project. I am also a member of the RIT Dye blogger network. However, all projects and opinions are my own.
A Year of Jar Crafts
Sign up for our email list to get a FREE book with an entire year of jar crafts! 12 months, 12 crafts, tons of fun!