How is your garden this year? More produce then you can eat yet? Well I have the solution for you in my ultimate guide to canning, freezing, and preserving summer produce. I have been canning and preserving my own food for over 15 years and love the results. We have a pantry and freezer full of great tasting produce all year long. I thought I would gather some recipes of my own plus some additional ones from around the web for you all today.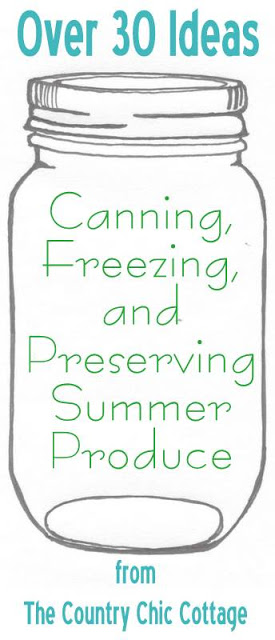 I personally recommend the purchase of the
Ball Blue Book
as the authority on all canning, freezing, and preserving of food. The links below will give you recipe ideas and techniques but the blue book is the authority on how to safely preserve all foods.
Links for canning:
Links for freezing:
Freezer Slaw
Freezing Corn on the Cob
Freezing Bell Peppers
Other preserving links:
Now go get those goodies out of the garden and preserve them for winter. Be sure to bookmark this page so you don't miss this ultimate guide to canning and freezing summer produce.