I have a special place in my heart for driftwood. It is all rustic and worn but also gives a nautical feel to any craft you add it to. I thought I would share these 25 driftwood crafts with you today just in case you need a little summer decorating inspiration. Be sure to click over and visit the links for instructions on how to make each one of these great craft ideas.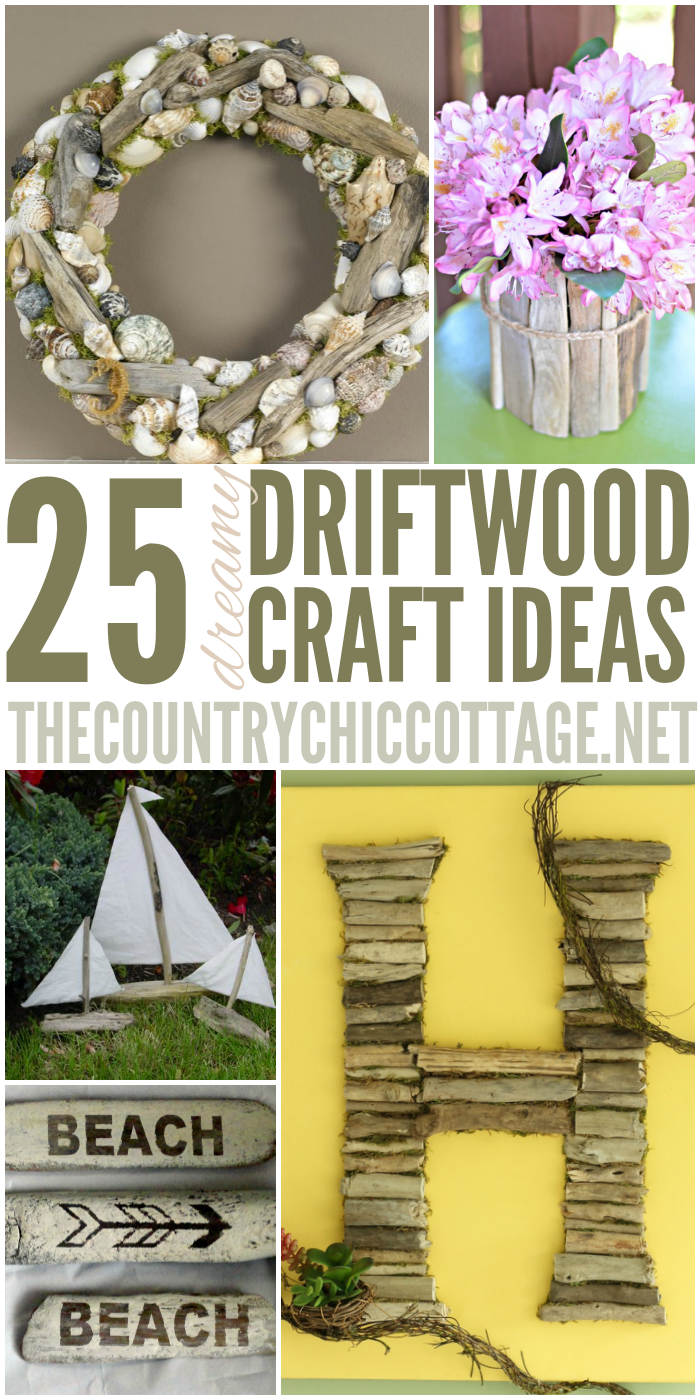 25 Easy Driftwood Crafts for Your Rustic Home Decor
1. Driftwood Monogram Art | Source: The Country Chic Cottage
2. Driftwood Vase | Source: Everything Etsy
3. Driftwood and Seashell Wreath | Source: Crafts 'N Coffee
4. Driftwood Sailboats | Source: Holy Craft
5. Acorn and Driftwood Garland | Source: Table and Hearth
6. DIY Driftwood Table | Source: A Bubbly Life
7. Stamped Driftwood | Source: The Country Chic Cottage
8. Driftwood Planters | Source: Blue Fox Farm
9. DIY Driftwood Wreath | Source: This Girl's Life
10. Floating Driftwood Shelf | Source: Lotts and Lots
11. Colorful Driftwood Garland | Source: City Girl Gone Coastal
12. DIY Driftwood Sailboat Mobile | Source: Scissors Paper Wok
13. Driftwood Sunburst Wreath | Source: Sadie's Seasongoods
14. Driftwood Wall Hanger | Source: Spark and Chemistry
15. Driftwood Beach Signs | Source: Holy Craft
16. Driftwood Trivet | Source: Blah Blah Magazine
17. Driftwood Mirror | Source: I Don't Know How She Does It
18. Driftwood Seahorse | Source: Creative In Chicago
19. DIY Driftwood Candelabra | Source: Green Wedding Shoes
20.Driftwood Candleholder | Source: Home Talk
21. Driftwood Star | Source: The Pleated Poppy
22. Driftwood Orb | Source: Made in a Day
23. Driftwood Fish | Source: The Space Between
24. DIY Driftwood Jewelry Holder | Source: Intimate Weddings
25. Driftwood Sailboat | Source: The Country Chic Cottage
Love these? Be sure to check out this spring monogram made with driftwood as well! I know I love driftwood crafts and I bet y'all do as well!