If you are anything like me, Christmas has left you with tons of stuff that needs to go SOMEWHERE! I am taking 30 days in January to make my life more organized and strive for a clutter free home. And I want YOU to join me! The idea is to tackle your clutter in bite sized pieces so that you don't feel overwhelmed. Sounds great right? Read on to learn more!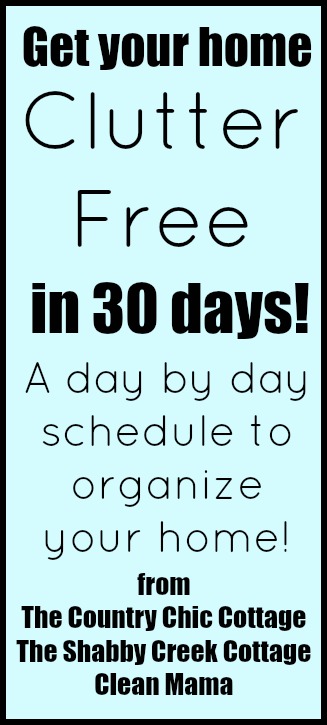 Looking for a little order in your chaos? How about daily prompts and reminders delivered directly to your inbox? Sounds great right? I have the perfect way for your to get clutter free this year!
Want a preview? Here is the schedule for each day:
So will you join us? You can just sign up using the form below and the emails will start coming in! Follow along at your own pace and you will have a clutter free home before your know it! Sign up in the box below.
You can get your entire home clutter free in just 30 days with our guidance. Each day you will get an encouraging email with step by step instructions for that day's task. You can complete each one in 30 minutes to one hour generally. However you may have areas that take much longer! That is why getting these prompts delivered to your email is the best solution. You can work through everything at your own pace and come out at the end with a more organized home. Sounds great right?? Don't forget to sign up above and get started on making your own clutter free home today.
Need more tips for a clutter free home? Try these!
Declutter Your Home in 31 Days!
Clear the clutter and organize your home with our daily emails! Every day for a month we will send you a prompt to declutter! Sign up for our email list below to get started.