It is that time of the year. Dreaded tax season. And with that comes my desire to tame my office paper clutter. I came up with a few solutions that I thought I would share with y'all today. These are all ways in which I am putting a STOP to my cluttered office. Plus I hope this will make me more organized for next year's taxes as well. Or at least I hope it will.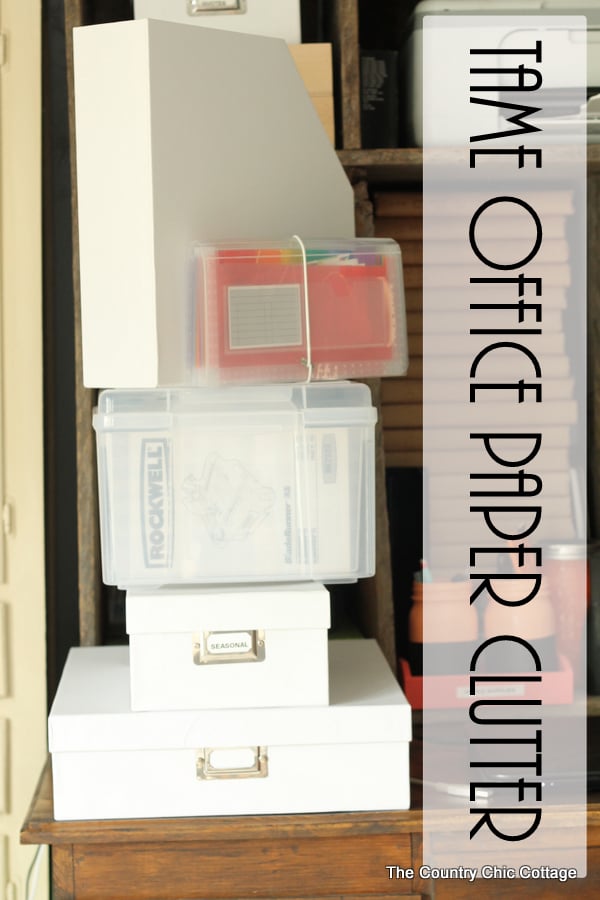 Tame Office Paper Clutter
I am sharing my favorite products for paper clutter in the video below. You can click play and see the items I like to use in my home plus a bit about how I use each one.
Can't watch the video or missed some of the steps? I have everything you need to know below as well!
Items to Use for Paper Storage
Here is my ultimate list of items to use for storing and organizing your paper clutter. These will go a long way to help you get and stay more organized. You can click on the link for each one for purchasing options. I have how I use each of the products listed below but I am sure you can come up with even more ways to use these in your home.
Photo Storage Box – these come in a wide variety of colors and are great for so much more than just photos. Store a variety of small papers in these boxes to get organized. The metal holders on the front for labels are my favorite part of these cute and classic storage options.
13 x 14.75 x 3.75 inch White Storage Boxes – this is a larger version of the photo storage boxes above. If you are looking to organizer larger papers, these are definitely for you. They are intended to hold 12×12 paper but I like these for organizing all sorts of paper sizes and they still have those great metal holders for labels on the front.
Tie Front Portfolio Envelopes – these are perfect for keeping like papers together for long-term storage. I even drop folders full of paper in these so they don't spill out once put in a storage bin. If you plan on storing away some of your papers, these are a must.
Spectrafile Organizer – great for receipts and small paper but I also use these for organizing my recipes. The small size and dividers make this a great option for tons of things in your office. This would also make a great organizer on the go if you want to keep it in your car for tax receipts.
IRIS Storage Box – this is made for cards but it can organize so much more! This is super sturdy with dividers that won't move or shift. Perfect for so many types of paper clutter plus they are stackable so you can buy as many as you need!
Dymo Label Maker – a must for any organization task! I love this label maker and I use it in a wide variety of areas of my home to organize just about anything. So, once you tame your office paper clutter, you can take this to other spaces and freshen them up as well.
Vertical Paper Holder, 12 by 12-Inch – if you think standard magazine holders are too small, these are for you. Extra-large for plenty of space that will store even your largest papers.
Grab an idea or two or more for your home office. You will be thankful when you can find your receipts next year at tax time! Tame that office paper clutter y'all!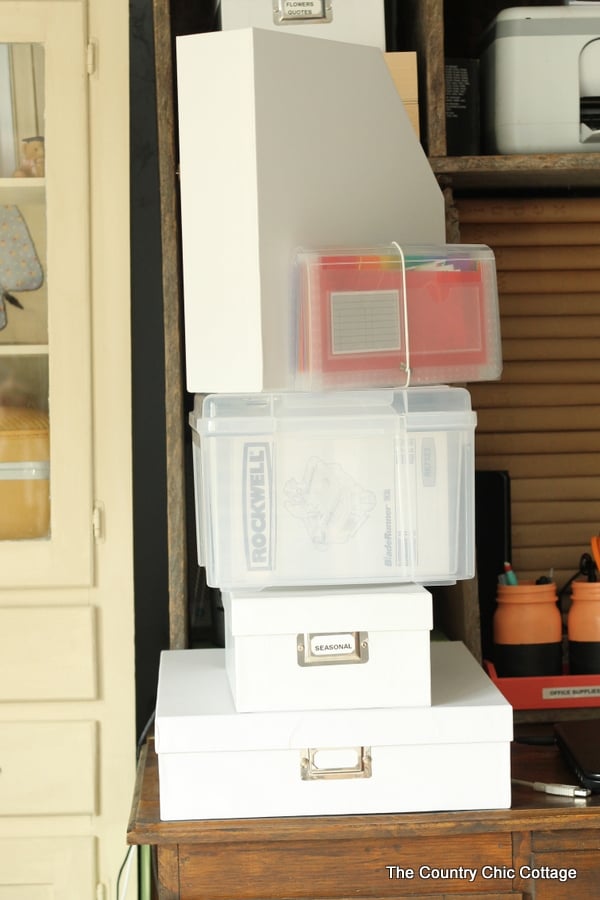 Declutter Your Home in 31 Days!
Clear the clutter and organize your home with our daily emails! Every day for a month we will send you a prompt to declutter! Sign up for our email list below to get started.