Making your own patriotic home decor is so much easier than you may think. Today, I am going to show you how to make this patriotic pot with red, white, and blue flowers. Add it to your mantel with our patriotic bunting for the season or even a party table to decorate for guests. Either way, everyone will love this cute clay pot and its patriotic flowers.
This one was first published on June 13, 2013, however, I am republishing with more information.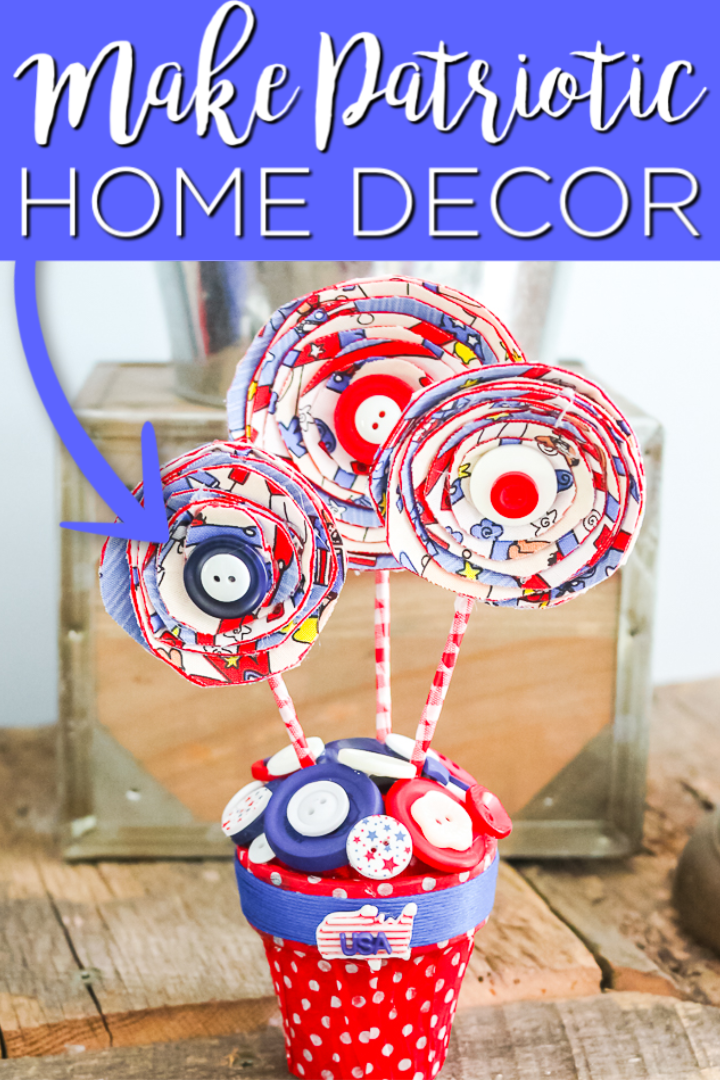 Supplies needed:
Buttons
Phoomph (you can also use stiff interfacing)
Ribbon
Embroidery thread
Foam ball
Tissue paper
Dowels
Hot glue and a glue gun
Serrated knife
How to Make Patriotic Home Decor
Now that you have your supplies, it is time to put them together to make something amazing. There are quite a few steps but the project overall is super simple to make so hang in there!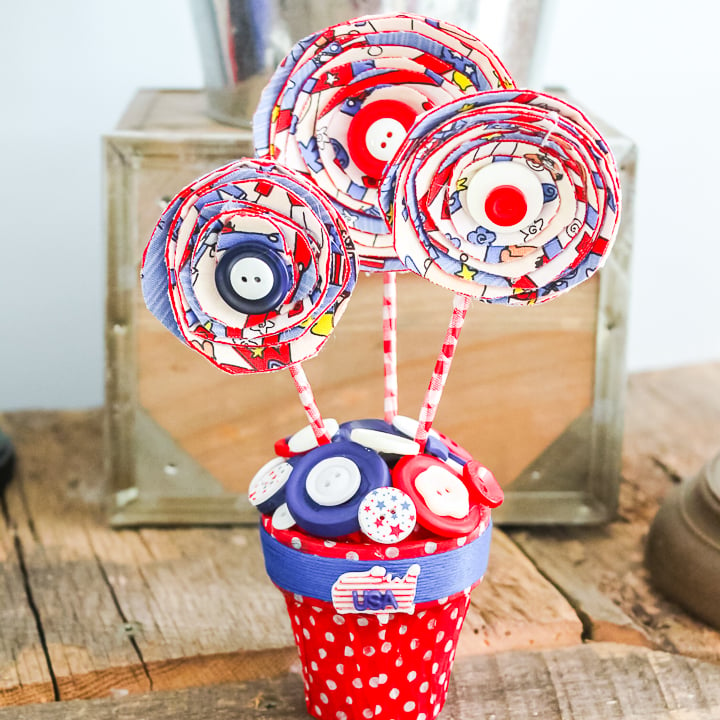 DIY Patriotic Craft Idea
You are going to love how this patriotic home decor looks in your home.
Supplies
Patriotic fabric

Buttons

Clay pot

Phoomph

you can also use stiff interfacing

Ribbon

Embroidery thread

Foam ball

Tissue paper

Dowels

Hot glue and a glue gun

Serrated knife
Instructions
Wrap a small clay pot in tissue paper and adhere with Mod Podge. I used two sheets of tissue paper on my pot. I am using a polka dot tissue paper but plain colors would work as well.

Insert foam ball into clay pot. Press down to get an indention on your ball.

Use a serrated knife to cut the ball along that line.

Your ball will now fit into your pot. Press it down well and use hot glue if it needs to be secured.

Then wrap some short dowel rods with washi tape.

Insert washi covered dowels into ball in three different locations.

Add some ribbon randomly onto your ball with hot glue. We are going to cover this entire area with buttons in a few minutes. The ribbon is only for those areas that may be visible in between the buttons. I also wrapped the upper portion of my pot with some blue embroidery thread.

To make the fabric flowers, apply fabric to both sides of the Phoomph sheet then cut into a rough circle. You can also apply stiff interfacing to two pieces of fabric then glue them together back to back. You just want to make sure the flowers stand up and the fabric doesn't fray when cut.

Cut that circle into a spiral as shown.

Starting in the middle use hot glue to form your spiral into a flower. Add buttons to the center of each flower.

Add lots of buttons around your pot with hot glue.

Use additional hot glue to add your flowers to the tops of your dowels. Then add this project to your home decor for summer. You will love how it looks!
Tried this project?
tag us to show off your work!
This project is easy enough for beginners but makes a great statement piece around your home during the summer months. Does anyone else add red, white, and blue to their home in the summer? I love adding a few patriotic touches to my home to celebrate America and freedom around both Memorial Day and 4th of July.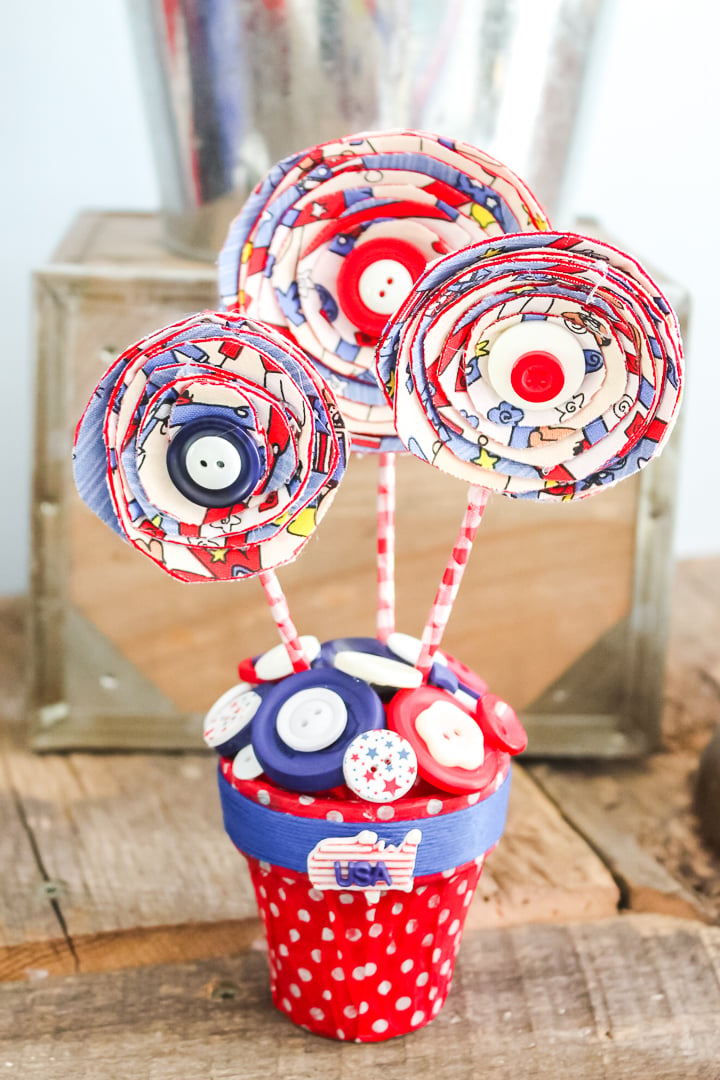 You might even have a bunch of old buttons laying around which means that you have most of what you need for this project already. Pick up the other supplies and make some patriotic home decor! You are going to love how it turns out.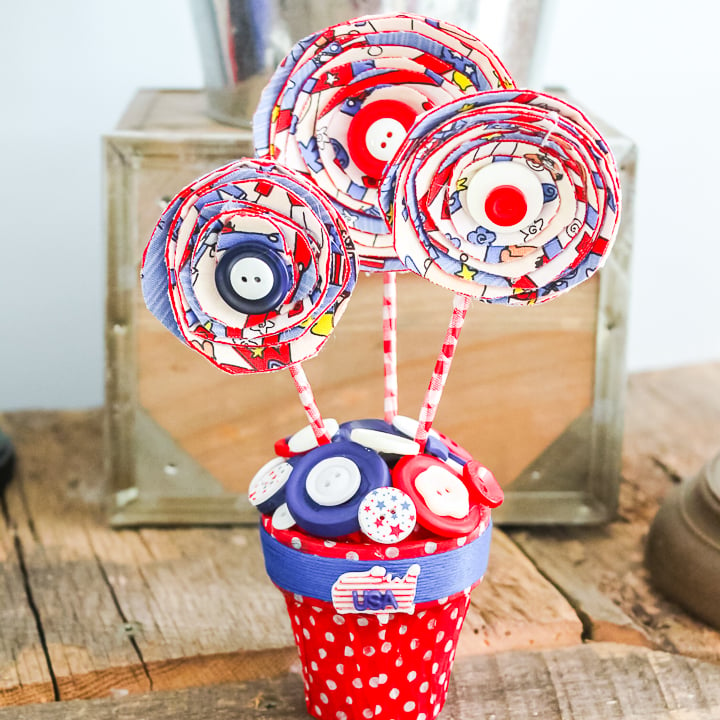 Love this project for the 4th of July? Try the links below as well!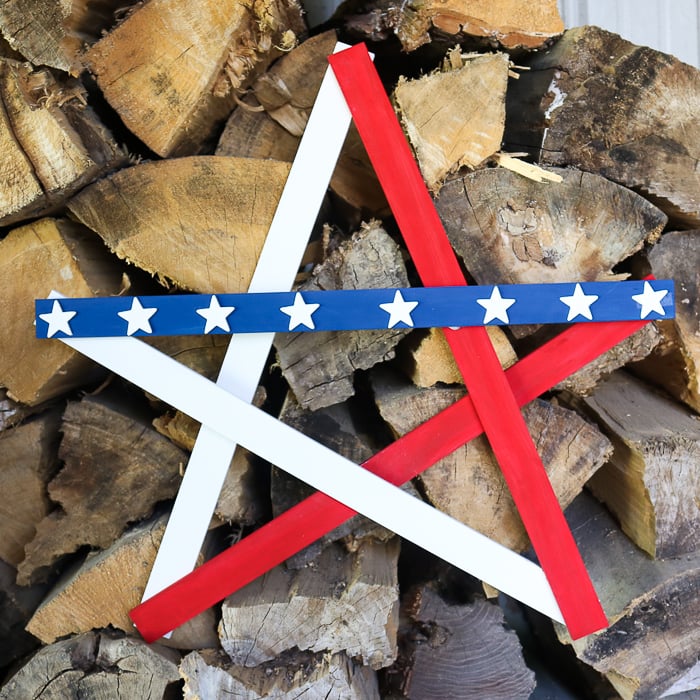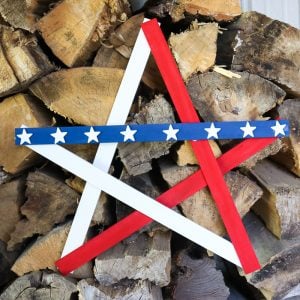 Large Wooden Star
Make these large stars to decorate your home for summer outdoors as well.
Read More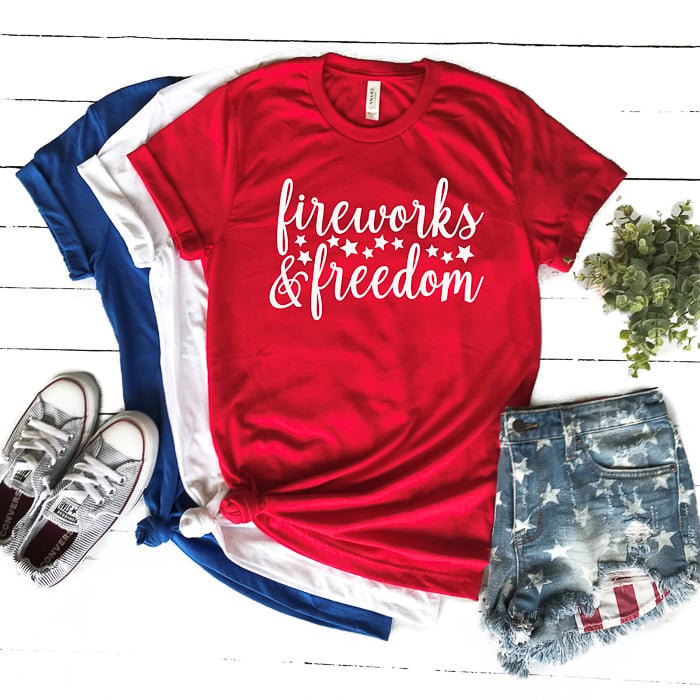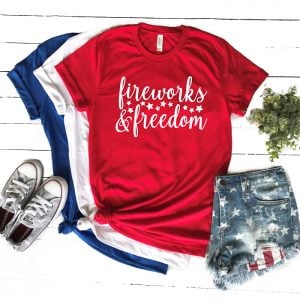 Download a Free Patriotic SVG
Get this fireworks and freedom SVG for free to use in your crafts this summer!
Read More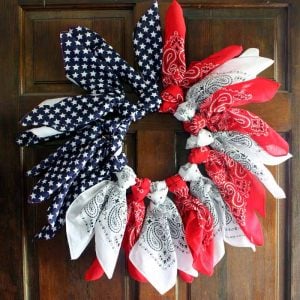 Patriotic Bandanna Wreath
Use bandannas to make a fun and festive patriotic wreath.
Read More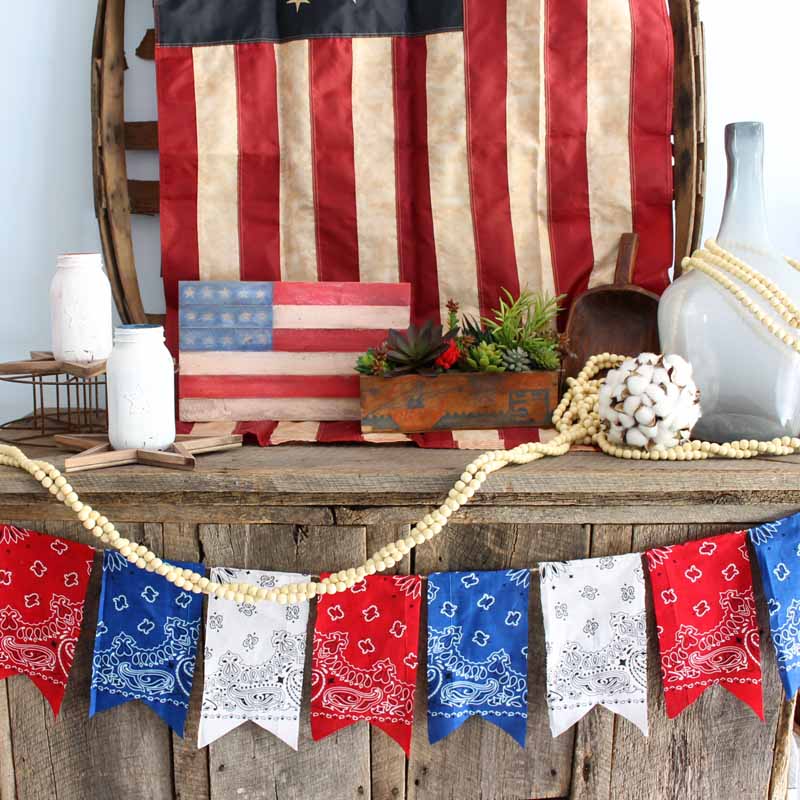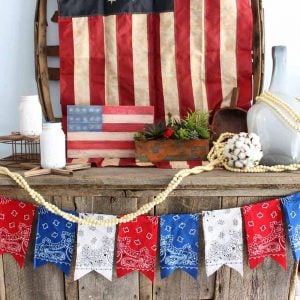 Patriotic Bunting from Bandannas
Use those bandannas to make a patriotic bunting for your home decor.
Read More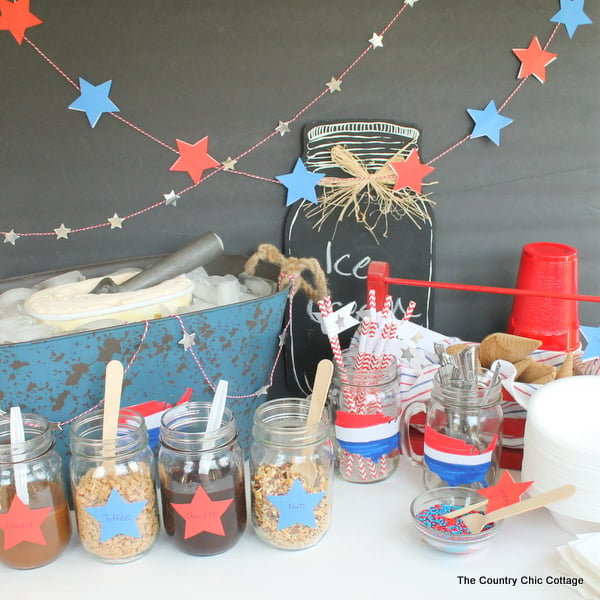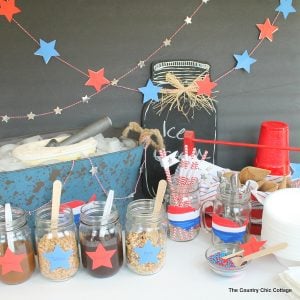 Patriotic Sundae Party
Throw a party for your family with patriotic decorations and everything you need to make a sundae.
Read More