I have a super simple idea for a summer or Fourth of July party for you today. Set up this patriotic sundae bar at your bash. Kids and adults alike will love making their own sundaes. The bonus is that the guests serve themselves so you just need to set it up and walk away. I used some supplies from my sponsor Online Labels to dress up my event. You can find the links to the products below however all opinions and projects are my own.
I thought I would walk you through left to right on the image above to get a closer look at all of the details. We will start with the ice cream and toppings area. You can just imagine building your own sundae as you walk through….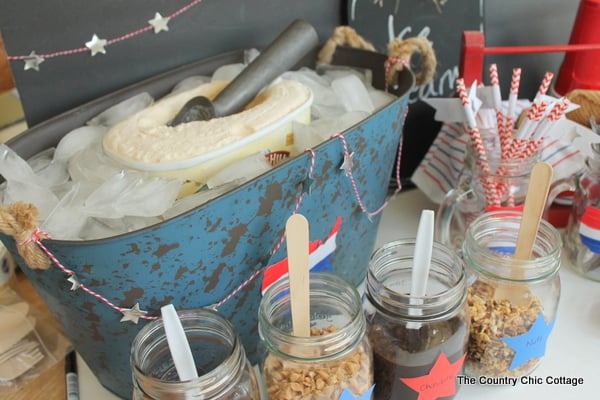 The ice cream is in a large metal tub filled with ice. I added a star garland to the tub. Just use baker's twine and silver foil stars to create this fun look. Sandwich the baker's twine in between the star shaped labels for a garland that only takes a few minutes to pull together. The front of the tub has an amazing US label on it as well. I will show you how to make those in a few minutes.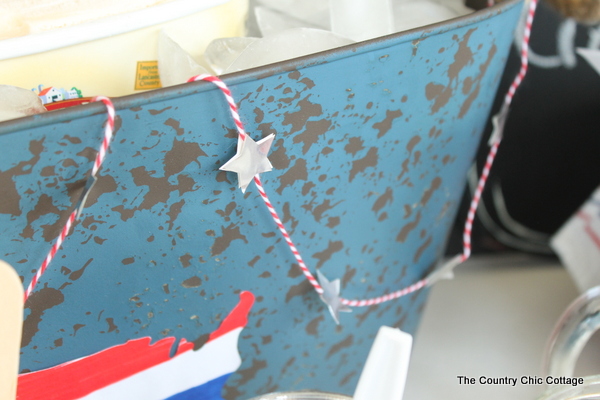 The toppings were all placed in mason jars (you are not surprised right??). I thought about adding in some printable labels for the toppings but realized that everyone is different as to what they would like on their sundae bar.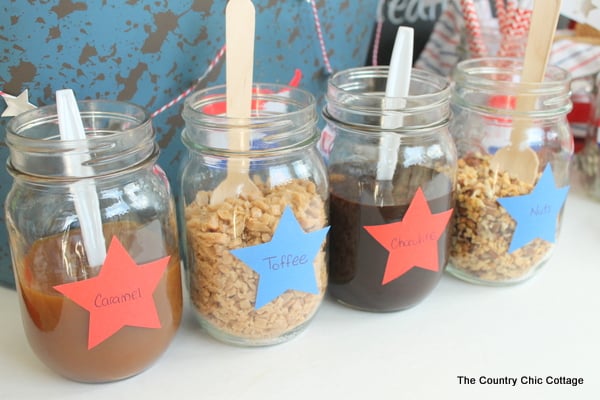 To solve that problem, I went super simple. Just grab some blue star labels and red star labels from Online Labels. Then you can write in the ingredients for your own sundae bar using a couple of fine line markers. This is so easy anyone can do it!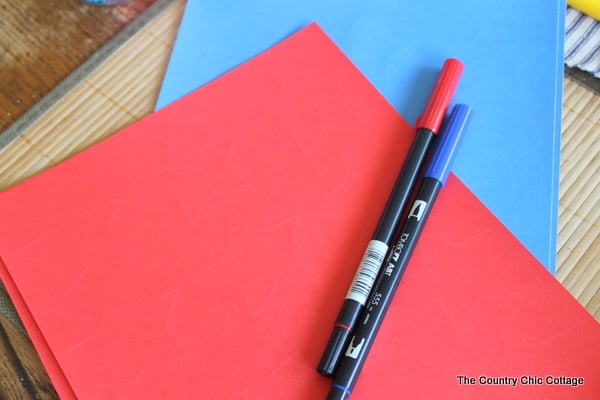 Lets move a little further down our patriotic sundae bar to the utensils and straws. Yep those are displayed in mason jars as well.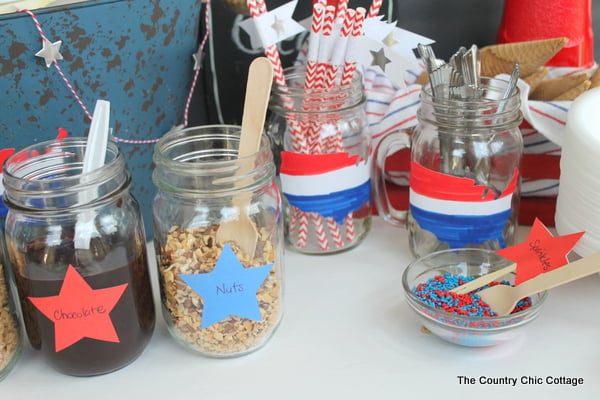 There are those amazing US labels on the front of those jars as well as the ice cream tub from before. These are one of my favorite parts of this entire sundae party and they are super simple to make.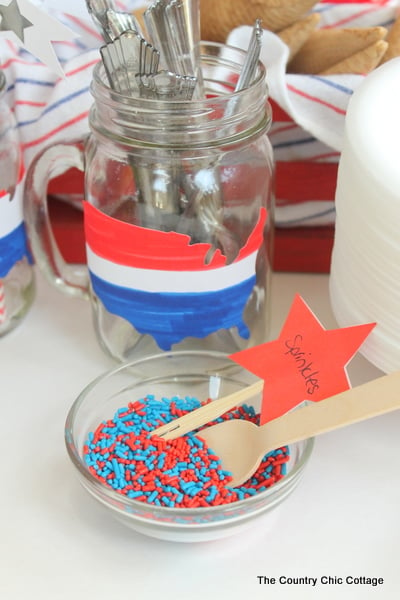 After I used the markers on the star labels above, I thought why not use them again? Grab some US shaped labels and your markers to get started. Color red and blue stripes as shown in the image below. Then just peel and stick the labels to the surfaces of your choice.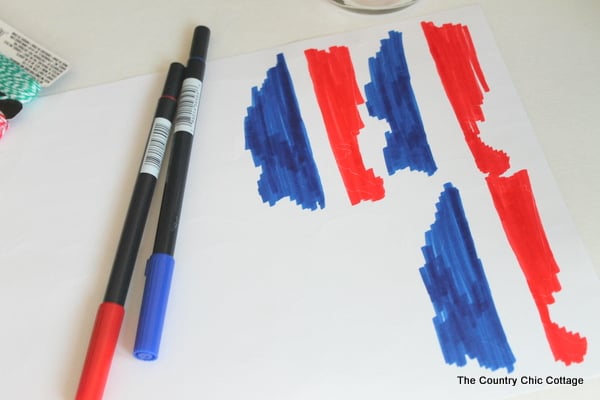 Next up is those amazing paper straws with those fun flags. Yep those flags are labels as well. And you guessed it…they are super simple to make.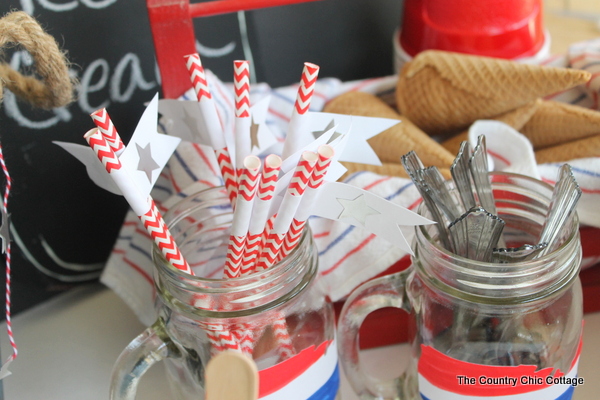 Start with patriotic straws of your choice, silver foil stars, and long rectangular labels. Because we are working with self adhesive labels, no glue or other supplies are required.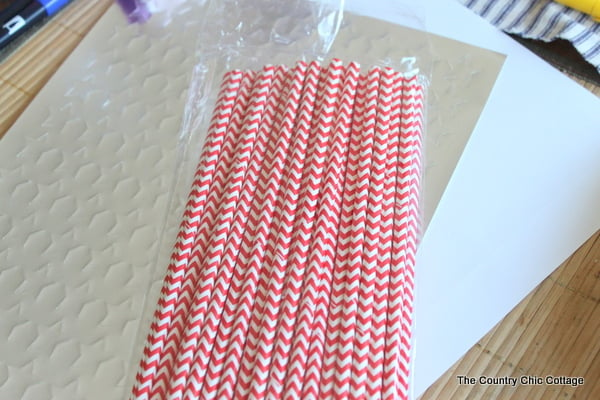 Wrap the long rectangles around the straws and adhere to itself. Be sure to keep this somewhat straight. Add a silver star label onto the flag. Trim the white label with scissors into a flag like shape. That is it! You can make a bunch of these assembly line style quickly and easily.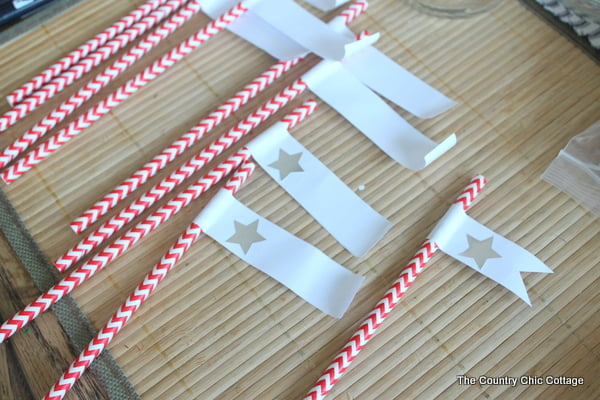 I added cups and bowls to my patriotic sundae bar as well as a few cones. I thought some might like an ice cream cone instead of a sundae. The cones are piled in a lined wood basket. Label with a little baker's twine and two labels sandwiched together.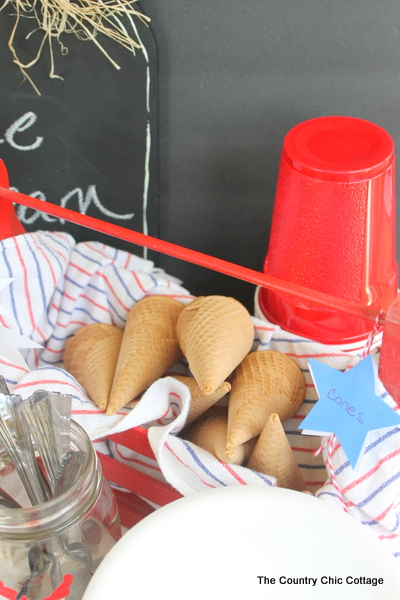 I could not resist adding in my latest find which is a chalkboard mason jar. This is so me right?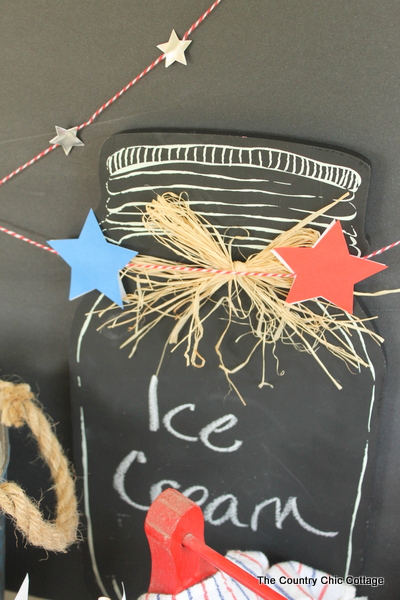 Decorating the entire area is fun garlands that are made with baker's twine and the star labels. You just sandwich the baker's twine between two of the star labels. Really it is super easy to make and doesn't require any other supplies or glue. That is my kind of craft.
That is a little tour of my patriotic sundae party. Will you be hosting a fun summer party? Add a sundae bar to the festivities. You will be glad you did.
I mean we all love ice cream right? I scream, you scream…..well you all know the rest. Grab a few labels and make your own themed patriotic sundae party!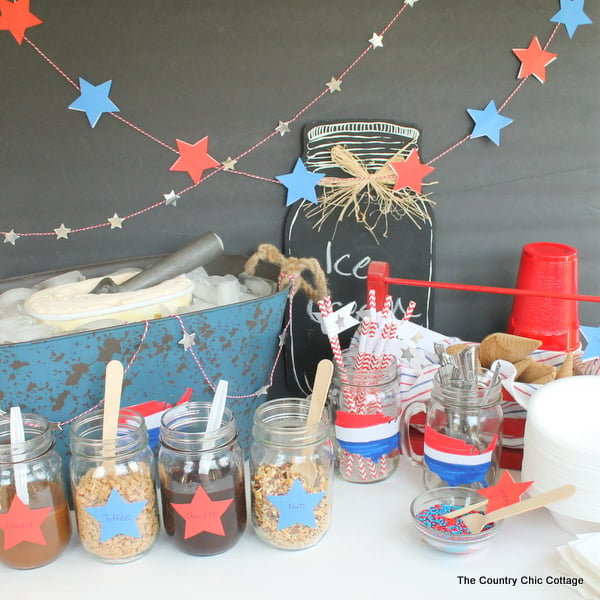 This post is sponsored by Online Labels however all projects and opinions are my own.