Looking for the best Cricut printer on a budget? I have you covered! Here I am comparing HP and Epson printer models to see which prints best when you are making stickers and more with your Cricut machine. Which one will win? Will one of these work for your home crafting needs? Keep reading to find out!
Please note that these are NOT FOR SUBLIMATION but rather are inkjet printers for regular printing of Cricut projects. You can click here for more information on sublimation printing.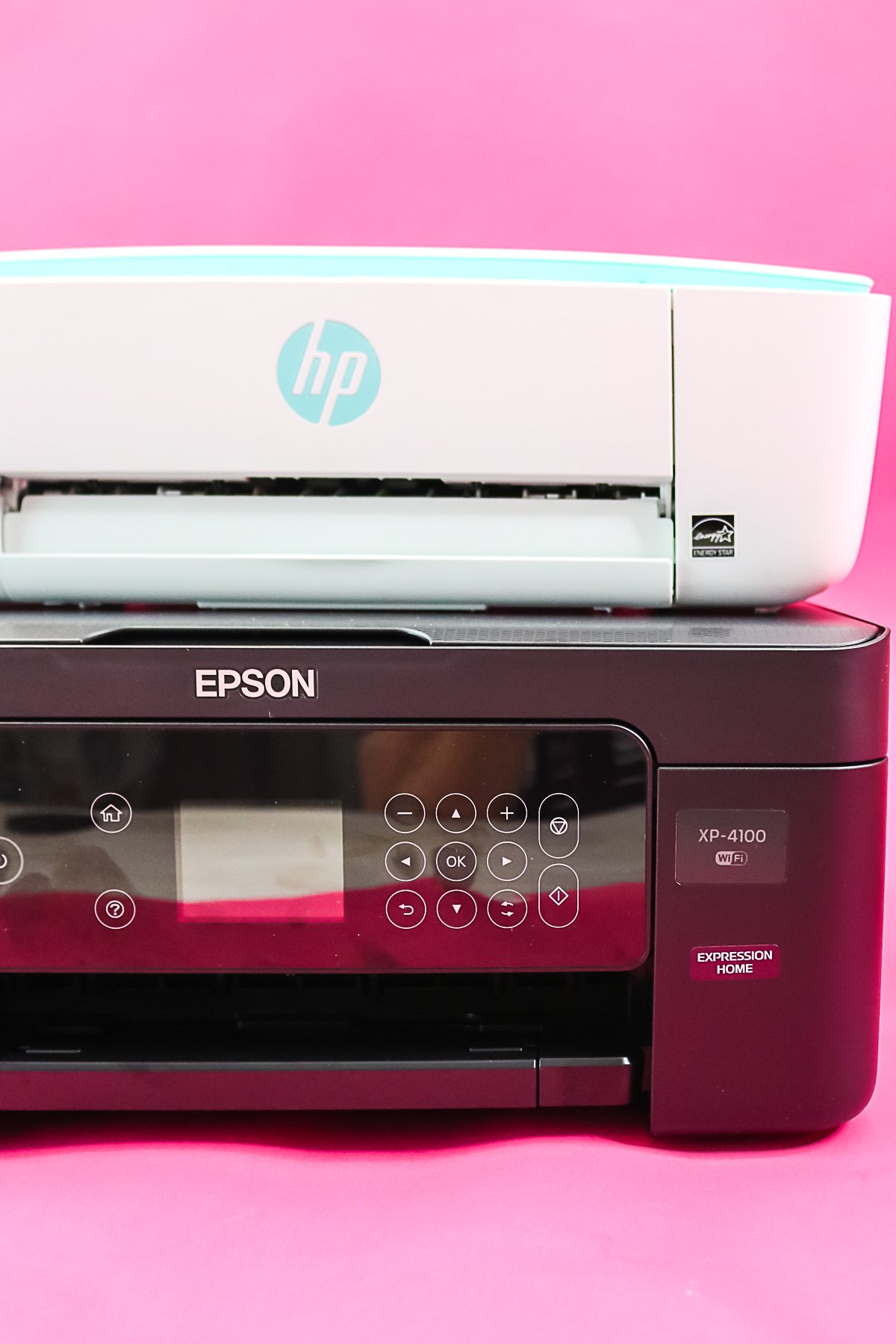 Cricut Printer on a Budget
I get asked all the time about what type of printer to use with your Cricut machine. Let's put these to the test to see which one is the best Cricut printer on a budget! I actually filmed a video showing you various prints with both of these printers so you would see the different ways they print on a variety of paper. Just click play below to watch!
Can't watch the video or missed some of the information? You can follow along below as well!
Printers for Comparison
Here are the printers I used for this comparison. If you are looking for more advanced printers and have a larger budget, I have another post covering those here. Both of these printers are currently around a hundred bucks or less at the writing of this post.
This black printer shown is the Epson and the white one is the HP. Inkjet printers are great for your Cricut machine for making things like stickers, art for your home, prints for your home office, banners, party decor, paper crafts, and more. These options are less expensive and also small and compact, which makes them great for a lot of home crafters.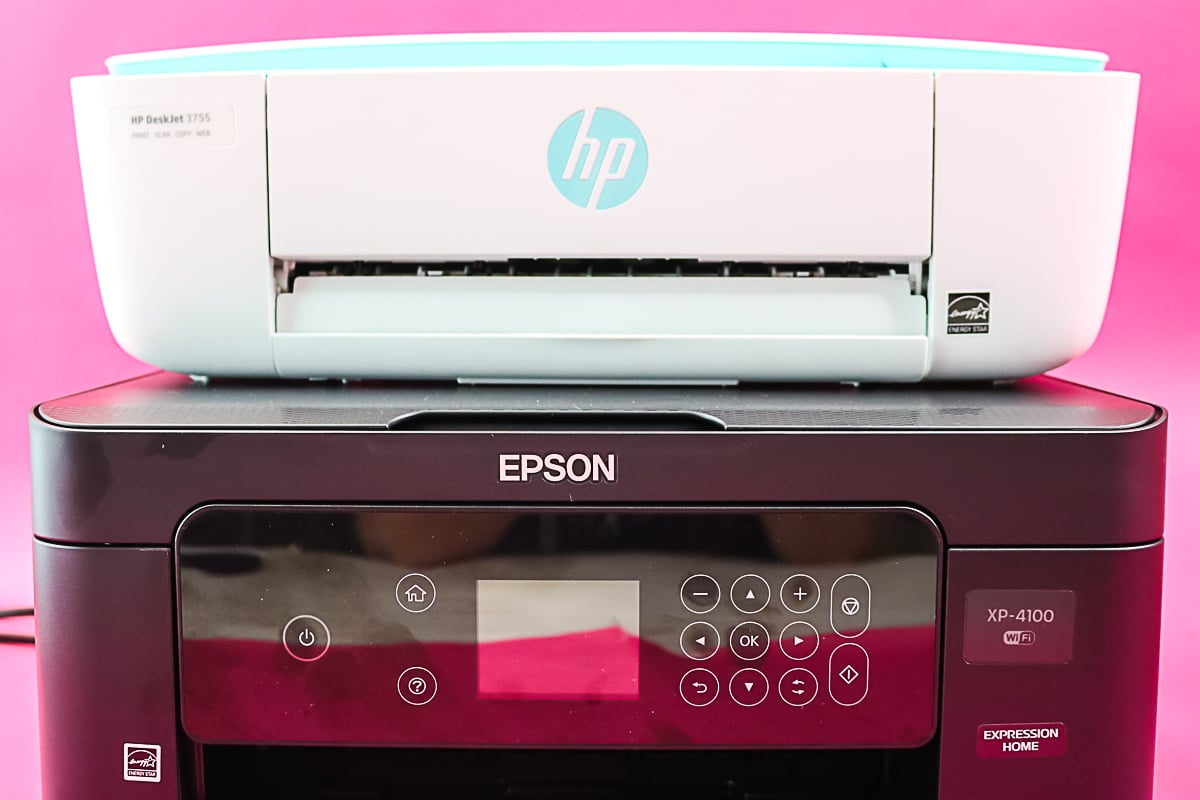 Printer Size
Both of these are inkjet printers. They cannot be converted to sublimation, so this is not a sublimation printer post.
The Epson XP 4100 is fairly compact. I will also note that it does come in a couple of different colors if you don't like black. There is an input tray that comes out of the back as well as an output tray on the front. The panel itself flips up on the front as well. However, even folded out, it's still not a huge printer.
The HP Deskjet 3755 is a printer I have actually had for several years. We've used it around our home for a variety of things. I don't use it for my everyday printing. I do like the Envy that I compared in a past post a little bit better for print quality, but this one is really good too. There is an output tray and input tray that folds out. When folded out, it has about the same footprint as the Epson. However, the benefit of this one is that it folds up super small and could fit in a small space when not in use.
Print Quality Comparison
But neither of these printers has any benefits unless they work well, right? I am going to test a variety of materials and we're going to take a super close and in-depth look. I'm going to test a lot of printer settings with both of them and try to pick the best print I can and just see how they compare. Hopefully, we come out at the end of this with the best Cricut printer on a budget for your crafting.
Copy Paper Print
I have the same print printed on copy paper on several printers here. The first one on the left is the Epson printer, the second one is the HP Deskjet, and the third is with my HP Envy for comparison. If I look at the three of these, I can't tell a ton of difference. This is a watercolor print, but all the prints are pretty good on just standard copy paper. So, let's move on to a little thicker and go with cardstock and see if we can tell any differences.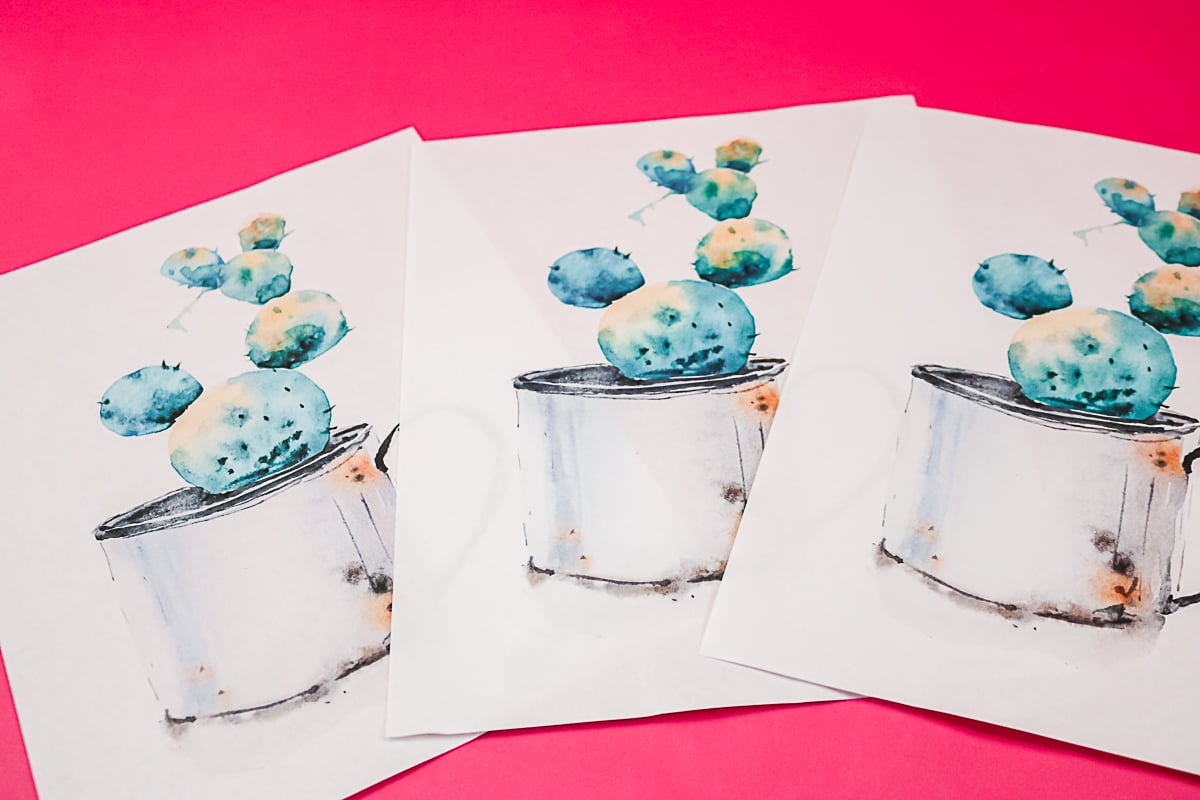 Cardstock Print
The one on the left is printed on my Epson XP 4100 and the one on the right is on the HP Deskjet 3755. I can definitely see a difference now that I'm using cardstock. The Epson just seems a little bit duller and the color's not as bright as the HP Deskjet. I'm starting to notice a difference where the Epson is not doing as well. The primary reason I feel like a lot of people use their Cricut with a printer is to make stickers, so let's try some sticker papers.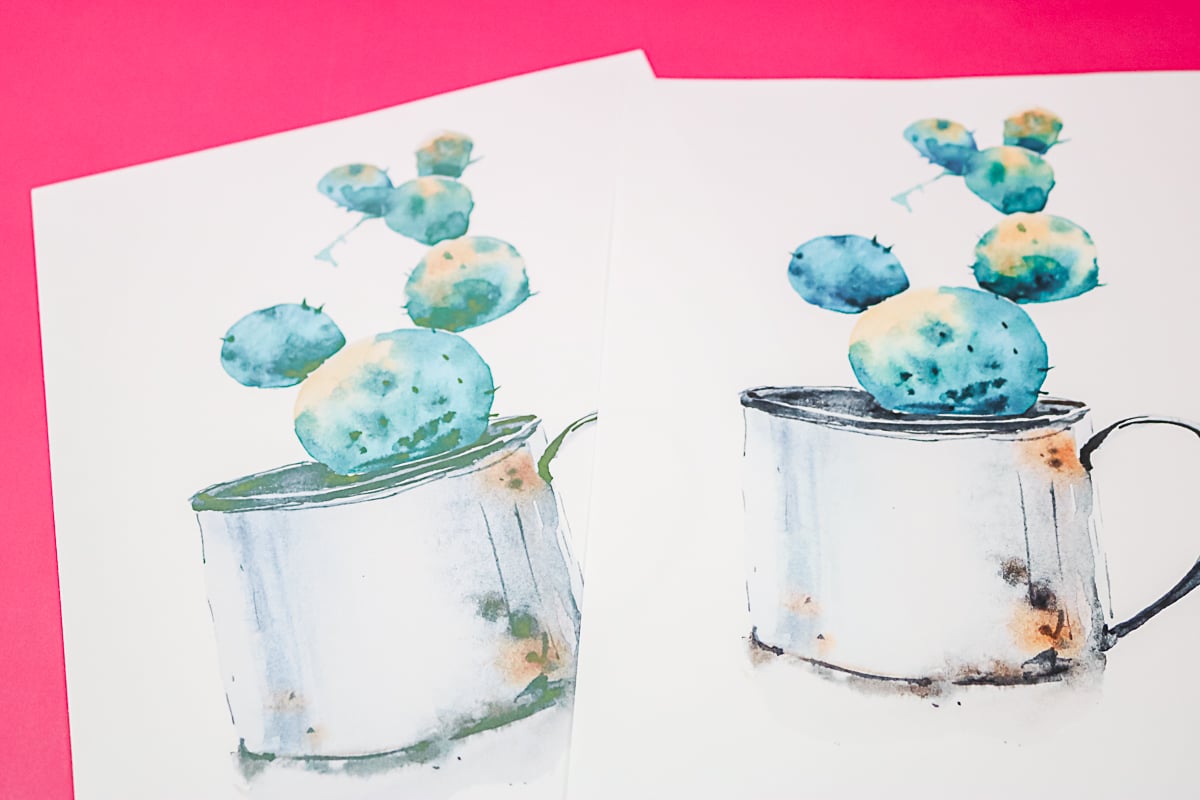 Sticker Paper Prints
I will note here that I did a bunch of different trials and I am showing the best example I was able to get from the Epson XP 4100. I tried a wide variety of print and paper settings. The sticker papers on the left are from the Epson and the right are from the HP Deskjet. The Deskjet itself is tons brighter than the Epson.
It is really hard to see in pictures, however, there are tiny dots all over the Epson print. I was not able to get rid of those. It is almost like the image is pixelated or the ink did not lay down on the paper correctly. In contrast, on the HP Deskjet print, there are no little dots. The ink is super smooth and it looks amazing – not pixelated, no lines, no anything.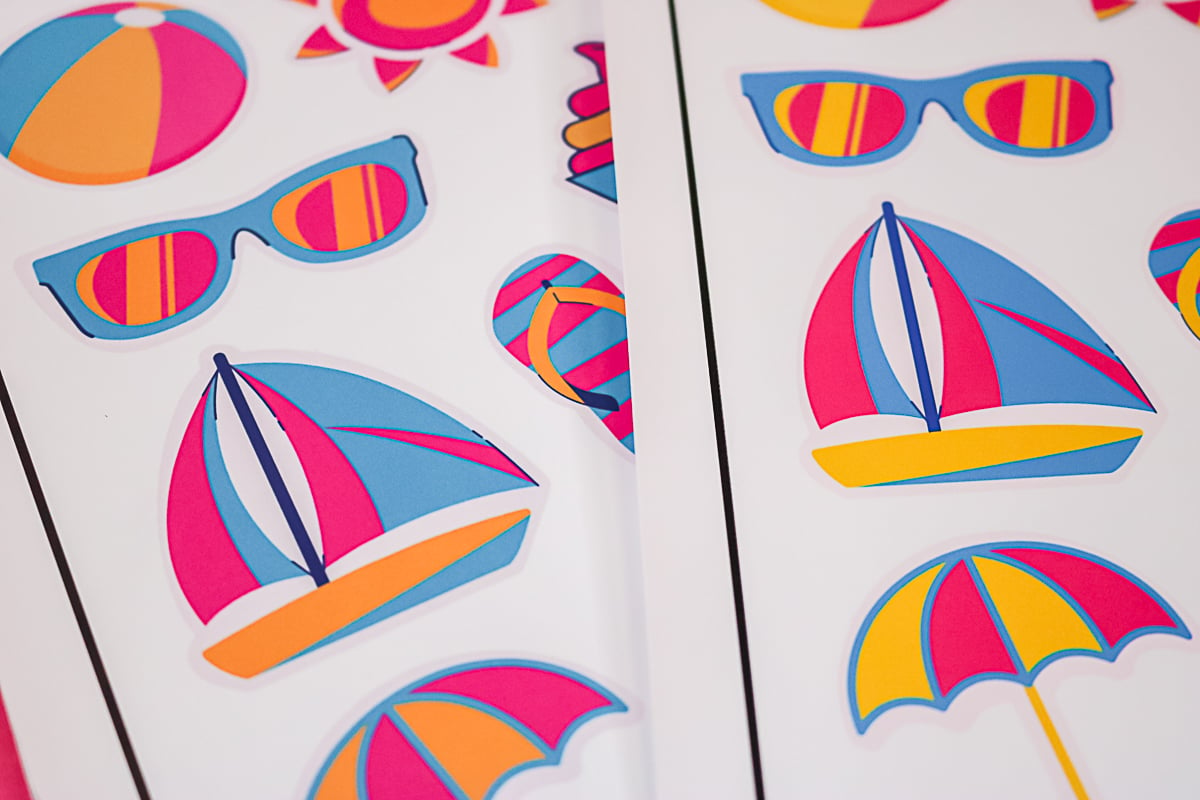 I'm really starting to see a difference where the HP print quality is quite a bit better. I went ahead and printed that same sticker sheet with my Envy and it is all the way on the right in the image below. I could maybe say the Envy's a little bit better in print quality, but if you were to hand me the HP Envy and the HP Deskjet print side by side, I don't know if I could tell the difference between the two. However, I could definitely pick out the Epson print. The print quality on it is not as good. All three of these are on Cricut printable vinyl, which is what I use for most of my sticker papers because it's fairly thin and it runs through most printers really well.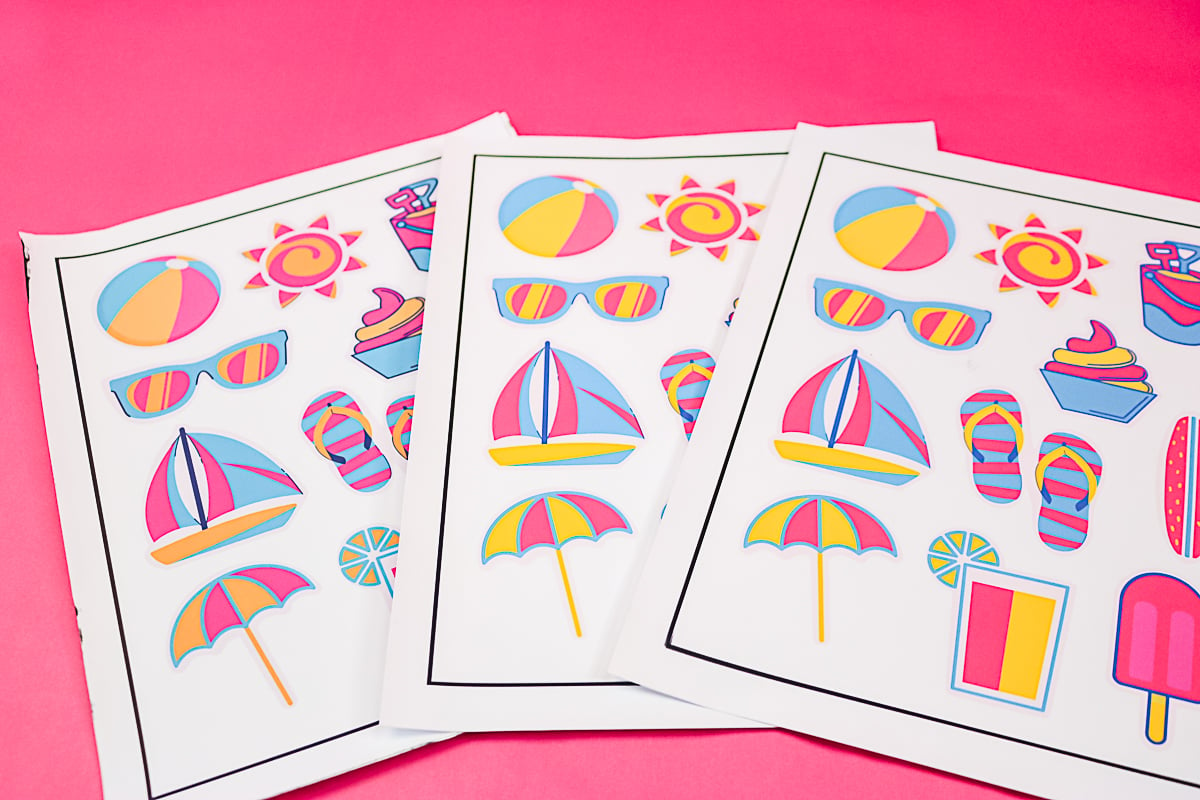 Let's talk about thicker sticker papers because we do have a problem there. The Cricut sticker paper is one of the thickest sticker papers I think I've encountered. I can't run this printable sticker paper through my HP Envy that I use every day at all. It does not work, so I can't use this paper at all. I was kind of excited to use these little printers and see if I could use the printable sticker paper instead of the printable vinyl.
These two are sheets on the left are printed with the HP Deskjet. When the top gets cut off and you don't get your full box, that means that the printer is not feeding it through correctly. This is similar to what happens on my Envy most of the time, or it just doesn't print it all. The HP Deskjet was a fail. On the other hand, the Epson XP 4100 printed the sticker paper fine. However, I could never find a print setting that would not give me the pixelated look that I'm just not wild about. You can just see little dots all within the print, and the print quality is just not as smooth as the HP printers.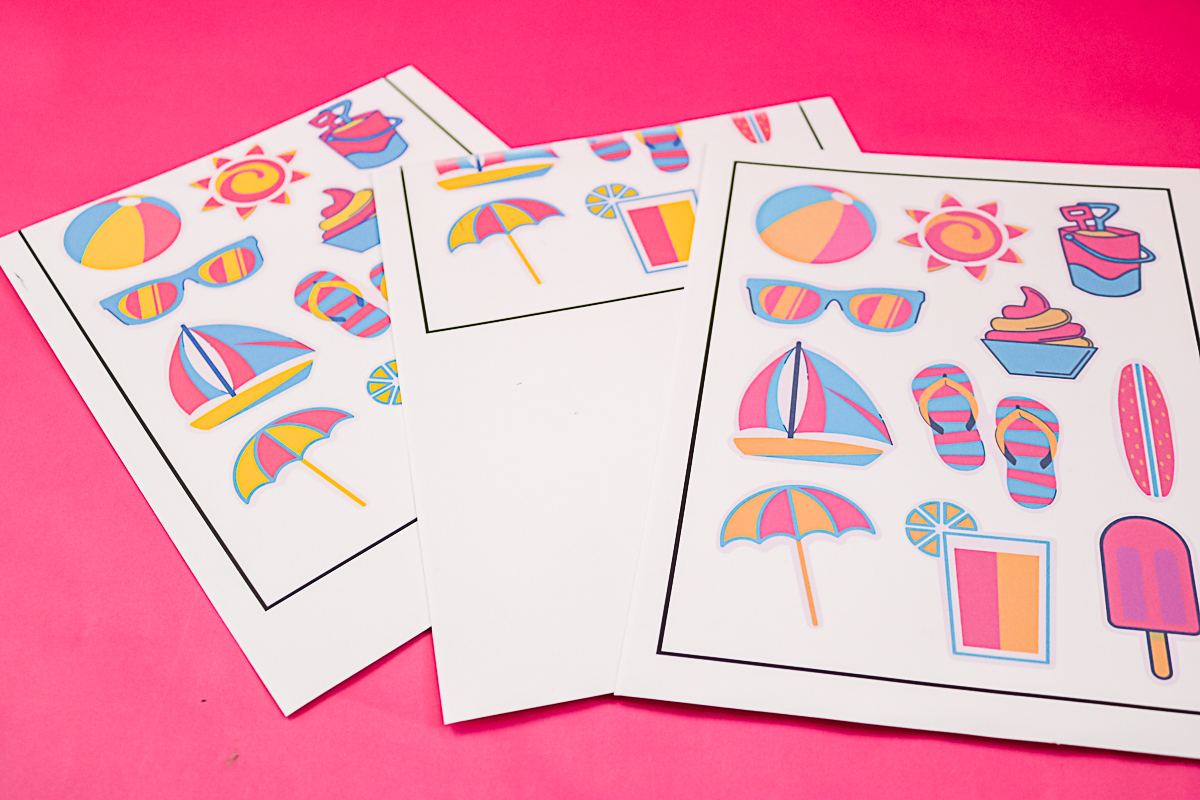 Best Printer on a Budget
So, can we find the best Cricut printer on a budget? I think so. For me, it's definitely the HP Deskjet 3755. I'm just not super impressed with the print quality of the Epson XP 4100, although it could do those thick papers. You'll still have trouble with thick paper on the HP Deskjet, so whether that's the thick sticker paper that I talked about with the Cricut or a super thick white cardstock that you're trying to print on, you're probably going to have trouble feeding it through the HP Deskjet.
However, if you stick to those thinner sticker papers, I think you'll be super happy with the print quality of the HP Deskjet, whereas I'm afraid you would be disappointed with the print quality on the Epson printer. For me, I'm still staying with the HP printers. I'm going to stick with the HP Deskjet 3755 for my budget printer choice.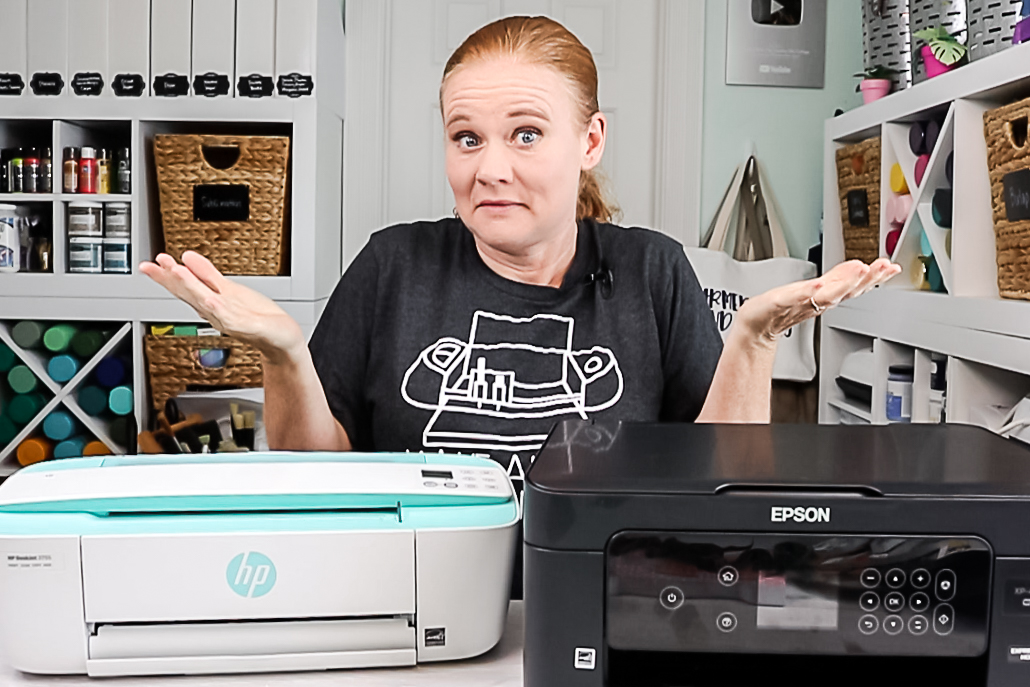 Ink and Cartridges
I did want to point out that the Epson ink is a four cartridge system, so you have a cartridge for each color. The HP is a more standard cartridge system, where you have black for one and color for the other.
The other thing I always like about HP is that you can do the Instant Ink program. As soon as your printer starts to run out of ink, the printer orders more for you and it's delivered to your house. I pay for the Instant Ink program because I find it super convenient and because I am at home printing a lot. I find it saves me a ton of money. So, I pay a couple of bucks every month, and when I'm about to run out of ink, it just shows up at my door. I don't do anything! When my printer asks for ink, I pop a new cartridge in and I'm done.
NOTE: I think Epson might have a similar program, but I do know about the HP Instant Ink because I use it every single month.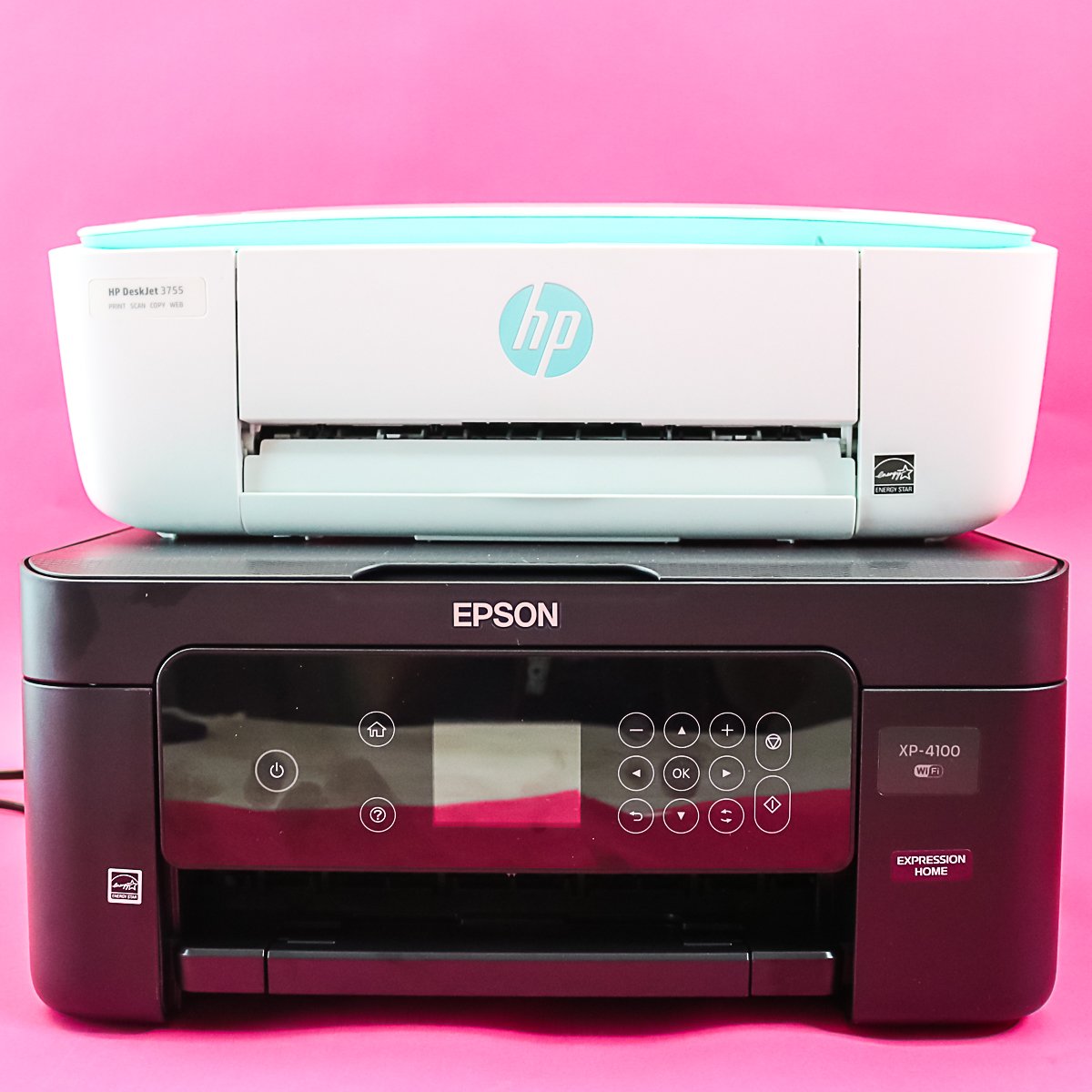 I hope this helps you decide on a Cricut printer, especially if you're looking for one on a budget. You really can't go wrong with the HP printer shown here. It has been in my home for years and does an amazing job. I really think you'll be happy with the HP Deskjet 3755 printer!