This post and photos may contain Amazon or other affiliate links. If you purchase something through any link, I may receive a small commission at no extra charge to you. Any supplies used may be given to me free of charge, however, all projects and opinions are my own.
Make this DIY candy cane wreath from burlap for your holiday decor. Christmas will just not be complete without this adorable candy cane. Hang it on your door on in your home for a cute addition to the holiday. I used burlap to give this project a fun farmhouse style spin. Don't love the burlap? Try deco mesh instead!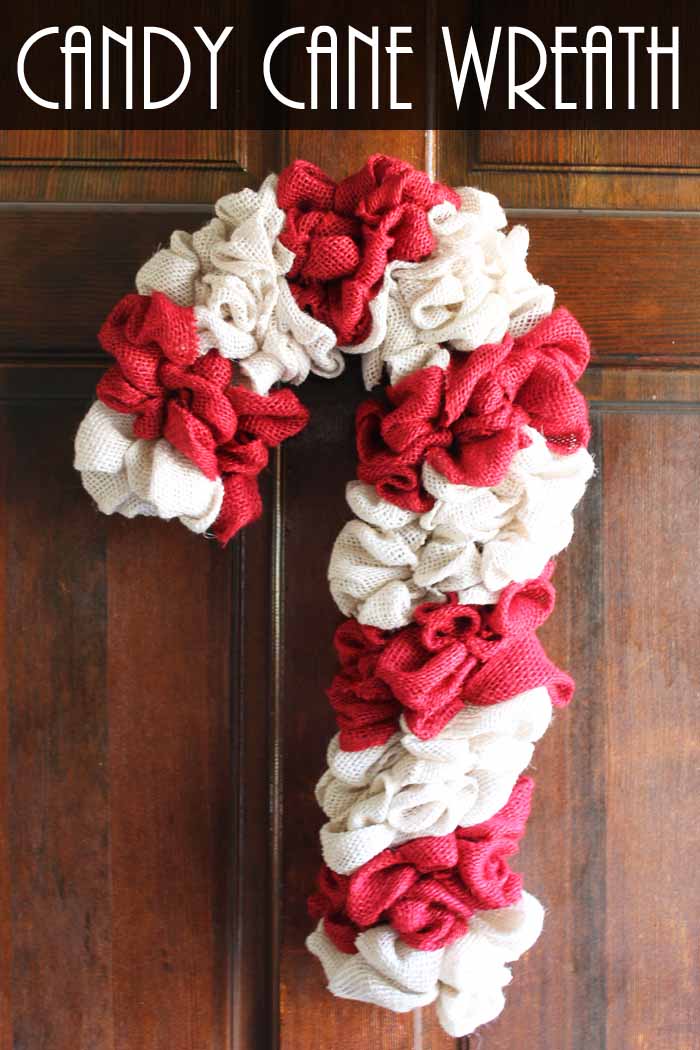 Supplies needed to make a candy cane wreath: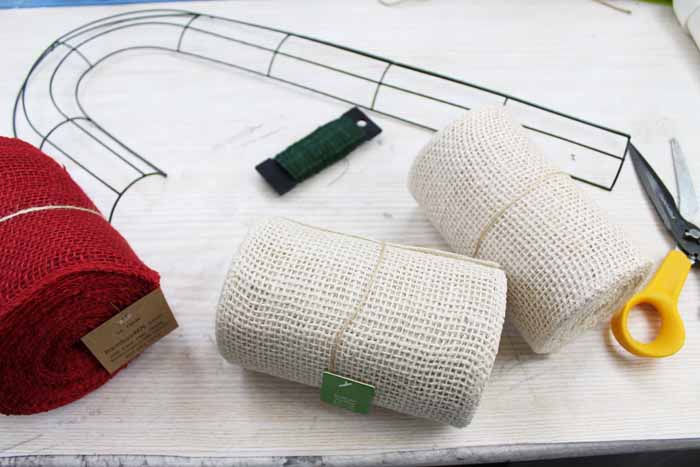 You can start the wreath with either white or red. I chose white.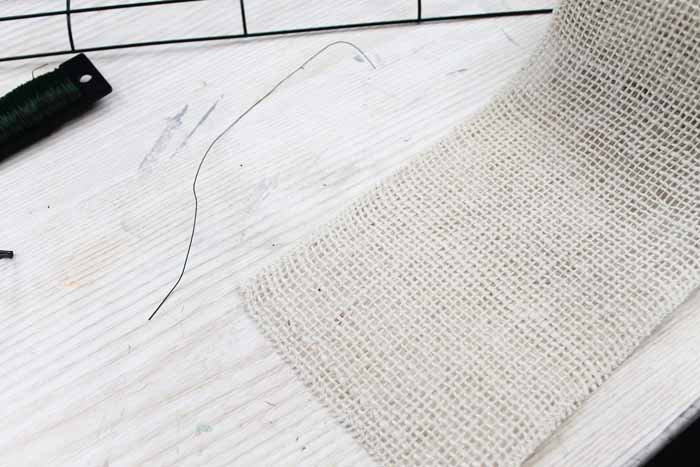 Cut a length of floral wire and put it through the end of the burlap ribbon as shown below.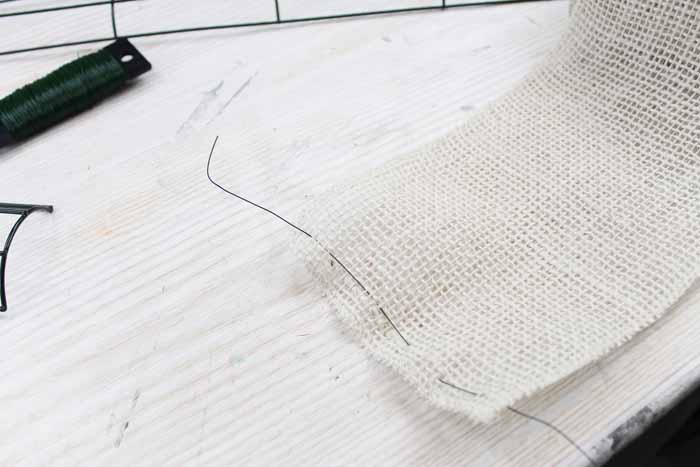 Then gather it up and twist.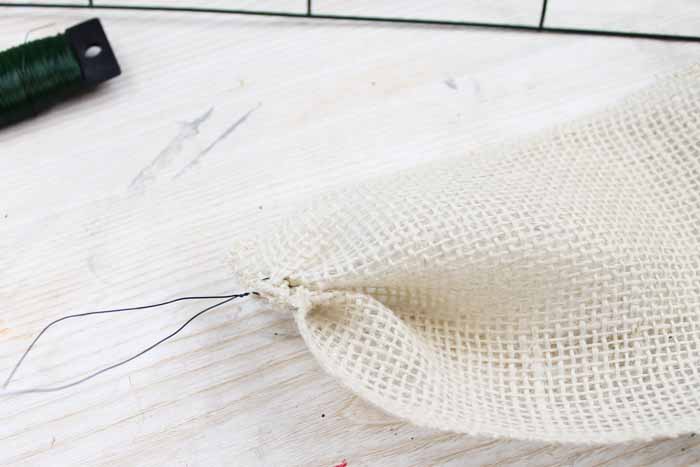 Secure the end to the candy cane wreath form. I started on the long end of the form.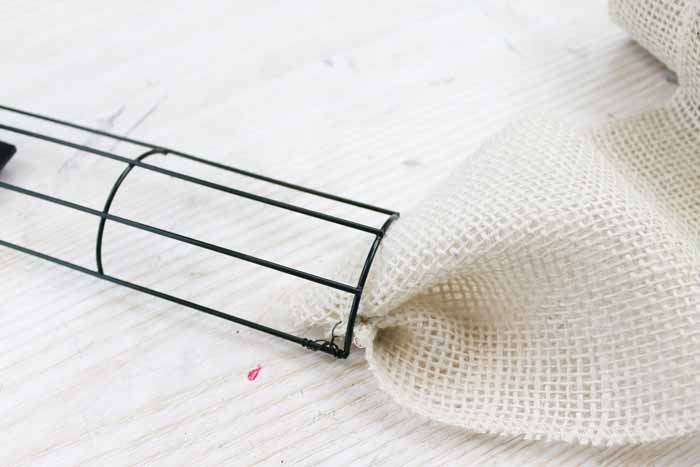 Come up from the back side of the form and create a bubble in each of the three openings. The size of your bubbles are completely up to you, however, the larger bubbles will take more ribbon. Once you have reached the opposite side, twist the ribbon several times on the back before coming up through the first hole again.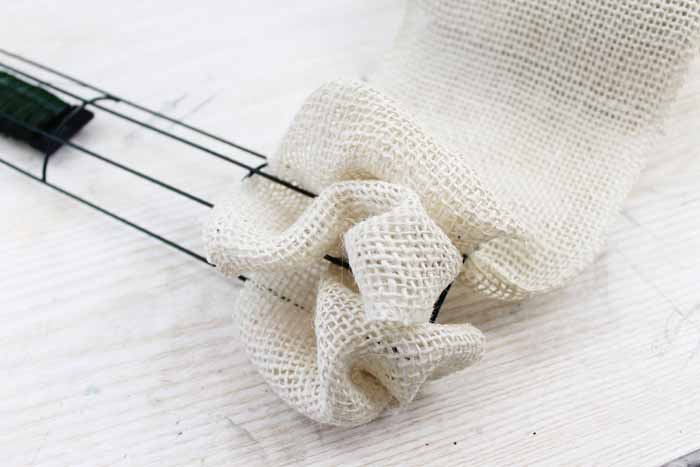 Now we want the stripes to go at an angle. So actually we are NOT going to come up through that first hole again. Only for this first stripe of white, we are going to create an angle. So for the second run of burlap ribbon, we are going to only go through the last two holes leaving the first hole empty.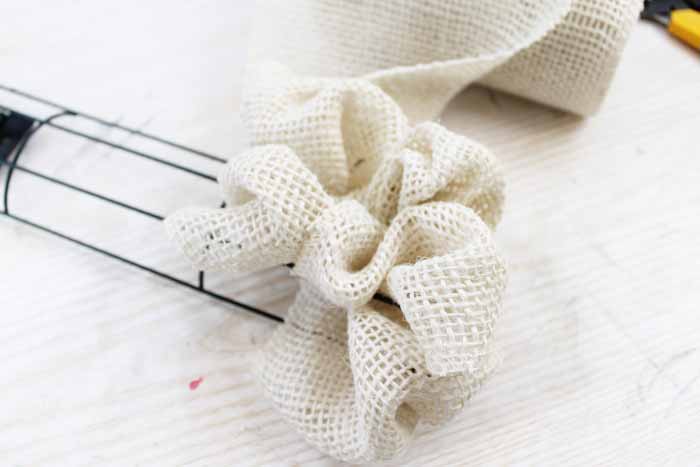 Now we will need to go through that last hole again to create an angle. This will be so that there is one bubble in the first opening, two in the second, and three in the third. However, you don't want to go through the third opening a second time without securing your burlap ribbon. So use another piece of floral wire to secure the ribbon before going through the opening with another bubble. NOTE: This only has to be done for this first run and for the last!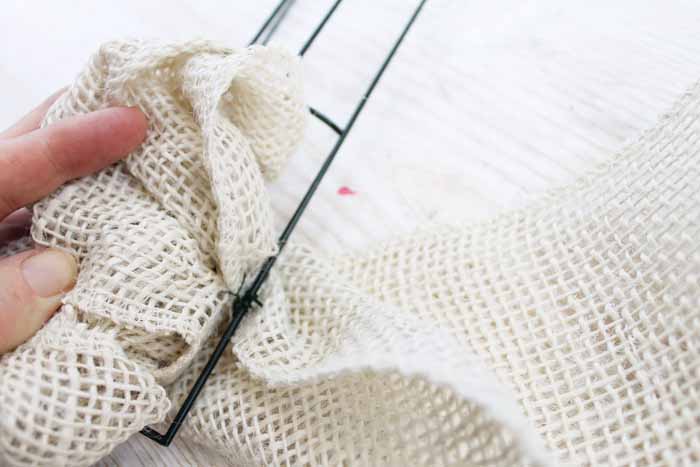 Now we have a stripe of white! Leave the roll of ribbon attached and do not cut. Add the red ribbon with floral wire in the same manner as you did the white above.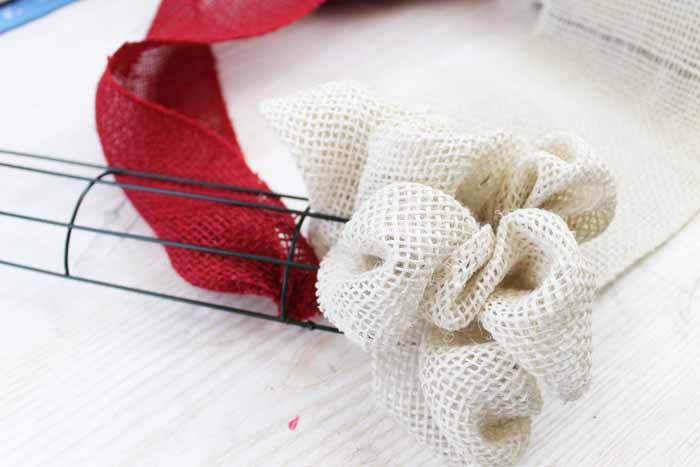 This time, however, you are going to create three bubbles in each of the openings. Because we created an angle with the white, rows after that will be at an angle as well.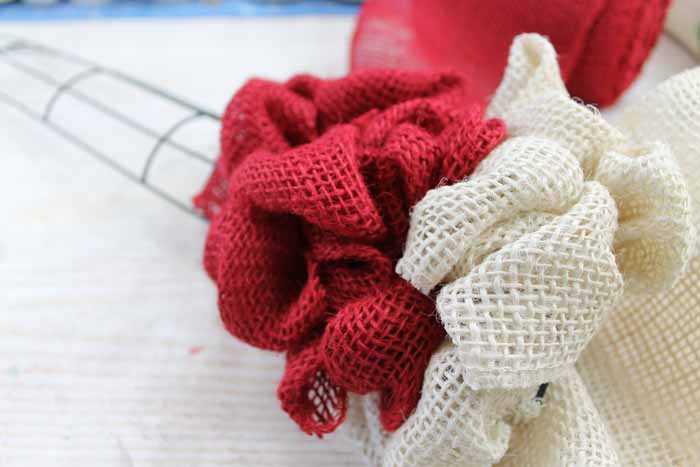 Continue by putting up a bubble of ribbon in each opening across the wreath form. Twist the ribbon several times, go up through the first opening again, and create your next row. Repeat until you have a stripe of color that is three bubbles wide. Remember to not cut your ribbon after each row. When you are ready for the next color, just twist it a few times on the back of the wreath and take it up through your next opening.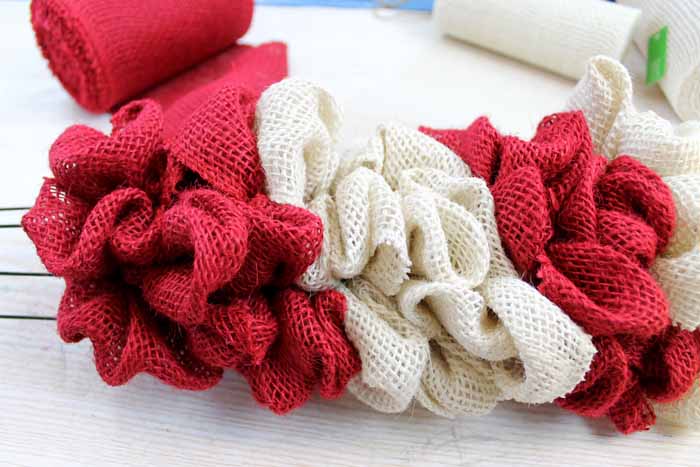 You will continue to repeat this process for the entire wreath form. NOTE: If you have to join two spools of ribbon, use a piece of floral wire to tie them together and then tie it to the wreath form.
When you get to the end of the wreath, cut your burlap ribbon and use floral wire to secure it to the wreath. The last stripe of color will also be at an angle and you will have to do it similar to your first stripe of color above.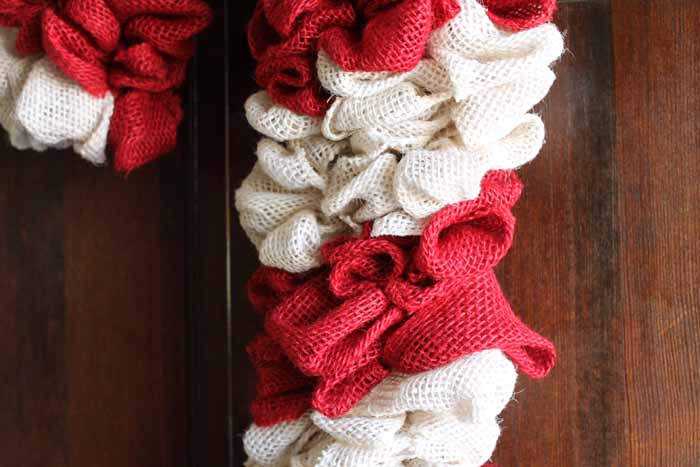 Once all of your burlap bubbles are created, your wreath is ready to hang on your front door or anywhere around your home.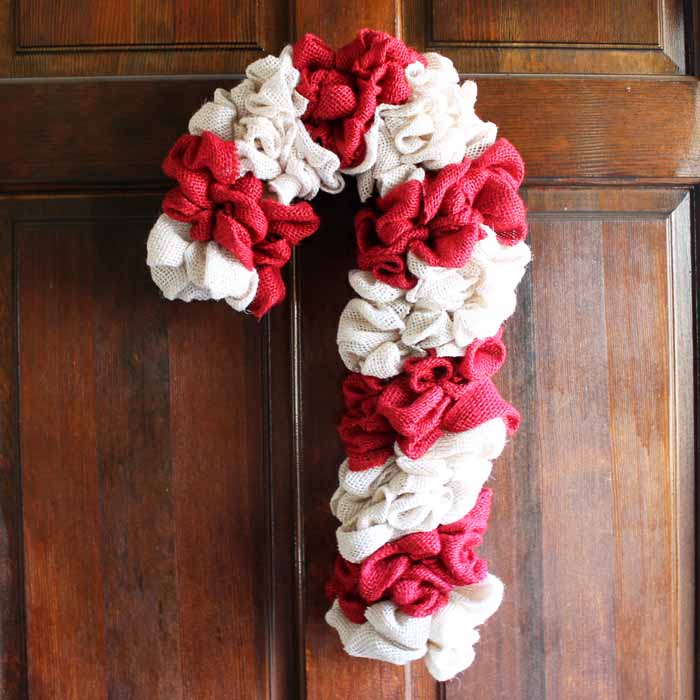 You will love this candy cane wreath and pulling it out year after year. Order you burlap ribbon and get started on your own version today!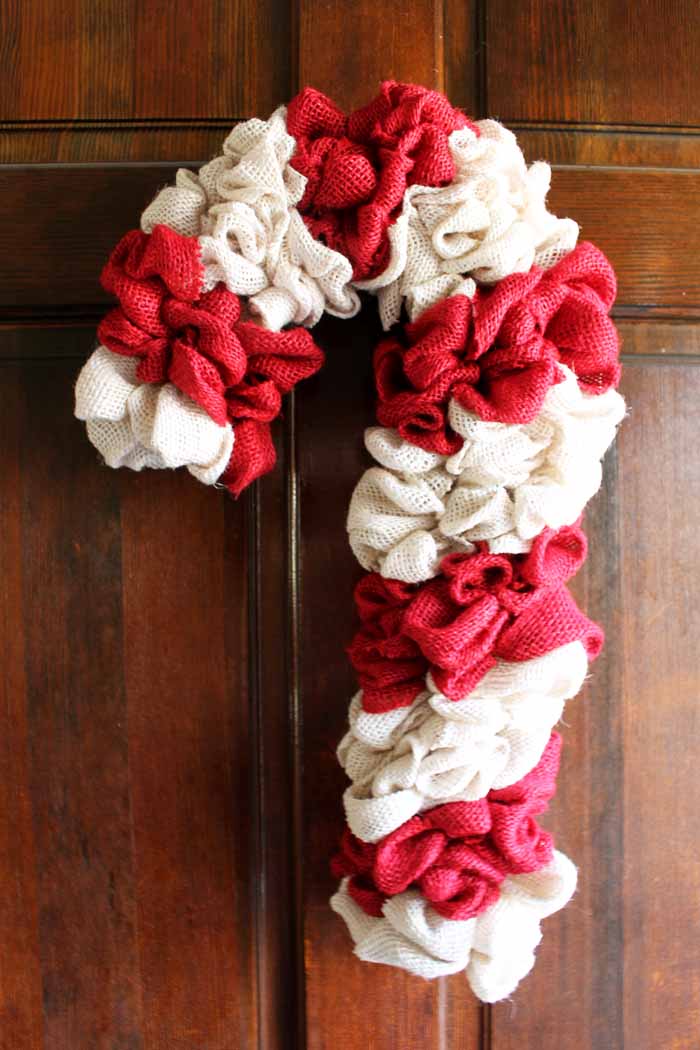 Love this candy cane wreath and want more ideas? Try the links below.