I am going to show you how to make the cutest candy cane reindeer wreath today. This project is easy and will make a BIG impact on your front door. I love this unique way to use a candy cane wreath form. If you want a more traditional way to use the same form, try our burlap candy cane wreath. Now, let's make a reindeer wreath for the holiday season.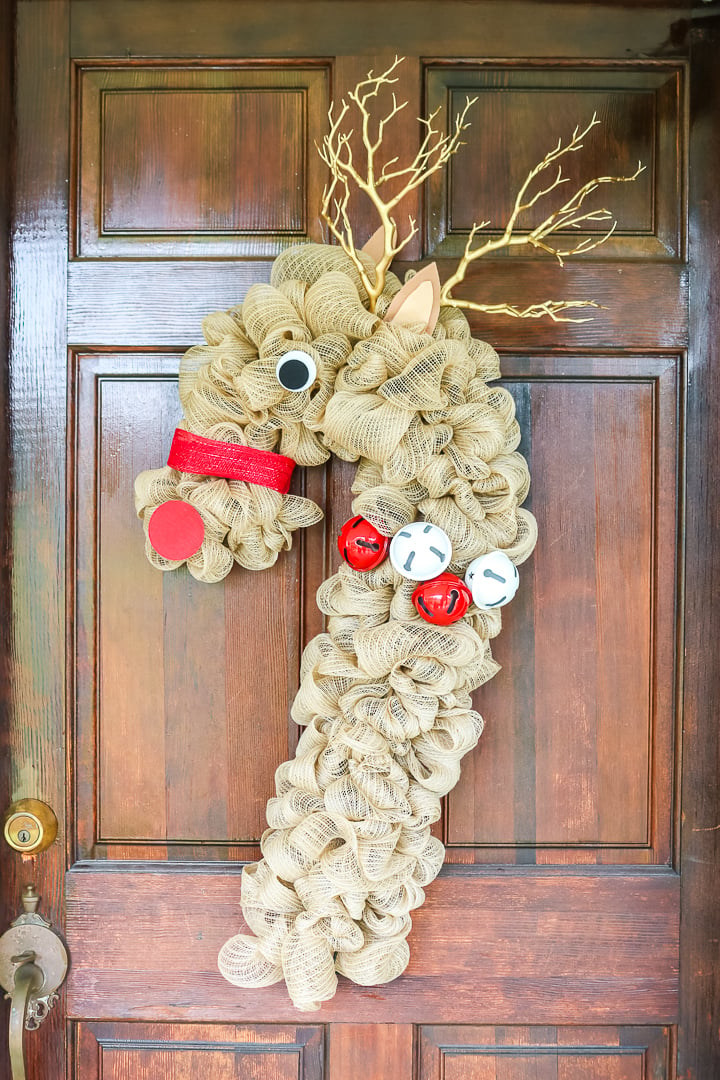 Candy Cane Reindeer Wreath
I am using a candy cane wreath form and you can definitely order them online. However, I find them almost every year at my local Dollar Tree. If you are able to snag one of these for a dollar, be sure to do it as that makes this wreath even more affordable.
Supplies needed: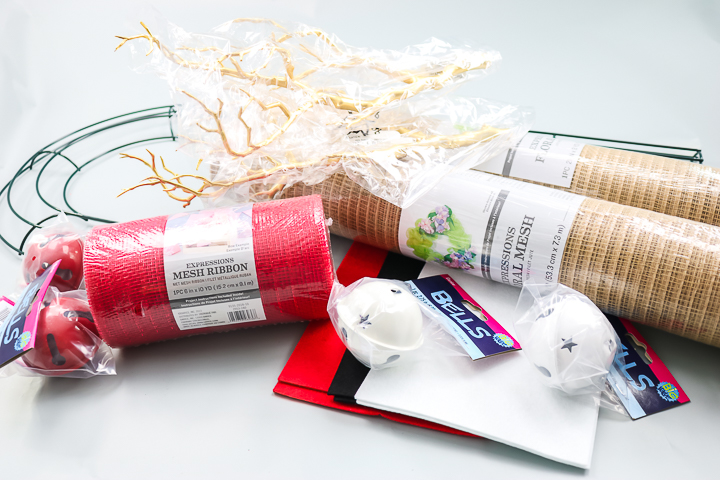 How to Make a Reindeer Wreath
Now that you have your supplies gathered, it is time to assemble your wreath. Working with deco mesh is actually really simple with a wire wreath form. This project is large so be sure to have a large work area before starting.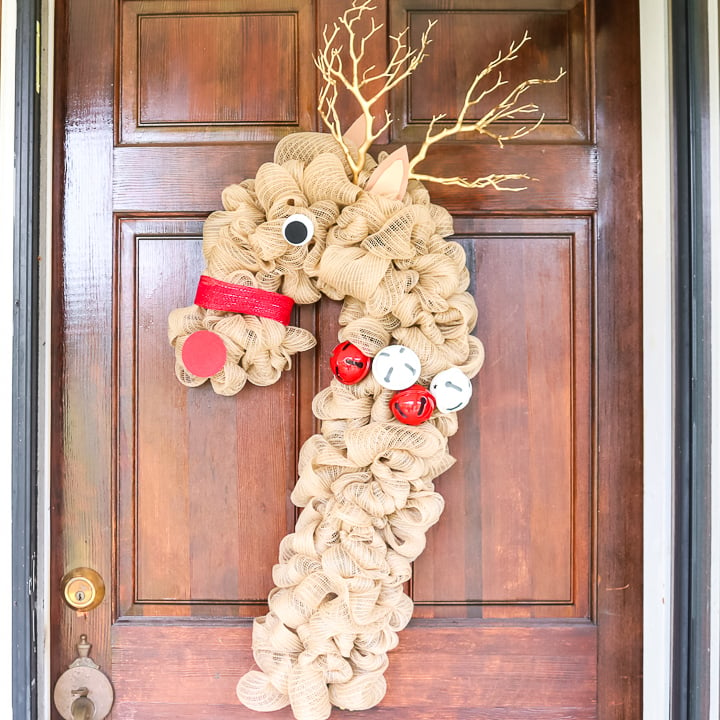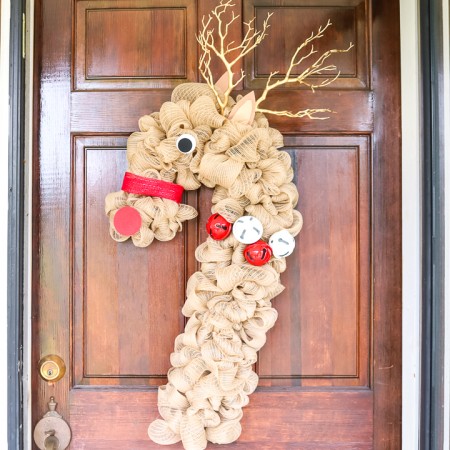 Candy Cane Reindeer Wreath
Make a Rudolph wreath in minutes with this easy to follow holiday tutorial.
Supplies
Metal Candy Cane Wreath Form

see my note above for finding this locally for much cheaper

Jute Floral Mesh

takes 1 1/2 rolls

6

inch

Red Metallic Mesh Ribbon

Felt Sheets

red, white, black, and two shades of brown

Red Jingle Bells

3

White Jingle Bells

3

Gold Manzanita Picks

2 (I can't find the gold ones I used but there is a similar white version.)

Hot Glue & Glue Gun
Instructions
Start by making the wreath itself with the candy cane form and the jute floral mesh. Run a long piece of floral wire through the end of the jute mesh as shown below.

Gather this up and twist the floral wire, then wrap your wire around the entire bundle several times.

Tie this bundle onto one end of your wreath form. Trim the ends of the floral wire if needed.

Push the jute mesh up through the back of the wreath form making bubbles. You will push it up through each opening making three bubbles per row.

Once you get to the end of one row, twist the mesh twice then push it up through the first hole once again. Continue making rows up your wreath form. You can make these bubbles as large as you want. I added three rows of bubbles per section of the wreath form. This was plenty full for me but you can add more or less if you like it better.

You will need more than one roll of the jute mesh. Once you get to the end of the first roll, put the end of the first roll together with the start of the second roll. Run a long piece of floral wire through both pieces.

Gather those together and wrap with floral wire tightly. Tie that end to your wreath and continue making bubbles in the same manner.

Once you get to the end of the wreath, cut off any excess mesh. Then run another piece of floral wire through the end. Bundle it up once again and wrap it with the floral wire.

Attach this final end to your wreath form and you have a body for your reindeer. Now let's dress him up a bit!

Take the 6-inch roll of red mesh and fold it in half then in half again.

Wrap a piece around the nose of your reindeer. Secure in the back with hot glue and floral wire.

Next, cut a red nose, an eye, and ears from felt. You can use scissors and something circular to make circles then just freehand the ears. NOTE: You only need one white and one black circle for an eye. I got a bit carried away when cutting these pieces.

Use hot glue to add the nose, eye, and ears to your wreath.

String up the bells on a piece of floral wire in alternating colors. I added one bell, twisted the floral wire to hold it in place then added another. Repeat with all six bells.

Wrap this around the neck of your reindeer and secure it in the back by twisting the floral wire tight.

Finally, add the antlers with a bit of additional hot glue.
Tried this project?
tag us to show off your work!
So cute right? This large wreath will make a big impact on your front door this holiday season. I love how whimsical this reindeer wreath is! Don't love Rudolph with his red nose? You can definitely add a black nose instead!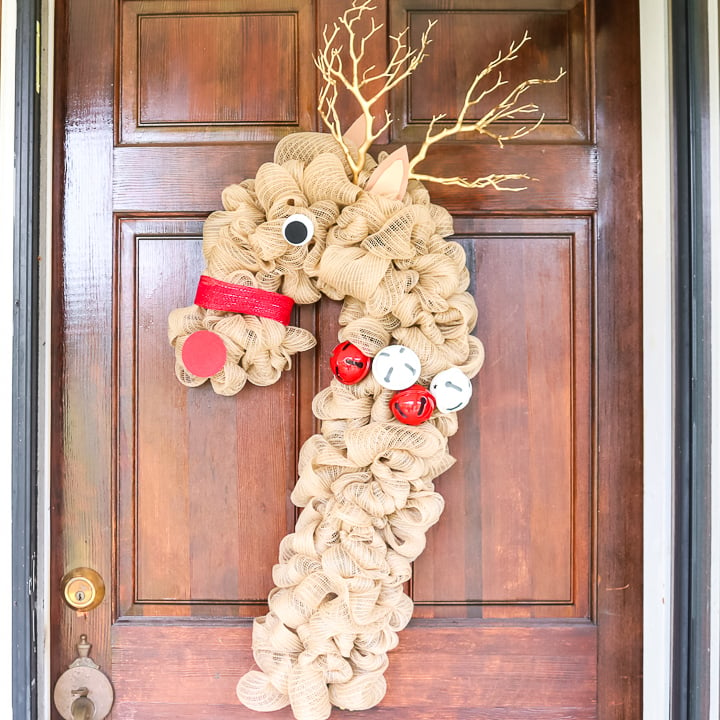 You can also change up the color of the red ribbon as well as those jingle bells. Have fun with this one and make it all your own. The kids will love having a candy cane reindeer wreath on the front door as well.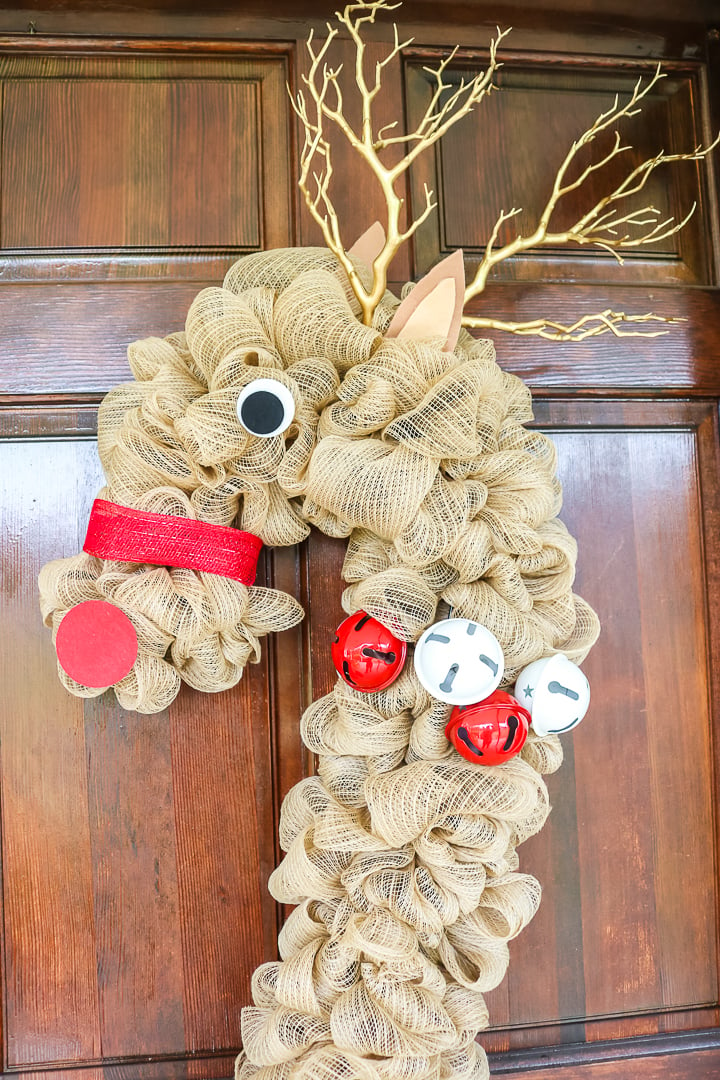 I personally love how the bells jingle as the door opens and closes when guests enter. If you don't love the jingle, you can definitely add something different around the neck. I think any way you make this candy cane reindeer wreath is fine! Just grab your supplies and make your own version this year. You might even want to pick up more candy cane wreath forms while they are in stock. I mean you can even use them to make a unicorn wreath for your door this spring!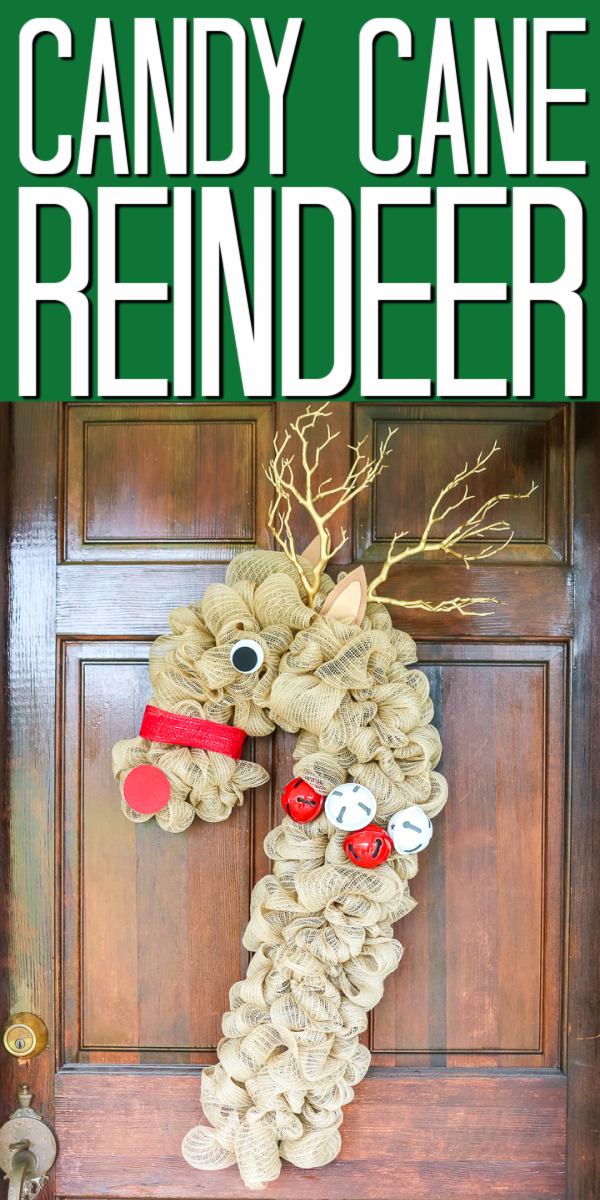 Do you love this Rudolph wreath idea? Try the links below as well this holiday season!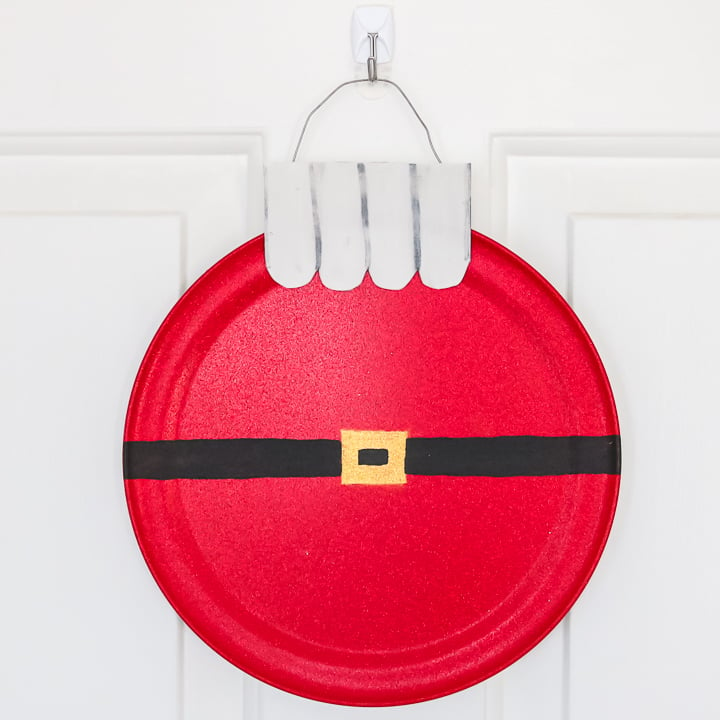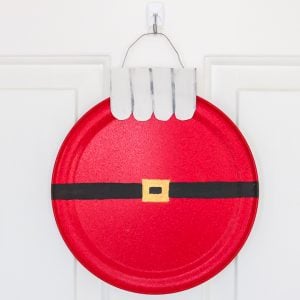 Santa Pizza Pan Wreath
Make a cute sheet pan wreath that looks like Santa's belly in minutes!
Read More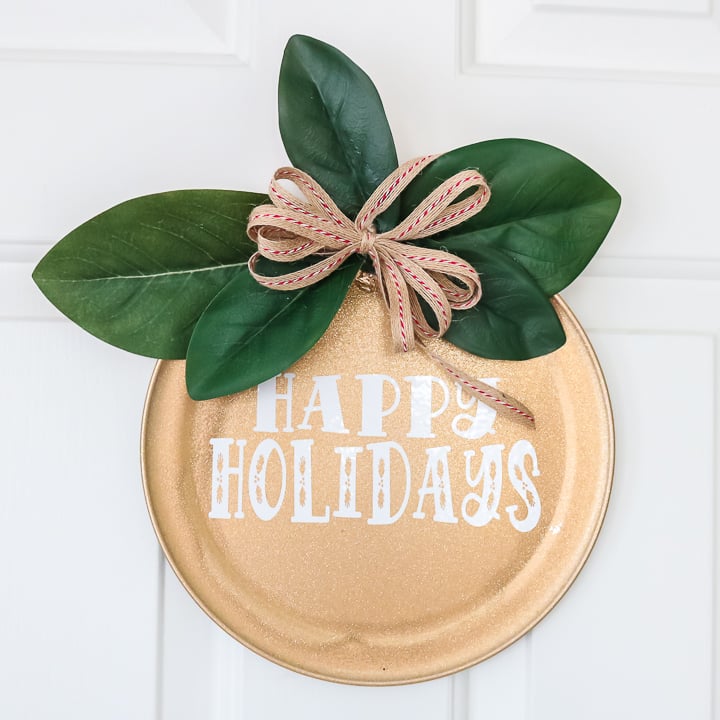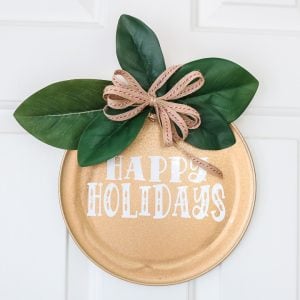 Happy Holidays Dollar Store Door Hanger
Grab your pizza pans and make a cute wreath that everyone will love for the holidays.
Read More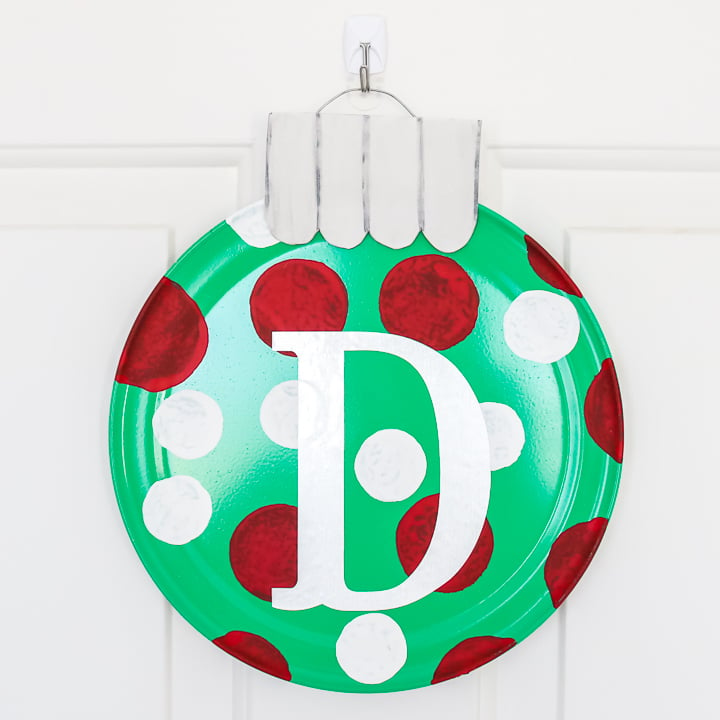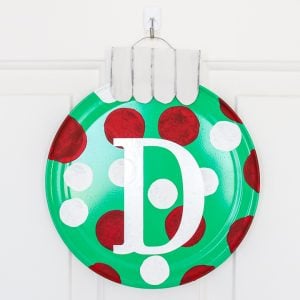 Pizza Pan Ornament Door Hanger
Make this cute ornament to hang on your door from a dollar store pizza pan!
Read More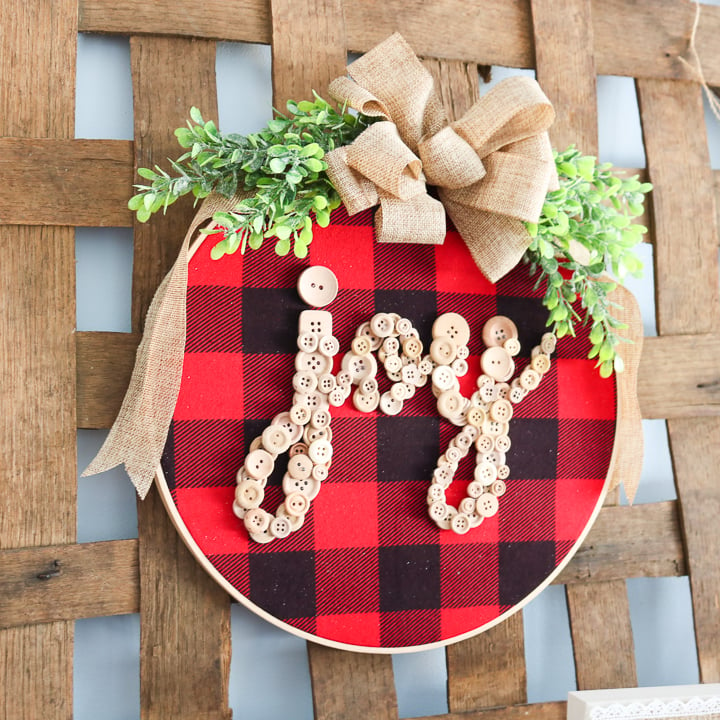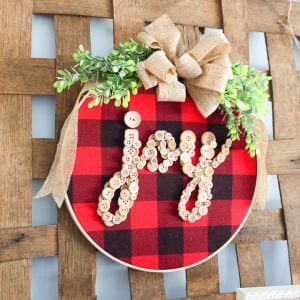 Embroidery Hoop Wreath for Christmas
Use our step by step instructions to make your own embroidery hoop art for the holidays.
Read More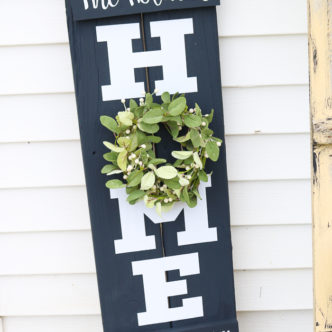 How to Make a DIY Scrap Wood Home Sign with a Wreath
This DIY scrap wood HOME sign is perfect for your front porch or backyard decor! The O is interchangeable–use seasonal wreaths or other creative decorations to customize your family home sign!
Read More