Welcome to my Christmas home tour 2011!
My goal this year was to add a touch of rustic to my home decor. Enjoy!
This happens to be one of my favorite arrangements so I am going to put this picture up top. It is just some cedar clippings in a glass pitcher with some of my paper feathers and a burlap mason jar ornament.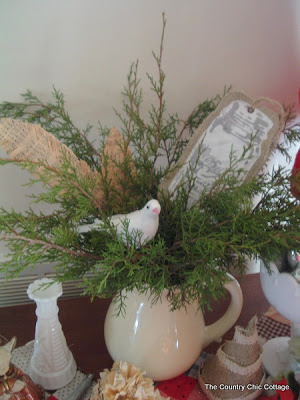 We will start the tour where you should start a tour — the front door. You can find all the details on my front door decor here.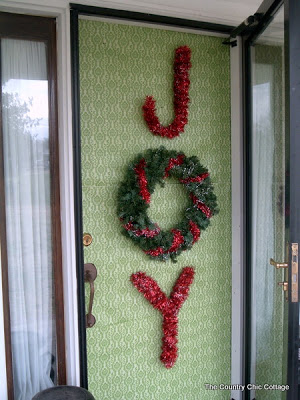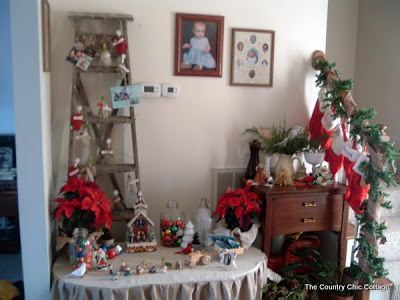 The top of the vintage sewing machine got a runner out of vintage quilt squares….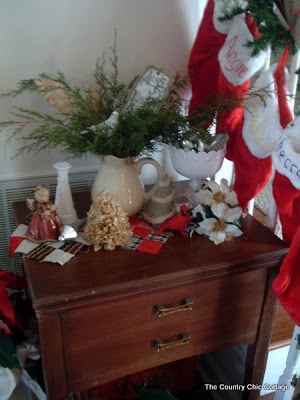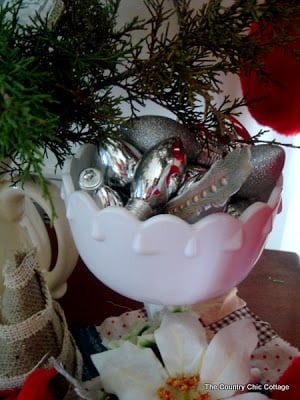 We always hang our stockings from the stair railing. The railing itself is decked out in faux greenery and some burlap chair webbing…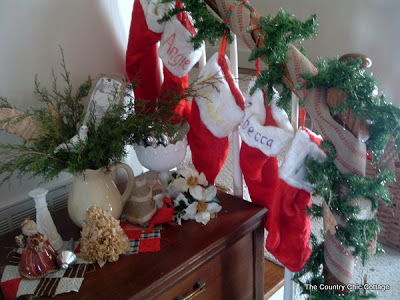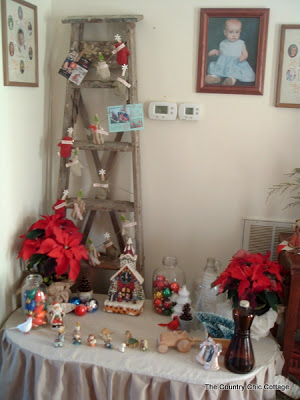 Vintage ornaments were added to a large mason jar. The glass jug got a piece of sheet music with a Christmas song and some epsom salts in the bottom. The birds that are scattered around all came from the dollar tree. One of my milk glass trees ended up on this table….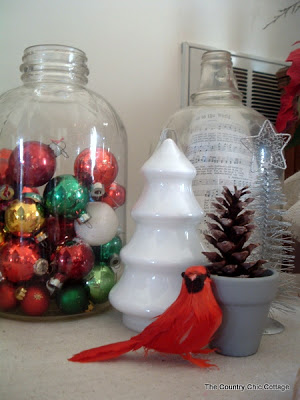 More bottle brush trees added to my kid's toys! More info on that can be found here.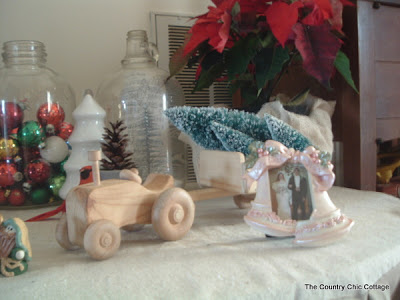 I have been dreaming of vintage bulbs piled in a ball jar since last year at this time. It took me an entire year of thrift store stalking but I did it!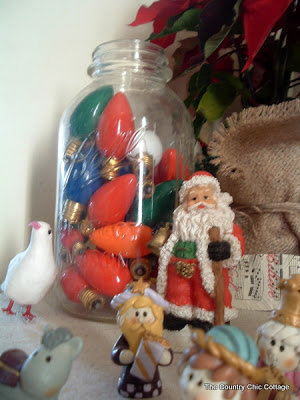 Pine cones added to chippy terra cotta pots look perfect in a rustic setting. Oh yes more paper feathers and vintage ornaments!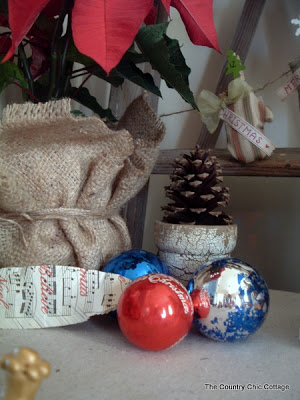 Every year I find a special place for "our first year" ornament….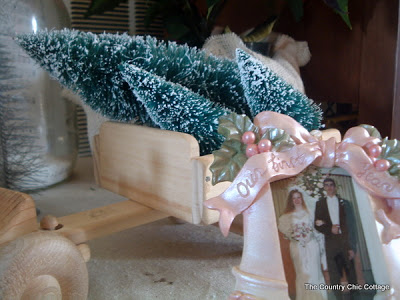 My special vintage wood wagon got decked out in cedar and pine cones…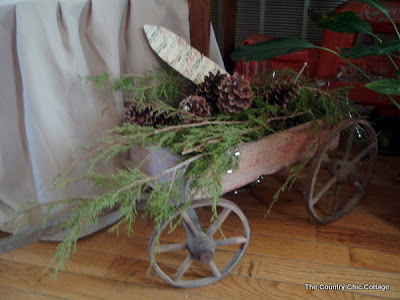 With just a few paper feathers…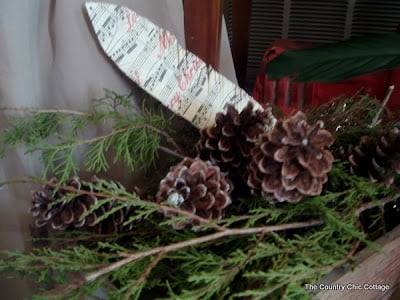 It is tree time! The tree is also in our foyer. Hubby and little man went to the woods and brought us home a perfect little cedar tree. It is all decked out in red and silver with a few other special ornaments. And yep that is hubby's little red car from when he was a little boy. You will have to imagine it stacked with presents because I have not wrapped a thing yet! I neglected to take pics of the kid trees! Whoops! I might do that as a post for another day! 🙂 We have two other trees upstairs.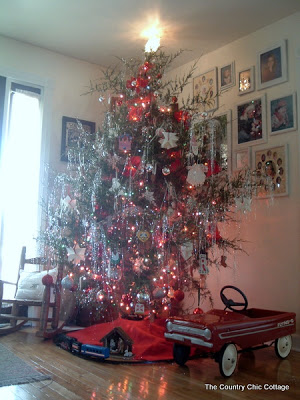 I used plain red burlap as a tree skirt. We added little man's train too…
Lovely paper ornaments that a great friend made for me this year! I think these are so unique and so me! I just had to show them off….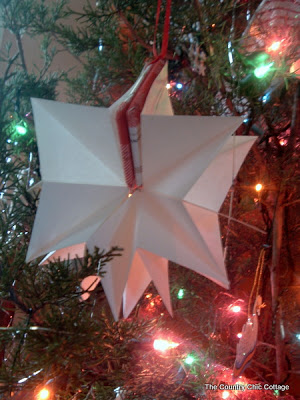 Bowls filled with ornaments in the living room. So simple yet so pretty…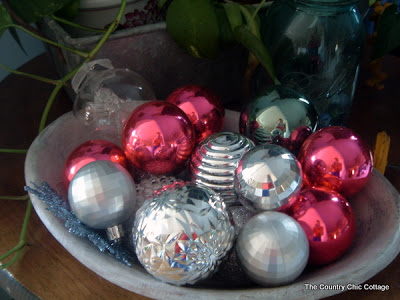 The kitchen counter got a Christmas touch as well…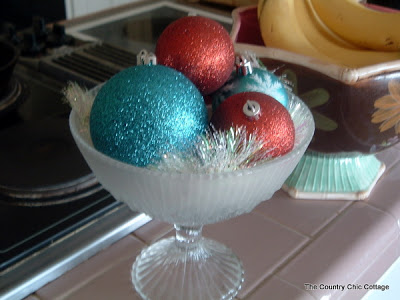 Plus a white vintage bowl filled with Christmas goodies…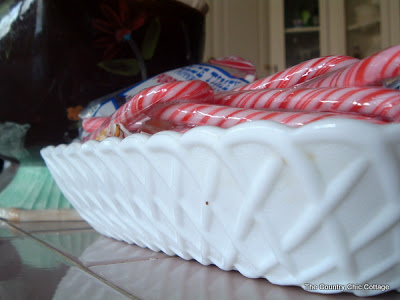 More ornaments to spread cheer on the kitchen table….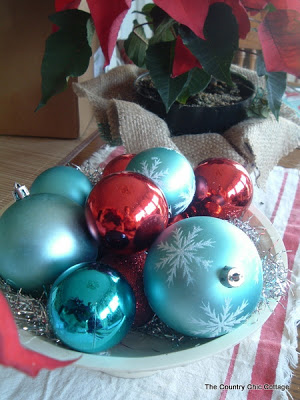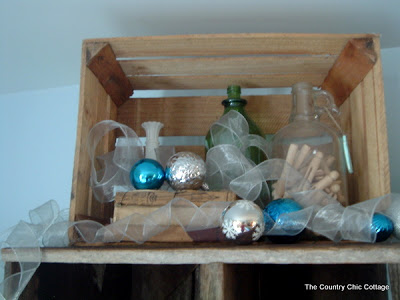 Just ribbon and a few scattered ornaments…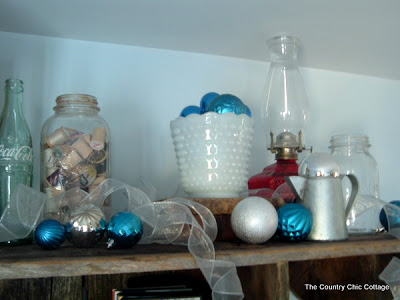 I will leave you with one picture of my mantle shelf in the living room. I will give you all the details on it tomorrow night! Y'all stay tuned!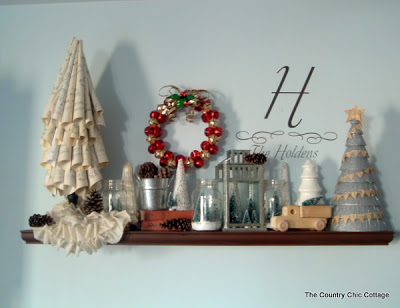 I hope you enjoyed a tour through our home for the holidays!