Jen with 100 Directions is back today sharing some coloring page decoupage Easter eggs. Use up those coloring pages on a fun spring project!
All those fun flower coloring pages you've been coloring are perfect for making pretty decoupage Easter eggs. I love making projects with all the colored art I've created and this project is a quick one. You can make your own Easter decor or make a few pretty eggs as gifts from the Easter bunny. This project is prefect for teens too, today I'll show all the steps to make your own.
Coloring Page Decoupage Easter Eggs
You can make so many different art designs on your Easter eggs with this technique. Go with pretty pastels or bright and bold. I add tissue paper to my decoupage eggs so that the entire egg has a paper decoupage look and feel. You could skip this step if you'd like and just decoupage the colored art to the egg as is. Get creative with it and have fun!
Materials
Plastic or craft Easter eggs – it's fine if they have designs on them already.
Tissue paper – I used white paper on colored eggs
Colored coloring pages – make a copy if you'd like to use the page a few times
Mod Podge and paint brush
Wax paper
Instructions
Apply Mod Podge to the plastic Easter egg with the paint brush.
Add tissue paper to the Mod Podge and egg.
Continue to apply Mod Podge as you wrap tissue paper around the egg until the entire egg is covered. You can add Mod Podge on top of the tissue paper too to help it lay flat on the egg. Work in a small area at a time so you don't end up with Mod Podge all over your hands. Place the eggs on wax paper and allow to dry. Alternatively, you can use small pieces of tissue paper and apply each separately, coating with Mod Podge as you go.
Cut out designs from your coloring page.
Add Mod Podge to the egg where you'd like to place your design. Press the paper to the egg and continue to apply Mod Podge under and on top of the paper until it's completely adhered to the egg. Mod Podge on top of the design will also seal the colored page and protect it.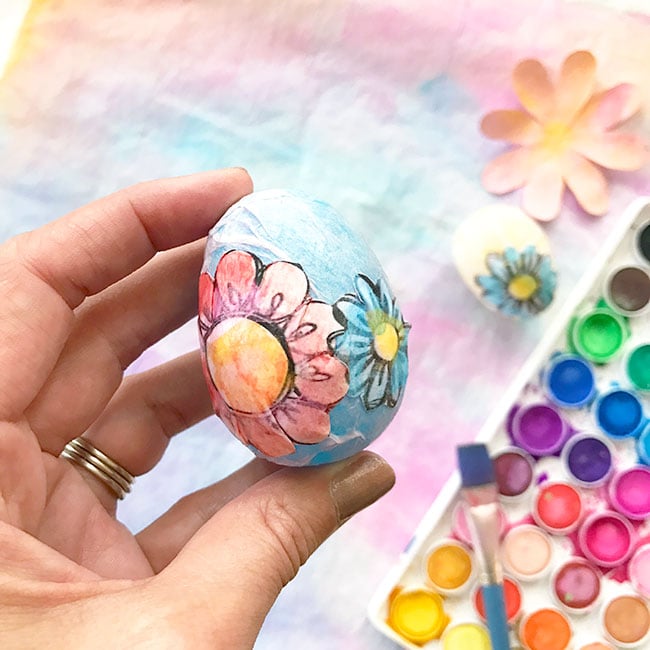 Tip: as you add the tissue or the coloring page designs to the egg, you will create some wrinkles. The paper needs to form to the round surface of the egg, so this is okay. Just press down and make sure the wrinkles are as flat as possible so you get a nice finished look with your decoupage.
For this project I used my own floral art coloring page, you can grab a copy here. You can use whatever pages you'd like. Or, if you're feeling extra artistic, you can make your own custom art and then decoupage that on to your eggs. I've got a few hand drawn Easter eggs with a similar look that were also fun to make.
So grab all those coloring pages and books and have fun with your own decoupage Easter eggs. I can't wait to see what you create!
Love these and want more ideas for Easter eggs? Be sure to check out our DIY concrete eggs here!