Making marbled eggs is easier than you think! Today I am going to show you how to make marbled eggs with marbling medium and acrylic paint. You can then use them to make this Easter wreath with moss. It will look great on your front door this spring! These easy marbled eggs can also just be used as decor around your home. This post is sponsored by Testors, however, all projects and opinions are my own. You can also read to the bottom of this post to learn more about planning your own Testors Crafternoon!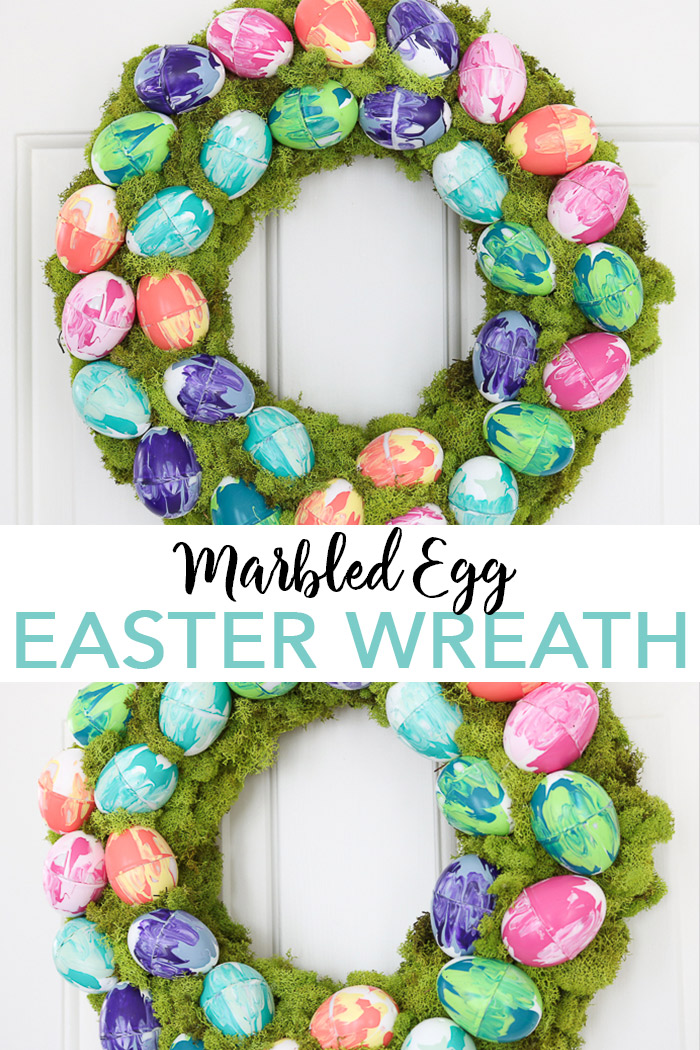 Supplies needed to make marbled Easter eggs: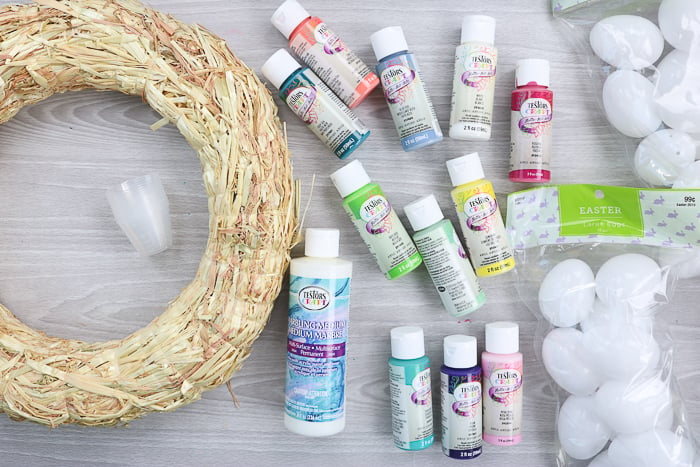 Easter Egg Painting Video:
You can see the entire process for making these marbled eggs and adding them to the wreath in the video below.
Can't watch the video or missed some of the steps? Just follow along with the steps below!
How to make marbled eggs:
Start by separating your plastic eggs into halves and place those on a large piece of cardboard. The paint will run everywhere so you need a large piece and if it has sides it is even better.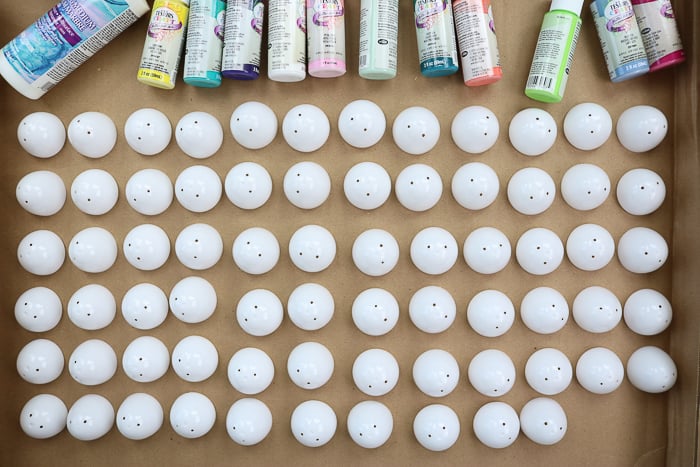 Pour paint into disposable plastic cups. You will be mixing this with marbling medium. The ratio is 1 part paint to 1 part marbling medium. The cups I am using have measurement marks but you can eyeball it as well.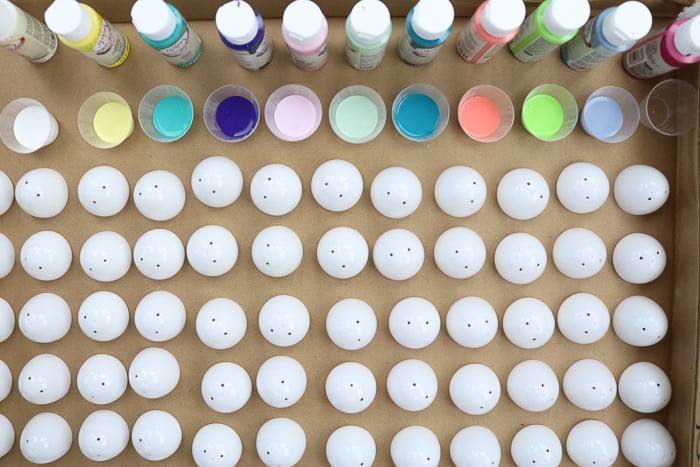 Be sure to shake both your paint and the marbling medium well before adding to the cups. Pour the marbling medium right on top of the paint in the cups.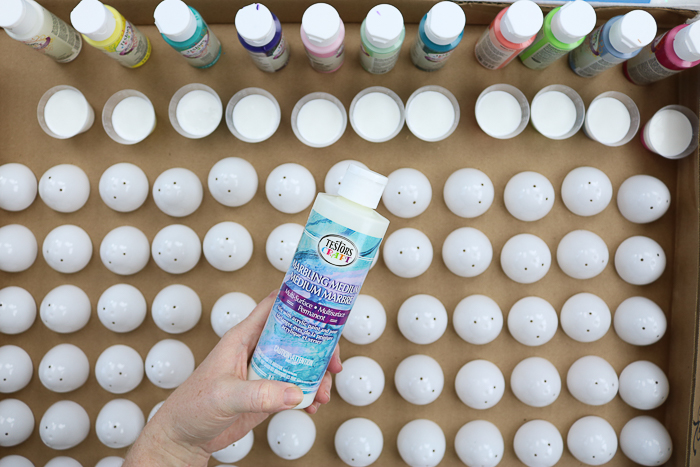 Mix each well with a craft stick. Allowing the paint to sit a bit before pouring will reduce the number of bubbles when adding to the eggs.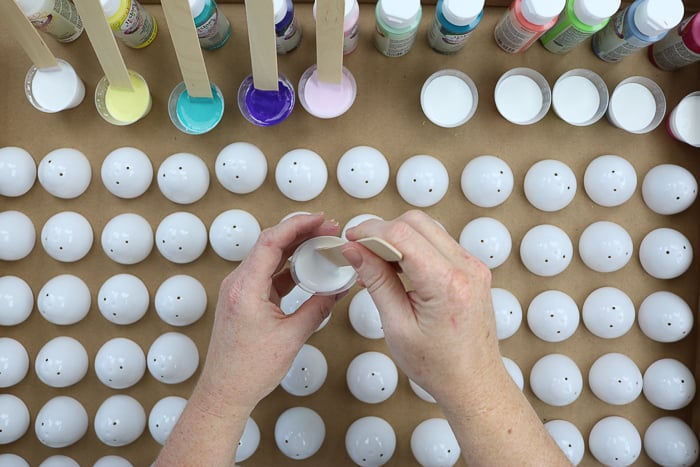 Once your paints are mixed, you can start to pour onto your eggs. You can do this however you want. I am adding two colors per egg along with some white. You can pour some and then pick the eggs up and tilt them to make the paint run. You can also use an extra craft stick to pick up the excess paint that falls off the egg and add to some of the bare spaces.
The goal is to get close to complete coverage on each egg half. This is also a great craft with kids as they will love being able to get messy. There will be paint everywhere once you have finished. Allow your eggs to dry overnight.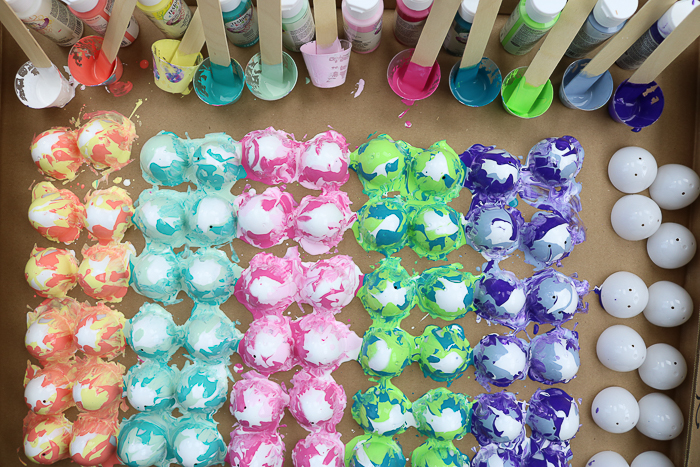 Then use a craft knife all the way around the outside of each egg half to cut the dried paint.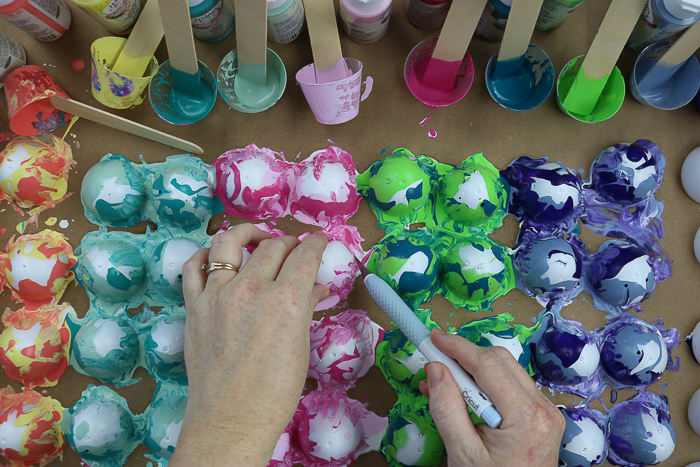 Then remove each half from the cardboard.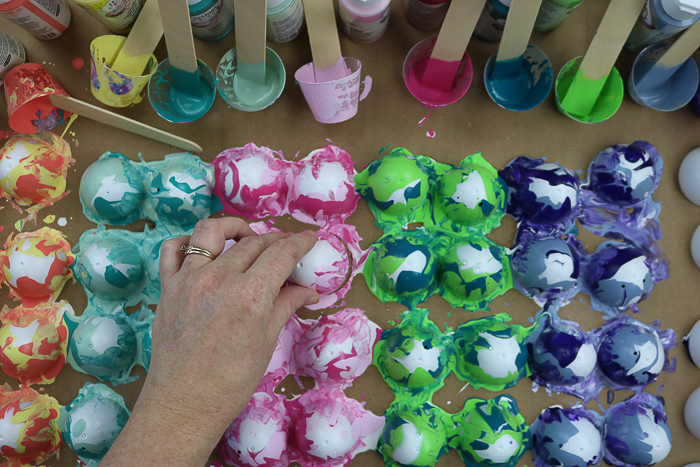 Remove two halves then try to assemble them together.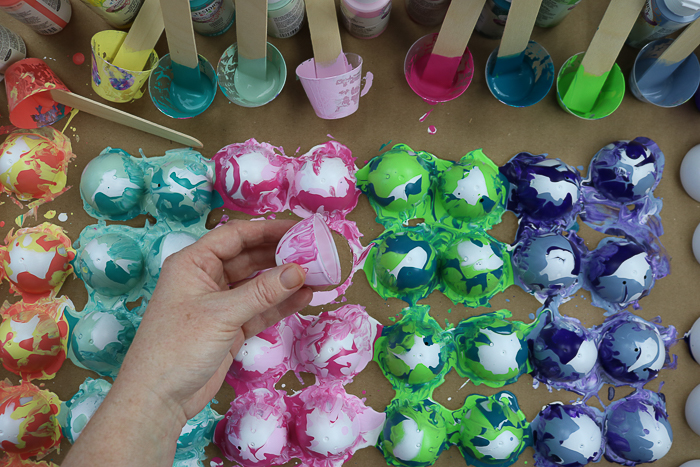 If you have trouble with the two fitting, you may have to use the craft knife to remove excess paint from around the lip of the bottom half.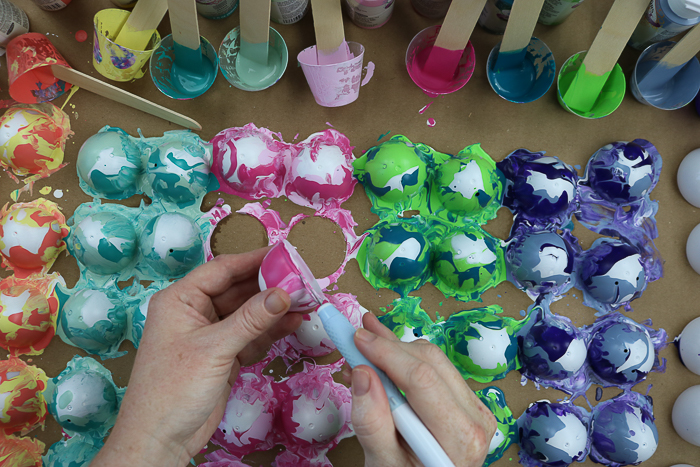 Then put the two together and continue with all of your marbled Easter eggs.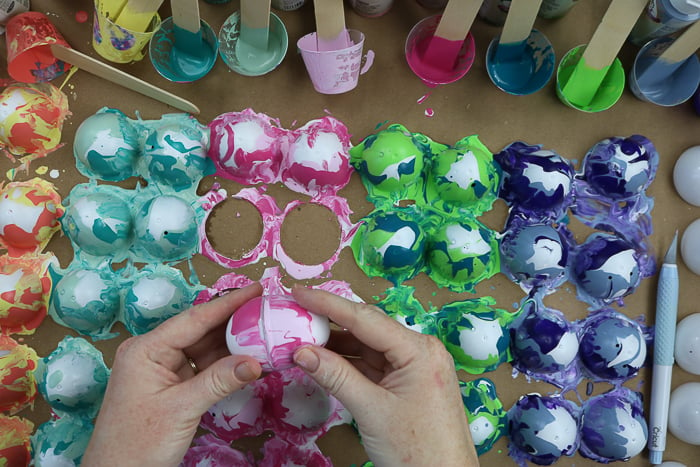 Once you have a collection of marbled eggs, you can add them to a wreath or just display them in your decor around your home.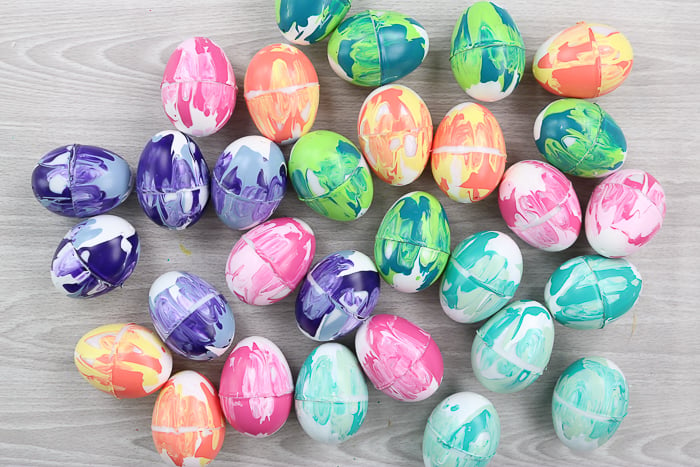 Easy Marbled Easter Eggs Wreath
If you would like, you can turn your marbled Easter eggs into a wreath. You will need a wreath form of some type. We will be covering it with marbled eggs as well as moss. You may want to cover it with something like fabric before starting. Mine is already covered in straw so I just dove right in. This covering will ensure that your form does not show through when your eggs and moss are in place.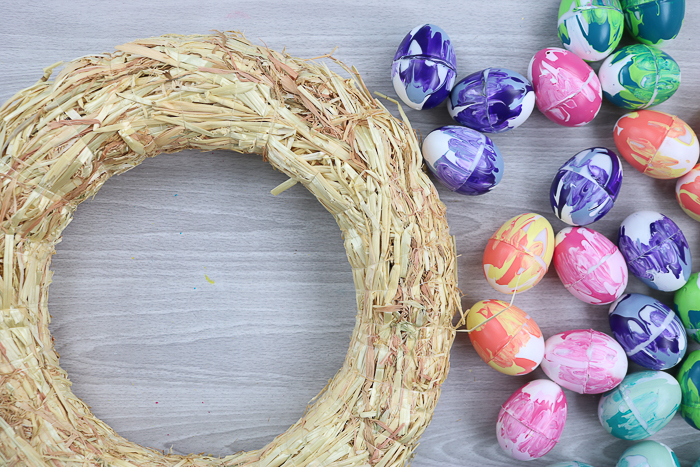 Use hot glue to secure each egg to your wreath form.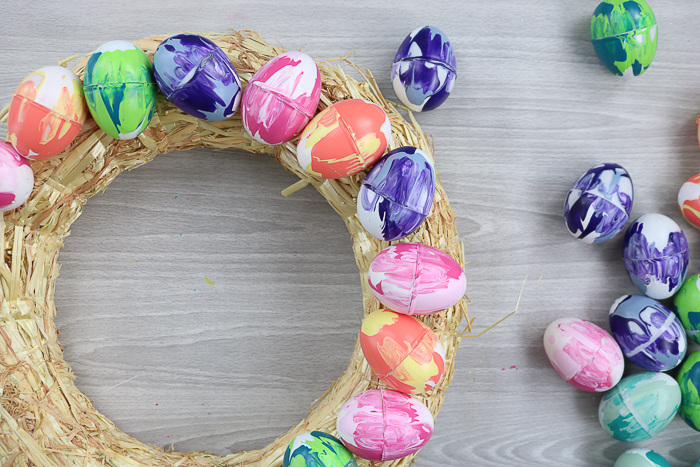 I made enough marbled eggs for two rows but you can make as many or as few as you would like.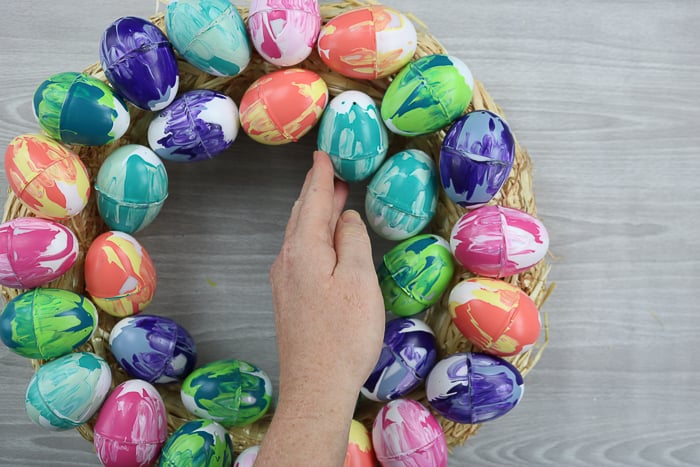 Once everything is hot glued into place, you could actually leave the wreath just like this. I felt that it needed a little something more, however.
Just add in moss around the eggs with hot glue.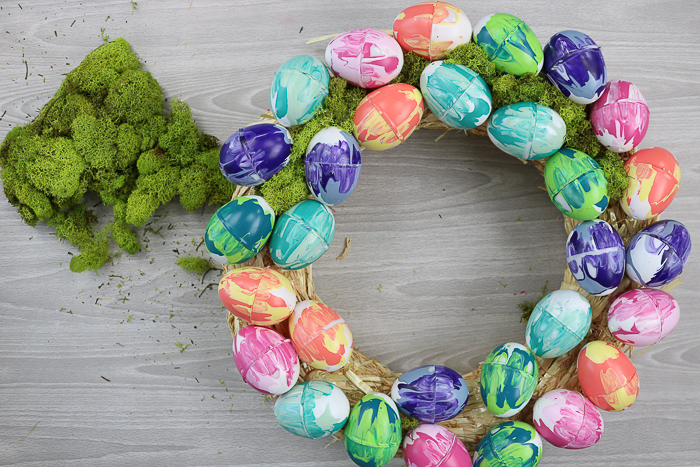 Add moss around the inside as well as the outside of the wreath to complete the look.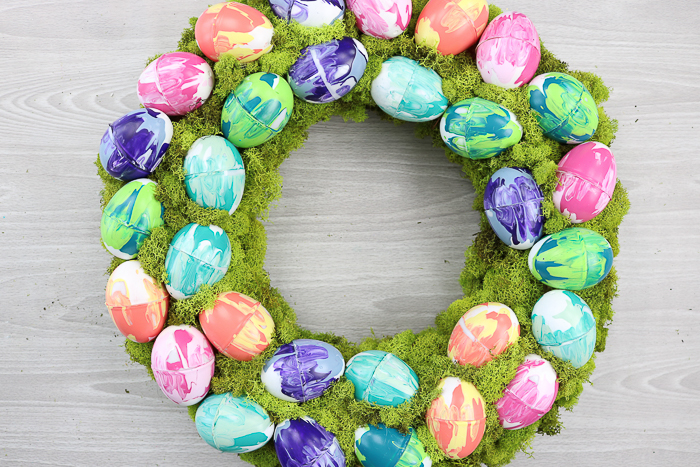 Turning marbled eggs into a wreath is super simple and will look amazing as spring decor around your home.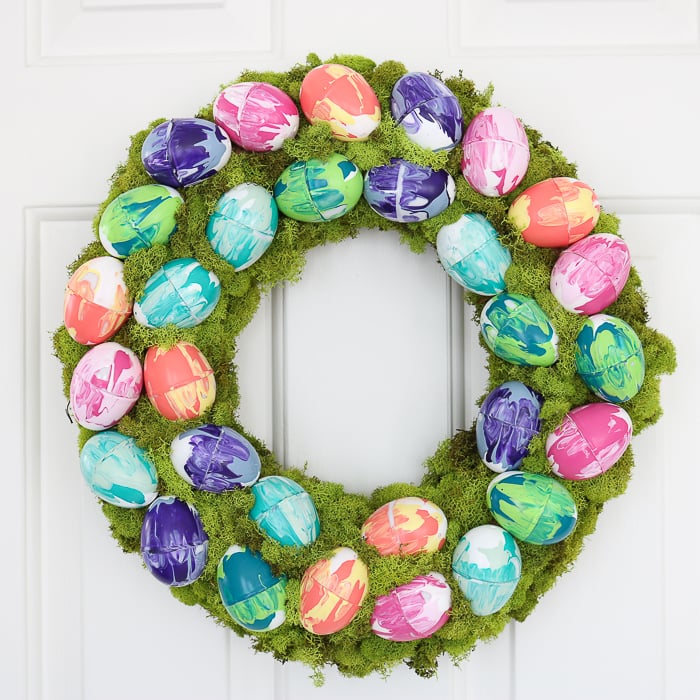 Maybe you want to make some marbled eggs with your friends and family? Well, it is time to plan a Testors Crafternoon! Order your supplies then gather together for an afternoon of crafting. In this case, you can probably do some eggs as well as some of our Pot Decoration Ideas in one day.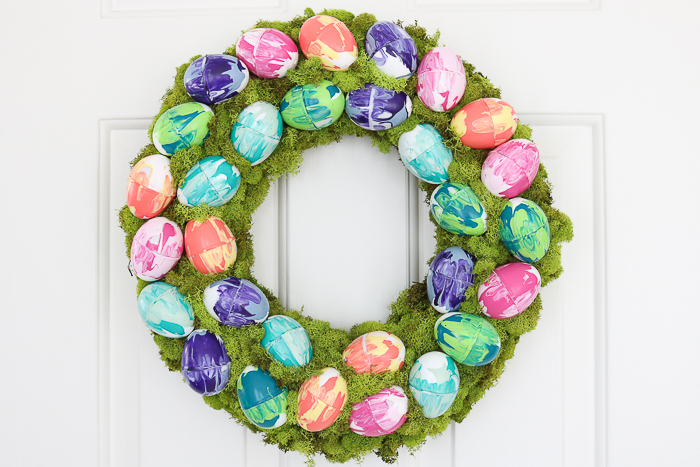 Start by spray painting the pots and set them aside to dry. Then head inside and start marbling eggs. When the marbling is complete, you can then finish the painting of your pots. Then send everyone home with a completed pot or two along with some marbled eggs that still need to dry. Then can finish the eggs at home and add them to a wreath if they wish.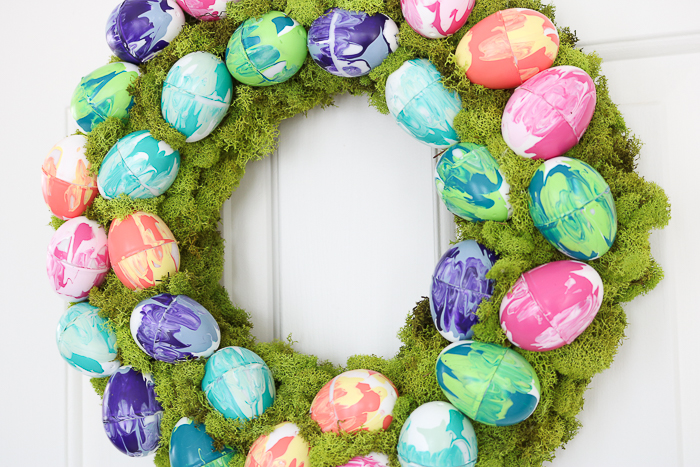 Don't want to have them complete their wreath at home? Then plan TWO Testors Crafternoons! One where you marble the eggs and the other where you make the wreath. Twice as much crafting fun is never a bad thing! Y'all enjoy these easy marbled eggs and making a gorgeous wreath for your front door this spring.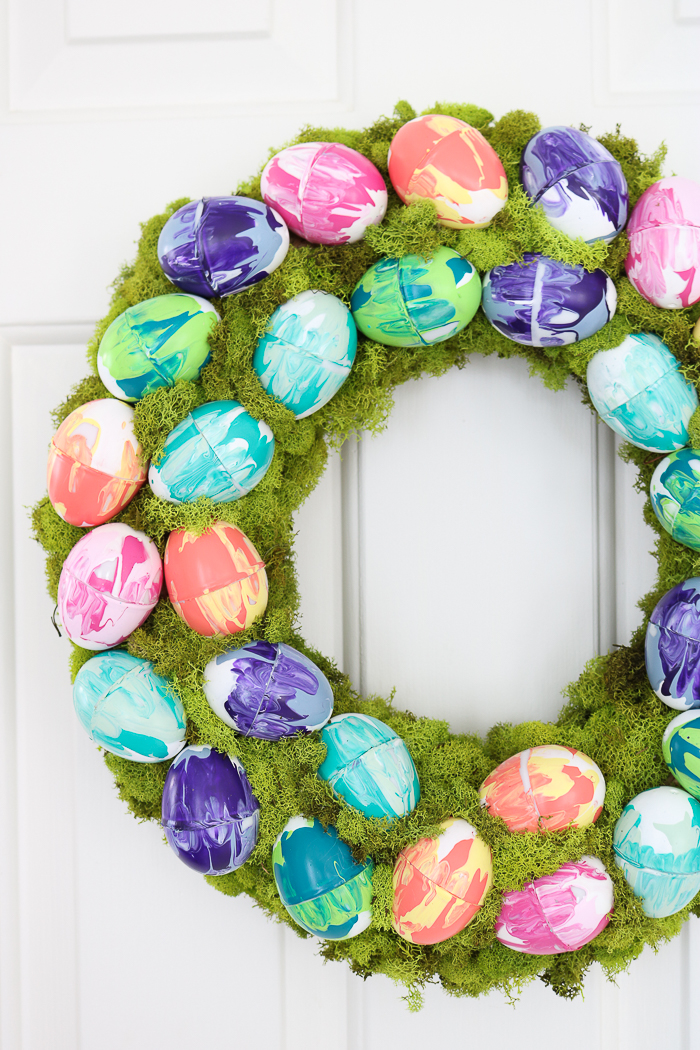 Now that you know how to make marbled Easter eggs, you can use this same tutorial to marble other things as well. Once you start, you won't be able to stop!
Need more than marbled eggs to make on your Testors Crafternoon? Try these other ideas!