Now that the halls are decked, it is time for some creative gift wrapping ideas. I don't know about you, but I put up all of my Christmas decorations this past weekend. The area under my tree, however, is bare. What is a girl to do? Why wrap some Christmas gifts to put under the tree of course! Get creative with our ideas below.
This post is sponsored by Old Time Pottery, however, all projects and opinions are my own.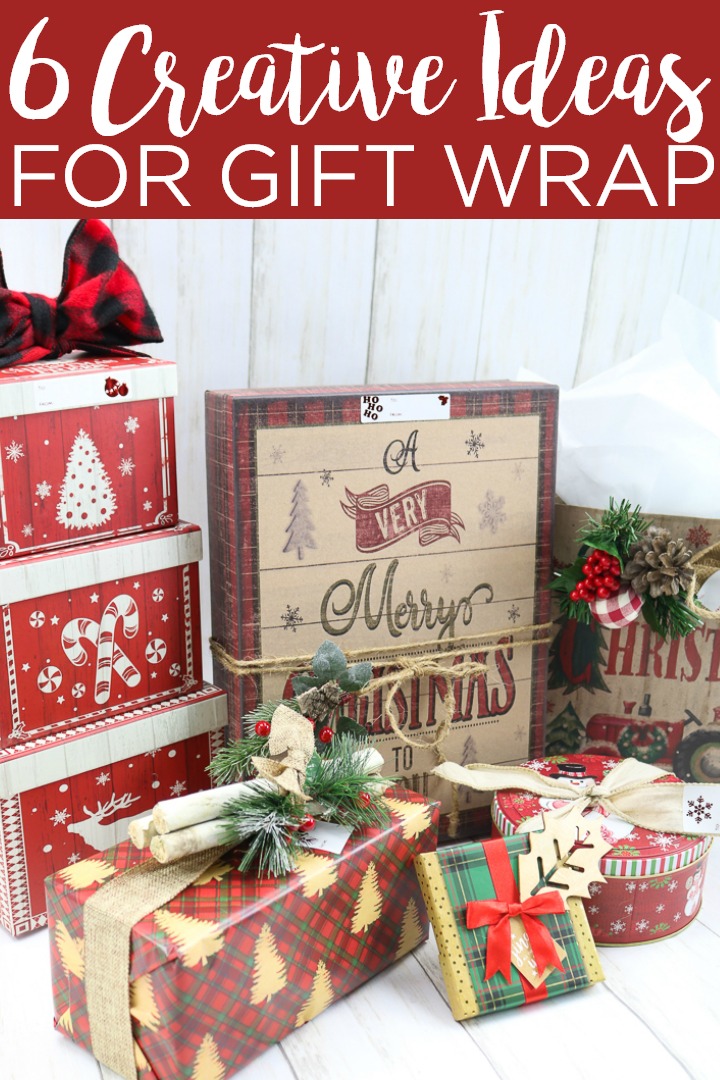 Creative Gift Wrapping Supplies
I went shopping at my local Old Time Pottery for everything I needed to wrap my presents. I ended up coming up with six ideas that I thought you could use when wrapping your own gifts this holiday season. My haul from Old Time Pottery is shown in the image below. They have everything you need from gift boxes to bags to wrapping paper and so much more! So, follow along with our 6 creative gift wrapping ideas below and then shop for your own supplies.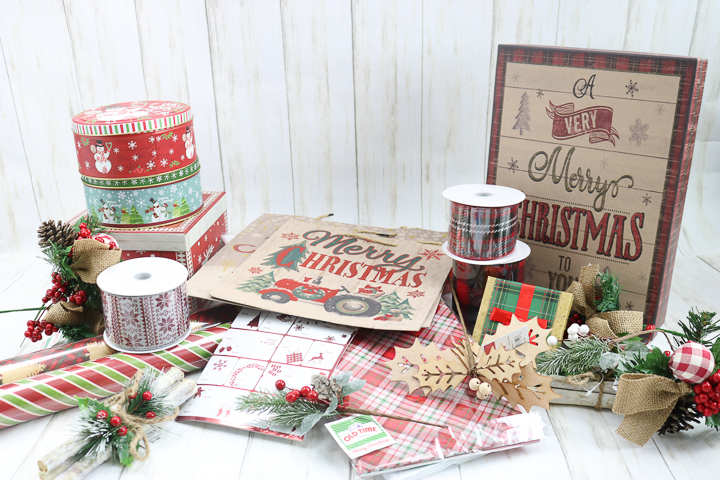 Idea #1: Using Tins
One of my favorite things to do for the holidays is to give edible gifts in tins. But why hand over a plain tin when you can dress it up a bit? Start by picking from the wide selection of tins and ribbon at Old Time Pottery.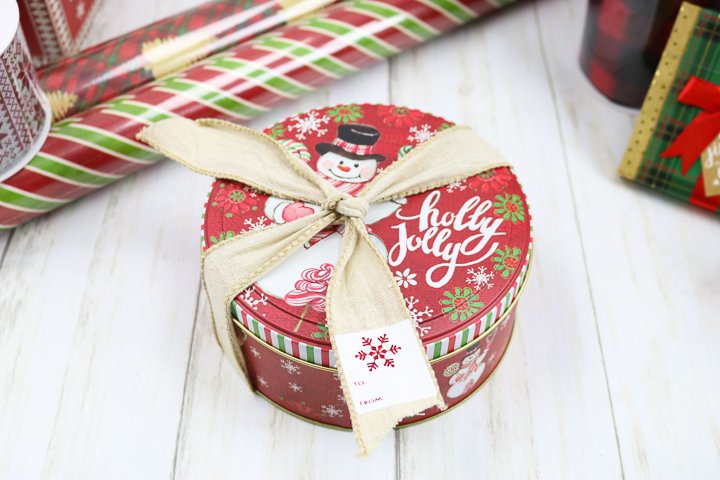 Add in your gift then tie a ribbon around the entire thing. You can even add a gift tag to the ribbon tail. This extra touch really adds something to this simple gift idea that your gift recipient will admire.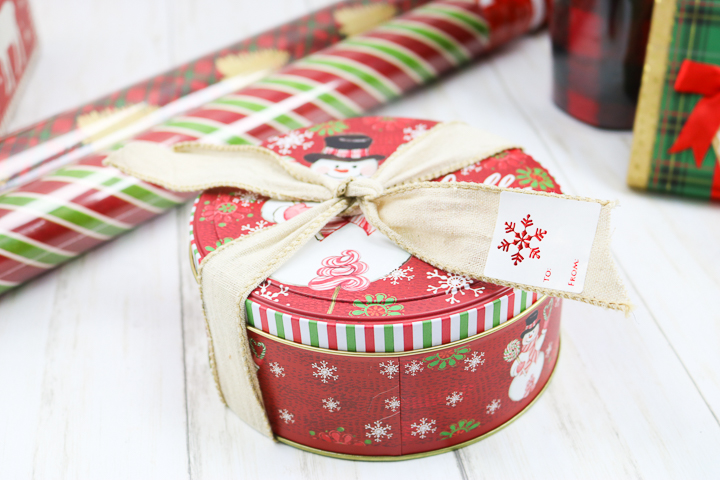 Idea #2: Stacked Gift Boxes
I fell in love with the gift boxes at Old Time Pottery. So many shapes, sizes, and patterns. Plus, you don't even have to wrap them! My first idea using these boxes is to stack them! Find nested boxes and put a small gift in each one.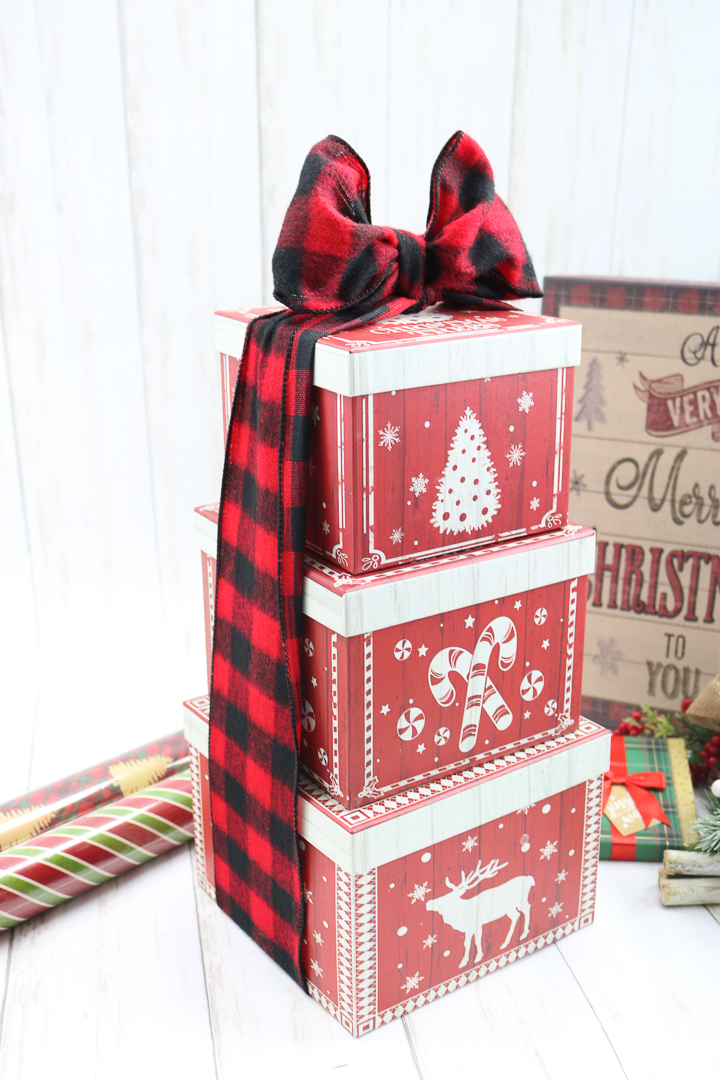 Then tie a ribbon around the entire stack with a cute bow on the top. This only takes minutes but is something that will put a smile on the face of everyone on your gift-giving list.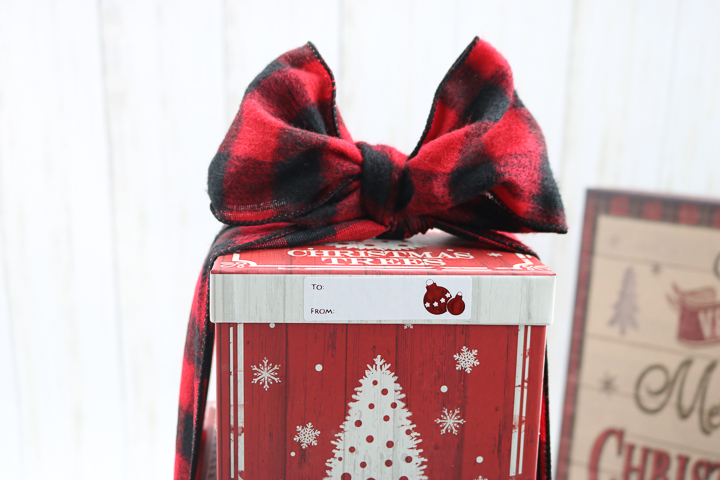 Idea #3: Unique Present Toppers
I found another gift box but wanted to add a little something special to the top of it. My favorite place for finding unique present toppers is the floral section of Old Time Pottery.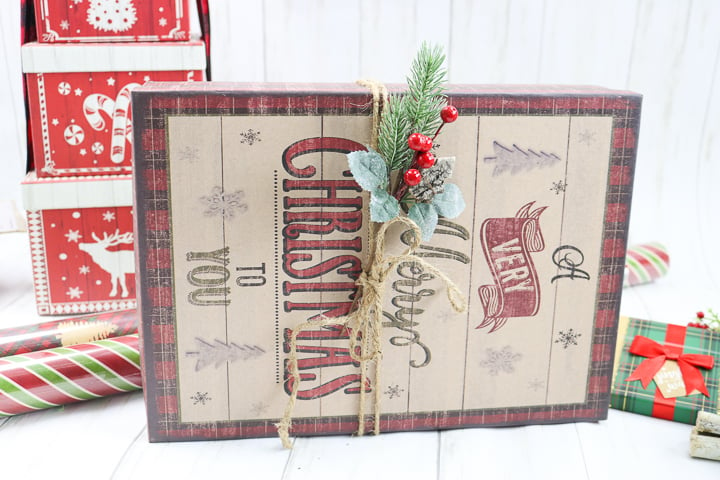 I just used a bit of twine to tie on this evergreen sprig for some creative gift wrapping that anyone will love.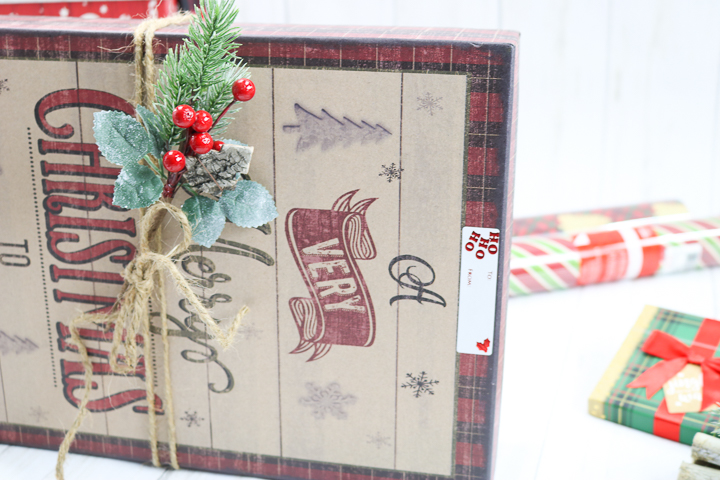 Idea #4: Wrapping Gift Cards
Do you tend to give gift cards to those that are hard to shop for? You can wrap those up as well! I found this cute gift box at Old Time Pottery then added a wood leaf from the floral department with my hot glue gun. A perfectly wrapped present in seconds is my idea of a great idea!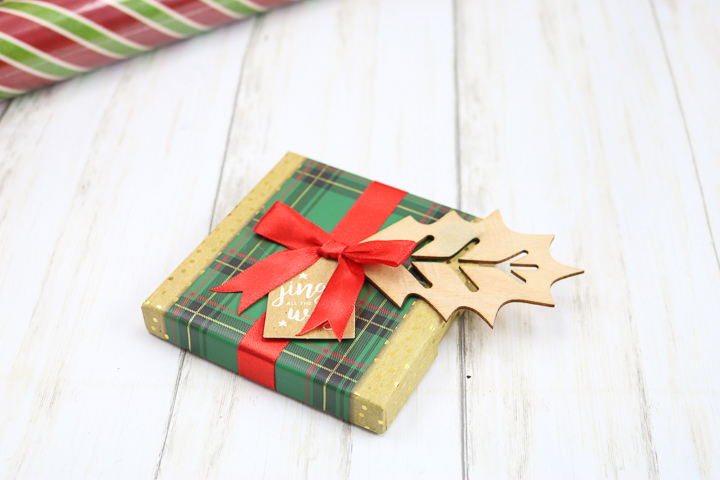 Idea #5: Dressing Up Gift Bags
I always end up with a few gifts that are so oddly shaped. How do you wrap those? Well, a gift bag, of course! But you don't have to have a plain gift bag! Shop the selection at Old Time Pottery for your favorites then tie on a cute sprig for something extra special. I even added my gift tag to the ribbon on this floral pick.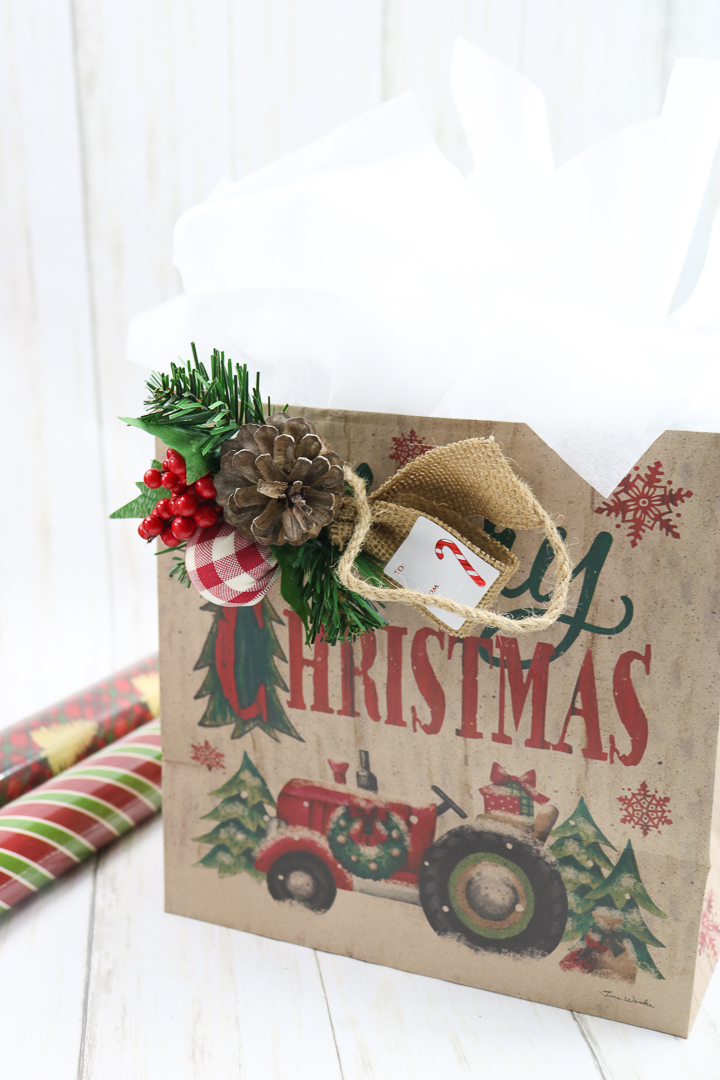 Idea #6: Making Wrapped Gifts Even More Special
Finally, if none of these ideas work for you, go ahead and choose from the wide selection of gift wrap at Old Time Pottery. But don't forget the ribbon and present toppers while you are there! I added so much character to this simple wrapped box with just a piece of ribbon and a bundle of faux sticks. And, yes, all of the supplies for this one did come from Old Time Pottery.
So, now that you have six creative gift wrapping ideas, what is stopping you from wrapping up all of your gifts? Did you score some deals on Black Friday? Be sure to head to Old Time Pottery and get everything you need to wrap up those steals in style.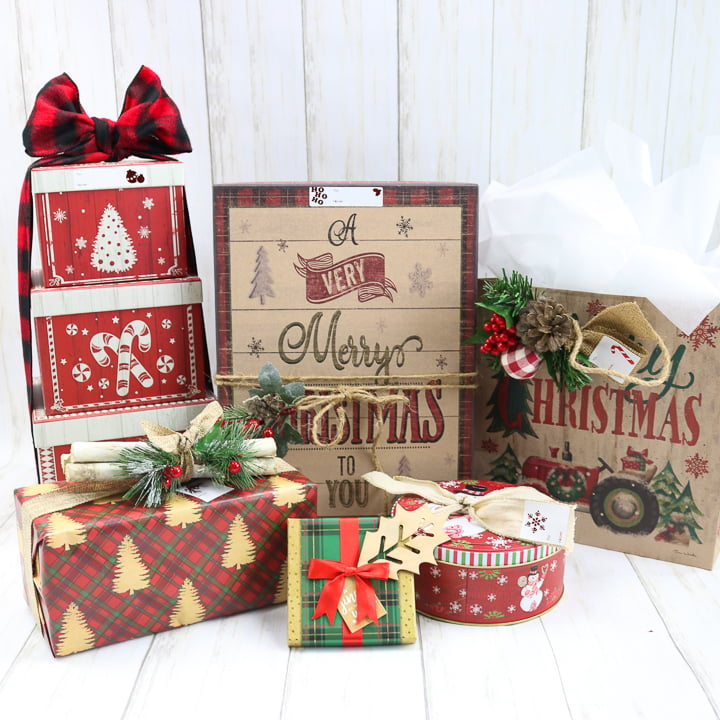 You may also note that all of my gifts have a rustic feel. I would encourage you to choose a theme with your gift wrap that matches your home's decor. The gifts will look so much better under the tree when they become a part of the decor.
Y'all enjoy and happy holidays to one and all! Use our creative gift wrapping ideas to put a bow on all of those special gifts that you purchased. Your gift recipients will love these extra special touches!